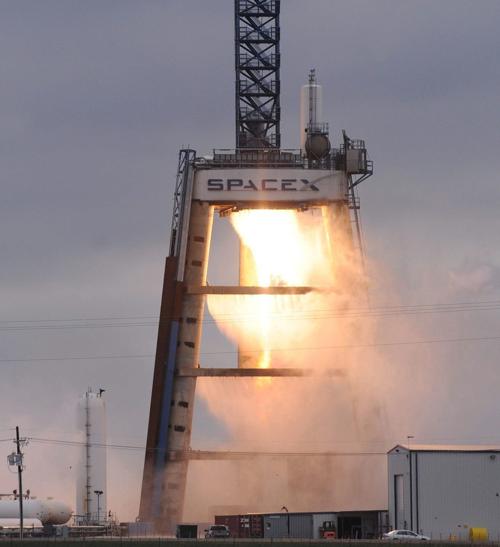 UPDATE: On Tuesday, commissioners agreed to allocate $1 million in Waco-McLennan County Economic Development Corp. funds to SpaceX, which plans $10 million in infrastructure improvements at its McGregor testing facility that employs about 500 people. Waco City Council also approved matching that $1 million.
Projects are not funded without approval from both the Waco City Council and the McLennan County Commissioners Court.
The original story is below.
---
Fresh from making history by sending a manned craft to the International Space Station, SpaceX is asking Waco and McLennan County for money to grow.
The rocket company launched by billionaire Elon Musk will spend $10 million on infrastructure improvements at its rocket-testing facility in McGregor. The upgrades will include "noise suppressors," which should prove welcome to those within earshot of SpaceX's rumbling, window-rattling rehearsals.
Waco City Council and McLennan County Commissioners Court will vote Tuesday on sending SpaceX $2 million from the Waco-McLennan County Economic Development Corp. fund, with each entity allocating $1 million.
Commissioners meet online at 9 a.m. Tuesday, followed by a 3 p.m. online council work session and 6 p.m. council meeting.
SpaceX, a privately held, commercial aerospace company headquartered in Hawthorne, California, also will spend money to establish a private office in Waco for use by key company personnel, according to the council packet.
"It's good that we continue to invest in this site," said Melett Harrison, city of Waco economic development director. "We want SpaceX operations to come through McGregor and Central Texas."
SpaceX leases 4,280 acres in McGregor's industrial district, where it employs about 500 people, McGregor City Manager Kevin Evans said Monday.
Harrison said SpaceX will spend no less than $10 million in infrastructure improvements with an eye toward making water and electric service more reliable and upgrading 1 Rocket Road, which serves the test site.
"We don't have specifics on which buildings would be affected," Harrison said. "We received a general request and were told SpaceX proposes spending at least $10 million on these improvements, and wondered if the Waco-McLennan County Economic Development Corp. could help."
Harrison said SpaceX previously received a $3 million allocation from the city-county fund. She said improvements included a new rocket test stand.
Harrison said SpaceX will establish a permanent display at the Mayborn Museum Complex.
The complex on University Parks Drive last year hosted a special space-related exhibit titled "SpaceX: This is Rocket Science."
It featured a rocket model and a thrust engine.
McLennan County Judge Scott Felton said Monday he expects the commissioners court to easily pass the resolution providing for funding.
"They are a great corporate citizen for the county and McGregor," he said.
SpaceX is obligated to complete improvements by Dec. 31, 2022.
The company "will continually report on jobs, payroll, average annual wage, residency, health benefits and annual hotel room nights in Waco and McLennan County throughout the contract," Harrison said in a report.
Harrison said she does not know if Musk will be among the executives using office space in Waco, though she did not rule out the idea. The controversial and outspoken entrepreneur, who has made it known his ultimate goal is space travel to Mars, makes regular visits to McGregor operations.
Harrison said she would expect prominent SpaceX officials who travel to Central Texas for days or weeks to use the office space.
Musk created a stir recently when he criticized California officials for their COVID-19-related restrictions. He was forced to shutter his Tesla electric automobile manufacturing plant in Fremont, California, and was not pleased, tweeting that health officials there are "ignorant" and threatening to relocate Tesla headquarters and operations to Texas or Nevada.
SpaceX's other ties to Texas include a launch site in Boca Chica, near Brownsville.
Kevin Evans, McGregor's city manager, downplayed SpaceX's decision to enact additional sound-muffling measures at the industrial park.
"I haven't had any complaints in a long time," he said. "If they think it's best to have more suppression, I guess there are others who want it too. But they do not come close to the decibel limits we have in place."
Evans said McGregor also tries to control when SpaceX fires off rockets.
"They're not supposed to after 11 p.m., and if they choose to test between 9 p.m. and 11 p.m., they are charged a fee: $10,000 the first time, $15,000 the second time and $25,000 each time after that, with a reset each year."
McGregor has used the money to install lights at community ballfields.