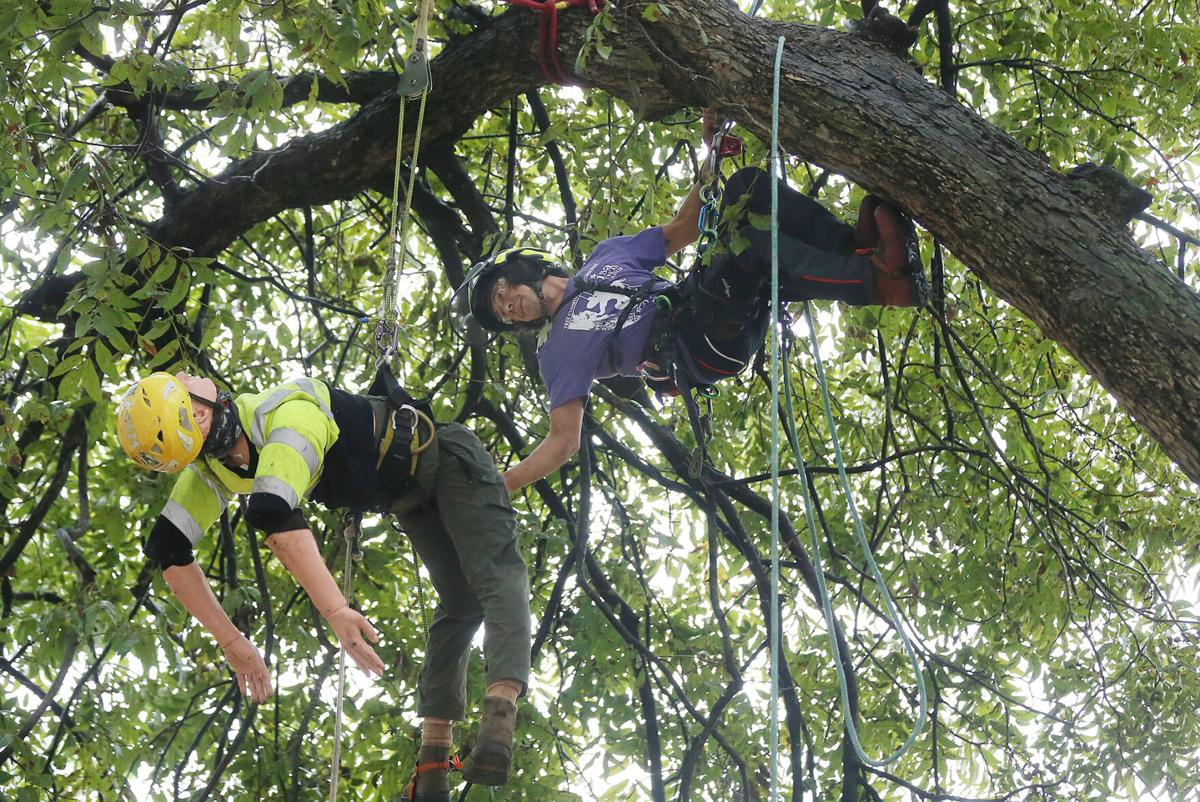 Cities such as Waco have a system hiding in plain sight that provides public services such as outdoor climate control, air purification and wildlife habitat.
It is called the "urban forest," shorthand for all the trees in parks, rights of way, yards and floodplains in a metropolitan area.
Houston, Austin, San Antonio and Dallas in recent years have created master plans to study, preserve and expand their urban forests for the sake of human health as well as the ecosystem.
The city of Waco has not yet taken those steps but recently added an urban forester to its parks department as it seeks to add more trees to parks and streets.
The urban forest was a theme this week as about 550 tree professionals from around the state converged on Waco for the annual Texas Tree Conference.
Sponsored by the Texas chapter of the International Society of Arboriculture, the conference started Wednesday at the Waco Convention Center and will wrap up Saturday morning with a statewide tree climbing championship at Redwood Shelter in Cameron Park.
In presentations this week, leaders of urban forestry initiatives said awareness of the urban forest has grown along with the pressures cities have felt from growth and climate change.
"I think it's cities finally realizing that they can plan for this, that it's a valuable asset," said Courtney Blevins, a North Texas regional manager of the Texas A&M Forest Service. "They know roads are important, police stations are important. This is just a gradual education project so they can see what we call the green infrastructure. … Those benefits are finally being realized."
The Dallas City Council in June adopted its first-ever Dallas Urban Forest Master Plan, which aims to increase Dallas' tree canopy cover from 32% to 37% by 2040. An inventory created for the $260,000 plan showed that Dallas had 14.7 million trees, but many lower-income neighborhoods in South Dallas have seen a loss of tree cover over time.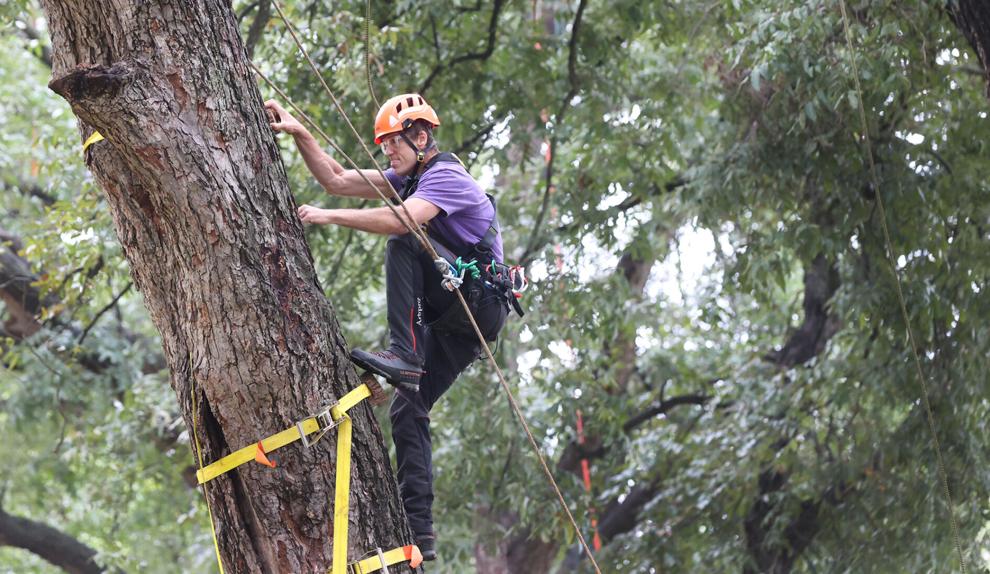 Rachel McGregor, urban forestry manager at the nonprofit Texas Trees Foundation, which oversaw the effort, said the goal of the plan is human health, and spreading those benefits equitably across Dallas.
In a presentation Friday she said a detailed study of the "heat island" effect in Dallas showed that pavement and buildings caused as much as a 15-degree difference between the city and the surrounding countryside.
"In low-income areas it was hotter, and there was less tree canopy," McGregor said.
Texas Trees is also spearheading an ambitious project for a total makeover of one of the Metroplex's most treeless areas: the Southwestern Medical District between downtown and Love Field.
The project aims to add 6,500 trees to the 1,000-acre district starting in 2023, along with miles of sidewalks and a forested park replacing the barren cloverleaf intersection at Harry Hines Boulevard and Inwood Drive.
The $56 million project will include clinical research of the health and air quality benefits from the trees and pedestrian infrastructure.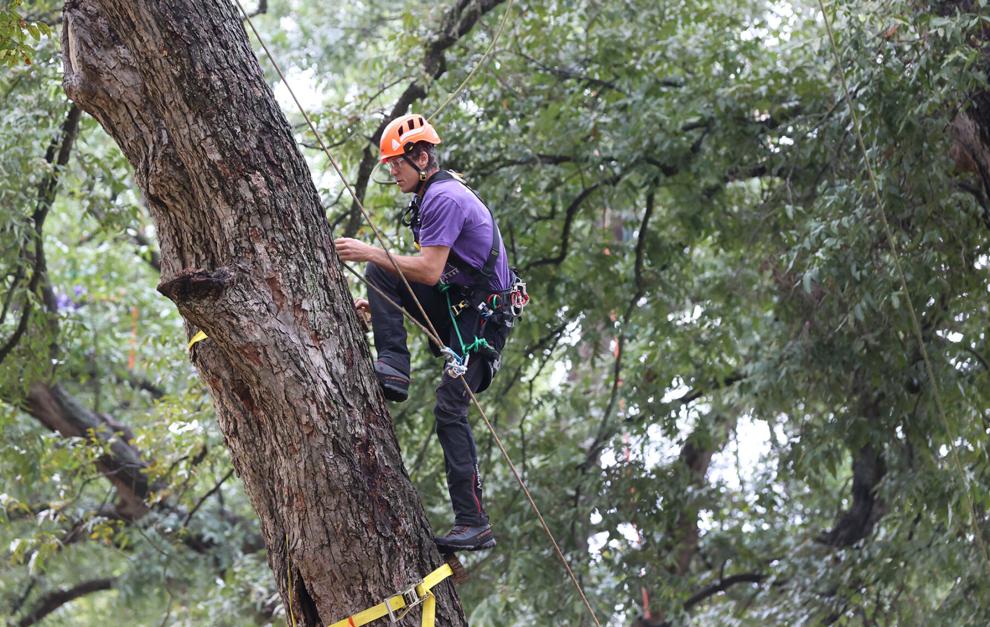 Waco parks maintenance supervisor Graeme Seibel, who attended the tree conference this week, said he sees value in doing an inventory of Waco's urban forest.
He said the last time such an inventory was done was in the late 1990s, when he was the city's urban forester, and that data is partial and outdated.
"It would kind of be starting over," he said. "The goal of all that would be to have a planting program. … You've got to do something with that information."
Seibel recently took a position in the parks department in which he again deals with urban trees, and he said the new urban forester, Bradley Kuehn, should bring new energy to the tree effort.
He said Waco's tree cover is "pretty good," but he would like to double the size of the city's tree nursery near Waco Regional Airport, which has about 400 trees in various stages of growth. That would allow the city to plant about 100 trees a year in city parks and rights of way.
"Planting them is a priority for our department," Seibel said.