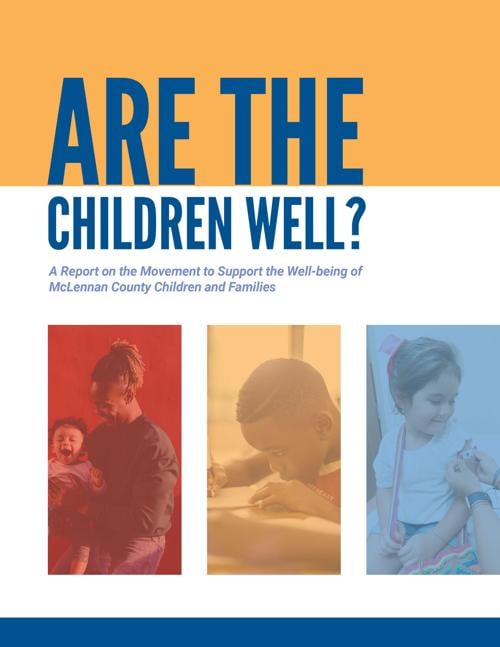 "Are the Children Well?" was the question United Way of Waco-McLennan County staff asked as they embarked on a seven-month mission to evaluate the state of McLennan County's 5-and-under population.
McLennan County has seen a decline in child poverty, teen birth rates, low-weight births and child uninsured rates since community leaders started tracking child welfare statistics in 2009. But 29% of children ages 0 to 5 remain in poverty, the report finds.
With the results in hand, United Way officials are calling on community organizations and residents to work together with a "whole-child" approach that takes into accounts children's families, schools and environments.
The report views child well-being as "the multiple settings and environments in which children live, learn, work and play" and also includes their surroundings in a community that "have a profound impact on a child and their family's ability to thrive."
With Texas ranking 43rd in overall child well-being and 47th in family and community well-being, United Way hoped to use the results to "strengthen systems and advocate for local and state policy changes" to help support children and their families.
In order to understand the development of children in the county, United Way sent out surveys to over 600 residents, held community conversations, virtual meetings and one-on-one interviews with community leaders, said Tiffani Johnson, senior director of impact and engagement for United Way.
They received 388 survey responses, which were used to compile the data for the report.
According to the report, McLennan County has a population of 251,089, with just over half residing in Waco. Of that number, 21,000 are between the ages 0-5.
Non-English speakers
United Way learned that the majority of children ages 0-5 are children of color. Hispanic children make up 39% and Black children make up 15% of the child population, with the Hispanic population projected to continue to grow and reach 44% by 2030.
Given the growing Spanish-speaking community, a key theme of the report is improving access to resources for non-English speakers.
Johnson said an important finding was that communities of color often feel they are overlooked.
"We want to continue to center those voices and gain their insight," Johnson said. "It's co-creating or co-designing to what we as a community want this to look like by centering the voices of communities who have for a very long time not been heard."
When comparing the results to the initial report in 2009 by the Waco Foundation, United Way found the county had improved in different aspects of child well-being.
The teen birth rate decreased from 57.8% to 22.7%, the rate of uninsured children under age 6 fell from 5.3% to 4%, and births to mothers without a high school diploma also dropped from 31.8% to 7.6%.
The percentage of children living in poverty had decreased from 30.1% to 23.7%, or 29% for those those 5 and younger. Food insecurity continues to affect 23.6% of children under the age of 18, down from 25.1% in 2009.
Johnson said knowing how many children live in poverty is crucial when trying to develop a plan of action to address it.
"We wanted to focus on the conditions. How is our community supporting these children?" Johnson said. "When you get to understanding the poverty level, you get to understand where they are. What are their conditions currently? What does life look like?"
Community, family
Embracing the "whole child" means the county needs to approach issues in a "two-generational way" to include the child and their family as well as community and environmental factors that can lead to a positive experience.
"How do you provide support for a child and a parent that can help support their ability to move forward?" Johnson said. "How do you support that whole family unit? That might look like a number of things."
Johnson said programs can vary in the type of assistance they provide but a good example would be programs that support early learning for a child as well as education for their parents and vice-versa.
"It is really a wrap-around service," Johnson said. "The attempt of these services would be to ensure that barriers are removed for the parent and child."
United Way said part of the call to action is to "focus explicitly on equity and intersectionality" and address the racial and socioeconomic divide.
Johnson stressed that the idea is not to place blame but to see how systems affect the community.
"Differences abound depending on where you live in McLennan County," the report states. "In our conversations, we found this to be well-documented and openly discussed."
Geography, gender, race
When it came to the intersection of place and poverty, the report found that 75% of children who live in poverty are concentrated in only four school districts in the county: Connally, Midway, La Vega and Waco.
"We have classism in Waco," a McLennan County resident who was interviewed for the study said. "If you come from a different ZIP code or have a different look ... communities look different and schools are performing at different levels because money and support aren't getting into those schools."
With this in mind, United Way calls on the county to focus "explicitly" on equity and intersectionality, acknowledging the impact of gender, race, and geography have on a child's development and taking that into account when making investments into communities.
Johnson said organizations need to go into those communities to get a better understanding of what is happening.
"What barriers are you experiencing on a day to day basis?" Johnson asked.
The report also indicated 42% of parents were challenged by having to be put on a waiting list for child care and 49% said finding out what financial assistance programs for child care were available also was a challenge.
This proved to be the second key finding of the survey, and United Way said ensuring access to high-quality child care is important.
"We heard about a range of issues including equitable access, hours of operation and affordability, the presence of quality learning opportunities and trained staff, and cleanliness and safety," the report stated. "All of these factors must be included in our definition of high-quality child care."
Family well-being
Overall, the study found that the top five responses to what impacts a family's well-being were having a social support network, affordable housing, jobs, access to parks and recreation, and child care.
Johnson stressed that it is the community's work to address the report findings.
"What do you want for your community?" Johnson said. "How do you want to move forward?"
Johnson said while the shift is also happening nationally, the community needs to be the driving force behind addressing the issues if they want to see long-lasting change.
"Let's do the work and stop talking about the work," said a McLennan County health provider. "The research has been done, now let's just get it into practice and be willing to put resources towards it ... let's put our money where our mouth is and let's be about it and not just talk about it."
According to the report, the fourth phase of addressing the issues is for "community members and stakeholders to come together to create a community action plan that includes a shared vision, with unified goals and measures of success."
Wendy Ellis, the organization's CEO who joined the team in April said the report was the only one step on the whole journey.
"We will now move into the next phase of the work, which is to invite those who lent their voice for this research back to the table so that we can collectively build our community's action plan," Ellis said.
Johnson said United Way is partnering with other organizations and increasing the interest in coming together to support the community. They are currently partnered with a core team consisting of 10 organizations that cover various sectors of the community.
"This is work that we can co-create together to make sure that various voices throughout the community, particularly those who haven't been part of the conversation before, are heard. This is an inclusive effort," Johnson said.