When Robert Macy stands in front of a social studies classroom at Midway High School, he can often point to the textbook and say, "I was there" or "I remember when that happened."
The 85-year-old veteran celebrated his birthday Friday with students at the school, where he has been a substitute teacher for more than 20 years. Students showered him with birthday cards, posters, and well wishes during the day.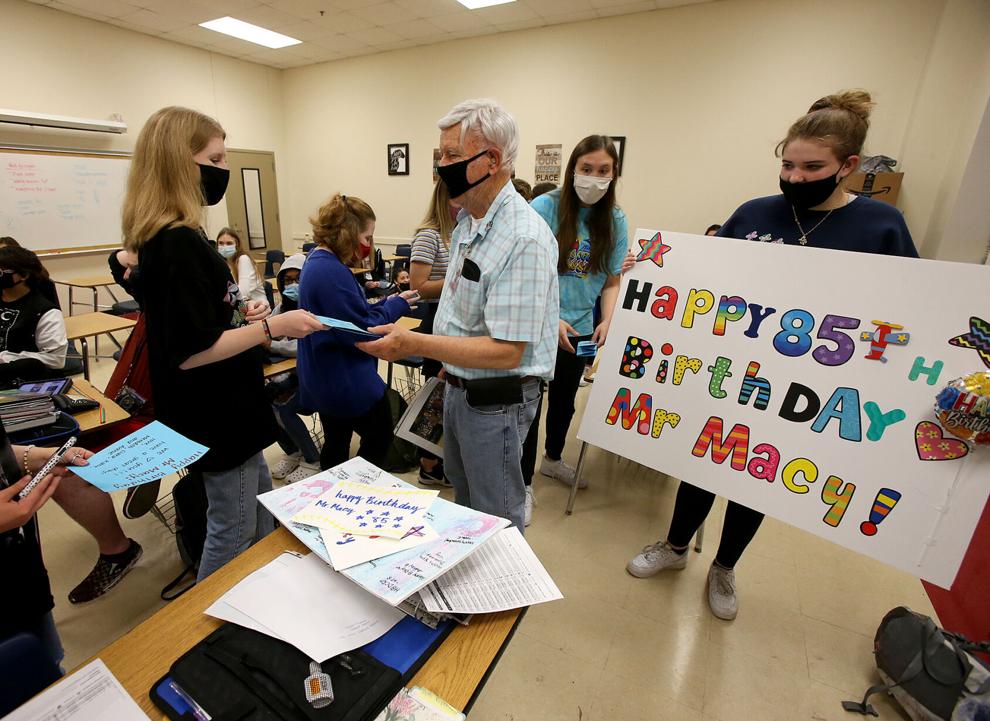 Macy is known at the school as a living link to history, as a witness of the Korean War, the space program and Cold War-era nuclear testing. He has had a varied series of career paths in the military, Waco Veterans Affairs and substitute teaching at Midway, Robinson and Connally ISD.
But it is his kindness and sense of humor, especially this year in the face of COVID-19, that endears him to students and staff.
"I'm excited to celebrate with Mr. Macy today because he is the sweetest man," junior Katie Baird said. "He has the coolest stories that are so interesting to listen to."
A substitute teacher's job is to take roll and distribute materials left by the absent teacher. But students say they appreciate his willingness to share his life experiences.
"Mr. Macy is fantastic," senior Sabrina Zheng said. "He lets students do their classwork and isn't overbearing. If you have nothing to do, Mr. Macy is always willing to share a story or two."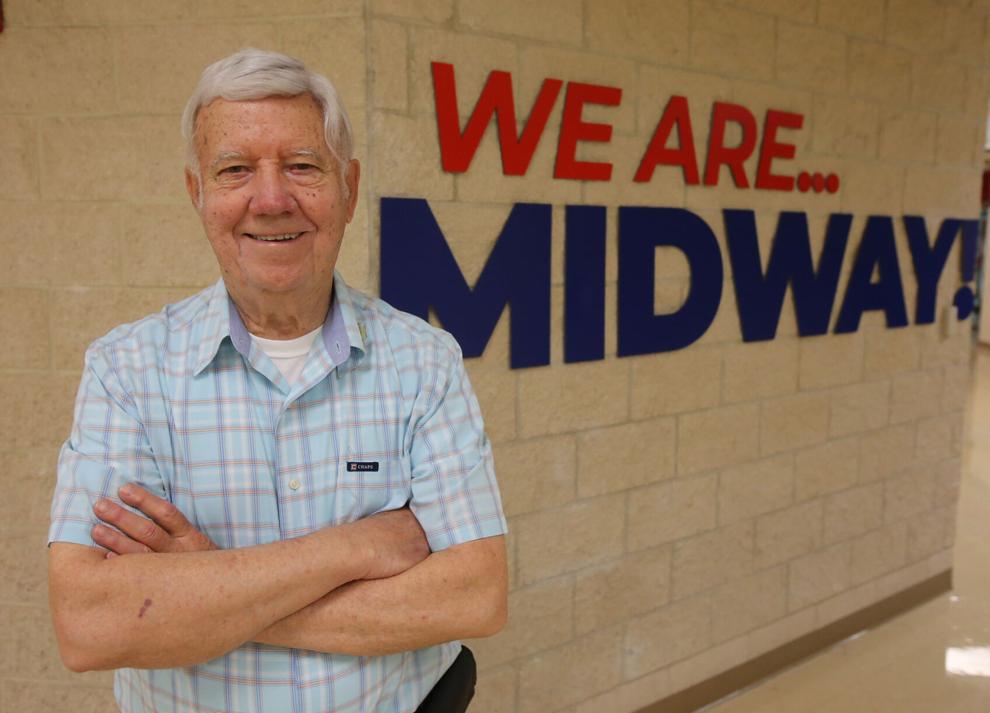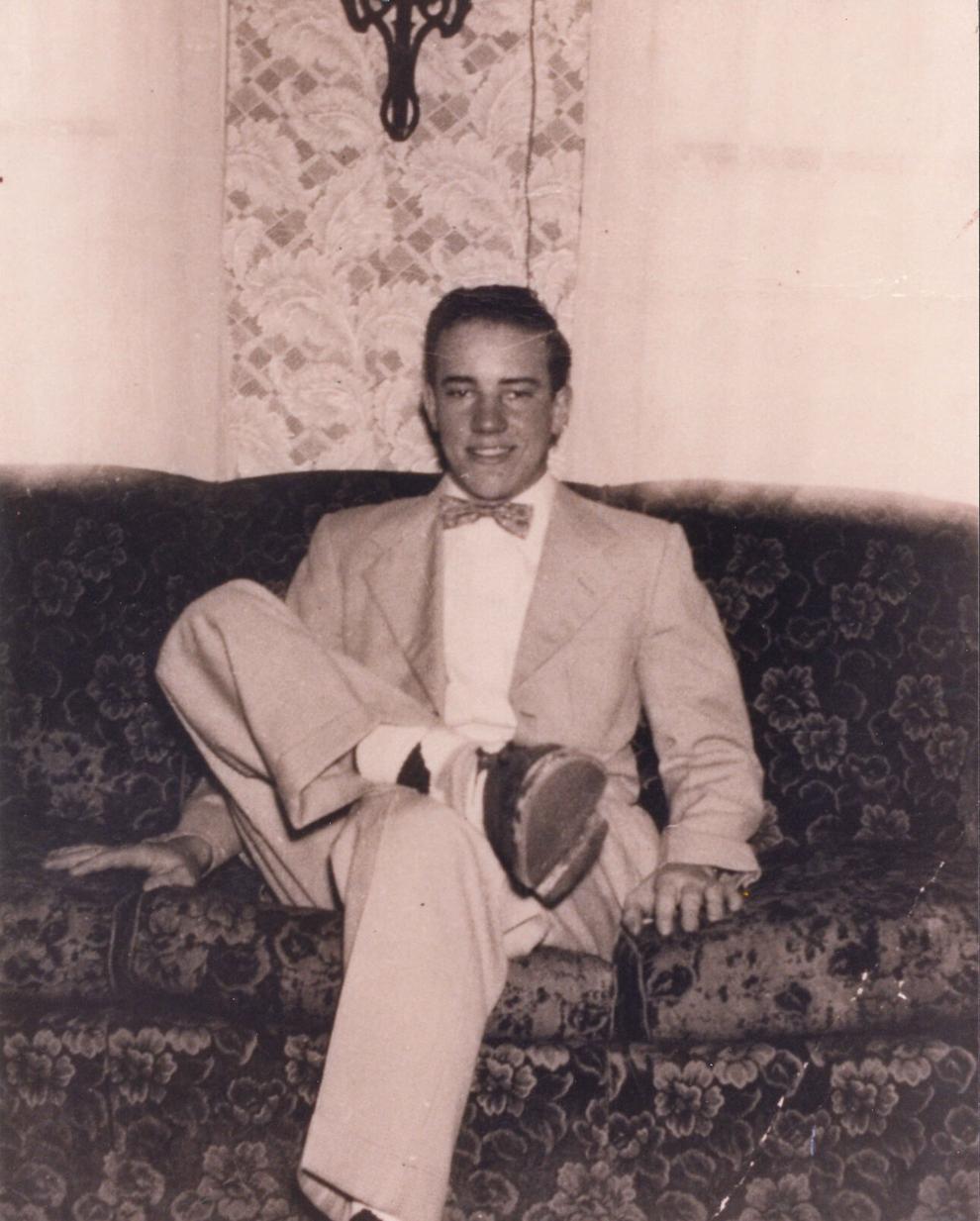 Born in Iowa in 1936, Macy said his early memories include world war and his grandfather's work as a treasurer of a coal miner's union.
"I love history and government," Macy said. "I remember World War II and when the war was over. I was 8 or 9 years old. I remember going on paper drives. Our school would pick up all the papers we could get, and they used the paper for cardboard and stuff. I also remember when Roosevelt died."
Macy served for more than 20 years in the military. His career began with the Air Force from 1953 to 1961, then the Air Force Reserves and Iowa Air National Guard from 1961 to 1963, then the Navy from 1963 to 1974. He served in places like Spain and Guantanamo Bay.
"I went (into the military) at the tail end of the Korean War," he said, adding that he served in a noncombat role at Guantanamo Bay at the time.
His military stories are often the favorite of students. On one occasion, he recalls, he was in a plane that caught fire. The plane's crew put on their parachutes and prepared to eject, but the plane did a nosedive that extinguished the fire.
He was working as a mechanic aboard the USS Lake Champlain in 1965 as frogmen recovered NASA's Gemini 5 capsule of astronauts Charles "Pete" Conrad and Leroy "Gordo" Cooper from the Atlantic Ocean. The same year, the ship assisted in the recovery of the unmanned Gemini 2.
While serving as an Air Force mechanic, he witnessed the atomic bomb tests in Nevada in 1955, followed by hydrogen bomb tests in Marshall Islands soon thereafter.
"I had to wear a radiation badge, but I never got radiation," he said, matter-of-factly. "The Atomic Energy Commission sent me a letter wanting to know if I was all right."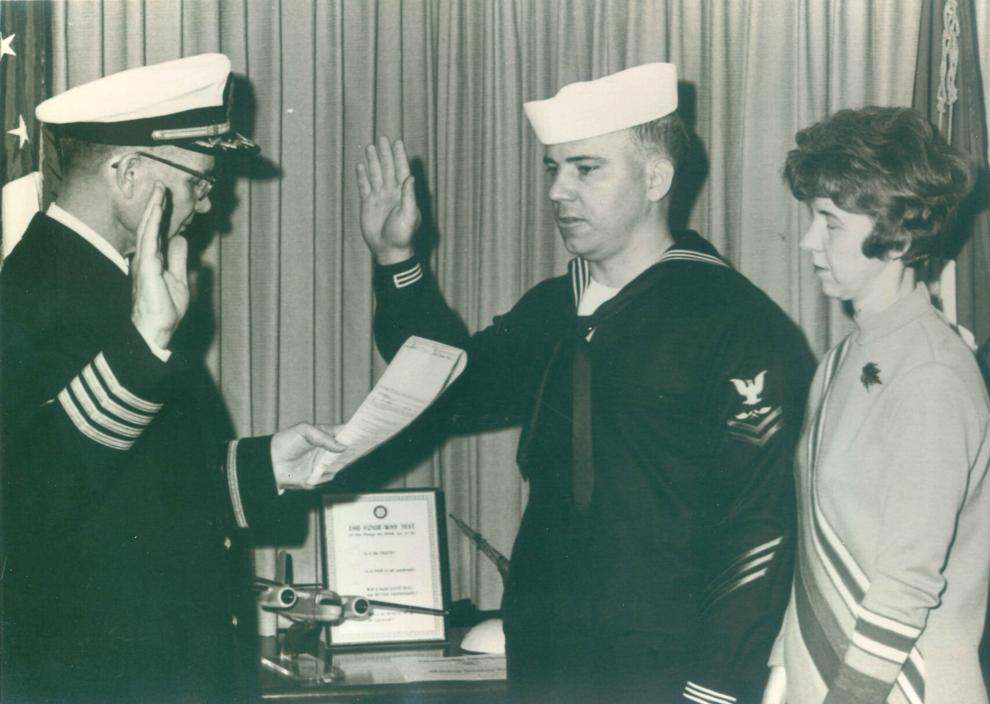 Macy and his wife Margie were married on a base in Rhode Island in 1966. They moved to Texas by happenstance in 1977.
"We were going to go to Pennsylvania," he said, "and we hit a blizzard. She had a niece in Gatesville."
After what was to be a temporary move to Gatesville, he applied for a job at the Waco VA Hospital.
"I didn't want to go back to snow," he said, laughing.
Macy held several jobs there, beginning with housekeeping.
"I was desperate for a job and I didn't care what it was," he said.
He worked in patient effects and the file room. Then, after earning degrees from MCC and Tarleton in vocational rehab therapy as well as industrial education, he worked with veterans battling addictions and PTSD. For more than eight years, he worked in a "shop setting" with them.
"I worked with a lot of post-traumatic stress patients," he said "We had woodworking, plastics, a lapidary. … I'm really a shop teacher, and I worked with them once per week. I reported to the psychologist on how they were doing (with) socializing."
He became a substitute in 2000 at Midway ISD, where he can be found nearly every day the high school or middle school.
When Midway ISD closed its campuses in March 2020 due to the COVID-19 pandemic and moved to remote instruction, Macy was sidelined as a substitute. He stayed busy with his hobby of picture framing and matting. Though he was in the at-risk age group for COVID-19, he resumed his substitute work in August, wearing a mask and following safety protocols such as disinfecting desks and tables and eventually getting the vaccine.
"It's really different this year," he said.
Macy's substitute work allows him and Margie to travel extensively, often staying at military bases, listening to concerts, and visiting museums.
"I use the extra money (from subbing) for vacations," he said.
He recalled trips to Australia, New Zealand, Alaska, Jamaica, Hawaii and others as highlights. On travels, he tries to visit family, including his three daughters.
The Macys attend Bethel Methodist Church of Robinson. He has served in leadership positions for National Active and Retired Federal Employees Association and the Waco Gem and Mineral Club. After school and on weekends, he attends Midway and Baylor events and athletics. A favorite, he said, is the annual Veterans Breakfast hosted by Midway's MCJROTC program.