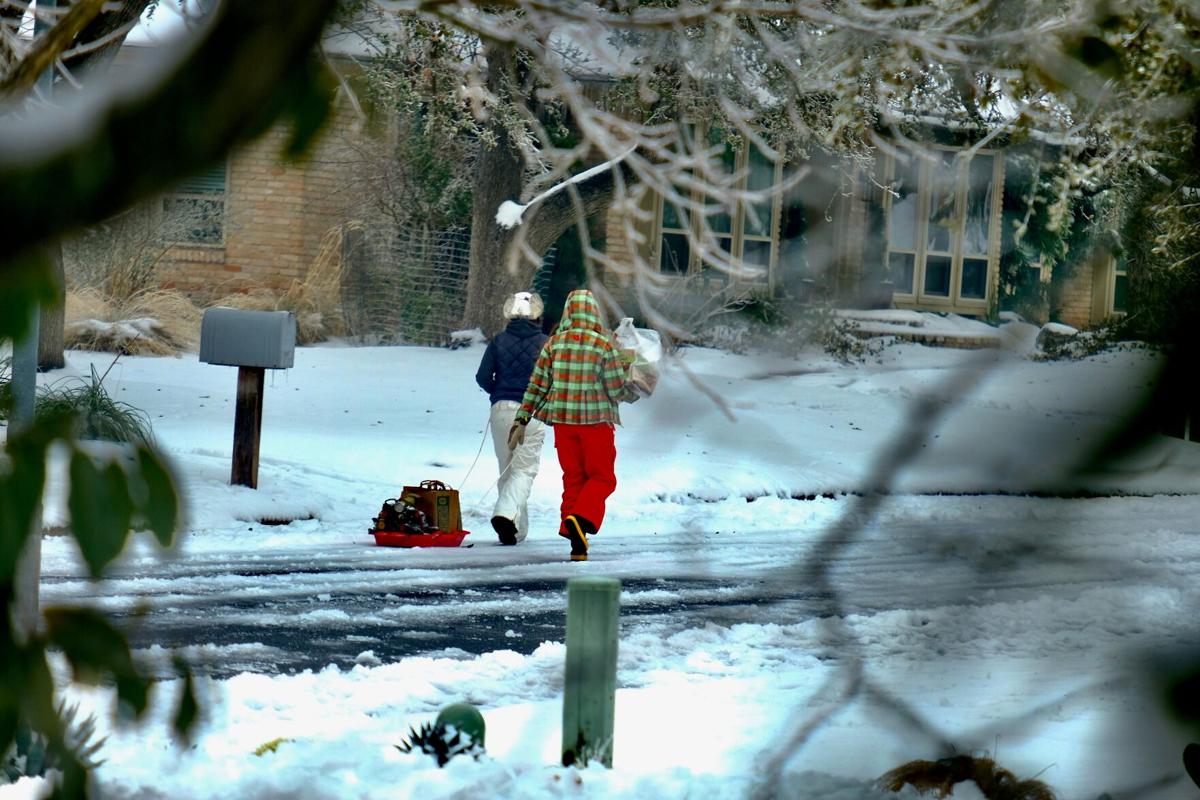 The quest for food continues during the icy storm gripping Central Texas, with restaurants facing challenges related to supplies, staffing and customer accommodations, even as the legal occupancy rate has increased to 75% due to dropping COVID-19 numbers.
H-E-B, its delivery trucks grounded in Temple, has imposed purchase limits on many items as shelves in Waco stores suffer that sinking feeling. Company spokesperson Chelsea Thompson said vendors statewide, including providers of brand-name products such as Coca-Cola and Borden, are seeing their 18-wheelers frozen in place, their H-E-B destinations on islands of ice.
Kyle Citrano, president of the Waco Restaurant Association, said owners and managers face a "nightmare" created by a not-so-perfect storm. Colleagues around the state, though not in Waco as of early Thursday evening, are boiling water, if there is water to be had. Employee counts are falling because of hazardous driving conditions, and some establishments remain out of electricity.
Citrano said his George's restaurant on Hewitt Drive reopened Wednesday and served customers eager to escape the confines of their homes and offices. He said he is working with suppliers including Ben E. Keith and Waco Custom Meats to keep his inventory at acceptable levels, but he said Ben E. Keith first ships to Temple for delivery to customers in Waco.
Such a roundabout course could spell trouble for local restaurants, Citrano said.
Jubilee Food Market, 15th Street and Colcord Avenue, received 25 cases of Mill-King milk Thursday morning, only to see customers inhale the delivery in 39 minutes, store manager Robert Lopez said. Heart of Texas Farms will deliver 60 dozen eggs Friday, and the store's bread distributors have indicated they may have trucks in Waco on Saturday.
"Right now, the vehicles are stuck in Dallas," Lopez said by phone.
Andrew Benson, who owns Heart of Texas Farms, known for their cage-free eggs, said he is not equipped to deliver over icy roads now prevalent in his service area. But clients determined to offer his farm-fresh products are improvising by trekking to his Lorena coop.
Poppa Rollo's Pizza was open Thursday on Valley Mills Drive and Hewitt Drive, but ingredients were running low as evening approached. Manager Christopher Gonzales said co-owners Mary and Roland Duty were preparing to "brave the elements," and travel to a supplier in Temple on Friday to fetch pizza-making supplies.
McLennan County Judge Scott Felton said Thursday that McLennan County is in a zone that has seen COVID-19 hospitalizations fall to less than 15% of staffed hospital beds for seven consecutive days. Felton said this means restaurants may increase their legal occupancy from the current 50% to 75%, and businesses can operate with 50% of their staff.
Citrano said the improvement is laudable, but increasing occupancy to 75% will have no impact on his operations, or those of many other restaurants. He said social distancing remains key to keeping their doors open, and arranging tables for 75% occupancy defeats that purpose.
Felton said McLennan County's dropping COVID-19 count also means he is authorized to allow bars to reopen. He said he is taking steps to exercise that authority.
Felton said he remains especially concerned about tight water inventory and the possibility that purification and distribution systems could be compromised. He said a shortage would impact more than the ability to cook or take showers, and could jeopardize the area's ability to fight or contain structural fires.
"Lives could be put in danger," Felton said.
Food aid
At the Shepherd's Heart Food Pantry, 1401 N. 34th St., icy streets had kept some recipients home rather than driving to the food distribution site. Executive Director Bob Gager said traffic to the pantry this week had been down from the usual 500 to 800 cars and trucks showing up during the weekly distributions.
Volunteers began loading and passing out boxes of food three hours earlier than the usual noon start on Thursday because lines already were forming at that time, Gager said.
In addition to the food distribution, Shepherd's Heart volunteers provide food to about 700 seniors in the Waco area. Although the pantry did not receive its usual food deliveries this week because of weather disruptions, pantry operators had anticipated an increase in demand and ordered accordingly, resulting in sufficient stocks, Gager said.
At the Family of Faith Worship Center, 4112 Memorial Drive, more than 200 families were given food and some clothing Tuesday, Pastor Ruben Andrade said. The center normally provides groceries to families on Tuesdays, but has increased its food distribution to three days this week to meet demand, including Thursday afternoon.
While the icy conditions have not affected supplies or volunteers, thanks to advance ordering and church members off from work who have stepped up to help out, the distributions have shifted from drive-thru to curbside by appointment. To schedule a food pick-up, contact Andrade at pastor@familyoffaithwc.org or 757-3188.
Both Gager and Andrade said donations of money are helpful at this time given the pantries' buying power for food in bulk. Donations can be made at shepherdsheartpantry.org for Shepherd's Heart and by contacting Andrade for Family of Faith Worship Center.
---
Photo gallery
Tribune-Herald staff writer Carl Hoover contributed to this report.