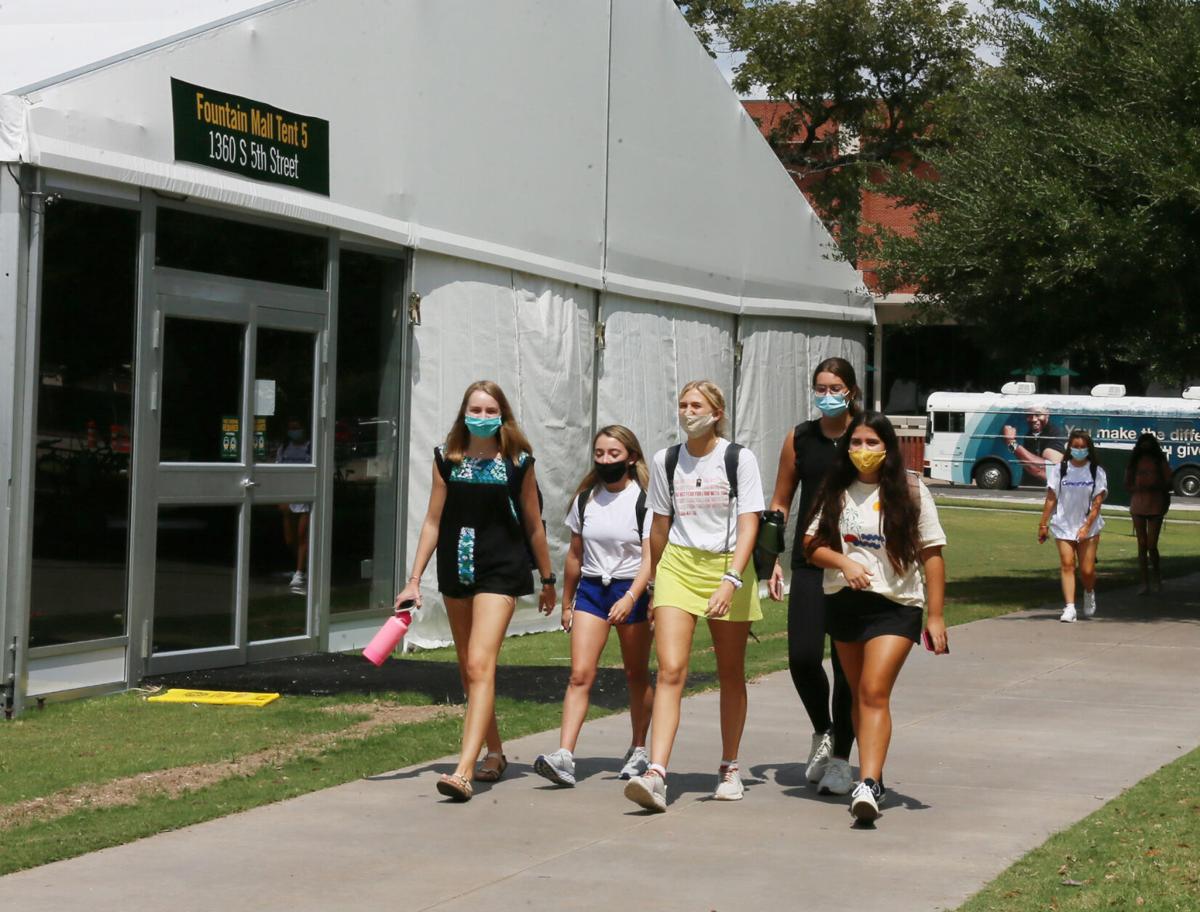 As Texas opens COVID-19 vaccine eligibility to all adults this week, the state is doubling this week's vaccine supply to McLennan County with 3,840 additional doses coming through Baylor University and Walgreens and H-E-B pharmacies.
Local public health officials said the expansion comes as the median age of COVID-19 patients is shifting down.
LaShonda Malrey-Horne, Waco-McLennan County Public Health District director, said Monday there's no way for the health district to predict if younger age groups will be as interested in the vaccine as older patients and those with conditions that made them more vulnerable to the virus.
"This will be the first week that young adults will be eligible for the vaccine, so we don't have any data to show what the uptake is that this point," Malrey-Horne said.
She said there was no noticeable influx of new applicants on Monday when the policy changed, and if it doesn't pick up in a week or so the public health district might try a promotion targeted to those age groups.
"That's what the cases showed early on, that the younger you are, the healthier you are, the less likely you are to have severe disease or may be asymptomatic," Malrey-Horne said. "It's hard to tell what will happen from case to case, everybody is just different."
The state's allotment list shows the usual weekly allotment to the county's two vaccine hubs. The health district is due to receive another 1,500 first doses of the Moderna vaccine for its vaccine hub at the Waco Convention Center this week, while Ascension Providence will receive 2,340 Pfizer doses.
Malrey-Horne said the current waitlist for the public health district's weekly vaccine clinic is relatively short, but would not say how many names are on it, saying the number fluctuates too often.
"It shifts, it might be 500 people and then of those 500, 100 have already gotten the vaccine somewhere else and 100 may be scheduled somewhere else," Malrey-Horne said.
Meanwhile this week, five H-E-B stores in Greater Waco will receive 300 doses each of the one-shot Johnson & Johnson vaccine, while Baylor student health services and Walgreens at 1821 South Valley Mills Drive will each receive 1,170 first doses of the Pfizer vaccine.
According to the Texas Department of State Health Services, 31,603 McLennan County residents, or more than 15% of the population 16 and older, are fully vaccinated. A total of 51,450 McLennan County residents have received at least one vaccine, or nearly 26%.
The health district reported 192 active cases of COVID-19 in McLennan County on Monday, almost unchanged from a week ago. The 23 new cases reported Monday brought the cumulative case county to 25,434, while a new death reported Monday brought the county's death toll to 488.
Malrey-Horne said the full impact of infections that would have occurred during spring break or as a result of Governor Greg Abbott's decision to lift the statewide mask mandate will start to appear in the COVID-19 numbers starting late this week and into the middle of the next.
"We're getting close to seeing if there's any impact," Malrey-Horne said. "But that's really only if people get tested."
For the rest of the month, the public health district's vaccine clinic will move back to Waco Convention Center because of the demolition of the bridge at Martin Luther King Jr. Boulevard and the track and field events scheduled for spring at McLane Stadium.
Baylor University, McLennan Community College and Texas State Community College in Waco said they will encourage but not require the COVID-19 vaccine for students or employees.
Baylor University reported close to 1,300 employees and students have been vaccinated, amounting to 4.3% of the student population and 14% of employees. The university has been vaccinating students and staff that fall under the higher-risk categories since December and is still working through its first waitlist of 6,000 people.
"We will announce dates of future vaccination clinics soon as well as the process for making an appointment," university spokeswoman Lori Fogleman said in an email. "But we encourage faculty, staff and students to get vaccinated when and where they can and use free tools such as VaccineFinder."
Fogleman said the university plans to launch a "Take the Shot. Win The Game" campaign to encourage students to get the vaccine.
Students who have been fully vaccinated, meaning they've received both doses at least 14 days ago, will be exempt from the weekly random COVID-19 testing the university has been conducting since last year.
McLennan Community College officials said they are open to partnering with a vaccine provider for an on-campus clinic, but there are few students on campus now because the college has shifted many classes online.
"We're probably not the best place, at the moment, for students during the day and get them, it's just out of their way," said MCC spokeswoman Lisa Elliott. "But we're open to it."
Elliott said the Texas Higher Education Coordinating Board would be in charge of deciding whether or not the vaccine becomes mandatory for enrollment.
She said MCC just updated its pandemic policies and will soon begin considering allowing events held by outside entities on-campus. Events will begin after June 1.
Kristina Campos-Davis, strategic communication executive for Texas State Techincal College, said has been no discussion of holding a vaccine clinic at TSTC or of requiring the vaccine in the future for students or employees.
"We saw, last week, that Rutgers University started requiring it, but no we have not had that discussion yet," Campos-Davis said.