Researchers are still figuring out why some COVID-19 patients show only mild symptoms and some remain winded and exhausted for months, and local doctors said life after COVID-19 differs unpredictably from patient to patient.
While complications as dire as acute organ failure are common in severe cases, and spending weeks on a ventilator comes with its own side-effects, local doctors said lingering fatigue, pain and shortness of breath are much more common. For most, the symptoms last weeks. For a few, they last months.
"We don't really know what some of the long-term effects can be from the virus," said Dr. Adam Falcone with Waco Cardiology Associates. "That's going to be data that comes out over the next several years."
The inflammation that comes with the virus is the key to many of the lingering issues. If doctors could determine what triggers the inflammation, they could isolate and treat it, tamping down the severity of symptoms, Falcone said. Doctors know certain conditions predispose patients to complications, but they still do not fully know why some people have no symptoms and others become dangerously sick.
"We don't know what is the marker, what happens in the body that causes one person to end up in the ICU and one person to not have symptoms, and that's what a lot of the research is going into," Falcone said.
He said other infections, pneumonia, flu and sepsis to name a few, can cause similar stress responses in the body. What sets the novel coronavirus apart is the unusually high number of people who get seriously ill.
"You're not talking about mortality. You're talking about morbidity, its effect on your day-to-day lifestyle," Falcone said.
While much mystery remains, antiviral medications, steroids and convalescent plasma have become common treatments. As the disease started spreading in Europe, it had a mortality rate of 10% to 15%, which has fallen to less than 1% as doctors have learned more.
COVID-19 affects the body's oxygen supply, part of the reason conditions that inhibit the body's supply of oxygen, including cardiomyopathy and congestive heart failure, are associated with more serious problems in COVID-19 patients.
"Oxygen is like the fuel for the body, so anything that increases the demand or decreases the supply leads to damage," Falcone said. "So if you're looking at somebody with significant coronary artery disease, they already have that narrowing of the arteries that already decreases that supply of blood which is carrying oxygen to the tissue. Add to that the fact that they're in an affected state that increases the demand, you get a bigger mismatch, and that mismatch is what leads to organ problems."
Falcone said in the short term, inflammation caused by the disease can cause blood clots, inflame heart muscles and cause arrhythmias like atrial fibrillation, which causes a fast, erratic heartbeat starting with the top two chambers of the heart. He said the arrhythmia is not normally lethal, but carries the long-term risk of stroke.
"If you have a preexisting heart condition it can pre-dispose you to having a worse outcome compared to the general population," Falcone said.
In Texas, doctors only have about six months of hands-on experience with the virus, and long-term symptoms are only just beginning to present themselves in patients. Among them are the "long haulers," a small contingent of patients who survive severe illness but are left with lingering symptoms that last longer than six months.
Long haulers have lingering fatigue, weakness and shortness of breath that makes daily life incredibly difficult, said Dr. Rodney Richie, a retired Waco pulmonologist who now treats patients at the U.S. Department of Veterans Affairs hospital in Cheyenne, Wyoming. Obesity, hypertension and old age often coincide with serious COVID-19 cases, but even the athletic and the young have become long haulers, he said.
"Generally speaking with heart damage from anything and lung damage, rehabilitation helps," Richie said. "We just haven't had enough exposure, enough study of these long haulers to know what, if anything, is going to directly help them."
Richie said while it is still not possible to predict who will experience what symptoms, people living in poverty have worse COVID-19 outcomes across the board.
"I think this pandemic has been a spotlight on the health disparity we've always known," Richie said. "We've seen across the United States that it's worse in these areas of economic and healthcare poverty."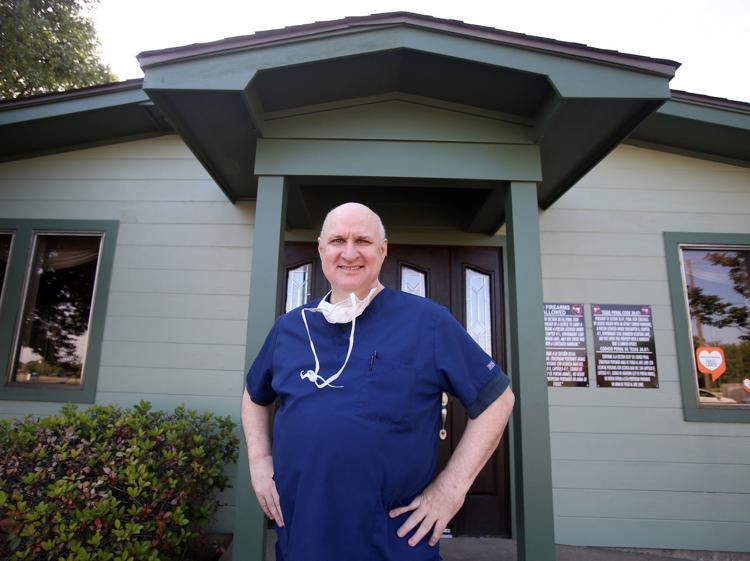 Dr. Tim Martindale, an independent family doctor in Waco, said he has treated COVID-19 patients of every age from the onset of illness through their recovery. Martindale experienced the long lasting effects of the virus firsthand after he became ill in April. He said his fever, aches and "strangling" cough lasted 21 days, and he remained fatigued for another two weeks.
"Probably day one and two, then days nine and 10, were the days I felt closest to death," Martindale said.
As his body reacted to the virus, mild arthritis in his left foot kicked off a reaction that left it swollen and painful. After missing a month of work, he returned with a limp that persists today. Now, he performs between five and 15 COVID-19 tests on patients per day and he diagnosed four last week.
He said patients report inflammatory reactions that range from body aches to rashes and joint pain lasting anywhere from weeks to months.
"The virus hits you with an inflammatory reaction, and wherever you've got a weak spot, that's where it's going to act up," Martindale said.
The overblown immune response and subsequent damage usually happen during the second phase of a patient's illness, around day nine or 10, when patients often start to feel better. If a reaction happens, a patient can take a sudden turn for the worse that can result in kidney, heart, lung or liver failure that can take months to recover from.
"That's why we think of the elderly as more at risk, because their crucial organs can be damaged and struggle for months afterward," Martindale said.
Along with supplements including vitamin D, vitamin C and zinc, Martindale recommends deep breathing and prone breathing exercises to open airways, prevent pneumonia and hopefully avoid hospitalization.
"The number one risk of COVID-19 is breathing," Martindale said. "That's what puts people on ventilators. That's what kills people, the stress of their lungs just not working."
Martindale said ventilators save lives but come with their own side effects that can last for months after the illness. A long stint on a ventilator can also diminish mental acuity, concentration, memory and focus, which can take between two and six months to recover.
"You sit there in a ventilator. Usually, it's about 10 to 20 days," Martindale said. "So, sitting on a ventilator you're inactive. You tend to have things like joint problems, skin damage and airway reactivity, those sorts of things."
Martindale never needed hospitalization over the course of his illness, but he said what surprised him most was the anxiety that came with it.
"I'd never had a panic attack in my life before COVID-19," Martindale said. "About eight days in, I had this crazy 36 hours of panic. I was calling up my family, saying 'help me talk through this!' I stayed up straight the night, mind racing, and couldn't even think about sleeping because of the panic. That was a strange thing, and quite a few have told me the same thing."
He said the added stress can quickly weigh on every other aspect of a person's life, especially if someone is unable to work. Significant depression and despair are equally common in COVID-19 patients with more punishing physical symptoms, even those with no previously known mental illnesses.
"Why? We're not sure. We think it's actually part of the course of COVID-19 to include emotional components," Martindale said. "The feeling that you can't breathe can give you a feeling of desperation and panic, an 'I'm drowning' kind of feeling."
Like shortness of breath, the anxiety and depression often outlasts the initial illness by two to six months.
"That timeline is a little hard to predict, because we've only known about it for seven to eight months," Martindale said. "There may be some long-term consequences we just don't know about yet."
Dr. Matt Pattillo, a pulmonary and critical care provider with Ascension Providence, said the scarring left from inflammation can look frightening on an X-ray, but he has not seen any instances of permanent scarring in the 80 or so patients he has treated.
"Even when you're discharged from the hospital, we're finding that most people still have evidence of pneumonia on their X-ray, but it improves significantly from the onset of their illness," Pattillo said.
He said his patients who recovered after weeks on ventilators eventually had clear chest X-rays as well. He said he would estimate 50% to 60% of severe cases were in patients with either obesity or uncontrolled diabetes.
"The majority of people are in their 60s to 70s, but we've had our fair share of young people," Pattillo said. "And of those that are getting really sick, the obesity and the diabetes seem to be kind of the two strongest factors playing a role."
Pattillo said most COVID-19 patients will never require a ventilator, but those who do tend to stay sick for longer than the more typical two-weeks disease course.
"The survival rate, when you get put on a ventilator, goes way down," Pattillo said. "It's not that the ventilator is hurting people. … It's just that if you get that ill then you have to go on the ventilator, it's just a bad prognostic sign."
See where and how fast virus cases are rising in our state and nation, in 8 maps and charts
Concerned about COVID-19?
Sign up now to get the most recent coronavirus headlines and other important local and national news sent to your email inbox daily.