The heaviest single-day snowfall in the Waco area in nearly four decades brought out sledders and snowball fighters on Sunday, closed Cameron Park and led school districts to announce Monday closures.
Fluffy snow fell continuously for most of the day, and by 6 p.m., Waco Regional Airport reported 4.4 inches, the most since Jan. 13, 1982, when 6 inches were recorded.
The National Weather Service Forecast Office in Fort Worth issued a winter storm warning for McLennan County that will stay in place until 6 a.m. Monday. The Texas Department of Transportation warned about possible freezing on I-35's overpasses in Waco.
The road conditions caused numerous school districts to cancel Monday classes, including Waco, Midway, La Vega, Robinson, Hallsburg, McGregor, Riesel, Crawford, Lorena, Mart, Marlin, Bruceville-Eddy and West independent school districts.
Texas State Technical College also announced it will be closed Monday.
The Waco-McLennan County Health District announced that it would cancel COVID-19 tests Monday.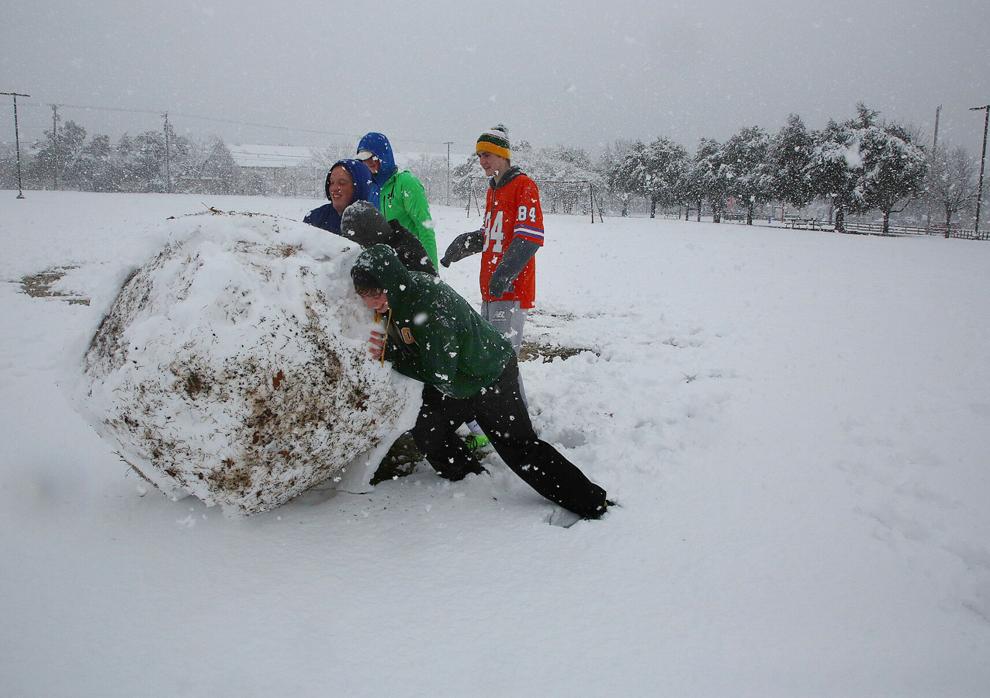 People bundled up and headed to parks for snowball fights and sledding, but some had to change their plans after the weight of the snow broke tree limbs and downed trees throughout Cameron Park. Waco police Officer Garen Bynum said the park closed just before 4 p.m. after some vehicles became trapped in the park after falling trees and blocked their path.
"It's a mess," Bynum said Sunday. "People can't get in, and once they try to get in they'll get about halfway down and get stuck, then they'll try to get out and a tree falls behind them."
Bynum said Waco Police, the city's parks and recreation department and park rangers closed the park and barricaded roads leading into the park while other officers tried to help people get out.
"The problem is, we can't go too far in because then we won't be able to get out," Bynum said.
Waco police responded to a car accident on Highway 6 near Bosque Blvd.
Matt Bishop, an NWS meteorologist, said heavy snow was widespread across Central Texas. The NWS warned most areas would receive between three to five inches, with isolated pockets of 8-inch snow. Stephenville, Texas reported the most at eight inches.
"Pretty much everything south of the I-20 corridor is where all the heavy snow has been occurring, that's just the track the storm happens to be taking," Bishop said. "So with all the moisture and all the lift is occurring with the system."
Bishop said he expected the snow to move northeast around sunset Sunday. He said it was possible the snow would melt and refreeze overnight, especially on roads that aren't as heavily used that might not have been treated by road crews.
Jake Smith, a public information officer for the Texas Department of Transportation, said there was one road closure in the Waco region on main lanes of I-14 in Nolanville, west of FM 2410. TxDOT diverted traffic onto frontage roads to avoid inclement weather. The road reopened at 3 p.m.
Smith said maintenance crews were started patrolling roads with salt and sand districtwide in McLennan County and surrounding counties, including bridges and overpasses. He said TxDOT pretreated bridges, overpasses and the main lanes of Interstate 35 that run through Waco with salt solution on Friday.
"Those are the part of roadways that tend to freeze first," Smith said.
He said crews would continue doing so until Monday morning.
The last time Waco received more than an inch of snow was Feb. 22, 2010, when 3.1 inches fell. The record snowfall for a single day in Waco remains 13 inches that fell Feb. 25, 1924.