After a 31-year reign of terror, the mad curators of the Museum of Horrors have made the difficult decision to sell.
Co-owner Danea Anderson has played her own character, Dr. Frenzy Rigamortis, since opening the Waco Haunted House on Interstate 35 near Elm Mott in 1990. The haunted house consists of the Museum of Horrors and an adjacent Texas Chainsaw Nightmare attraction.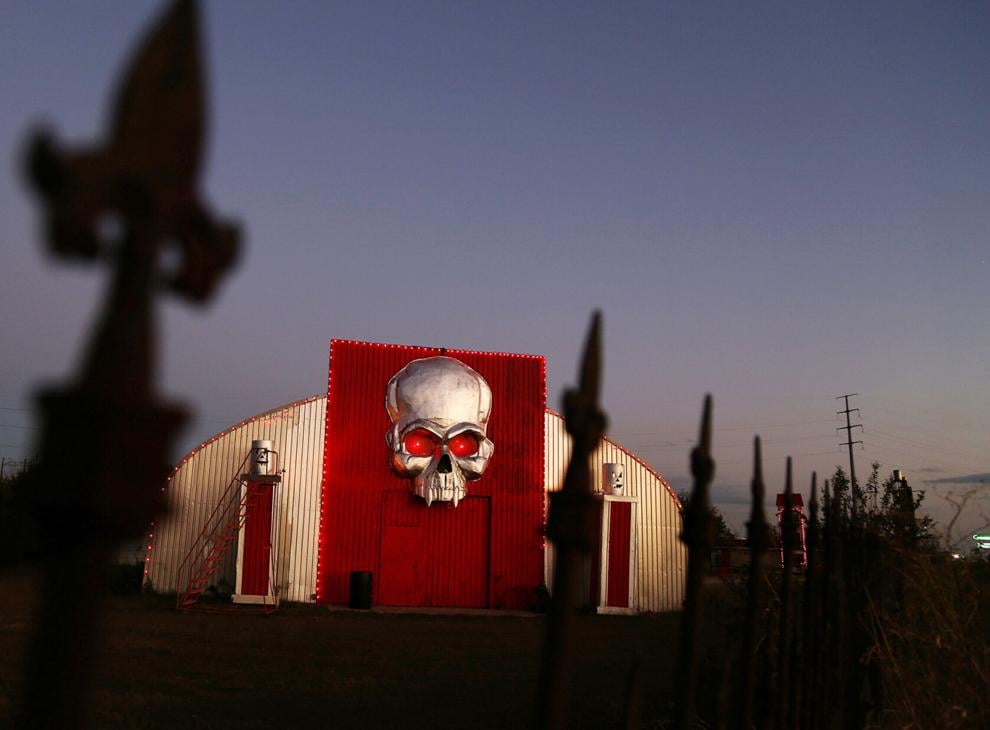 On Wednesday, Anderson had traded in her lab coat and Frankenstein wig for comfortable pants, a Texas Chainsaw Nightmare sweatshirt and a tool belt she DIY'd out of a pair of old jeans, and got to work preparing the two attraction for sale.
"I have so many memories here," Anderson said. "I've been doing this for 30 years and the people I've had people tell me, especially some of the kids that come out, that it was because they were able to connect with other people. … All teenagers feel like they're alienated from somebody, and they already feel kind of monstrous."
The two haunted houses, multiple hearses and 30 years' worth of animatronics, props and equipment are up for sale. She said the sale price will likely be around $600,000.
"I just was so blessed to be in there," Anderson said. "I have friends that I met because of the haunted house, where we came together and we terrified people and had a good time."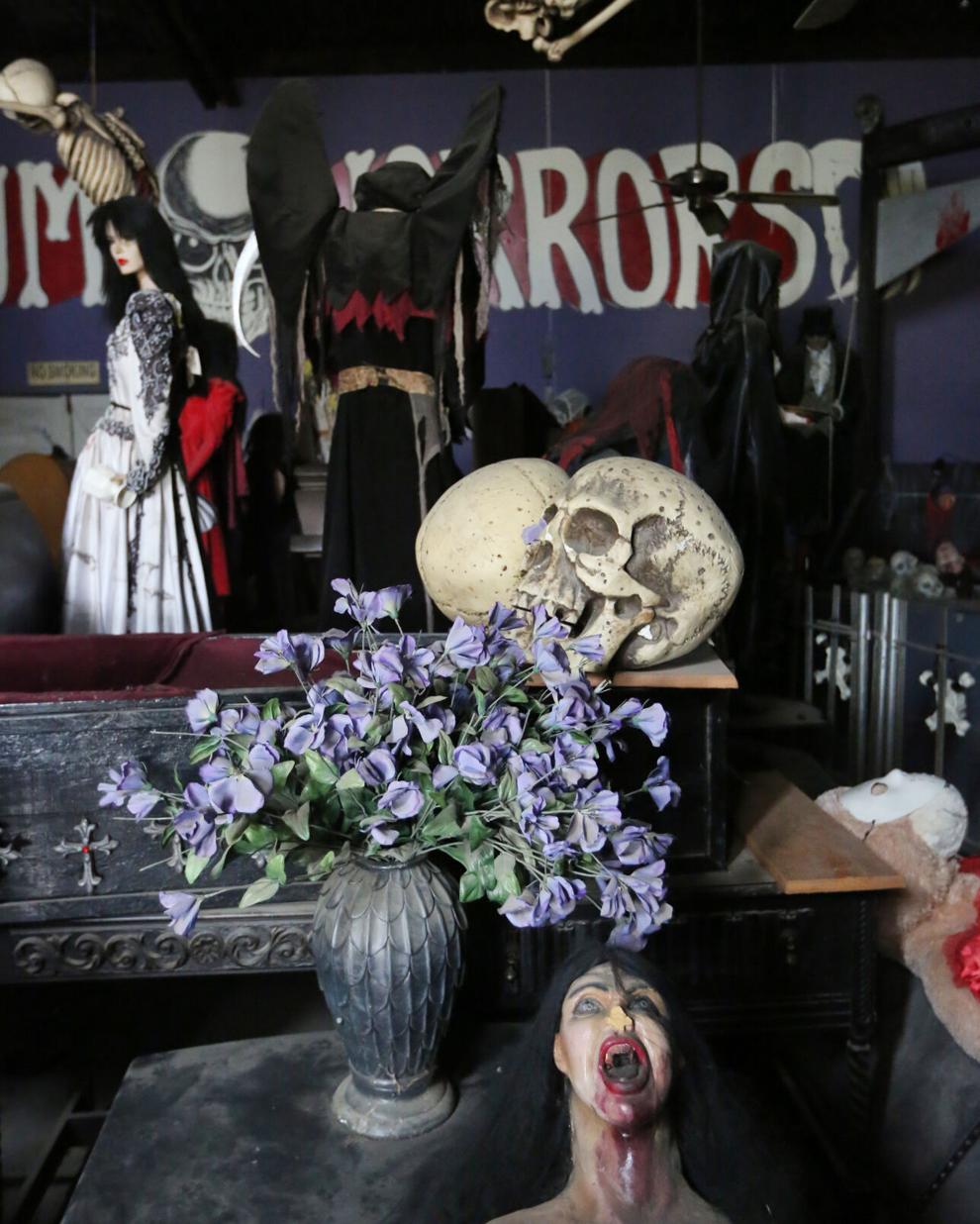 Anderson said the haunted house's final season only lasted a few weeks in October. She and her crew changed the haunted house to keep it COVID-safe, and masked fans who saw the announcement on Facebook came out.
"We weren't able to do a full season, but we were able to do enough ... to carry us through as far as just paying bills, and that's a big deal," Anderson said. "To be able to make your property taxes and pay the bills during the year, it made a big difference to us."
Anderson said whoever buys the haunted house will likely want to try to get it open for October. Considering the work for next Halloween usually begins Nov. 1, it would be a tight turnaround.
Anderson said her husband, John Anderson, has had health issues, and after she got sick last year, the work began to pile up. She realized it was time to let go.
The walls of the museum are covered in black and white paintings of creatures, some from classic horror movies and some from the imagination of Rex Taylor and John Anderson, the artists. Anderson said Taylor was a staple of the haunt's early years, best known for playing Jason Voorhees and flirting with female guests while dressed as The Phantom of the Opera and scaring everyone.
Sam Relic, the animatronic of a tall, grimacing man convulsing in an electric chair, has been with the haunt since their first year in the Elm Mott location. Anderson said he was the first big investment they made in the project.
He's been replaced twice. The first Sam was repurposed into a mannequin of Freddy Krueger for the haunted house's school bus scene after his head flew off during a packed night, and the second became a victim of a device strapped to his head, reminiscent of the "Saw" movies.
Animatronics that no longer move become mannequins in the haunt, and parts from mannequins in the haunt become disembodied arms and legs elsewhere. One of the three skeletons dangling above the museum's lobby came apart at the waist and hangs in two pieces.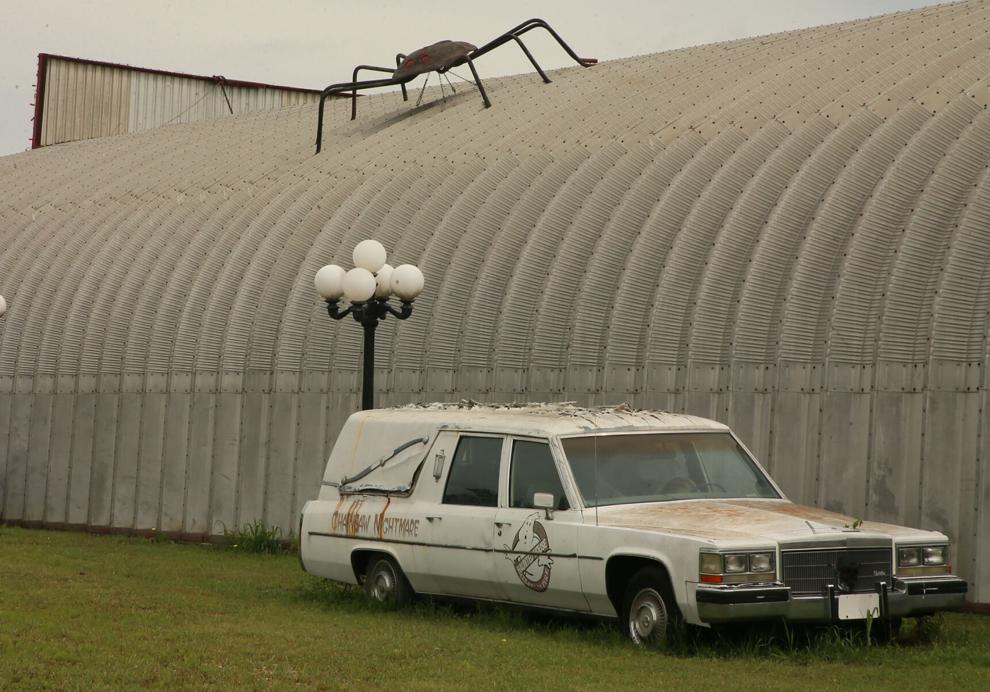 "We don't throw anything out, we repurpose," Anderson said. "You know, they're like old friends. We just move the monster to a different position."
Before starting the haunted house in Elm Mott, John Anderson worked in haunted houses in DFW, and Danea Anderson worked in retail. He also put together a video guide to running a professional haunted house that became fairly popular.
The couple's first date was at a haunted house in Fort Worth. They put together their first haunt to support a friend's youth sports fundraiser, staging it in a trophy shop with a handful of teenage volunteers.
"It was pretty easy," Anderson said. "We already had an old casket, we had strobe lights, we had blacklights, we had a few masks and other people had their own masks and things. It was a quick, thrown-together type thing, but it turned out to be pretty scary."
Katt Page spent 13 years as a manager for the haunted house. She said she met her eventual husband, Kenny, while hanging the red lights that still hang on the Texas Chainsaw Nightmare building today. As she worked, the ladder began to fall, and he grabbed it, holding it in place.
"So I met my husband at the bottom of a ladder," said Page, now an Austin resident.
She said that wasn't uncommon. Countless romances, marriages and friendships formed at the haunted house continue to this day. That's where she met her best friend Nichole, best known as the Wednesday Addams lookalike who would promote the haunt at local events with John Anderson.
The haunted house became a playground for her kids once they were old enough, and they still consider Danea and John their third set of grandparents.
"The haunt attracts misfits, bullied kids, theater kids, they find an acceptance of themselves no matter what, and a lot of those misfits are the best people on the planet," Page said. "That's why we have so many stories."