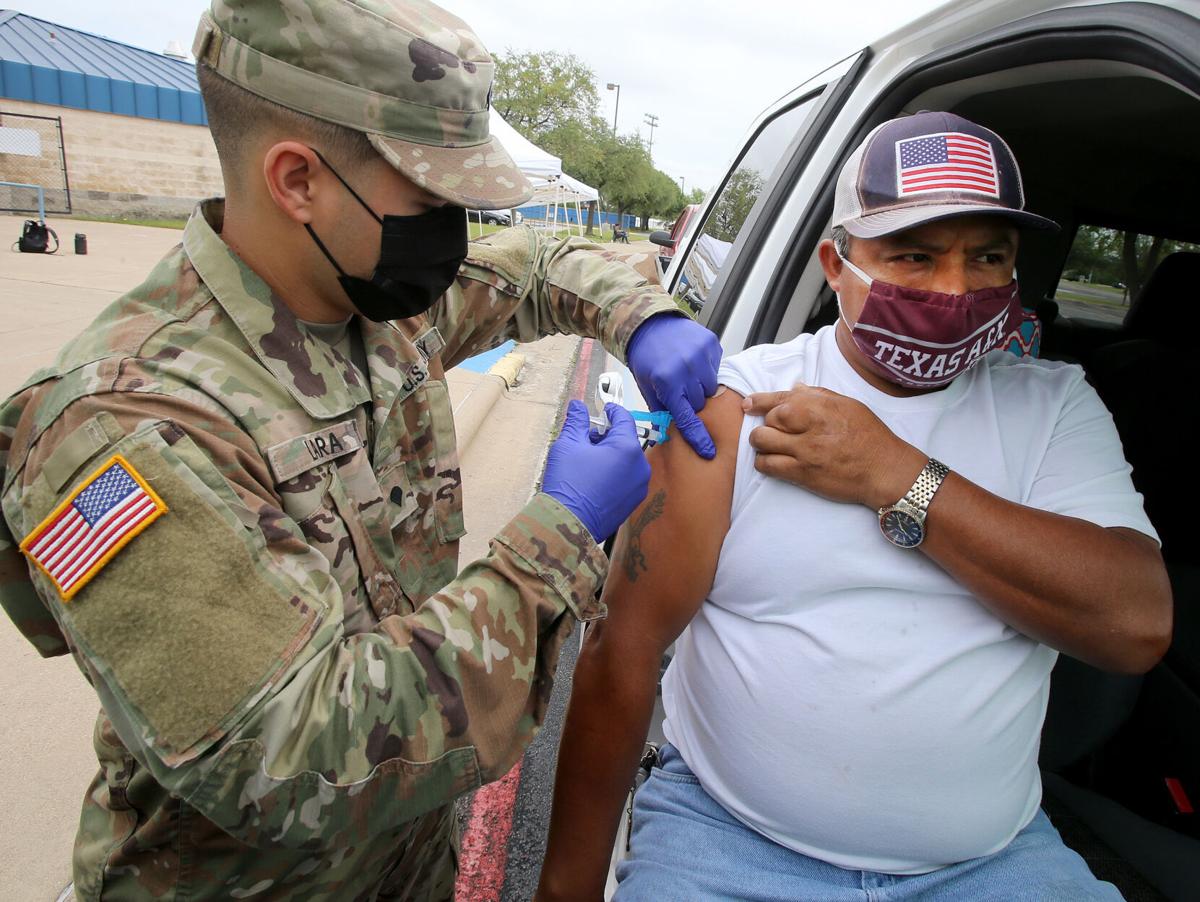 Accompanied by his wife, Jose Francisco Marez, 39, drove up to Waco ISD Stadium on Wednesday ready to roll up his sleeve and get his second dose of the COVID-19 vaccine. While the "drive up, no appointment needed" method made it easier for his wife, who is fully vaccinated, to find him a location for his second dose, Marez shared he still had hesitation and questions on whether or not he should receive it.
"It's a risk we have to take," Marez said. "I have heard many things. If you get it done, you can get sick and die. But if you don't take it it's the same thing. So we have to run that risk."
According to the United States Census Bureau's most current breakdown of demographics, in 2019 Hispanics were the largest minority in McLennan County, making up 26.3 percent of the population. From the start of the pandemic, Waco community leaders knew relaying information to the Hispanic community in Spanish was crucial.
Hector Sabido, mayor pro tem for the city of Waco, said the city worked hard to ensure that was the case and are now focusing that same energy into having people get the vaccine.
"We wanted to make sure that we got the information out correctly and in a way that all of our residents got all the information correctly, whether English or Spanish, and that was the same case for the vaccines," Sabido said.
According to the Kaiser Family Foundation COVID-19 Vaccine Monitor, which interviewed 778 Hispanic adults in the U.S., Hispanic adults are about twice as likely as white adults to want the vaccine, 47 percent of Hispanic adults report having at least one dose, and only 17 percent of Hispanics say they will "definitely not" get the vaccine, compared to 34 percent of non-Hispanic whites.
The report also said half of unvaccinated Hispanic adults surveyed said they wanted the vaccine as soon as possible, almost twice of the reported rate among non-Hispanic whites and Blacks.
This shifts the conversation from questioning a "want for the vaccine" to examining if other factors have contributed to a large number of the population in McLennan County not having the proper information to even consider the vaccine a possibility.
Among the findings of the KFF Monitor, some concerns were over missing work due to side effects, whether or not they would have to pay for the vaccine, where would be a trusted place to receive the vaccine, and what documentation was needed to be able to receive the vaccine. According to the foundation, these concerns were greater among lower incomes, the uninsured and those who could potentially be undocumented.
Many of these concerns were also raised in McLennan County.
Sabido said some members of the Hispanic community had concerns about going to a governmental entity, like a county run clinic, in fear their information will be shared with immigration authorities.
Sabido said community organizations such as Inspiracion, the Hispanic Chamber of Commerce, La Puerta, and Greater Waco Legal Services, among others, are trying to inform people that their information is safe.
"We want you to come and take the vaccine regardless of your immigration status, regardless of where you live," Sabido said. "Come take the vaccine, we promise that your information is safe."
While he personally hasn't been asked this question, Fernando Arroyo, chief of staff at Family Health Center, said that question has to be asked every time there is a community benefit available to all because they want the Hispanic community to be a part of it.
Kelly Craine, communications lead at Waco-McLennan County Public Health District, said a key part of increasing the number of vaccinated people in the county is to ensure information is relayed to the Spanish speaking community properly.
"We knew that this was a group that was really important," Craine said. "We knew we had to continue to do more outreach through the community and by word of mouth."
Marez, who is not fluent in English, said he relied heavily on his wife to get information about the vaccine.
Craine said the outreach included posting on social media accounts, having up-to-date information on the covidwaco.com website, and sending out newsletters in both English and Spanish.
Craine also said the city has been putting in the footwork by going out to jobs and churches to try to get more people to sign up for the vaccine.
As part of the effort, community clinics are being set up at two local churches: Second Missionary Baptist Church on Saturday, May 29 from 9 a.m. to 11 a.m.; and St. Francis on the Brazos on Saturday, June 6 from 9 a.m. to 1 p.m. Both will welcome walk-ins.
"Getting a shot is a very personal thing," Craine said. "It's having people that are already out in the community talk about it. Having it at a church, beyond just saying it, it is doing it. You're holding a vaccination clinic on a Sunday, that is really significant."
According to Craine, in McLennan County 15.7 percent of the vaccinated population is Hispanic while 54.99 percent is non-Hispanic white.
In order to increase vaccinations by Hispanics, Craine hopes they can help people become more comfortable with the idea of getting the vaccine. She said part of that is meeting people where they are at.
"What is comfortable and what does that look like," Craine asked, adding the answer varies depending on who is getting the vaccine.
"Who you go to can look different depending on your age group. If you are older you may prefer to go to your family physician. So that is one aspect of it," Craine said. "When you think of our working population, we have Moderna so that is 18 and up, that is a busy working population. That is the people who have jobs, who have kids, who are maybe taking care of parents so it is hard to squeeze in time to get a vaccine. So a mobile clinic that is closer to their neighborhood could be the answer."
The report by the Kaiser Foundation found Hispanics adults are more likely than non-Hispanic white adults to have close connections to people who have tested positive or died from COVID-19.
Graciela Trinidad De Treto, 54, a Waco resident for almost 11 years said that the Hispanic community has been hit hard by the pandemic.
"In a few words, it hit us hard. It took a lot of people from us," Treto said. Treto lost a close friend to COVID-19 a month ago and her daughter hasn't gotten her sense of smell back after getting sick from COVID-19 six months ago.
Despite that, Treto has not gotten the vaccine.
""I am thankful to God that I haven't gotten sick," she said. "Maybe that is my main reason for not having gotten the vaccine, but I told my husband and daughter that if I start to feel like I need too, I will."
Treto said she is open to receiving more information and advice on whether or not to get the vaccine, however neither of those are easy to come by.
"It's not easy for us. People don't explain the risks, they don't explain what is going to happen, what the vaccine will do, how it works," Treto said. "They just tell us to get vaccinated but they don't tell us if there are any risks."
Dr. Iliana Neumann, Family Health Center, who has worked closely with the Hispanic community as a doctor and also participates in community outreach, said communities of color have been hit the hardest.
"Latinos were the most heavily affected, especially here in Waco with both deaths and illness from coronavirus," Neumann said. "I think part of that is due to some of the jobs that many of us work in retail, restaurants, and personal care, and those things put us more at risk. We also carry a heavier burden with diabetes, hypertension, obesity so we are a population that is very community facing and we tend to enjoy spending time with family and friends and all of that increases the chances of getting sick."
Of the 456 deaths due to COVID-19 since the pandemic began in March 2020, 23 percent have been Hispanic, 59 percent white, 13 percent Black and the remaining percentage other or of unknown race.
Providing information is the only way to increase vaccine rates among populations of color.
"We are all aware that there is a lot of misinformation in social media," Neumann said. "People have heard that the vaccine can make them infertile, it can make them sick, that it can alter your DNA ... all of the myths are not true. But all that makes them more hesitant to take the vaccine."
In order to debunk those myths, the city has turned to social media, blogs, newsletters, meetings, spots on Spanish radio stations including La Ley and even partnerships with Telemundo to provide accurate information.
"It's much harder to get information to the right people," Neumann said. "It is mostly getting to community leaders but it is not necessarily always getting into the neighborhoods that we want to and into their hands."
Neumann said they are currently working with the Latino community to set up a community ambassador program which would have a person who is embedded into a community be a trusted liaison for conveying information. The program is currently recruiting and hoping to be up and running soon.
"The sooner we can do it, the better," Neumann said.
Craine said a big focus of the public health district is to also continue to build partnerships and relationships with leaders of the faith community as they are seen as trusted sources for many in the Hispanic community.
Pastor Marcial Samaniego, Spanish pastor at Antioch Community Church, who serves a congregation of roughly 120 members, said the city has done a great job seeking help from faith leaders.
"We love our people, we love our community and if we are able to provide help or assistance we definitely need to be able to do that," Samaniego said, adding he directs anyone with questions to organizations or county resources that would be able to assist them from the information that the city provides him.
Samaniego also suggests those who need more information or have questions to seek out their doctors, a message echoed by both Craine and Neumann.
"Go to your doctor and ask them questions. They are your best source for information. Don't ask your neighbor or your cousin because who knows where they are getting their information," Neumann said.
"Get good information and pass it on."