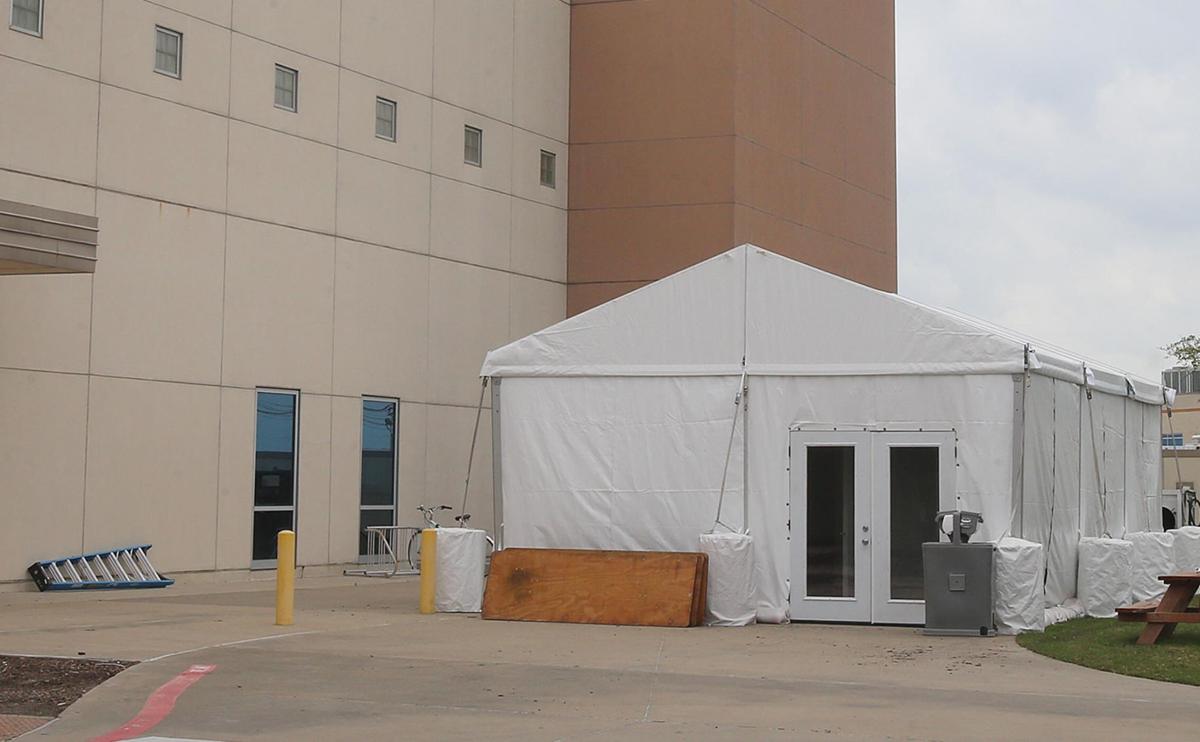 Update (Sunday, March 30): The Waco-McLennan County Public Health District confirmed no new COVID-19 cases Sunday, leaving the local total at 36. The local number of hospitalized COVID-19 patients, however, now stands at five, up one from Saturday.
Waco hospitals are busy planning and revising their plans for a surge in COVID-19 cases, preparing for the potential of a large local outbreak of the disease that other parts of the country have seen.
Both Baylor Scott & White Health and Ascension Providence have surge plans in place, but neither hospital system is concerned about bed capacity, after freeing up many beds since Gov. Greg Abbott ordered hospitals to postpone all elective surgeries last week.
Whether the hospitals have enough personal protective equipment including face masks, gloves and gowns for their workers is a question both Baylor Scott & White and Ascension Providence have declined to answer at this time. They also have refused to publicly release testing numbers, which Abbott also ordered all hospitals to report to the state.
Since the World Health Organization declared COVID-19 a pandemic March 11, both hospital systems have declined to share basic information on some specifics about their facilities and the measures they have in place to prepare for the demands of dealing with the disease.
McLennan County announced its first six confirmed cases of COVID-19 on March 18, a week after the WHO declared the disease a pandemic. On Saturday, the Waco-McLennan County Public Health District announced two new COVID-19 cases, bringing the local total to 36.
Four patients have been hospitalized, and five have recovered, the health district announced in a press release. The hospitalization number is the same, and the recovery count is up one compared to Friday.
No deaths had been reported in McLennan County as of 3 p.m. Saturday.
Statewide, at least 27 people had died from complications related to the coronavirus as of noon Saturday, according to the Texas Department of State Health Services.
Texas had reported 2,052 COVID-19 cases in 111 counties, according to the state health department website. That includes 28 cases and one death in Bell County, and at least one confirmed case each in Limestone, Falls and Coryell counties, as of noon Saturday.
The initial cases in McLennan County involved people who had traveled abroad or who had traveled for spring break, and many new cases stemmed from people who came in close contact with those initial patients, said Dr. Farley Verner, health authority at the local health district.
For every person who has COVID-19, two more typically get infected, and that leads to the exponential growth in cases McLennan County is starting to see, Verner said. That is why people must stay at home as much as possible and stay 6 feet away from people when they must go out for groceries or other necessities.
"If we can cut down the number of people that anybody with the coronavirus gives it to to less than one, then the epidemic dies out," he said.
Verner said officials are waiting to see how implementing the shelter-in-place measures effects the rate of transmission. The city's and the county's shelter-in-place orders expire April 7, unless officials decide to extend them.
Once the orders are relaxed or suspended, county health officials will work on aggressively finding other cases, which will require the cooperation of the community, Verner said. If people develop symptoms after the orders are lifted, they need to immediately isolate themselves and call a doctor to prevent spreading the disease to others.
McLennan County's incidence rate, or the number of COVID-19 cases per 100,000 people, is similar to Dallas County's, health district Senior Epidemiologist Dr. Vaidehi Shah said. She calculated rates based on the number of cases reported Friday, which was 33, and found McLennan County had an incidence rate of 12.96, while Dallas County's was 11.48 with 303.
Dallas County had seen seven deaths from COVID-19 complications as of noon Saturday, according to the state.
Verner said he would expect McLennan County's curve of cases to mirror that of Dallas County and other more populated areas, unless more people adhere to social distancing guidelines and stay at home. On a per capita basis, McLennan County is on the same track as other areas, he said.
"We're early in our epidemic curve, and we have the opportunity to affect how many cases happen because we are instituting these social distancing and shelter-in-place measures early," he said. "We won't get the absolute increase in numbers. We won't catch up with New York or Dallas because we have a smaller population, but the percentage of people who become infected or get hospitalized and die would be expected to be similar as time goes by, unless we affect the curve in the meantime."
Verner said there will not be a specific number of COVID-19 cases that would trigger a greater response, but preparations are evolving all the time.
"As far as the planning goes, everybody is at a place now where we have to plan as if it will be as bad as other places get and hope we don't have to utilize those plans," he said.
Baylor Scott & White Hillcrest and Ascension Providence are continuously evaluating opportunities to build additional capacity in their hospitals in the event of a major local outbreak, a spokesperson for both health care systems said. Their surge plans include utilizing all available patient care space in the hospitals and in other settings across their systems, while also addressing the need for equipment and staff.
Waco-McLennan County Emergency Management Coordinator Elizabeth Thomas said the county's Emergency Operations Center has been activated and is the central hub for all COVID-19 resources, from collecting personal protective equipment to evaluating alternative care sites. There is a worldwide shortage of personal protective equipment that is not unique to Waco, she said.
"Right now, everyone is fighting the same battle," Thomas said.
The Waco-McLennan County Office of Emergency Management is collecting donations for health care and first responder agencies, using a Google form to match donations to providers. The emergency management office especially needs hand sanitizer, N95 face masks, homemade surgical masks, medical gloves and gowns. For questions, email wacomcdonations@gmail.com.
The good news is that McLennan County has seen five people recover from the disease. Shah, the health district epidemiologist, said patients have to be symptom free for 72 hours to be considered recovered, and it has to be be at least seven days from the onset of their symptoms.
"From the data we have so far, we haven't seen recurring infections in individuals who have been considered recovered from COVID-19," Shah said.
For people with questions or concerns about their risk of infection with COVID-19, covidwaco.com has information about what to do and links to resources from local health care providers, in addition to details about the city's shelter-in-place order.
A free online screening questionnaire is available on MyBSWHealth on the web or via the mobile app. Additionally, Ascension Texas has established a COVID-19 hotline. Available from 6 a.m. to midnight, the hotline is staffed by triage registered nurses who will respond to questions and implement the most up-to-date screenings and protocols to guide patients to the most appropriate care setting, including staying at home and/or virtual options. The Ascension Texas hotline is 1-833-919-1680.
If a provider advises that a patient should be tested for COVID-19, they will be referred to a testing site. Drive-thru testing sites are available as an option for patients. Individuals will be directed to a testing site only after they are screened by a medical professional, either online or in person.