Waco Mayor Dillon Meek urged residents and businesses Thursday afternoon to cut back water consumption by 50%, saying the city water system was overtaxed and at risk of losing pressure.
"Our water supply is critically low," he said in a video posted online around 4 p.m. "We are currently pumping all we can, but the main problems we are facing right now are leaks and high usage. We are pumping twice our normal daily usage and the system is sitting at a critically low capacity.
"While we don't expect shutting off the water throughout the entire city, a communitywide boil water notice is imminent if demand doesn't change. If systems conditions worsen some areas might not have water at all."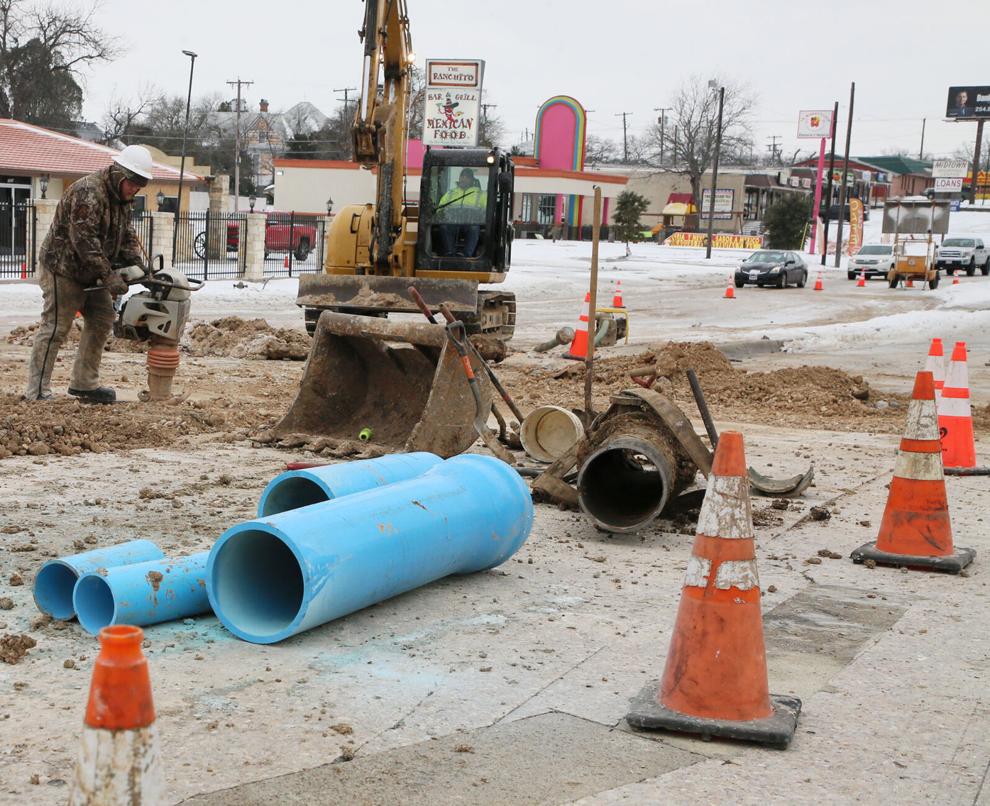 He said falling pressure at some point could also keep firefighters from having adequate water to fight fires.
Councilman Hector Sabido also released a Spanish version of the video.
Cities must maintain a certain level of pressure in their pipes to avoid backflow of contaminated water, and must issue boil water notices if those pressures are not met. San Antonio and Austin are among several cities in Texas that had boil water notices Thursday.
Meek urged residents to check for leaks at their home and shut off the water if they find one. Residents can also call the city at 299-CITY to have their water turned off.
Residents should not run their dishwashers or washing machines until Saturday and should stop dripping faucets when temperatures are above 32 degrees. He warned residents not to hoard water, which could accelerate the overload.
Restaurants should serve meals on paper plates to avoid washing dishes, and car washes and laundromats are urged to close until Saturday, he said. In addition, owners of closed businesses should check for leaks their establishments in person or by video, or by calling the city number.
Meek said about 300 customers were without water at the time of the update because of localized repairs.
Meek said a combination of city workers and contract workers are cutting service to certain areas while repairing leaks throughout the city.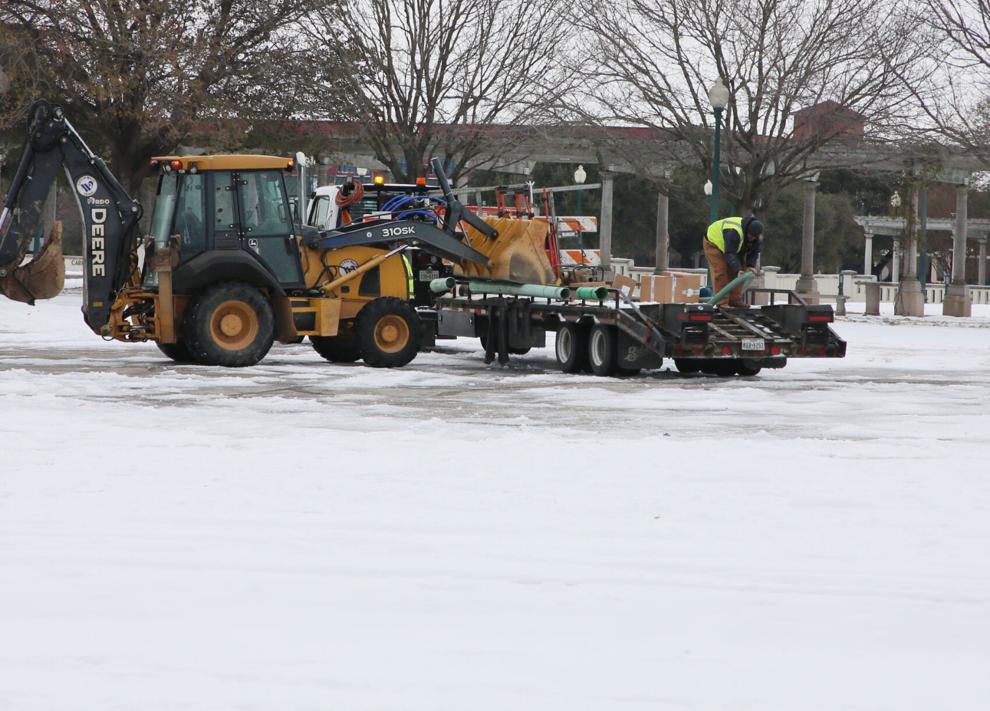 Garbage pickup to resume
Meanwhile, icy conditions from this week's winter storm system have also hobbled garbage pickup in Waco. Residential pickup is expected to resume Friday on a delayed schedule.
Solid Waste Services Director Chuck Dowdell said residential trash pickup has been halted this week because the city's garbage trucks, which are roughly 66,000 pounds each, are too top-heavy for smaller streets that are more likely to be covered in ice.
"We'll catch up with everyone as soon as we can, but it has been a nightmare mess," Dowdell said.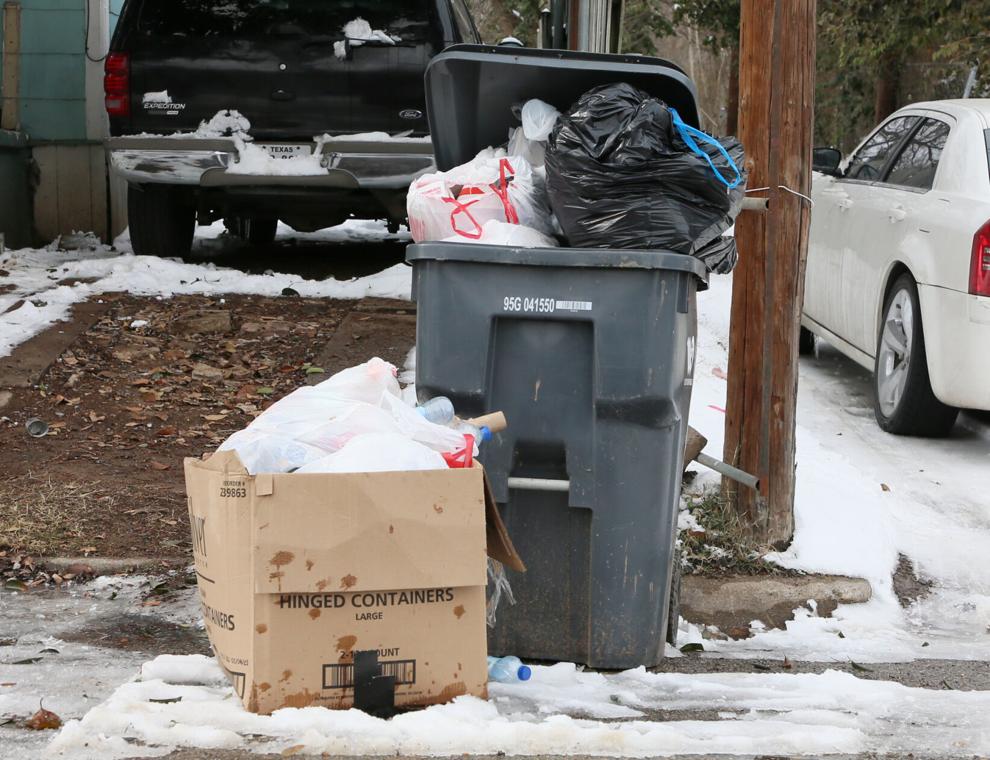 On Saturday, workers will pick up trash from routes that got skipped on Tuesday. On Monday, service will resume as usual. Next week, customers can use green lawn waste carts (not blue recycling ones) to put trash out at the curb, and additional bags can be left at the curb. Regular recyclable and yard pickup will resume on March 1.
Marlin crisis deepens
A water shortage crisis deepened Thursday in nearby Marlin, where customers have been without running water for days.
Marlin Mayor Carolyn Lofton said Thursday afternoon that repairs at Marlin Water Treatment Plant were underway. The water system was damaged by a power outage Sunday that took out a compressor, and residents have been without water since pipes at the plant burst Tuesday.
Officials on Wednesday discovered a 20-foot crack in a main pipe leading from the water plant.
Lofton said Police Chief James Hommell and City Manager Cedric Davis were prepared to drive to Flower Mound to pick up parts for the final repairs. But word got out, and a Dallas resident arranged to pick up the part and meet Hommell and Davis in Hillsboro. Lofton said Thursday afternoon she still didn't know the volunteer's name, but she intends to thank them as soon as she does.
"He took the initiative to help us," Lofton said.
Lofton said water supplies were dwindling in Marlin. Hommell and Davis bought cases of water on their way back to Marlin, mostly from convenience stores in Waco and distributed them to people who've gone without water.
"We can't get any resources in, they're depleted, we tried," Lofton said. "So we had to do what we had to do."
Lofton said she contacted the State Operations Center, which is part of the Texas Division of Emergency Management, for water but was turned down.
"We've reached out to everybody we can think of and nobody is providing any water to any communities right now," Lofton said. "So we took it upon ourselves to find our own."