The Waco Police Department is looking to resurrect a community policing program with the aim of building bridges between officers and the communities they serve.
The Waco City Council is considering a proposed police budget with more than $1 million to fund a seven-member "neighborhood engagement team" that will work with neighborhood associations, businesses and other points of contact with the community.
The community policing approach is intended to engage residents with police in a positive way, increase involvement by police in the community and build relationships with residents and business owners, according to the Department of Justice. Like many police forces across the country, the Waco Police Department emphasized the approach in the mid-1990s, but as grants expired its community policing unit gradually gave way to specialty units based on crime trends and call volumes, police said.
"Since the 90's (and) when Waco police had a specific group of officers working in neighborhood policing, the department has tried to ensure that every officer has engaged in 'community policing' by trying to engage our citizens in a positive way at every opportunity," said Waco Assistant City Manager Ryan Holt, who was promoted from Waco police chief to assistant city manager in February.
"The officers have done a tremendous job of that through the years and I think when so many communities are having the discussion of reducing police funding, the fact that (City Manager Bradley) Ford and the council are doing the opposite by asking for more involvement by the PD in our community gives credit to the relationship between the Waco Police and our community members," he said.
Shifting budgets
Some cities such as Austin are considering shifting some of their police budgets to social services after the death of George Floyd at the hands of Minneapolis police set off a nationwide movement against police brutality. With the new community policing unit, Waco's policing budget would actually increase by about $1 million to $43.6 million in the fiscal year beginning Oct. 1.
Holt said planning for the community policing effort was underway well before the protests.
Five officers and two supervisors would be assigned to the unit, bringing the total number of officers to 267 full-time, commissioned peace officers if the city council approves the change. The department currently has about 260 sworn officers.
"Our ability to build relationships with our community has been something that has been on the police department's heart and mind, but also on the city council's heart and mind," Waco police Officer Garen Bynum said. "We are starting to get new city council members, and some of the longer-serving city council members remember when we had the old community policing unit, and the work individual officers did in the community still stands out."
Some police officers are already making time to do community policing even before a special unit is established.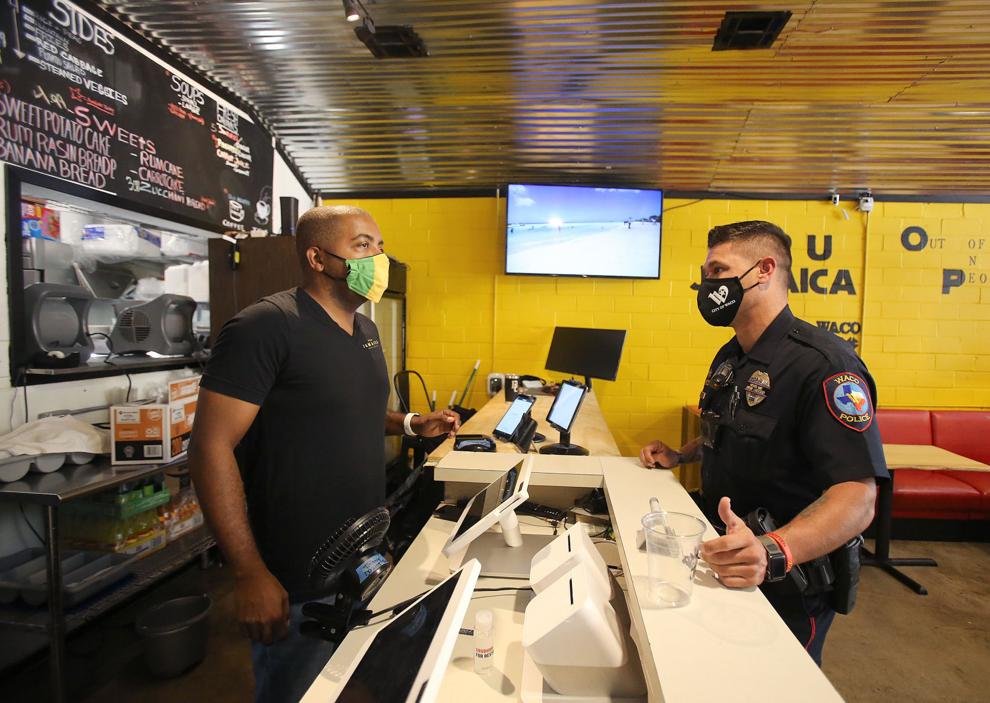 Officer Jeremy Angel, a six-year police veteran who works in the traffic unit, hit the streets this week and visited with businesses and community members in East Waco. His stop at restaurant Tru Jamaica and visit with owner Charles Aniceto Jr., was welcomed.
"(Officers) come pretty frequently and some of the officers come eat here, plus check on us to make sure that everything is good with us," Aniceto said. "I think it's good when police are active in the community and Officer Angel has been here many times, plus other officers too, and it's really reassuring."
Liaison with city
Bynum said members of the new unit would work with neighborhood associations and visit businesses in their areas to learn the concerns of residents and be a liaison between the city and residents. Officers assigned to the unit would not be required to respond to daily calls, but would focus on community needs and civil concerns.
In the mid-90s, former Cmdr. Clare Crook applied and received a federal grant helped establish a community policing unit. Officer Stan Mason, a now-retired former member of that team, recalled that he and some other officers were residents of the neighborhoods they patrolled.
"I lived in East Waco and I went to the same corner stores, churches, buildings that they did. They didn't know me as Officer Mason. They knew me as Stan," he said.
Waco police Sgt. Steve Graeter, who retired earlier this year with nearly 32 years with the department, said that when he was a young officer, community policing was something every officer did naturally. He said it seemed to work for neighborhoods, specifically in his district that included North and East Waco.
"It worked so well because we listened," Graeter said. "We cared about what happened in our areas and we wanted to keep our districts safe, but administration started pushing other objectives, and the call volume got to be so heavy, so when officers are running from call to call, it is tough to do true community policing."
On his rounds Tuesday, Officer Jeremy Angel moved on to Estella Maxey Place apartments, where he visited with residents, including Patricia Angel, no relation. She was with her friend's child, Noah, 2, who had just returned from the splash pad at nearby Oscar DuConge Park and seemed to be delighted to have a police officer help him pedal his bicycle.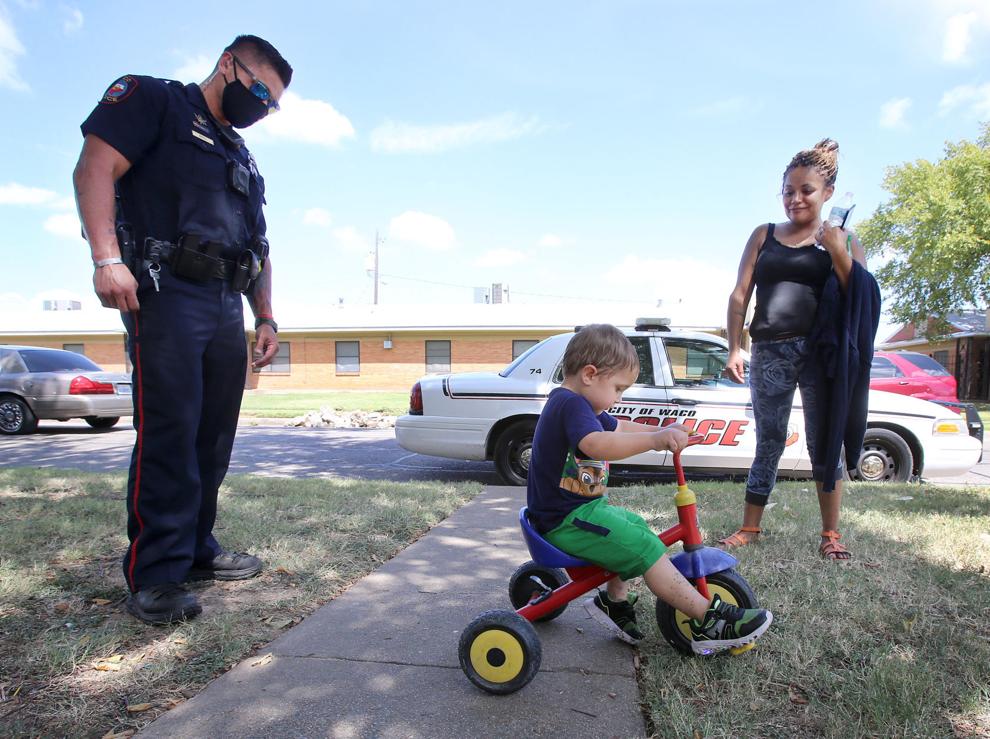 "A lot of times people think cops are bad, but this is really good," Patricia Angel said. "I am pretty sure Noah likes it. This is how it is supposed to be and people should interact with cops, say hi and get to know everyone out here."
Waco City Council members will hold a public hearing for the upcoming budget Sept. 1. The budget is expected to go into place in October.