Here's an update on the winter weather emergency that has affected power, roads, water and food supply in McLennan County and Texas this week. Check back during the day for more updates.
Updated 2:45 p.m.: Waco Mayor Dillon Meek has issued an order that will close car washes and laundry facilities until noon Monday, while urging residents to use no more than 1 gallon per household member per day. Below is an excerpt from the city's statement.
Today, the Mayor and City Manager of the City of Waco took steps to ensure protection of our water system as we recover from the winter storm of the past week. These steps are necessary because our water supply remains critically low.

While rising temperatures are welcomed for residents and businesses, rising temperatures will thaw water pipes and reveal new leaks which must be valved off and repaired. From a water system standpoint, these new leaks will drain the water system further.

While we do not expect shutting off the water throughout the entire city, a community-wide boil water notice is imminent if demand doesn't change. This demand is being caused by leaks around the city and high usage. The City of Waco is pumping twice our normal daily usage and the system's storage is sitting at a critically low capacity.

If the system conditions worsen, some areas may not have water at all, depending on water system pressures and elevation. If system conditions worsen further, the fire department could not have adequate water for firefighting. Our staff continues to develop alternative methods of fire protection, but water is the critical resource to protect property in the event of a fire.

***To help preserve our water system storage, action is required.***

Mayor Meek has signed an emergency declaration which takes the following actions regarding the water system:

--- All cleaning/dyeing and laundry plants, commercial laundry (self-serve commercial), and automobile car washing establishments in the City are required to cease all operations and activities until noon on Monday, February 22, 2021.

--- All other commercial and residential customers are urged to reduce water consumption and to not hoard water. Each person is urged to keep water use to not more than one gallon per person per day, and not more than one gallon per day for cooking for the household.

City Manager Bradley Ford, acting under his authority within the City's Water Conservation Plan, has issued an order requiring the City's top industrial water users to submit and obtain approval of a water consumption plan prior to conducting any business. City of Waco Water Utility staff will contact these users immediately. These water consumption plans will be submitted to the City's Water Utility Services Department for prompt evaluation and response. Approvals will be granted by City Manager Ford. City Manager Ford has also directed each of the cities who purchase water from the City of Waco to require water consumption plans for their top industrial users.

In recognition of the impacts to local residents and businesses from this storm, Mayor Meek's emergency declaration waives permit and inspection fees for the repair of damages caused by the winter storm. Permits and inspections are still required.
The city of Marlin will distribute bottled water today as crews make progress on repairing a water system that has been down for days, Mayor Carolyn Lofton announced.
A major repair to a burst pipe at the water plant has been repaired, but now crews are trying to thaw a frozen pump.
Lofton said the city is buying a pallet of bottled water from Sam's Club and will announced when distributions begin.
Update, 11:20 a.m. The temperature has hit 32 degrees at Waco Regional Airport and the sun is melting snow and ice.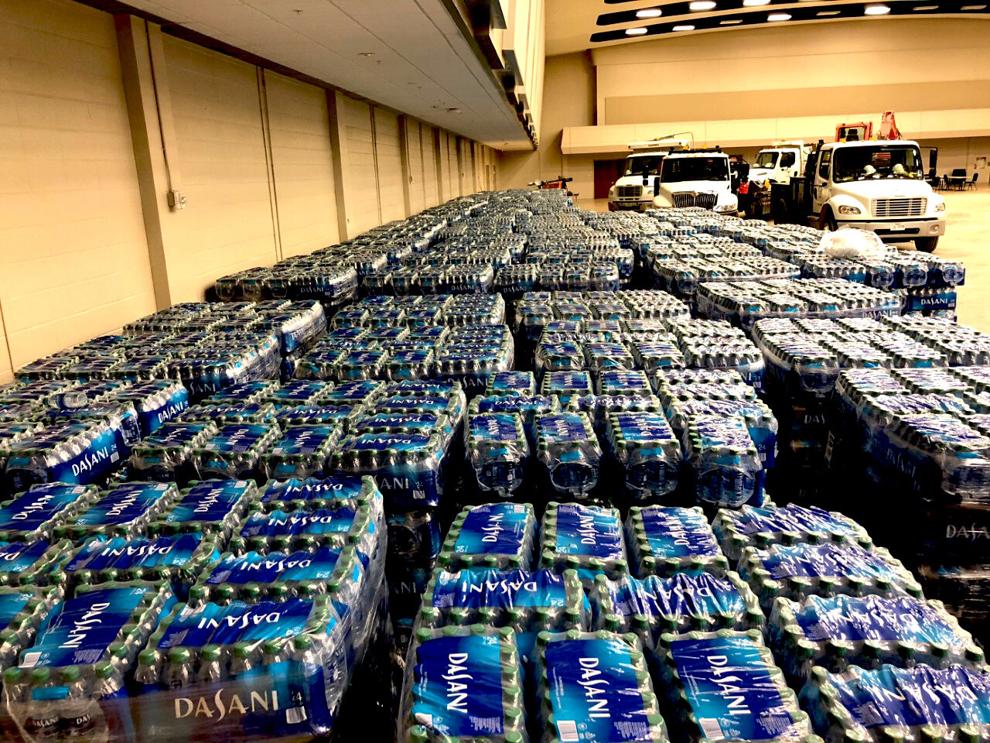 The city of Waco is reporting localized outages in the water system as lines are repaired, Mayor Dillon Meek said. The city will be distributing some 100 pallets of bottled water it received last night from the Coca-Cola Bottling Co.
The Oncor outage map shows 1,612 customers without power in McLennan County, including 568 in the Robinson ZIP code, 76706.
8:30 a.m. Good morning. Expect the ice to start melting today as the National Weather Service forecasts a sunny day with a high of 36 degrees. Roads remain extremely icy and slick.
Waco Regional Airport is reporting a temperature of 15 degrees at 7:51 a.m., a low for the night.
Oncor, the electric delivery company for the region, is reporting that 1,812 of its 104,796 McLennan County customers remain out of power, down from a peak of more than 40,000 Tuesday.
Across Oncor's service area more than 1.3 million customers were without power this week. That number has been shaved to about 27,000 by this morning, the company reported.
"We expect that a substantial amount of those remaining customers will be restored by this evening," Oncor said in a news release.
Meanwhile, the Electric Reliability Council of Texas reported the statewide grid is quickly being restored after an unprecedented wave of outages.
"There is enough generation on the electric system to allow us to begin to return to more normal operating conditions," said Dan Woodfin, ERCOT senior director of operations, in a news release.
No additional outages were needed overnight to keep power supply and electric demand in balance, and only a few generating units tripped, ERCOT said.
The city of Waco is continuing to urge its water customers in Waco and beyond to cut their water consumption by half through Saturday and to check for leaks, city spokesman Larry Holze said Friday morning.
"As warmer weather comes, we're going to have more leaks, and people need to be very diligent about checking for them," Holze said. 
Heavy water use, thought to be driven by leaks, has strained the system's capacity and could result in outages in parts of town as well as a boil water notice, Mayor Dillon Meek said Thursday afternoon.
Holze said local Coca-Cola officials are working with the city to provide five 18-wheeler trucks of bottled water to residents who are without water due to localized water line breaks.
Anyone who needs assistance with a leak can call 299-CITY.
---
Photo gallery