After an explosion of misinformation, conspiracy theories and lies about COVID-19 in March, one Waco doctor took the fight back to the internet.
That was not necessarily the plan last fall, when Dr. TJ Webb started blogging informally about mistrust of medical professionals and about medical hoaxes. Then COVID-19 made it to the United States, and social media was suddenly drowning in posts claiming the pandemic was a hoax, an exaggeration or the product of chemical warfare.
"We were just inundated with conspiracy theories, false claims and lies, and it seemed like people were really struggling to sort out good information that was reliable and had a sort of academic rigor behind it that was done with the right motivation," Webb said.
He and his wife, Katie, said they chose to work in family medicine because they wanted to care for everyone, and chose Waco for the Family Health Center's family medicine training program.
On his blog, TJWebbMD.com, he has been digging in to some of the more common false claims about COVID-19. The misinformation falls into two main categories: posts insisting the pandemic is not that bad, and posts claiming the origins of the virus are part of a vast conspiracy that doctors play a part in.
He said the former was particularly easy for Texans to believe while the virus was, relatively, out of sight and out of mind. The later was especially upsetting to Webb, who oversees an outdoor clinic where patients with COVID-19 receive tests for the Family Health Center.
"You either have to believe that we're all part of the conspiracy or that we've all been duped, and both of these things really don't match with what we know about physicians and the way that we're trained," Webb said.
He said two of the most widespread viral videos he has debunked on his blog, in a timestamp-by-timestamp format, hit in April. The first was a series of videos by two Bakersfield doctors claiming, among other things, that sheltering in place is useless and that COVID-19 is no worse than the flu.
"They're physicians. They speak with a lot of confidence. They have the background, so this was information that was very convincing to a lot of people, but I think more importantly it appealed to people's hopes," Webb said. "That's when misinformation is really dangerous, not when it appeals to our fear, although that certainly happens to, but when it says 'Hey! All the things you hope are true are true. It's not that dangerous. You and your family are fine. You don't have to change your life at all.' "
Plandemic video
The other video is known as the Plandemic video. It claims hospitals receive payments for every death attributed to COVID-19 and that flu vaccines increase the likelihood of catching the virus, among other things. The video was taken down from Facebook and YouTube, driving supporters to claim the sites were censoring the truth. Webb's approach is to engage with conspiracies, patiently untangling misinformation and pointing out techniques used to create it.
"I'm not saying we should give the same platform to conspiracy theories, but I think people do find a rebuttal or counterargument more convincing," he said. "My hope would be that the more times they have it pointed out to them, these repetitive techniques conspiracy theory videos use, my hope is they'll become more resilient to misinformation."
Webb said fact-checkers are always playing catch-up, but the more people push back against misinformation, the less likely it is to take hold.
Local voices
"People who have blogs like mine, all over the country and all over the world, I think it's really helpful," he said. "We have these very small realms of influence, but I think the more people doing that work, the better. There are people who would trust a local doctor who wouldn't trust (National Institute of Allergy and Infectious Diseases) Dr. (Anthony) Fauci, or another expert in New York in the middle of the epicenter."
Aside from a new daily routine when he gets home, not much changed for TJ Webb when he is with his wife and their four children between 1 and 8 years old. He said while doctors in previously heavily hit areas have gone to great lengths to isolate from family members, he keeps it simple. When he gets home from work, he changes out of his clothes and removes his shoes on his enclosed back porch, then dives inside straight to the shower.
He said he and his wife have always been frank with their children about medical topics, and COVID-19 is no exception, he said.
They spent March preparing for whatever would come next, and TJ Webb spent long hours helping the Family Health Center create its COVID-19 policies and volunteering for double duty at Waco's hospitals should they need more doctors.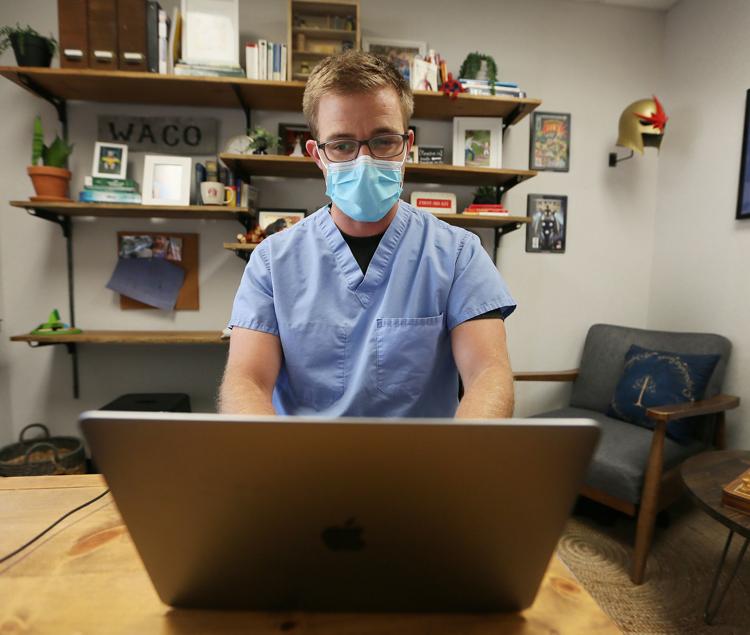 Katie Webb, a nurse who has been a stay at home mother for the past five years, said she and TJ both felt the same call to action since they were college students. As health care workers they've gone on mission trips in South Sudan, Uganda, Rwanda, Burkina Fasso and Cameroon, primarily in areas hit heavily by shortages of doctors and nurses. Plans to work in hospitals abroad again this year likely will not pan out, she said.
Katie Webb said she is all too aware of the risks the virus poses to health care workers. Lost on the Frontline, a project of Kaiser Health News and The Guardian, has identified 729 U.S. health care workers who likely have died of COVID-19 as of Tuesday. She said she tries to be pragmatic, focus on the now, and tries not to dwell on worries about what would happen if TJ got sick.
"I feel relatively confident that God's in control of that," she said. "We'll put ourselves at risk to help to help others. He will ultimately be in charge of what happens, and we'll just be faithful in what He's asked us to do."
Katie Webb said while they are both discouraged by resistance to doctors and experts, social media is not for her, and TJ has always been quicker to confront people spreading misinformation.
"He is impassioned, and I'm so thankful for his voice of reason in this," she said. "He is really good at explaining the reasons why."
Distrusting doctors
TJ Webb said some people have more reason to distrust doctors than others. It only takes one bad experience with a doctor to feel uneasy forever, and the long history of racist medical abuse against people of color in the United States makes any effort to earn the public's trust more complicated for white doctors.
"Physicians have not always earned this carte blanche, blanket trust from the groups we try to serve," TJ Webb said. "We're also fighting that historical, earned mistrust."
He said with McLennan County's case count rising exponentially, it will be more difficult for people to continue believing it is a hoax, but other types of misinformation will inevitably take its place.
Mask misinformation
When Mayor Kyle Deaver signed an order requiring masks in businesses for customers and workers alike, the development spurred another frenzy of misinformation about the supposed medical downsides of wearing face coverings for long periods of time.
As conspiracy theories spread online, they bleed into real life more and more. When the Waco City Council met to ratify Waco's mask order, someone submitted a public comment claiming N95 masks "don't filter on the way out," surgical masks turn a sick person into a "walking virus dispenser" and cloth masks "trap carbon dioxide." The comment, supposedly from someone with Occupational Safety and Health Administration training, is actually just an example of "copypasta:" a block of text of unknown origin copied and pasted indiscriminately, more often on social media posts and their comment sections.
Webb said while it can sound compelling at first, it is important to remember that surgeons, doctors, industrial workers, manufacturers and trick-or-treaters all wear masks without adverse effects.
"We've sensationalized this, we've taken it out of the realm of our normal experiences and we've put it into this scary medical realm," he said. "Start there. Don't start with someone telling you this is a crazy, dangerous thing. Start with the fact you've already worn masks before. A lot of these claims rely on you forgetting everything you knew before you read the misinformation."
Staying calm, kind
Webb said he recommends approaching friends and loved ones with empathy if they are pushing misinformation. Countering with facts, staying calm and remaining kind are key to reaching people.
"If it's someone you know on a personal level, you can ask," Webb said. "You can ask what it is about this article, this video, this meme, they find so compelling. Once you understand where the person is coming from and what aspect they find convincing, you have a much stronger chance. You can bludgeon them with facts, but if you know why they believe it you can home in on that and give them the information they need."
He said as easy as it is to get angry, all it does is entrench people in their views. Anger, mockery and sarcasm will likely only make someone too defensive to listen.
"I think we always need to show empathy and compassion to the people we're arguing against," Webb said. "I don't think most people who share these videos are motivated by the desire to spread misinformation. They find it convincing for one reason or another, and they want to share it because it speaks to their hopes and fears."
Concerned about COVID-19?
Sign up now to get the most recent coronavirus headlines and other important local and national news sent to your email inbox daily.