Baylor University's efforts to mitigate the spread of COVID-19 and alleviate its mental toll on isolated students will help other colleges and universities that plan to open in the spring put together "a playbook" of their own, White House Coronavirus Response Coordinator Dr. Deborah Birx said Monday during a visit to the university.
Birx made a brief stop at the university Monday after Baylor President Linda Livingstone wrote the White House about its successful reduction in the rate of students and staff members testing positive for COVID-19. After spiking at 603 cases Sept. 3, Baylor now has 77 active cases, according to its dashboard.
After visiting Arizona State University and the University of Arizona, Birx and her team traveled to Waco to visit Baylor before heading to Texas A&M University and others across the South, she said. They have visited between 15 and 20 different higher learning institutions.
The widespread testing Baylor has conducted of students not only before they came to campus but also of students and staff without symptoms, wastewater testing of residence halls, contact tracing protocols and designated quarantine locations all contribute to why the university has been able to stay open, Birx said.
"These universities that open and stay open are providing the playbook for universities across this country to be able to open in the spring," Birx said, "and that's part of our reason for these visits is to really put together a playbook of what different universities are doing to really care for their students, care for their communities and ensure that these institutions of higher education and learning continue to be able to move forward."
Through testing its student athletes, Baylor determined that 60% of those who tested positive showed no symptoms, higher than the U.S. Centers for Disease Control and Prevention's calculation of 40% across all age groups, Birx said. The university also is working to understand how information from the wastewater testing correlates with the number of potential infections in a residence hall.
"That understanding is going to help all of us," she said. "This cutting-edge — what we call innovative science and data collection — will help other universities really understand when they open in the spring what they need to do and be ready to plan now, because the key success at Baylor and the universities that we have seen is they spent the summer planning."
Birx said that is the "secret sauce" people often ask her about for universities that have opened and remained open, and it has become clear to her now after visiting so many different institutions. The ones that took the summer to plan, to communicate those plans to staff and students and to provide expectations for all managed to find that "secret sauce," she said. They also worked with their communities, local officials and health experts.
Currently, McLennan County is in what Birx called the "red zone" because the average rate of tests coming back positive is between 9.9% and 10%, clearly indicating community spread. She also met with city and county officials before meeting with university officials, faculty and students, as well as Baylor's medical team.
Birx said she wants to work with the city and county to provide surge testing here to test more people in the community, especially those in most need of testing. She and her team walked around Waco on Monday morning and saw many older people not wearing masks and others not social distancing.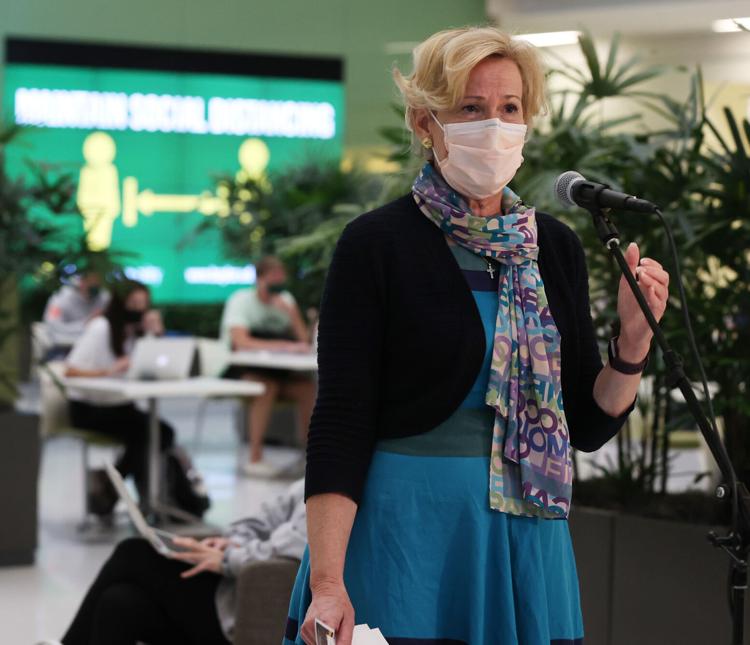 "This is a message to every community member out there," she said. "If you have young people in your household, they could be asymptomatically infected and spreading it within your household. This is why we really call on people to wear a mask."
Aside from wearing masks, Birx called for more testing, especially of people who do not show symptoms. They tend to be younger people, who could then spread it in their households if they live with older family members. Birx said she wanted to work with Baylor to double its testing of people without symptoms.
---
Virus by the numbers: These 8 charts show you how, where the virus spreads
Concerned about COVID-19?
Sign up now to get the most recent coronavirus headlines and other important local and national news sent to your email inbox daily.