Maija Peterson is from Minnesota and her boyfriend, Ian Jones, is from New Jersey. But even the cold-weather veterans went searching for alternative lodging when their apartment near Richland Mall lost power, management shut off the water and it dipped below freezing in their residence.
"We are used to cold weather," Peterson said. "We stayed there the first night, but it was 20 degrees in our apartment."
Luckily, the couple made it over to Highland Baptist Church, where the church has set up a warming center where weather refugees can spend the night.
More than 40,000 in McLennan County were without power Tuesday morning, and that number stood at about 25,723 at 10:44 p.m. Tuesday. Millions statewide lost power as the grid operator for most of the state staved off catastrophic failure by requiring distributers to cut service in some areas. Electric Reliability Council of Texas officials said power generators were continuing to do their best to restore service, but there were no estimates Tuesday for when service could return to normal. Officials warned people to make plans for continued outages.
Peterson and Jones loaded his truck with food and their two dogs, Yoshi and Ru, and made it safely to Highland, where they planned to spend their second night Tuesday.
While Jones napped Tuesday afternoon on chairs pushed together in a meeting room, Michael and Casandra Simon came into Highland bearing treats and snacks that they and their friends who donated about $100 to the charitable effort contributed to the cause.
"It's the right thing to do," Michael Simon said. "We are supposed to love our neighbors."
The Simons still have power at their home in Woodway and are allowing friends to stay with them, also, he said.
Emergency shutoff
More than 30,000 of the 104,796 customers Oncor lists in McLennan County were without power throughout much of the day Tuesday. Many had been completely without power, or with only brief stretches of their power kicking back on, since early Monday morning.
Had steps not been taken to deal with increased demand and the loss of capacity, generators could have been damaged to the point that repairs would have taken months, ERCOT President and CEO Bill Magness said during a call with reporters. As of Tuesday afternoon, 75% of the grid was still operating, which was quite a feat given the situation, Magness said. He said he understands the public's frustration and policymakers' plans to get to the bottom of what has taken place, and that the entity would cooperate with those efforts. For now, the priority is restoring service and dealing with a continuation of harsh weather conditions.
ERCOT also is urging consumers who still have power, from individuals to offices and large industrial operations, to conserve power as much as possible. For individuals, that means lowering the thermostat to at least 68 degrees, turning off and unplugging appliances and avoiding use of large appliances including ovens and dishwashers.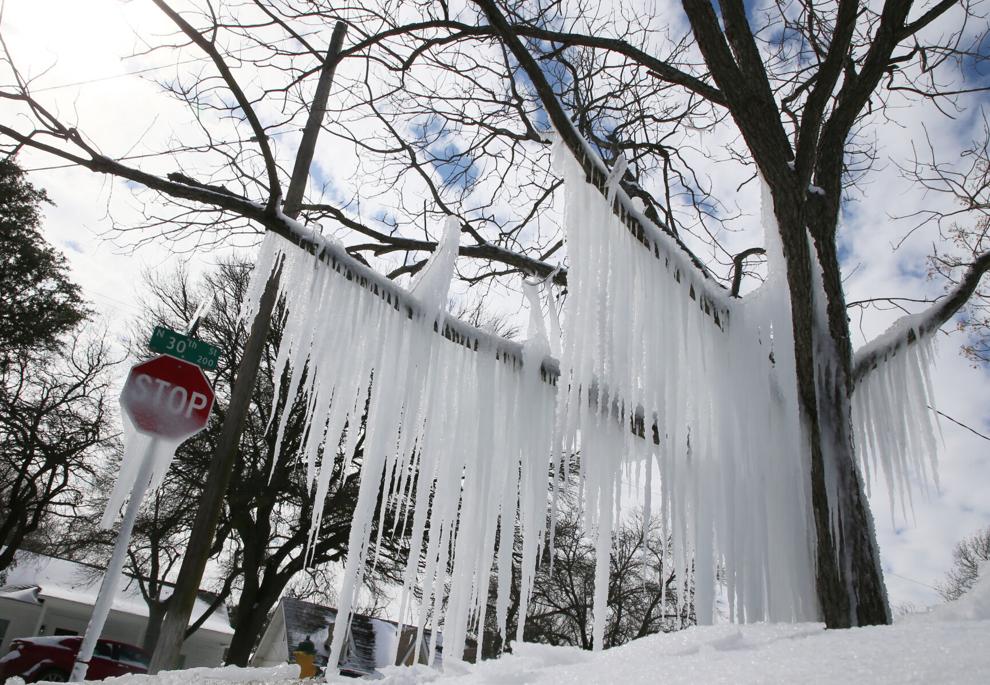 In East Waco's 76704 ZIP code, 3,349 of 3,456 customers were without power early Tuesday. A city warming station announced Monday for the Multipurpose Center at 1020 Elm Ave. appeared to be empty and without power Tuesday morning. Other city warming centers include Highland Baptist Church, 3014 Maple Ave.; Dewey Community Center, 925 N. Ninth St.; South Waco Community Center, 2815 Speight Ave.; and St. Alban's Episcopal Church, entering from 2900 W. Waco Drive.
Others include Church of the Open Door, 900 N. Loop 340 in Bellmead; Robinson Elementary School, 151 Peplow Drive; Meadowbrook Baptist Church, 1207 N. Old Robinson Road; St. Mary's Catholic School gym, 504 W. Spruce St. in West; The Salvation Army Community Kitchen, 300 Webster Ave.; and First Baptist Church of Lorena, 308 Center St., for elderly and at-risk residents.
District 1 Councilwoman Andrea Barefield, who represents East Waco, said she suspects the problem there is outdated electrical infrastructure in the historically low-income and minority area. She said she expects the city and Oncor will discuss improvements to inner-city infrastructure after this crisis passes.
"It's a conversation most cities will be having with their electrical providers," she said.
While the primary driver of outages has been limited generating capacity on the ERCOT grid, in a statement on the online Oncor outage map, the power delivery company acknowledged continued struggles.
"Outages are occurring across the state and the entire Oncor service territory," the Oncor message states. "Oncor was able to rotate some outages overnight, but poor grid conditions have continued to prevent us and other utilities from rotating, or rolling, the entirety of these outages, leading to extended periods without power for many of our customers. At this time, ERCOT is unable to predict when grid conditions will stabilize, and urge all customers to be prepared for extended outages to continue."
Improvising warmth
Robinson resident Beth Richards and her husband, Marcel van Es, had relied on their fireplace for warmth after their power went out about 2 a.m. Monday.
To conserve heat, they closed their bedroom doors, shut window blinds and put towels down at outside doors. Then their firewood ran out.
A trip out to buy more found others had beat them to firewood in stores, but a shopper at Lowe's with 2"x4" boards cut into fireplace-sized lengths gave them an idea to do the same. Tuesday night found them settling before their fireplace with a pile of custom-cut lumber.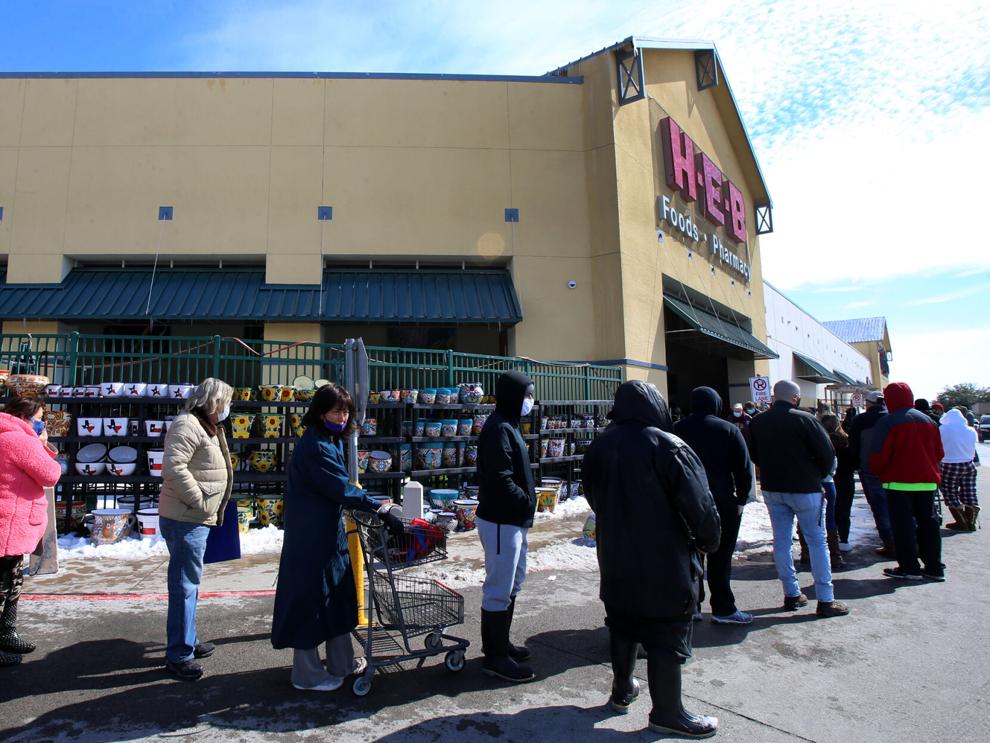 At H-E-B's Wooded Acres store mid-day Tuesday, entry was limited, and customers were lined up outside because of staff limitations. Nearby at the Target on Bosque Boulevard, the store was open but appeared to be running on reserve power with few lights on inside. Freezers and refrigerators with grocery items were taped up, and customers were told those items were off limits. Some shoppers navigated the store with flashlights or cellphone lights.
Carol Crabtree, 78, moved to Waco a couple of years ago and said she might as well have stayed in Wichita, Kansas, if these are the types of winters Waco will continue to experience.
Crabtree lives in northwest Waco near the Hillcrest Elementary School and said she has been without power since early Monday morning. She was encouraged when the power came back on Monday night. But her hopes were dashed when it went off 2 hours later and has been off ever since.
"I hadn't gone to bed yet, and I was so happy when it came back on," she said. "But it went off and it hasn't come back on yet and they say it's supposed to snow a lot tonight."
Crabtree's son lives nearby and has been coming by to check on her. She said she went out to get the mail Monday, slipped and fell and has not been out since.
"I decided I didn't need to do that anymore," she said.
Her son's home has power, but he also has three pit bulls that do not get along with her three dogs, and she will not leave them home alone, she said.
Crabtree also is worried about the 150 multiple varieties of tropical fish she has, including six larger ones in a 90-gallon aquarium that are accustomed to water temperatures between 78 and 80 degrees.
She installed a "bubbler" in the tank and said she thinks that will help, although the water temperature had dipped to 71 degrees Tuesday afternoon. She said she is lucky enough to have a gas stove and a small gas-fired heater.
"This house has a wall heater in the bathroom and I can shut off half of the house, so it's pretty warm," she said. "But I will be glad when the power comes back on. There isn't a lot to do when you don't have TV or internet, but I have been reading magazines and I have a puzzle set up in the front part of the house, but it's pretty cold in there."
Public health officials warn against ever using stovetops or ovens to heat homes. Use of the appliances outside their intended purpose increases risks of carbon monoxide poisoning.
In the Timbercrest neighborhood, Sara Beth Stoltzfus finally got tired of lying in bed under a mountain of blankets and decided to make the trek across town to stay with her grandmother-in-law at her toasty warm home.
Stoltzfus and her husband, James Fairchild, had also been without power since 2 a.m. Monday. Their all-electric home forced them to break out the camping gear so they could heat some food on a camping stove outside.
"Today, I just got tired of just lying in bed under the covers," she said. "It was getting hard emotionally."
So after neighbors offered to take care of their six chickens outside, Stoltzfus made the call to accept the offer of a warm home, bringing the dog with her. Her husband went to work Tuesday and will meet them there later, she said.
"It was so fortunate that we have so many blankets and camping gear because I know not everyone has tons of blankets," she said. "Our faces got pretty cold sticking out of the covers, but our bodies were OK. "
She said she and her husband used newspapers to pad the chicken coops to help keep them warm, and as long as someone breaks the ice in their water bowls, they should be OK.
Finding a room
Meanwhile, some in the area took refuge in hotels, though they were by no means immune from power outages.
For Ronnie and Lisa Jackson, their winter wonderland includes wondering when the power at their home in the Riesel area will come back on.
The Jacksons were checking out of the Hotel Indigo on Tuesday morning to go back home to tend to their 500 cows.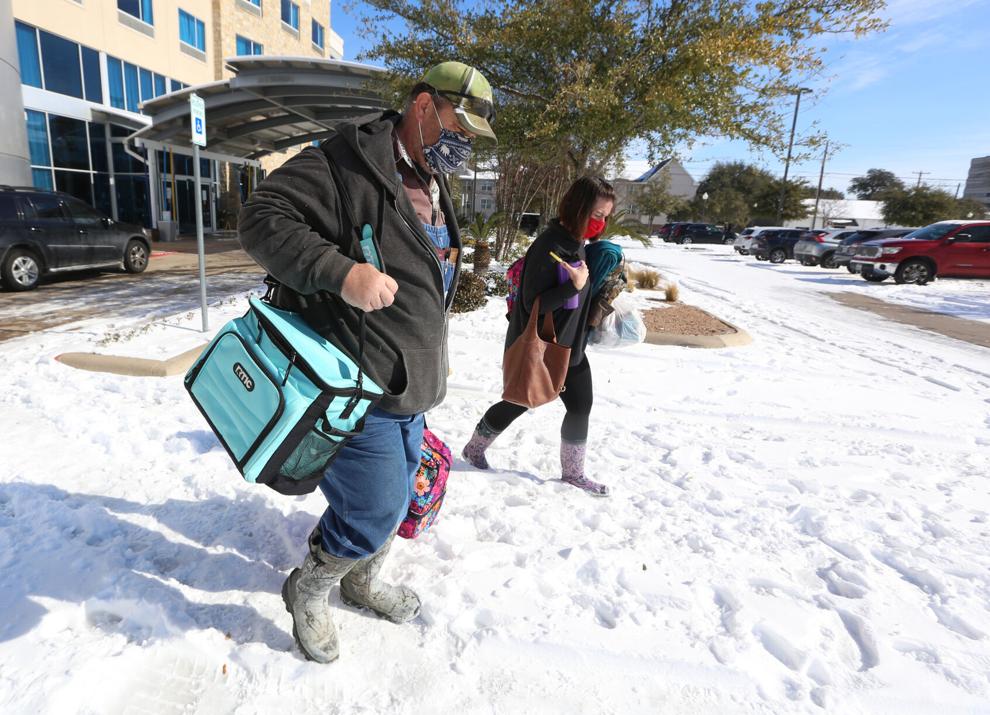 They lost power and drove to Marlin Friday night, where they stayed at the Executive Suites before it lost power and water.
"We need to go home to feed the cows and we don't know what after that," Ronnie Jackson said.
"We just know we needed a shower," Lisa Jackson said.
Within hours of their departure, Hotel Indigo had also lost power.
The downtown hotel was filled for much of the week so far, including by 40 to 50 Baylor students who evacuated Russell Hall after a water line break left them with no water. Some students slept in the dining hall at Penland Hall, students said.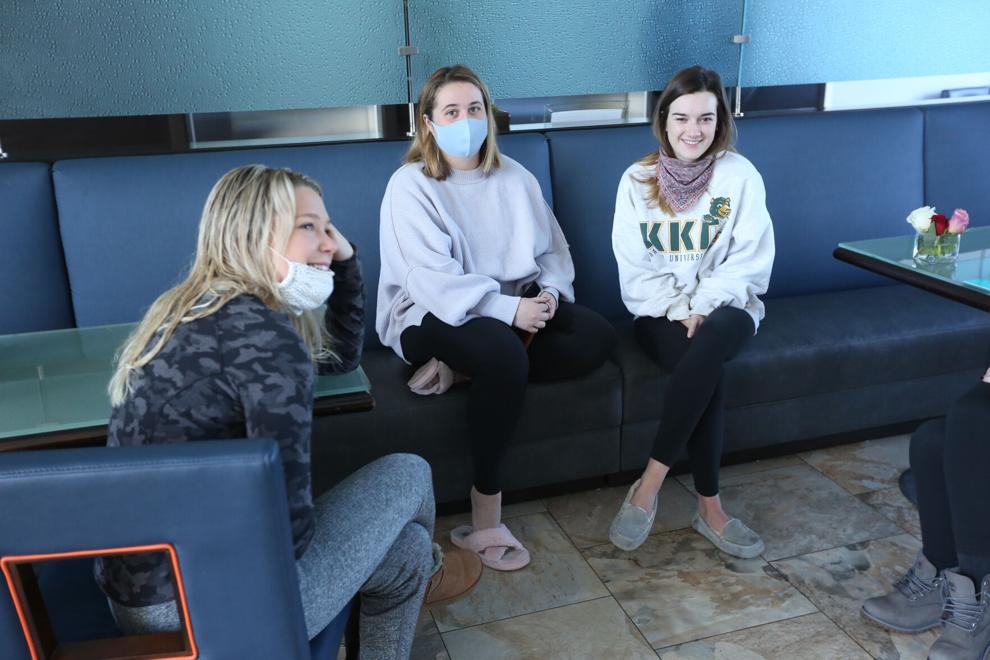 KJ Franzmeier, Abby Brown, Erica Ginaven and Lauren Langston, who live near campus on South 10th Street, lost power in their home about 2 a.m. Sunday and booked a room at the Hotel Indigo for several nights. They were hoping to get some breakfast at the hotel Tuesday morning but were told hotel staff members were having trouble getting into work.
By midday Tuesday, Joy Marshall, her family and two German shepherds were back in front of their McGregor home's fireplace, planning another trip out for firewood from friends as their final log burned.
They had been largely without power since 2:55 a.m. Monday, outside of an hour or so early Tuesday morning when it returned and their home heating kicked in to raise the indoor temperature from the 40s to 60 degrees.
The loss of power had the Belton Independent School District music teacher, her husband Kevin and 16-year-old son Noah checking for warmer places to stay, but found their search complicated by their two dogs, McGiver and Bear.
Area warming centers and many motels would not take in people with pets. Those that did quickly filled their vacancies. Then the one Robinson-area motel at which Marshall was able to secure a reservation lost its power.
Over the last three days, the Marshalls have navigated frozen streets to get firewood from friends and search for open gas stations, spent short periods in their truck to warm up and recharge phones and, back at home, curled up in front of their fireplace.
They have cooked hot dogs in their fireplace and made some cowboy coffee.
"It was a lot of work for coffee that didn't taste so good," she said.
Still, she is thankful. Others have gone longer without electricity and with fewer resources, including a friend in Temple still waiting for power after 36 hours.
"We absolutely recognize other people have it worse than it has been for us, but it's been a rough go," Marshall said.
Tribune-Herald staff members Tommy Witherspoon, J.B. Smith, Mike Copeland and Carl Hoover contributed to this report.
---
Photo gallery
Tribune-Herald staff members Tommy Witherspoon, J.B. Smith, Mike Copeland and Carl Hoover contributed to this report.