Here's the latest on how the ongoing Texas winter crisis is affecting the Greater Waco area. Check back here for updates through the day.
Texas Department of Transportation's Waco District tweeted that it is continuing to blade icy roads around the district, which extends into Bell County. Interstate 35 appears to still have icy patches but some traffic is getting through.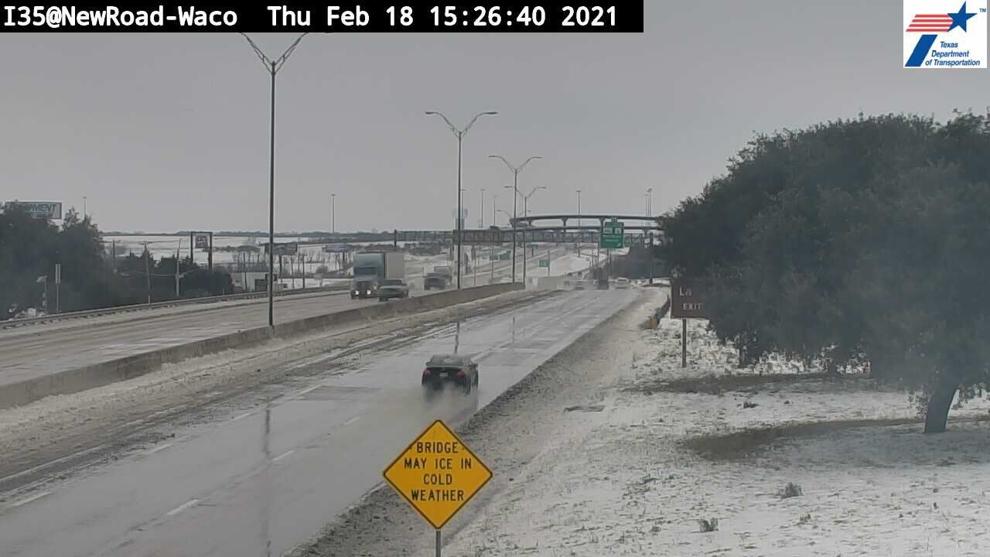 An H-E-B spokeswoman said the warehouse in Temple remains iced-in, the parking lot resembling a skating rink. She said other suppliers from around the state, including Coca-Cola and Borden, for example, are encountering delivery problems either because of dicey driving conditions or energy-related production curtailments. As a result, she said H-E-B shelves in Waco are running low on merchandise.
She's hopeful the situation improves by Friday, but said weather remains the deciding factor.
As she put it, "If trucks could leave Temple in 5 minutes, that would be great. They would be on their way. But that isn't possible at this time."
H-E-B just released a notice that it is placing limits on the purchase of some food items and on non-food items such as propane tanks, aerosol disinfectant spray, travel-size disinfectant wipes and sprays, and alcohol swabs.
Meanwhile, Spice Village in downtown Waco has posted its status online, saying it has closed due to water damage and promising to keep customers informed.
City of Waco water utilities department reported a waterline leak near Second Street and Mary Avenue at late morning.
Update, 11:01 a.m. Thursday:
The Oncor outage map shows 4,284 customers without power in McLennan County, of a total of 104,796. The number peaked above 40,000 Tuesday, fell to about 16,000 Tuesday night and has steadily dropped since then as infrastructure was repaired and rolling outages halted.
Hewitt ZIP Code 76643 continued to have a large number of outages: 1,055 of 6,726 customers remained without power.
Update, 10:40 a.m. Thursday:
The grocery supply for Greater Waco remains crimped due to supply chain and delivery issues resulting from the winter storm and power outage crisis statewide.
Walmart Supercenters at 733 Sun Valley Boulevard in Hewitt and 1521 N. Interstate 35 in Bellmead remained open. Walmart stores at 733 Sun Valley Boulevard in Hewitt and 4320 Franklin Ave. in Waco were closed, along with the Sam's Club at 2301 E. Waco Drive in Bellmead.
The Hewitt United Super IGA at 201 Hewitt Drive was open 9 a.m.-6 p.m. Thursday.
"We have no milk, eggs, meat or produce," the store said in a Facebook post Thursday morning. "We are expecting a truck this afternoon."
H-E-B's website showed Waco stores and pharmacies open Thursday from 10 a.m. to 5 p.m. However, supplies were limited and curbside delivery was not available.
"The unprecedented weather event in Texas has caused severe disruption in the food supply chain," the company said on its website Thursday morning. "Like many other Texans are experiencing, this disruption is complicated by power and water outages. For H-E-B, this means temporary impacts to manufacturing, warehousing, store operations, and the daily lives of our Partners and their families."
Meanwhile, the state grid operator, the Electric Reliability Council of Texas, issued a statement Thursday morning announcing progress on restoring power across the state:
The Electric Reliability Council of Texas (ERCOT) has made significant progress overnight restoring customer power, although some outages still remain throughout the state.

Energy emergency conditions remain as the grid operator and transmission owners work to restore the remaining customers that are without power.

"We're to the point in the load restoration where we are allowing transmission owners to bring back any load they can related to this load shed event," said ERCOT Senior Director of System Operations Dan Woodfin. "We will keep working around the clock until every single customer has their power back on."

Customers that remain without power likely fall into one of these three categories:

• Areas out due to ice storm damage on the distribution system

• Areas that were taken out of service due to the energy emergency load shed that need to be restored manually (i.e., sending a crew to the location to reenergize the line)

• Large industrial facilities that voluntarily went offline to help during this energy emergency

Transmission owners are assessing how many customers are affected at this time.

While there is no additional load shed occurring at this time, a little over 40,000 MW of generation remains on forced outage due to this winter weather event. Of that, 23,500 MW is thermal generation and the rest is wind and solar. It is possible that some level of rotating outages may be needed over the next couple of days to keep the grid stable.
8:13 a.m. Thursday. Good morning.
Oncor announced it is halting rolling outages that state grid operators had ordered since early Monday, and power is being restored across the electric delivery company's service area, which includes Waco and North Texas.
On Twitter shortly before 6 a.m. Thursday, Oncor said the Electric Reliability Council of Texas "directed Oncor and other utilities to begin restoring power previously dropped from the electric grid. As a result of the increased generation and stable demand, Oncor has since been able to cease controlled, or rotating, outages.
"As of 5:30 a.m. this morning, there are approximately 150,000 remaining Oncor customers without power. This is a result of damage from yesterday's winter storm, previous winter weather and storm damage that could not be identified until equipment was re-energized, and damage to electric equipment caused by record-breaking low temperatures."
Oncor's online outage map Thursday morning was showing about 8,000 McLennan County customers without power, about half the number reported Wednesday evening and one-fifth of the peak number of more than 40,000 on Tuesday.
Oncor said its systems tracking the outages are lagging behind the actual progress in restoring power.
Overnight temperatures stabilized with a low of 26 recorded at Waco Regional Airport. The temperature at 7:56 was 27 and the National Weather Service forecast a high of 31 with mostly cloudy skies. A low of 14 was expected Thursday night.
As major Texas cities such as Austin and San Antonio continue with boil water notices, the city of Waco water system remained with adequate pressure Thursday morning. But city officials continued to urge strict conservation measures to keep the system working amid high demand and widespread leaks.

The city of Waco is urging residents not to run dishwashers or washing machines, and to report any leaks immediately to 299-CITY.

City of Waco spokesman Larry Holze said the city water department can send out a crew to turn off residential service upon request.

He said residents are urged to limit domestic water consumption, excluding toilets, to one gallon per person per day. That means sponge baths instead of showers, he said.

Holze said Thursday trash pickup in Waco has been canceled. The city will announce its plans Thursday regarding Friday trash pickup.
---
---
Photo gallery