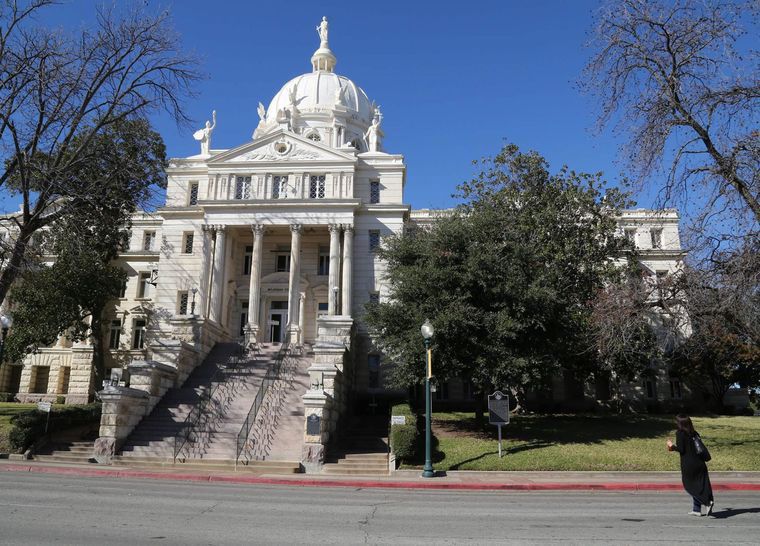 ---
The entrance to the McLennan County Courthouse could look a little different in coming months as county staff looks to improve security before the first Twin Peaks trial.
That's not to say the courthouse isn't secure, County Judge Scott Felton said. But with money available from the latest county-issued bond and with a security review already underway as leaders address Americans With Disability Act violations, the timing is right to make some changes, Felton said.
County staff is working with the sheriff's office, courthouse security and an architecture firm to determine the scope of work.
As with all security matters, some details will remain secret, Felton said. There have been discussions of adding a bulletproof glass wall near the entrance of the courthouse where residents must pass through metal detectors monitored by courthouse security to enter the building, Felton said.
There's a line-of-sight issue at the courthouse anyone can notice, Felton said. The layout of staircases and pillars in front of the glass entry doors limits officials' ability to see people approaching the entrance, and the best way to address the issue is still under discussion, he said.
Commissioners received information behind closed doors a few weeks back about possible security devices and measures, County Administrator Dustin Chapman said.
The courthouse's age and historic status also presents challenges for many security measures, Chapman said.
A bulletproof glass wall, for instance, might require a heavy gauge steel stud to support the weight, but how that works with the historic building is still under review, he said.
Chapman said the county has a courthouse security fund that could pay for projects. Modifications to the front of the old downtown jail may need to be funded from the county's permanent improvement fund, he said.
It's too early in the process to estimate a cost, he said.
"Once we know which direction they are taking with what level we'll start having those discussions," Chapman said.
High-profile trials tend to draw a lot of people to the courthouse that normally wouldn't be around, and officials expect a crowd at the Twin Peaks trials, Felton said. Courthouse security has already increased foot patrol in the area, he said.
County officials expect tensions and emotions to run high, as they did in the gang-related 2012 capital murder trial of Rickey Cummings, who was later sentenced to death for the March 2011 murders of two men. Potential witnesses in the capital murder trial moved more than once to escape repeated threats, according to Tribune-Herald archives. At least two individuals faced charges of intimidating and threatening potential witnesses in the case.
Sheriff's deputies threatened to clear the courthouse two hours into the first day of the trial as a packed courtroom left a crowd of noisy spectators in the rotunda.
The first Twin Peaks trial is set for April 17, 23 months after the shootout left nine dead and two dozen wounded. Judge Ralph Strother of Waco's 19th State District Court is set to preside. The first biker to stand trial likely will be Christopher Jacob Carrizal; his father, Christopher Julian Carrizal; or Jerry Edward Pierson, all Bandidos from Dallas. Seven other bikers with tentative trial dates from June through December are either Bandidos or Cossacks, according to court records.