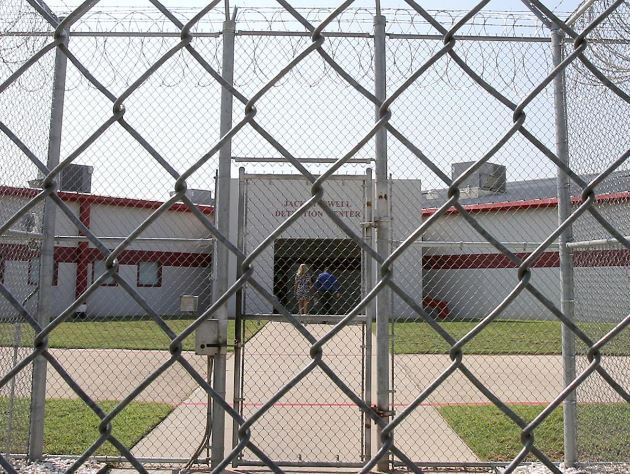 Action by the state this month will require the Jack Harwell Detention Center in Waco to reduce its inmate population if it fails another inspection planned within 30 days.
The jail facility, owned by McLennan County and operated by the for-profit LaSalle Corrections, failed its last three inspections by the Texas Commission on Jail Standards, which happened in August, November and March. The jail standards commission responded by issuing a remedial order for the jail last week.
"Remedial orders are one of the last ditch efforts to try to get them into compliance before taking really harsh action," commission Executive Director Brandon Wood said Wednesday. "We much prefer to see a county submit a corrective plan of action, work on it and then come into compliance.
"This right here, this goes into the territory that is considered serious."
Compliance issues at the jail come as the county is considering ending its contract with LaSalle and taking over operation of the jail, which shares a kitchen facility with the county-run McLennan County Jail.
If the Harwell jail fails its next inspection, the remedial order will require it to reduce its population by 48 inmates. The facility has a capacity of 1,162 inmates. A reduction of 48 inmates would free one staff member to help adhere to minimum safety requirements, Wood said.
If violations were to continue, the jail standards commission could continue reducing the jail population in increments of 48 inmates and could eventually take legal action seeking an injunction against the facility, he said.
If Jack Harwell passes its next inspection and a reduction in inmate population is not warranted, the facility can still be listed as "at risk" and be subject to tougher compliance rules, Wood said.
The recent inspections have found Harwell failed to maintain the minimum ratio of 1 jailer to 48 inmates on each floor, failed to conduct visual checks of inmates at required intervals and failed to use proper identification procedures for inmates, among other issues.
McLennan County Judge Scott Felton said he attended the jail standards commission meeting last week in Austin when officials authorized the remedial order. A LaSalle Corrections official spoke to commission members and requested another inspection to prove corrective actions have been implemented at Harwell, Felton said.
"Jack Harwell told the commission that they have a new system that will identify jailers that are doing their checking," Felton said. "They have new technology to help make sure the staff is in compliance with bed check rules and those things."
Warden Richard Alford did not respond to an email requesting comment for this story.
County officials stepped up deliberations on taking over operation of the Harwell jail last year after the county's contract with LaSalle increased from about $6 million per year to about $8 million per year. McLennan County uses Harwell for overflow from McLennan County Jail. Harwell also houses federal inmates and inmates form other counties in the region.
The McLennan County Sheriff's Office, which runs the McLennan County Jail, presented estimates to county commissioners in September showing the county could save $1 million per year by ending its contract with LaSalle and running Harwell itself.
The sheriff's office also told commissioners in March that taking over Harwell would present an opportunity to make a new home base for the county's slate of pre-release reintegration programs and services for inmates with mental health or substance abuse treatment needs. The programs are aimed at reducing recidivism, which in turn saves the county money, officials said.
Felton has previously said commissioners would need to make a decision by July on whether to take over the jail if they want to make the change in the upcoming budget year and comply with requirements for opting out of the contract with LaSalle.
Be the first to know
Get local news delivered to your inbox!