As Sam Cooke's "A Change is Gonna Come," filled a small room and a foot tapped under a table, McLennan County Jail inmates scribbled interpretations of the lyrics in notebooks.
An inmate started to sing softly in the room lined with hand-written posters on safe coping skills, healthy relationships and one that reads, "Guilt and shame are not the same."
Kayla Ray, 27, paused the music playing on a portable speaker at the song's end and asked the eight men in orange and white striped uniforms to share their thoughts.
The inmate first inspired to sing said when he was growing up, his father played the song on repeat. The song did not register as more than a tune until he was older, the inmate said. Now, after 33 years of experiences, the song is a go-to for times of depression, encouraging him to keep pushing on no matter the struggles.
"… It's been a long, a long time coming,
"But I know a change gonna come, oh yes it will …"
The Prerelease Re-entry Program at the McLennan County Jail is part of the McLennan County Reintegration Program, an effort between the city of Waco, McLennan County, and the Heart of Texas Region MHMR Center. Ray, a local musician and McLennan Community College student, offered to help add to the program by offering a six-week class with inmates focused on a universal language.
"In the past, my experience with some group therapy, it's really marshmallow and not really real and nothing bad can ever happen," Ray said. "That's not what real life is about. The re- integration program has been great about that. It's more about what do you do to rebuild."
As another song played, another inmate softly said the lyrics reinforce a question.
"The things we've done, are really questionable," he said. "Can God really forgive you?"
The dialogue continued throughout the meeting. One song played. Notes were taken. Thoughts were shared.
For a brief moment, when the end of the inmates' time behind bars is within sight, they are swept away from the jail cells into a program aimed at teaching and reinforcing skills to assist with the transition from incarceration and criminal tendencies to life back in society as contributing members of the community.
Re-entry program
Ray, of Hewitt, has spent the past three years touring with her first record, "Love and Liquor," while taking classes. She said during her downtime she has dedicated research to mental health topics. She found herself at a McLennan County Reintegration Program meeting where, as part of an internship, she offered up the idea of the music class for inmates. The idea was to merge two passions, she said.
Each session, she leaves more surprised than before, she said. The group of men have embraced the program and are opening up and relating to one another in ways they might not have before, she said.
"People experience common bonds within any kind of music no matter what it is," she said.
Ray's last day of class is May 4, the same day as the release of her second record, "Yesterday and Me," a concept album focused on triumph in a traditional country, or Americana style.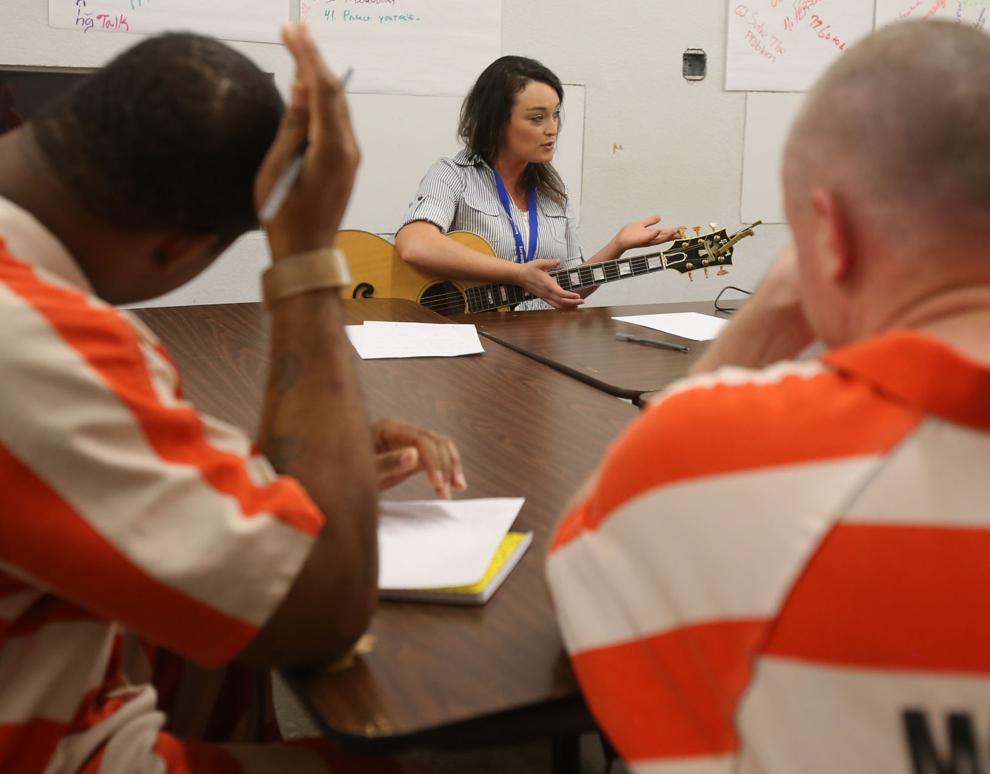 The inmates listening and opening up to learning with Ray have the opportunity to change and make better decisions to become a better member of society, said Jamie Schmitt, program manager of the Reintegration Roundtable at the Heart of Texas Region MHMR Center. The eight men around the table did not play as children with dreams of being prisoners, she said.
"Most times you would never suspect an individual with previous justice involvement because when given a chance, people can change. We heal and we move forward to become productive citizens who give back to our communities," said Schmitt, who is also president of the Waco chapter of the Texas Association of Addiction Professionals. "We become your neighbors and your employees who pay taxes and vote. It just makes sense to begin helping with the change process while the individual is still incarcerated so that once released there is a solid plan in place to assist with rebuilding lives."
The program works with inmates eligible for release within 30 to 120 days. Classes focus on immediate-, short- and long-term goals upon release, including housing options, grief, parenting, anger management, cognitive skill building, interview skills, financial decision making and more.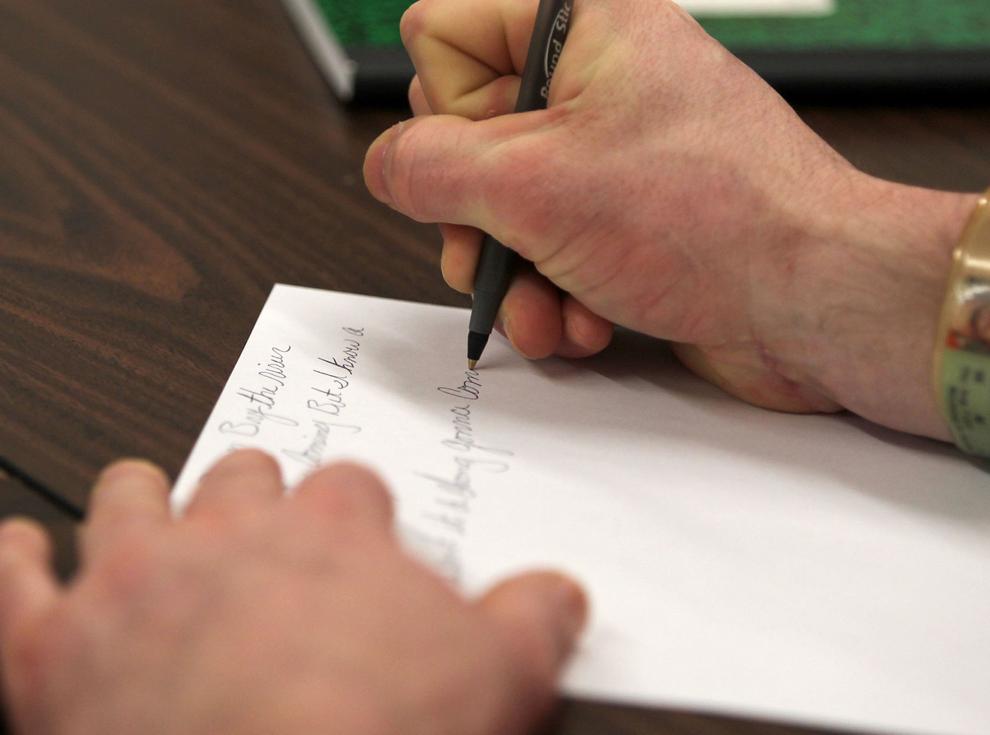 Incarceration costs more than supporting people to be successful, said Schmitt, who also founded the Heart of Texas Recovery Oriented Systems of Care.
The class is the best thing, said a 41-year-old inmate from Robinson.
"I can't say enough of these people who come out and volunteer their time," he said.
The inmate said he had struggled with drugs and alcohol, and when he broke his back during a fall, he became addicted to the hydrocodone prescribed to him for the pain.
He lost everything. His wife took his children and left.
Then he was arrested on a felony possession charge.
"Now I know I'm an addict. I'm always going to be an addict. I can't ever drink. I know that because of this class and what it's taught me," he said. "I see these people come in here and I can tell, I used to think I was the only one like this. I used to think I was different. Now I know there are others.
"I was driving myself to a grave. I was in danger of losing my mind. I was doing way too much drugs. I just couldn't handle where I was at the time. Coming here saved me. It got me off the drugs long enough that I could get my mind back, and these people, watching what they do, I want to do that. I want to come and help somebody."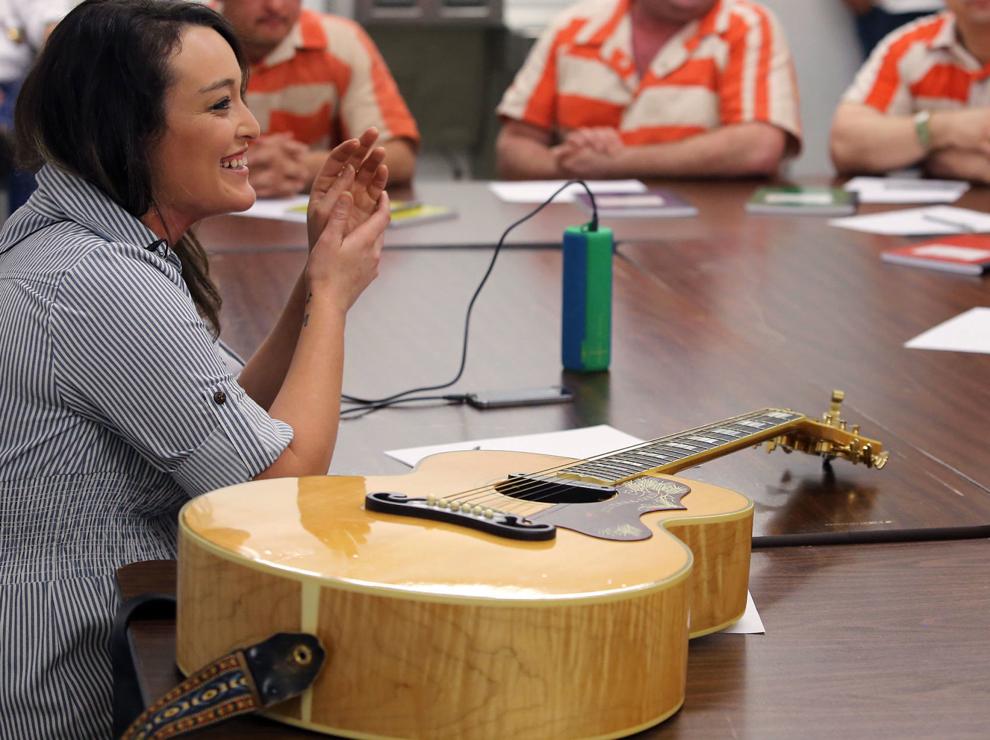 Nine months behind bars with four weeks to six months left, the inmate said he is lucky. There are people who do not know they have an addiction problem and do not know life can get better, he said.
"It's going to be my new high, is trying to help somebody else," he said. "Even if it's just one person that I can sit there and say, 'Hey, I know what you're going through. There's nothing you can say. I've been there, done that.' I carry so much shame being in here.
"You think when you're going to get out you're going to carry that shame. You see these people come in, and they're like, 'Hey, I was there. I've been to prison. I've been there and now look at me.' It kind of opens your eyes, like, hey, I can get out."
The inmate said "the proof is in the pudding," and he will only win his children's love or attention back with time. He said he will have to prove , not only to himself but to others, that he has changed for the better and that he wants his life to improve.
"This is probably one of the most, worst times, but in a way, this relapse has helped me with my biggest comebacks," he said.
A partnership
Upon release, the program continues to work with the inmates to help prevent recidivism.
The program has served more than 200 clients, with seven returning to jail, Schmitt said. The organization partners with local 12-step support groups, including Alcoholics Anonymous, Narcotics Anonymous and Celebrate Recovery, to create a mentorship system to continue after an inmate's release. McLennan Community College also hosts a workforce readiness program, encouraging local employers to work with inmates on the importance of entry-level skills, including communication and dependability. Former inmates then receive a certificate they can show employers.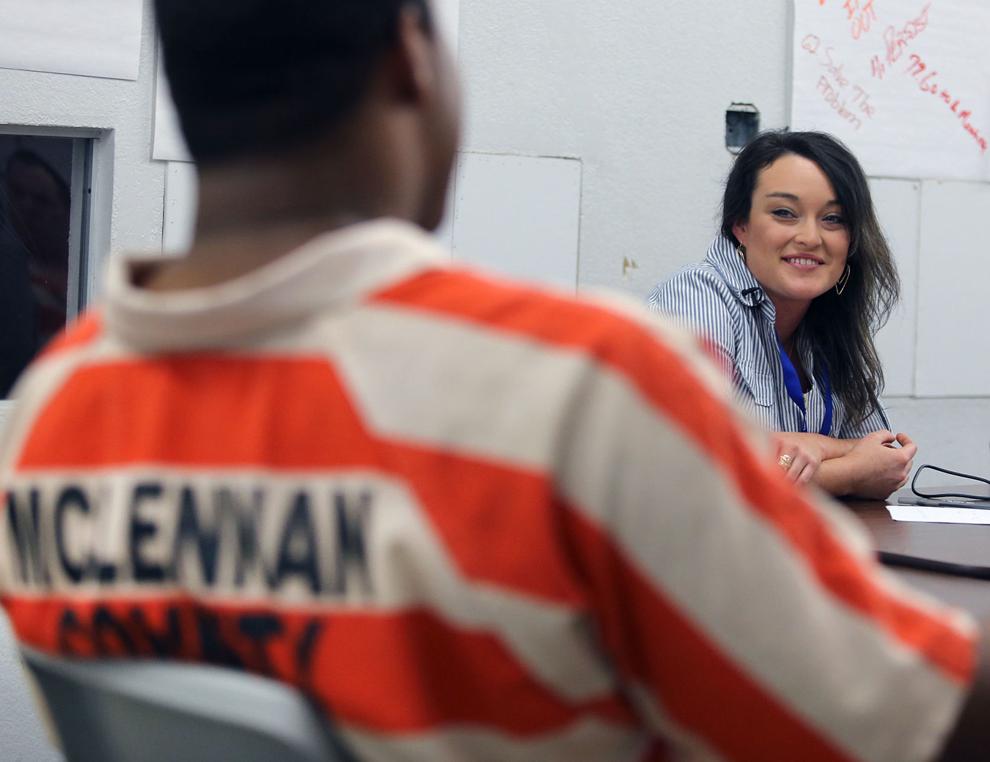 Sheriff Parnell McNamara sat in on a recent session and listened as inmates shared stories from the heart, fears about their future and questions surrounding the uncertainties of their next step.
"That's awesome hearing you share your story in there," McNamara said during a break. "Keep it up. Keep a good outlook. Keep a smile on your face, and we'll see you out there in the free world."
Five years ago, the proposal of the program would have been shot down, Capt. Ricky Armstrong said.
One of the inmates joked that McNamara and Armstrong, the jail administrator, are supposed to be the "bad guys," to all those sitting in the jail cells. But the duo, as well as other officials in the jail, have offered nothing but encouragement, one inmate said.
Armstrong said that when was a lieutenant, reintegration was the furthest thing from his mind as he worked to ensure inmates behaved and the officers did their job. But in 2015, Armstrong was promoted and started attending the newly-created Reintegration Roundtable meetings.
"We almost shut that initiative down," Armstrong said. "(Former Waco Police Chief Brent) Stroman made a comment that he thought we either needed to do something or shut it down. And his suggestion was to hire somebody to keep the committees organized and focused and interested in what we're doing."
The city, county and MHMR partnered to fund Schmitt's position, he said. Now the program continues to grow with the help of community volunteers, he said.
'Light in me'
For one inmate, the music classes and the rest of the support in the program are proving a turning point.
At 33, the inmate said he has been in and out of jail, "on a few charges of messing up in my life." The program has helped him to recognize the patterns in his life, how to reflect and how to better his life, he said.
"I've always been the kind of person that is distant, to myself, solo," he said.
With a 2-year-old daughter and 12-year-old son on the outside, the inmate said he believes by continuing with the program outside the jail he will be capable of transforming his life and giving back to the community.
"I'd been on the right path for a little while, but this time, this group is different," he said. "When I'm able to get out I'll be able to stick with it. I'll have a support system of different people and people that want things that I want.
"Instead of going back into society of, I mean, my old friends, it's OK to say, 'Hi.' It's OK to say, 'Alright you want to go shoot a game of basketball, we can talk if you're about doing the things I'm about doing and giving that a try.' You never know. This right here is different for me. It's a light in me."
The Tribune-Herald did not include names of inmates or take pictures of their faces in compliance with a request by the sheriff's office.