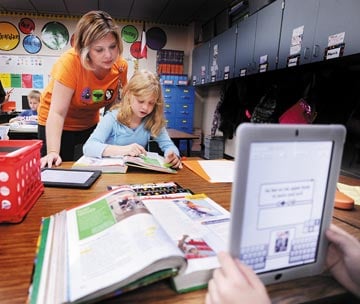 Midway Independent School District has begun planning for a bond election in the spring.
Officials say it may be possible to meet maintenance, transportation, technology needs and more through a bond issue without raising the tax rate.
Property values, which are set by the McLennan County Appraisal District, have increased, creating a surplus of tax revenue for Midway ISD, said Superintendent George Kazanas.
"We generate more revenue than we need to pay off the current bond debt," said Karl Kacir, assistant superintendent for finance.
The revenue surplus is one of the reasons Midway ISD may be able to go out for a more than $20 million bond issue without raising residents' tax rates.
The current Midway tax rate is $1.32 per $100 property valuation.
Kazanas said another option for financing the district's needs is to hold a tax ratification election. But that avenue would increase the tax rate, and because Midway is considered a property wealthy district, it would be required to return some money to the state.
"Then, 28 cents of each of (the taxpayers') dollars would go back to the state," Kazanas said.
If the district raises money through a bond issue, it gets to use the full amount raised, and is not required to pay any of that money to the state.
Unlike Midway's 2008 bond issue for $75.8 million, a spring 2013 bond issue would not go to building new schools, but largely to upkeep.
"We've got things that need attention that we've deferred spending money on," said Midway school board president Peter Rusek.
According to notes from a November Midway board meeting, there are maintenance needs to be addressed. Also, the district has not purchased buses for about two years and a needs assessment suggests Midway may need to buy as many as nine buses, as well as other vehicles, in order to keep its bus and vehicle fleet young.
"We try to keep the age of our buses as low as we can," Kazanas said.
Technology projects that Midway officials hope to give a boost to include a 1-to-1 initiative to set up each student with a mobile device, such as the schoolwide iPads being used at Speegleville Elementary School.
Officials also would like to establish a virtual desktop infrastructure and purchase security cameras, servers and storage and upgrade networks.
Rusek said the district has dedicated itself to staying on top of technology but has had to scale back in the past couple of years as the district weathered significant state funding cuts.
Also among the possible bond projects are the expansion of fine arts facilities at Midway High School and the middle school.
Possible athletics projects include construction of a high school multipurpose facility, replacement of baseball and softball light poles, replacement of high school arena lights and sound system, purchase of a new Rice Field scoreboard and purchase of a new middle school gymnasium scoreboard.
The Midway school board will meet later this month to continue the conversation about needs and the future bond issue.
"The next part is a process of prioritizing," Kazanas said, and looking at price estimates for the various projects on the table.