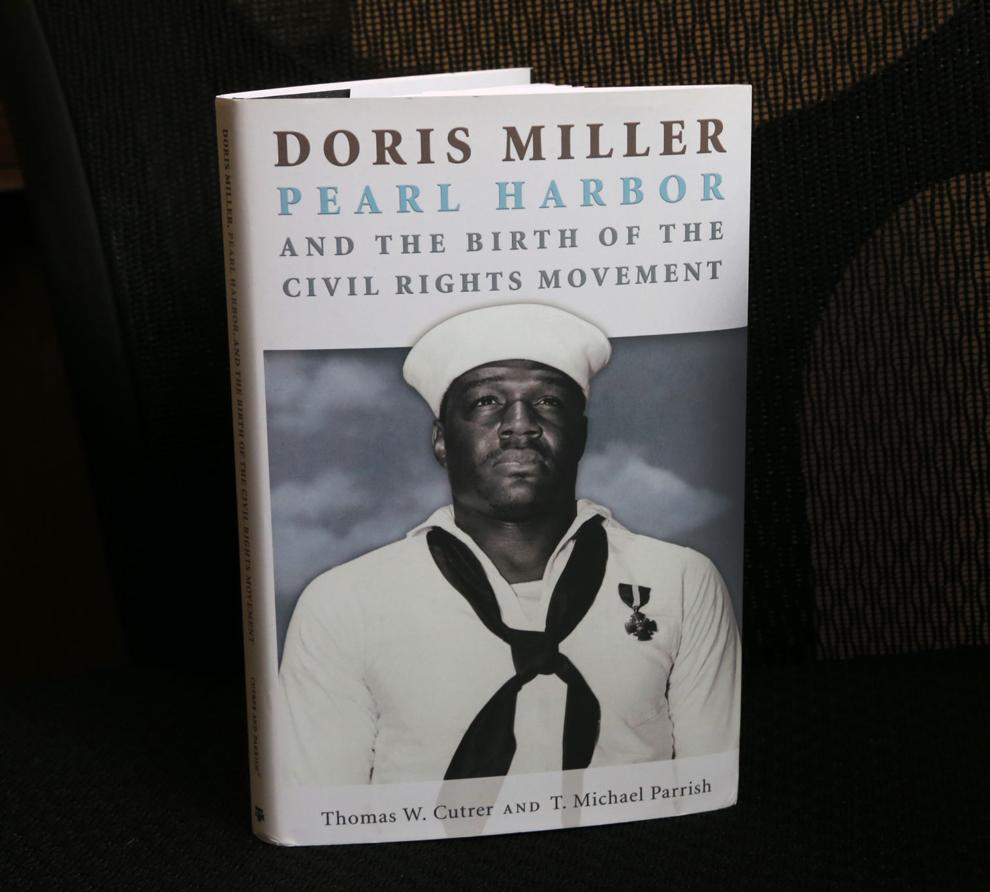 Between the time he dragged his captain to safety and rescued shipmates from the burning, oil-slick waters of Pearl Harbor, Doris Miller grabbed an anti-aircraft gun and showered Japanese war planes with bullets.
He almost certainly didn't hit any of those planes on Dec. 7, 1941, the "day of infamy" that lured the U.S. into World War II, a new book on Waco's hometown World War II hero concludes.
But the authors argue that he accomplished something more momentous. The mess attendant's heroic action that day served as a warning shot across the bow for African-Americans fed up with the military's discriminatory policies, they say.
In "Doris Miller, Pearl Harbor and the Birth of the Civil Rights Movement," historians T. Michael Parrish of Baylor University and Thomas Cutrer of Arizona State University present the first scholarly biography of Doris Miller, placing him in the context of a decades-long racial conflict.
Texas A&M University Press released the book Dec. 7, Pearl Harbor Day, the same day the statue for the Doris Miller Memorial in Waco was unveiled, lending new significance to that effort. Advocates for a posthumous Medal of Honor for Miller said the book could also bolster their case.
---
Photo gallery
Doris Miller statue unveiled: Dec. 7, 2017
---
Parrish and Cutrer lay out how this quiet sharecropper's son became a cause célèbre in the struggle to break down the walls of segregation in a Navy that had barred blacks from all but the most menial positions.
"This is the first examination of Doris Miller I've seen that treats him as something far more than just an icon, just a symbol of remarkable bravery," Parrish said in an interview. "That deserves attention and should serve as an example to African-Americans and anyone else. But he was more than just a postage stamp."
Parrish said that after Miller's story and identity were revealed in early 1942, he briefly became the most famous African-American in the country, surpassing even fighter Joe Louis. Between that time and his death in action in the Pacific Ocean in December 1943, Miller's story galvanized black newspapers and civil rights leaders to seek a Medal of Honor for him and wider opportunities for blacks in the military, Parrish and Cutrer show.
"My co-author and I were very surprised at what we found," Parrish said. "The African-American press and several members of Congress, specifically white North Democrats who relied on support from African-American constituencies, insisted on identifying Doris Miller and having him properly awarded and then brought back to the U.S."
Congressman Wilkie
Among the champions of Miller was Congressman Wendell Wilkie, who had previously challenged Franklin D. Roosevelt for the presidency. In March 1942, just before Doris Miller was identified as the black messman who dragged Capt. Mervyn Bennion to safety aboard the USS West Virginia, Wilkie cited him in support of desegregating the Navy.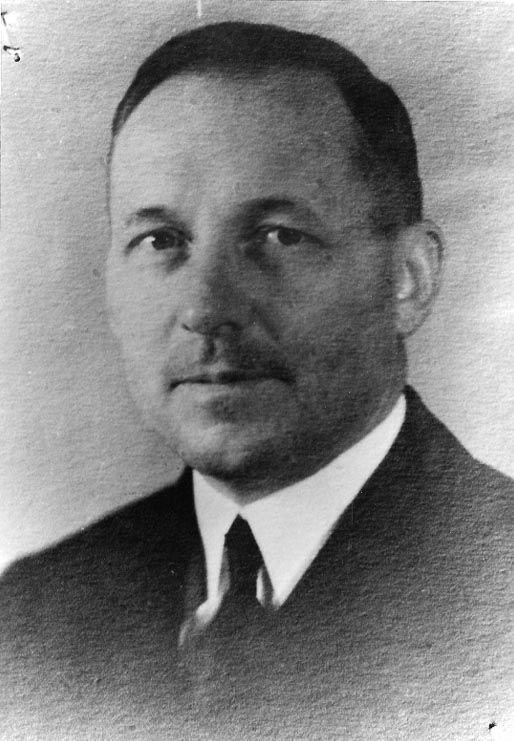 Citing Miller's "fine act of judgment and self-sacrificing courage," Wilkie added, "there's one fact we know positively and exactly: He cannot enlist in the United States Navy, and only for the reason that he was born with black skin."
Navy Secretary William Franklin Knox, whom the authors characterize as a "blatant racist," agreed to award Miller recognition only upon the urging of Roosevelt in May 1942. Knox opposed the Medal of Honor for Miller but agreed to the Navy Cross, at the time the third-highest honor in that branch of the military.
Parrish and Cutrer report that the Navy was notorious for its discriminatory policies well before World War II. Blacks had a served with distinction in all of the country's wars, including the Civil War, when 15 percent of Union Navy sailors were former slaves.
But around the turn of the century, civil rights protections were rolled back for black Americans, and President Woodrow Wilson's administration ended black enlistment in the Navy. By 1932, only 442 blacks served in the Navy's ranks of 81,120. FDR reopened the branch to black enlisted men but consigned them to menial jobs. By 1939, only 2,400 black sailors served in the Navy, according to the book.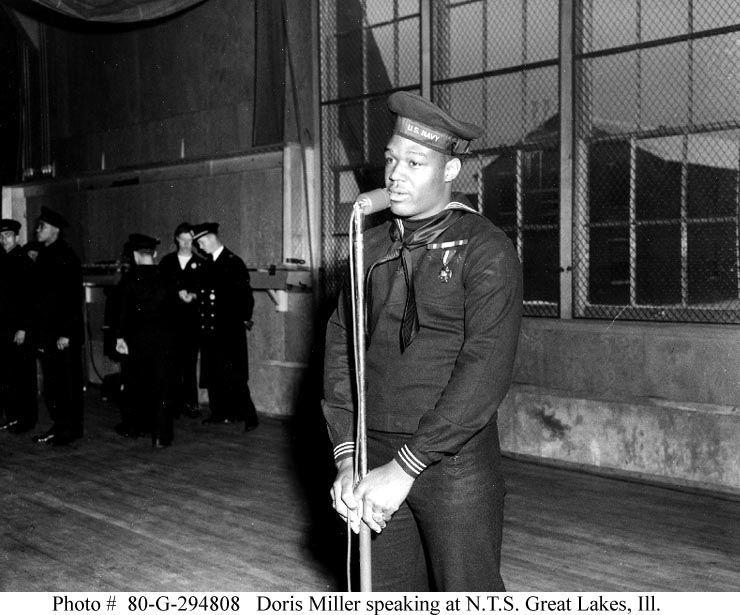 This was the Navy that Doris Miller joined, hoping to leave behind the hardships of his family's life as sharecroppers in the Great Depression. But the Navy was no respite from the Jim Crow segregation he had known in Waco.
"It had been a Jim Crow institution for a long time," Parrish said. "The Navy had a long tradition of undemocratic and abusive policies that it was trying to overcome. Doris Miller, by serving in the Navy, chose the most difficult challenge that an African-American could have in those days. The potential for disrespect, overwork, abuse and low pay was continual."
But with the outbreak of the war, Uncle Sam needed sailors, and drafted them along with whites. Under public pressure, the Navy sent Miller back to the U.S. mainland in fall 1942 to sell war bonds and help recruit African-Americans for the war effort. While home in Waco, he confided to his father that the publicity had made his life "a holy hell" among his shipmates.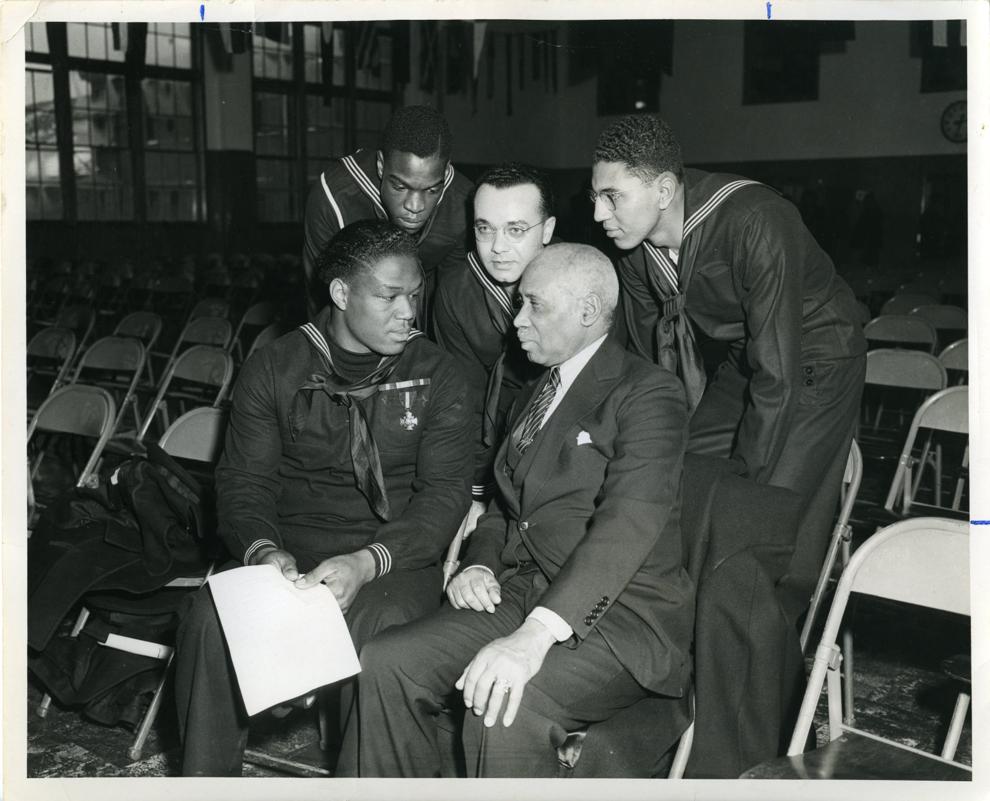 Still, he appeared to harbor hopes of continuing the fight for equality.
"I believe that young Negros will struggle for their full rights when this war is over," he told a black California newspaper. "I know I will."
Meanwhile, Secretary Knox was making piecemeal efforts to expand opportunities for blacks beyond mess attendant rank, though he would continue to oppose efforts to desegregate the Navy. Miller was promoted to cook, and in fall 1943 was deployed again to the Pacific aboard the escort carrier USS Liscome Bay.
USS Liscome Bay's sinking
On Nov. 24, 1943, the carrier was cruising near Butaritari Island when a Japanese torpedo hit it. The torpedo detonated 200,000 pounds of bombs and ignited 120,000 gallons of fuel, killing most of the crew and causing the ship to sink rapidly. Miller was never found but was listed as "presumed dead."
It took the death of Naval Secretary Knox the following year to see a major change in the Navy's policies on black sailors. Under Secretary James Forrestal, the Navy's personnel guide was revised to state that "the Navy accepts no theories of racial differences in inborn ability, but expects every man wearing its uniform to be trained and used in accordance with his maximum individual capacity."
In 1948, under intense pressure from civil rights stalwart Asa Phillips Randolph, President Harry Truman ordered the desegregation of the U.S. military. It was the culmination of years of agitation by black activists, and a prelude to the successful civil rights battles of the 1950s and '60s, Parrish said.
Parrish said that in his way, Doris Miller was a hero for civil rights as well as the military, an example of "pressure applied by ordinary people to receive extraordinary results."
The new book may seem to deflate one aspect of the Doris Miller legend: Despite media claims over the years that Miller might have shot down up to six war planes, Parrish and Cutrer say that there's no evidence any gunfire from the USS West Virginia brought down aircraft.
"It's very difficult to hit a moving target," Parrish said this week. "The fact that he almost certainly did not shoot down any planes doesn't matter. He was doing his duty as he saw it and displayed extreme bravery and coolness in helping drag his captain to safety."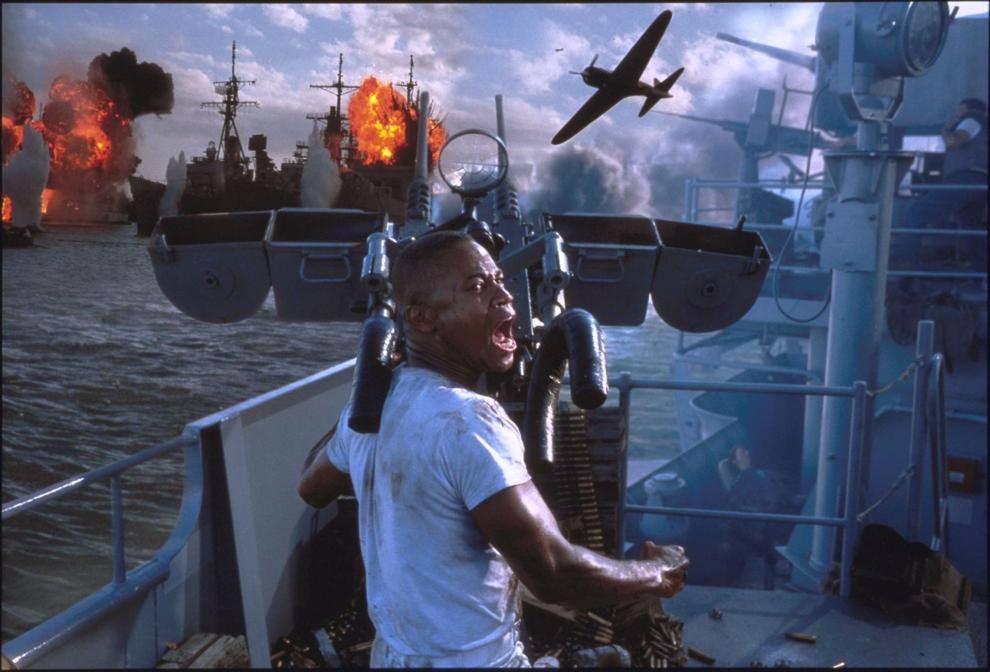 And he believes further honor for Miller is warranted, including the Medal of Honor.
"I personally do believe he deserves the Medal of Honor, and I look forward to the day when he finally does receive that great distinction," he said. "He was engaged in hard combat rising to a level that was really unprecedented."
Medal of Honor campaigns
National campaigns for such a medal, including efforts by Waco congressional delegates, have failed over the decades because the Navy hasn't supported it. Congresswoman Eddie Bernice Johnson, D-Dallas, said she continues to push for the medal as she has for a quarter-century. Johnson, a Waco native, knew Miller when she was a child and was inspired by his example.
"In Waco, Texas, there was overt discrimination, but that didn't seem to discourage him," she said. "He had the ability to rise above that as a loyal, committed citizen."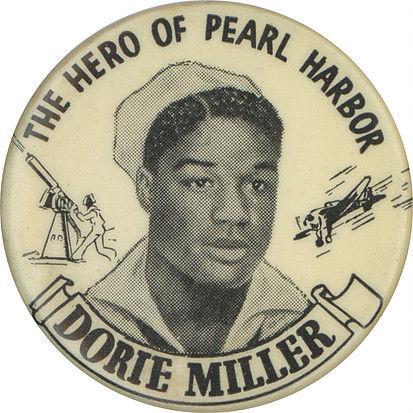 Johnson said she hopes the new book will provide new insights that would help Naval officials reconsider their position on Doris Miller.
"I won't give up as long as I'm in office," she said. "We're searching for anything new, any areas that have not been explored, something that would expand what we know or add some new approach."
Parrish said a Medal of Honor would focus attention on Waco and the riverside Doris Miller Memorial, the first phase of which is set to open on Memorial Day 2018. Regardless, the memorial will keep Miller's legacy alive, he said.
"I look forward to the day when people come from all over the world come to Waco to see it, when busloads of children from all over Texas come to spend a day in Waco to go to the memorial. … I think it will serve as an example to the rest of the country of what happen when communities come together and unify around a project that educates but also challenges."