A theme of somber remembrance reverberated through a ceremony Thursday to recognize seven new names etched into the downtown Waco Vietnam Veterans Memorial.
The ceremony, hosted by the Waco Citizens for a Vietnam Veterans Memorial, served to unveil the new names, which represent seven Baylor University alumni who were killed in action during the Vietnam War.
Jim Fordham, of Dallas, drove in for the service to see the unveiling of one particular name.
Benjamin Steve Fordham was his older brother and graduated from Baylor in 1966. Benjamin Fordham was a lieutenant in the Marine Corps and died April 15, 1968.
"You have to understand, it really devastated the family when my brother died," Fordham said. "So, anytime there is any sort of memorial, I'm going to be there because it's still painful after all these years. It's still like having another memorial service for him."
Fordham said he was proud of Baylor for taking a prominent role in the service.
Robert Russell Barnett: KIA April 7, 1966, Baylor ROTC graduate 1955, Air Force captain, pilot
Lowell E. Morgan: KIA June 3, 1967, Baylor graduate 1957, Army major, pilot
Benjamin Steve Fordham: KIA April 15, 1968, Baylor graduate 1966, Marine Corps lieutenant, infantry
Jack A. Whetsel Jr.: KIA April 30, 1968, Attended Baylor one year, Army lieutenant, artillery
William Thomas "Billy" Hale: KIA Oct. 11, 1968, Baylor graduate 1966, Marine Corps lieutenant, pilot
Richard E. Latimer Jr.: KIA Dec. 2, 1968, Attended Baylor 1962-65, Marine Corps lieutenant, infantry
Orville Curtis Rogers Jr.: KIA Nov. 18, 1970, Baylor graduate 1967, Marine Corps lieutenant, pilot.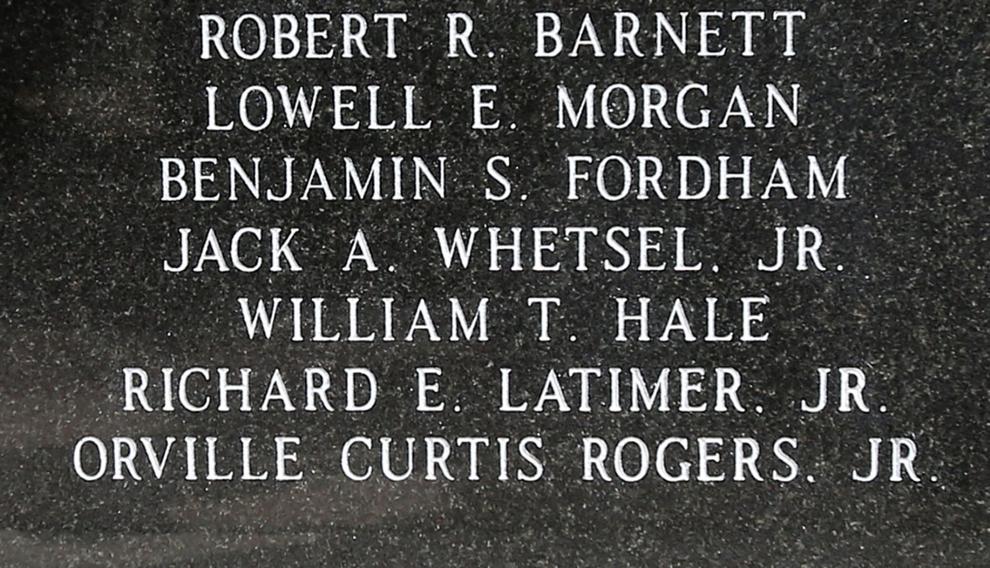 Baylor President Linda Livingstone said she thinks about how Baylor's mission is to prepare men and women for worldwide leadership and service. Many current students are veterans or active duty, and the university has the privilege of helping shape their future, Livingstone said.
"I can't think of any greater service that alumni and students of our university can provide than to serve our country in the military," she said.
The final seven names are:
* Robert Russell Barnett
* Lowell E. Morgan
* Benjamin Steve Fordham
* Jack A. Whetsel Jr.
* William Thomas "Billy" Hale
* Richard E. Latimer Jr.
* Orville Curtis Rogers Jr. pic.twitter.com/OE4JgEkS3r

— Cassie L. Smith (@SmithCassie) March 29, 2018
The Rev. John T. Wells, a retired Army colonel, said he was honored and humbled to speak at the event.
"If you know our military history you know that as Americans we normally get off on the wrong foot in war," Wells said. "Vietnam was no exception."
The war was controversial for many in the United States, he said. People born since the '70s know of the war primarily through books and movies.
"Those who came of age in the '60s and '70s saw it being played out on their television sets every night," Wells said. "They documented the horrors of war like never before, so the Vietnam War impacted what they believed and how they view the world. But for those of us who fought there, it was at times, shall we say, challenging. The war was certainly not controversial."
Wells said soldiers faced the possibility of death and continued to serve.
"They defend everybody's right to be an individual and yet they yield their own individuality in that cause," he said. "Then perhaps there is the greatest paradox of all. They value life so they ready themselves to die so that others might live."
Wells said it was an honor to take a moment to remember a handful of those special men.
When the Waco Vietnam Veterans Memorial was first dedicated on May 15, 2004, the black Indian granite marker included the names of 64 McLennan County veterans who died while serving in Vietnam. The memorial came to fruition after Manuel Sustaita, founder and now president of the Waco Citizens for a Vietnam Veterans Memorial, took a trip to the Vietnam Veterans Memorial wall in Washington, D.C.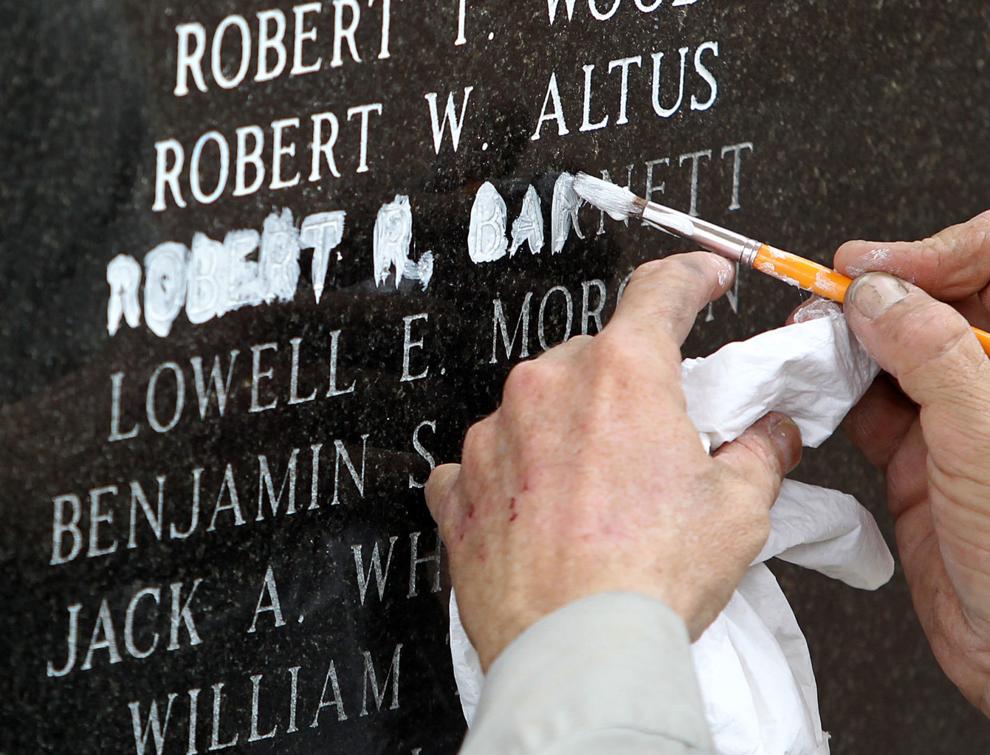 Veterans, families and friends walked through the 64 holly trees planted at the site along the Brazos River designed to pay tribute to the slain.
After the event Thursday, Livingstone accompanied the family of Air Force Capt. Robert Russell "Bear" Barnett to Baylor for an unveiling of a plaque honoring Barnett on a Memorial Lamppost. There are more than 140 granite Memorial Lampposts throughout the university's campus that each bear a plaque commemorating a student who was killed in service.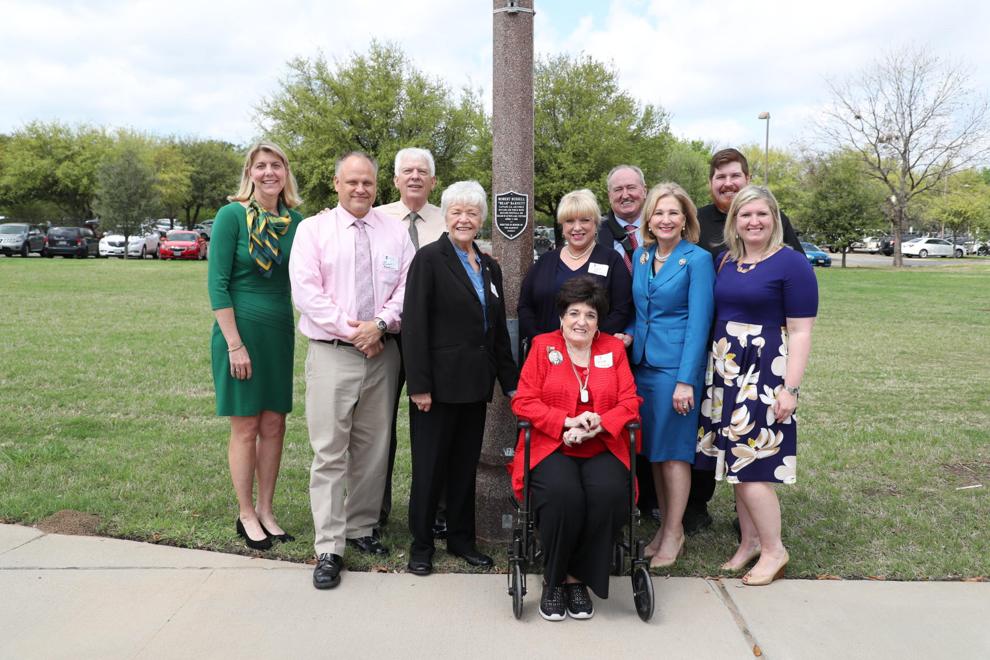 Barnett played football at Baylor, and his lamppost is included on the walk to McLane Stadium, on the I Believe Walkway near a statue of former coach Grant Teaff. Barnett was shot down in his B-57 on April 7, 1966. His body wasn't recovered until December 2016, when he was repatriated with full military honors on April 7, 2017, at the Texas State Cemetery in Austin.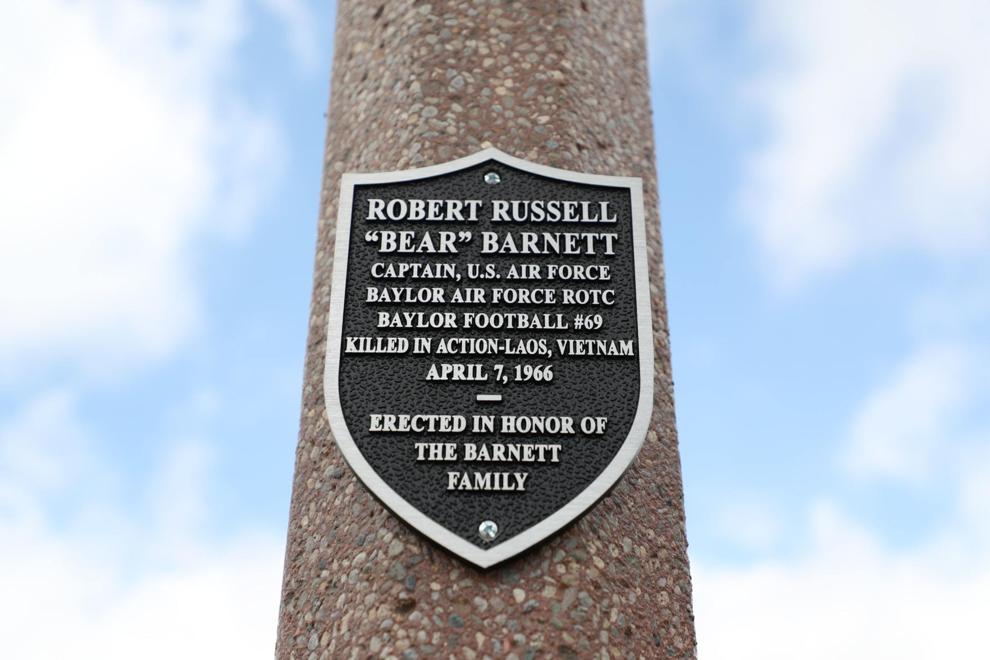 Barnett's daughter, Debra Coffey, said she was 9 years old when she learned her father had been shot down during a secret bombing run.
"He loved the Baylor family," Coffey said. "He met my mother when they were at Baylor and it was just so thoughtful of President Livingstone and the university and the Vietnam veterans here to honor our father in this way."
David Hodges, a former McLennan County court-at-law judge, attended the ceremonies with Coffey.
"I think it's awesome," Hodges said of the memorial. "I think it's a great thing for Waco to have. I don't know how many communities have their own, but I think it's a wonderful tribute to them."