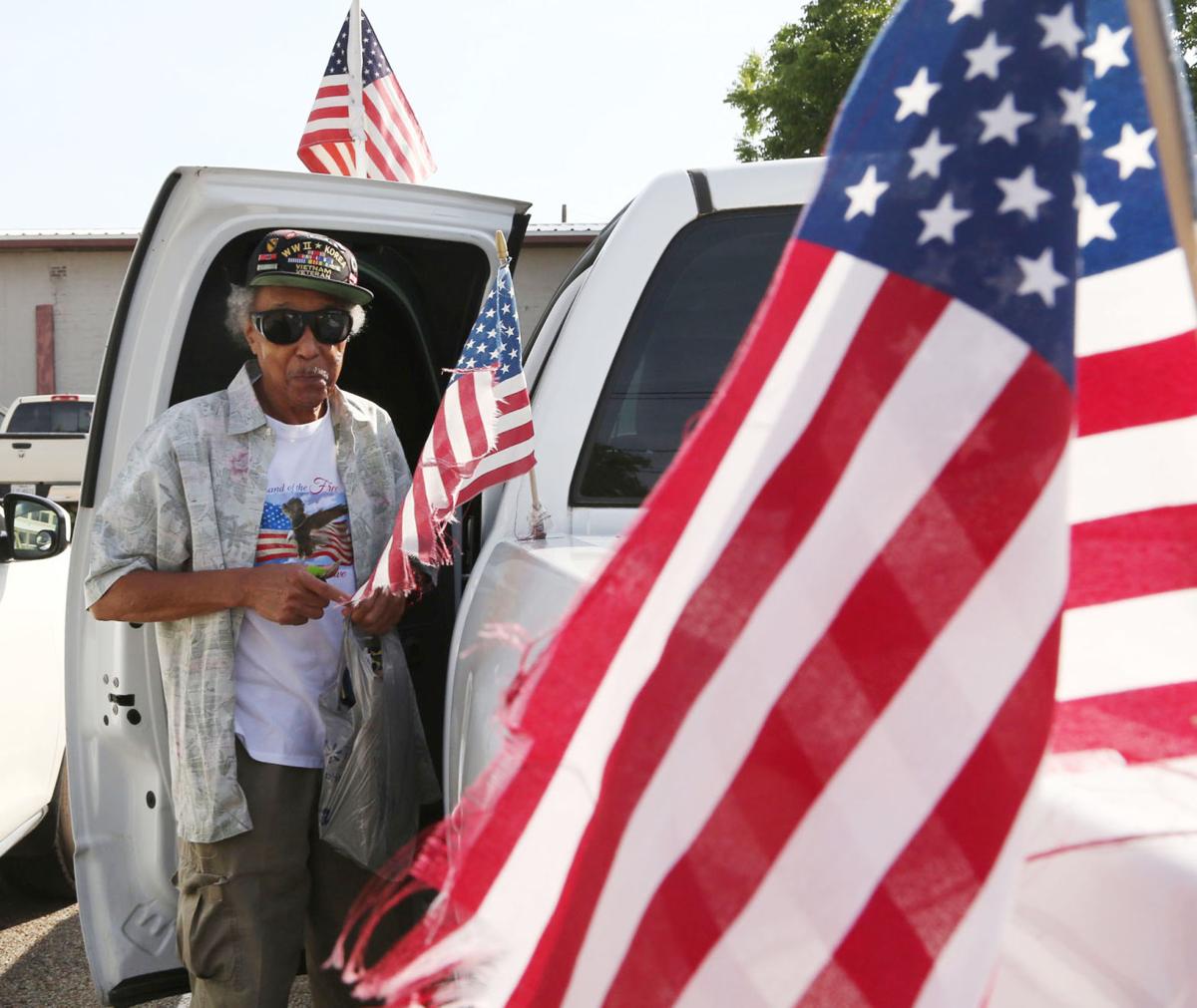 It's hard not to notice Ira Walton when he is driving his Dodge Ram pickup. The truck is adorned with six American flags, symbols of Walton's patriotism and dedicated service to his country.
It's a rare individual who served his country in the military during three wars. The 95-year-old Walton won two Bronze Stars for meritorious service in combat zones and achieved the rank of Chief Warrant Officer 3 during a 31-year Army career that spanned World War II, the Korean War and the Vietnam War.
However, besides his family, Walton perhaps is most proud of his 29-year tenure as a fierce competitor in the National Veterans Golden Age Games, a multi-event sports competition for veterans held in various cities across the country.
Walton will stack his Bronze Stars up against his 89 career medals from the Golden Age Games, the vast majority of them gold medals. However, Walton returned from the latest games in Albuquerque, New Mexico, with a bonus prize that caught him a bit by surprise. He was inducted into the National Veterans Golden Age Games Hall of Fame for his many successful years at the games.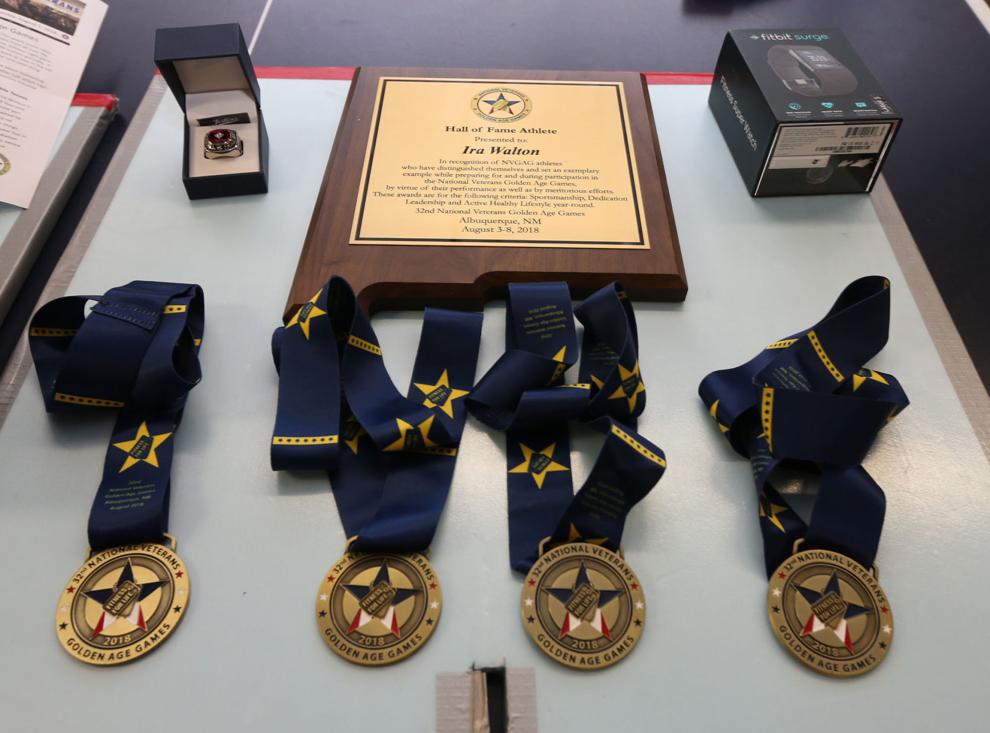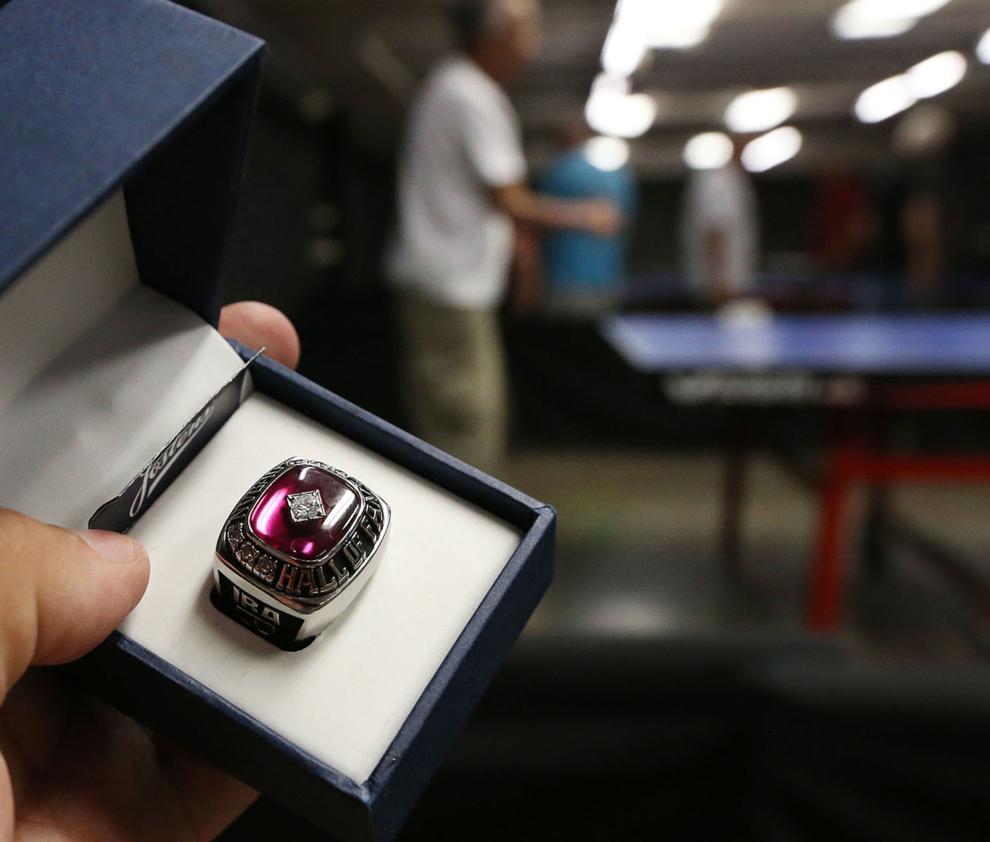 Walton came back to Waco with lots of hardware, including the Hall of Fame plaque, a blingy ring and gold medals in shuffleboard, horseshoes, air rifle and table tennis, his signature event.
The Hall of Fame designation was first given out at the games three years ago, and it has fewer than 10 members.
When asked about the honor, the soft-spoken Walton said, "I think I deserve it. I thought I should have been number two, the second person inducted."
Walton has been a member of the Waco Table Tennis Club for decades and routinely dispatches players decades his junior. He hones his skills by playing five days a week and every other Saturday.
Jimmy Dorrell, pastor of Church Under the Bridge and former executive director of Mission Waco, has played table tennis with Walton for 50 years.
"I thought I was pretty good because I would win YMCA tournaments in Conroe, where I grew up. When I came to Baylor in 1968, I was looking for a game, and Ira and those other guys just beat the snot out of me," Dorrell said. "Ira is the genuine, real deal. He is one of the nicest men I have ever known as far as character, courtesy and politeness, and his family is equally solid. Ira is as good as it gets. He is a legend, and his family is the kind that I think everyone wishes they had."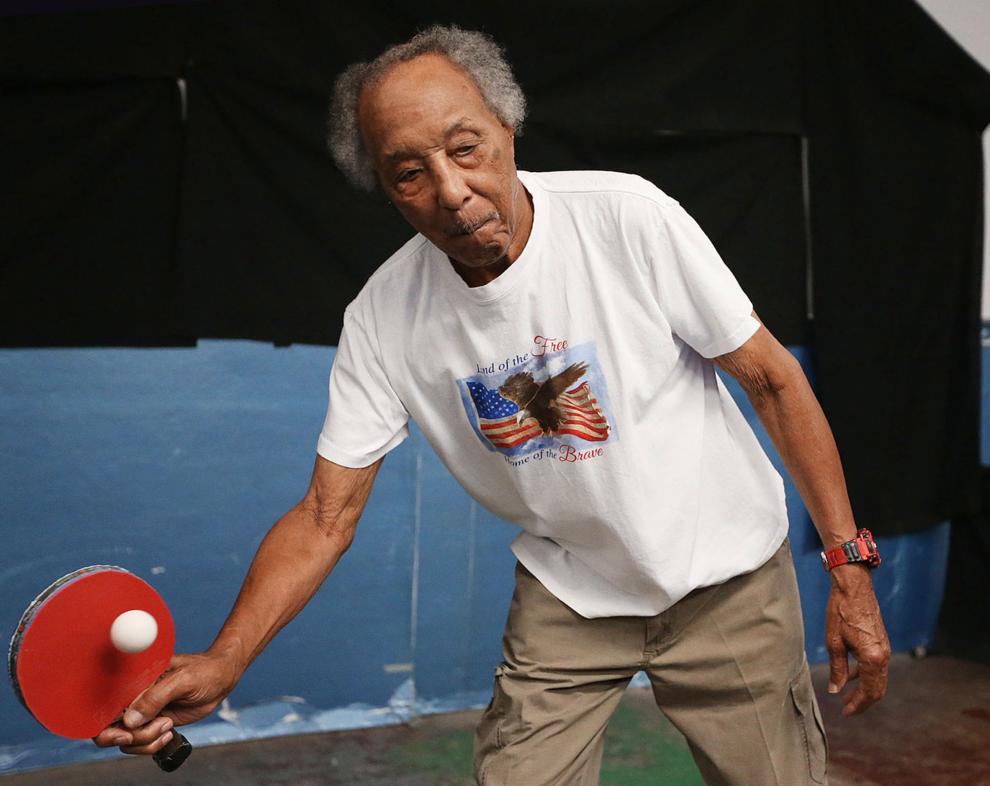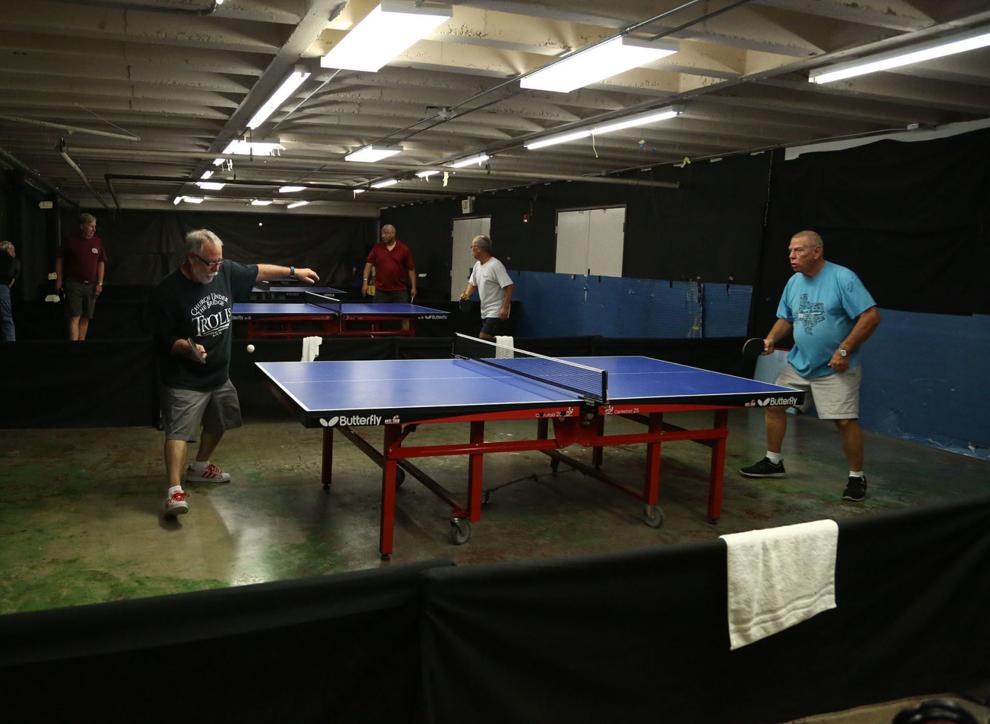 Walton grew up in Waco and attended segregated A.J. Moore High School. In those days, tennis was his game. He won second in state in tennis as a junior and won state as a senior in 1940. He also teamed with Bernard Lee to win state that year in doubles.
His tennis prowess earned him a partial scholarship to Paul Quinn College, where he also developed a love for table tennis.
"I started playing table tennis at Paul Quinn, and we would get so wrapped up in our games that sometimes we would just keep playing and miss class," Walton said.
Walton's stepfather worked hard mowing lawns and cleaning houses all over Waco, while his mother worked at Progress Laundry. Money was tight, and his partial scholarship wasn't paying enough for Walton to stay in school. He didn't want to ask his mother for money he knew she didn't have, so he left college and went to work at the laundry with his mother and older brother, Winger. He was making 40 cents an hour.
He later got a job for 45 cents an hour in a factory making women's hats. That was where he was working when he got drafted in August 1943. Winger, 18 months older, was drafted in January 1942.
Walton scored well on IQ and entrance exams and entered the Army Air Corps. He was sent to Biloxi, Mississippi, where his test scores earned him a shot to be a member of the fabled Tuskegee Airmen, a unit of black aviators serving in the segregated Army Air Corps.
"I made the mistake of telling the officer there that I had hay fever," Walton said. "Apparently you can't fly with hay fever, and he took my form and drew a big red 'X' on it and that was it."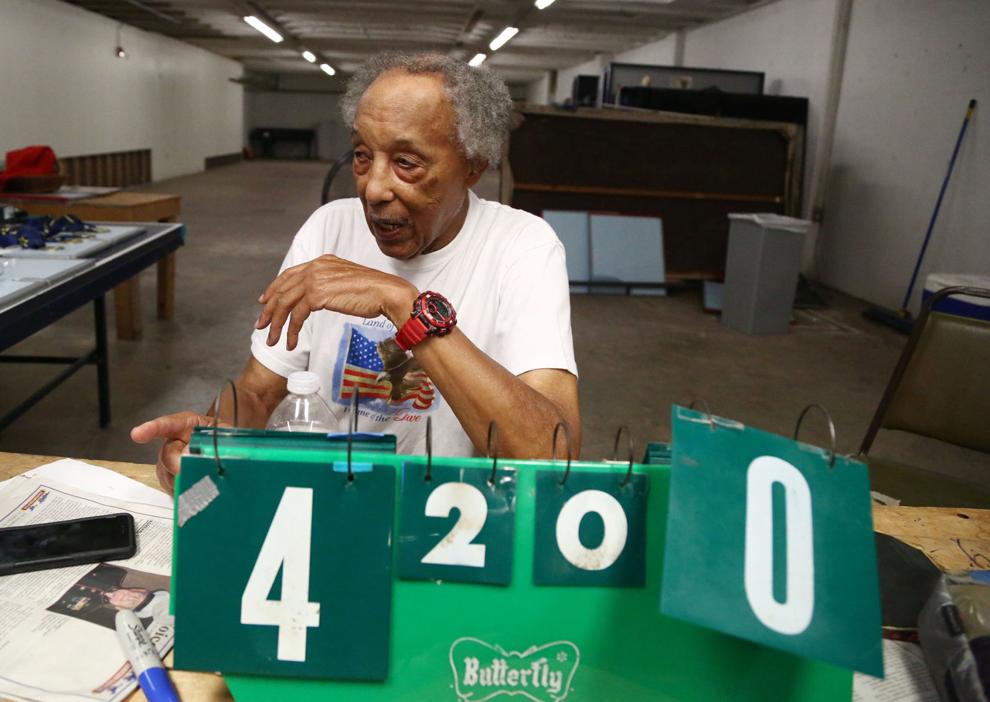 With his brother in the Army, Walton transferred to the Army, where he was sent to Hawaii for jungle and invasion training in 1945 with plans to fight in the Pacific. Two months later, U.S. forces dropped atomic bombs on Hiroshima and Nagasaki in Japan, and the war came to a close.
He came home as a corporal in December 1945 and had 90 days to decide if he wanted to re-enlist. On the 88th day, he decided to stick with his military service and was sent to Germany and later to Austria, where he drove a staff car for a judge advocate general for three years.
In 1950, Walton was assigned to the 514th Trucking Company in Washington. Later that year, he was sent to Incheon in South Korea, where he transported troops, ammunition, food and dead GIs after the war broke out. Walton was never injured during his military service, but he had a number of close calls with mortar shells going off around the trucks he was driving.
"I consider myself very fortunate to be on active duty for that long and was not injured," Walton said.
After the war, Walton was stationed at Fort Hood and married Christene, his hometown sweetheart, in 1952. They had three daughters and two sons, 10 grandchildren and two great-grandchildren. Christene died in 2006.
Walton was stationed in Germany as a sergeant first class, when his brother was seriously wounded in Vietnam in 1964. Winger was flown to Fort Dix, New Jersey, and Walton and their mother, who came from Texas, got there in time to see him just before he died from his injuries.
"He was a master sergeant," Walton said. "He got hit by a mortar shell."
A few years later, Walton was appointed a warrant officer and was sent to Vietnam in 1967, where he spent 10 months as part of an engineering battalion. They built pipelines for oil and petroleum tanks, bridges that spanned rivers, roads and more.
"You name it and we built it," Walton said. "It was amazing what the military could accomplish."
He spent another tour in Vietnam after Pentagon officials rejected his personal plea not to return because he was a sole survivor. He retired from the Army in January 1974 and went to work at the Waco Veterans Affairs Regional Office.
The Army contacted him nine months later with good news. Officials said he should have been promoted to Chief Warrant Officer 3 and gave him back pay. Walton continued working at the VA until his retirement in 1988.
Two years later, at age 65, Walton started his 29-year consecutive streak of competing in the veterans games.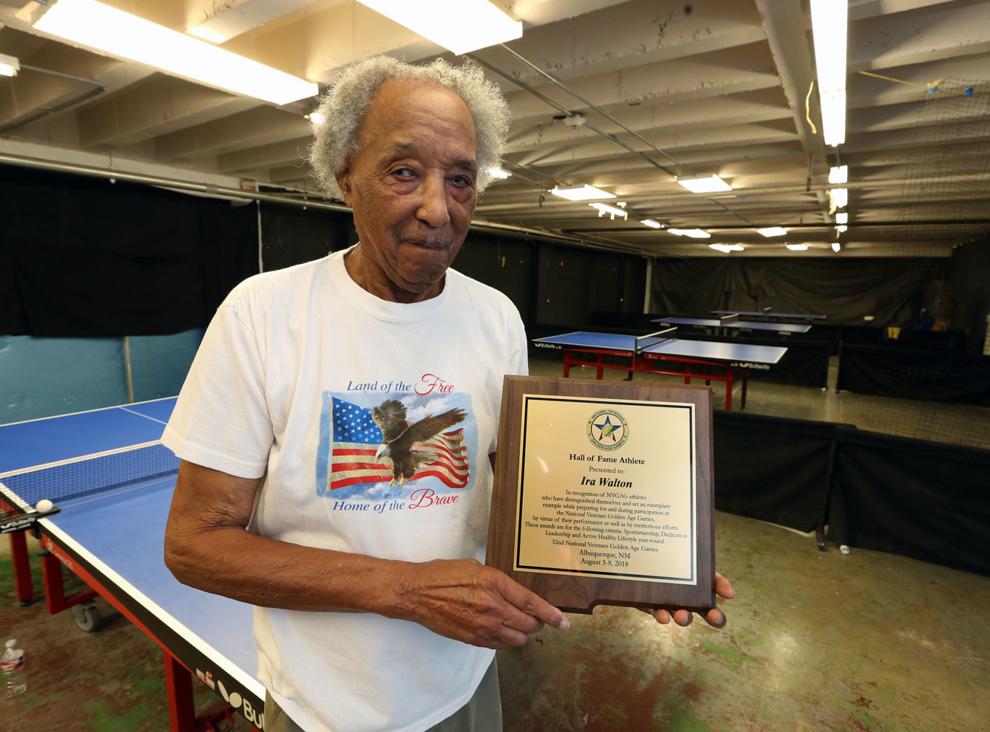 Walton said the secret to his good health and longevity is to stay active, both physically and mentally. He said he used to compete in checkers and chess at the games, which took care of his mental acuity. However, they discontinued those events, much to his disappointment, he said.
Jim Henry, 79, a 26-year Navy veteran, marvels at Walton's abilities at 95. Henry, also a member of the table tennis club, plays three times a week and said he and Walton split their games about 50-50.
"When I went into the Navy, even then, blacks in the service were relegated to cooks and stewards," Henry said. "They had to ride on the back of the bus. When Ira was coming up, being an officer was out of the question, and somehow, he retired as an officer. He did everything right. He just kept going and he can remember everybody's name back to 1942. It's amazing. When I'm his age, I hope I can do as well as he does."
It's going to take some doing for Walton to continue his streak with the Golden Age Games. They are being held in Anchorage, Alaska, next year.
"That's a long flight," Walton said. "I hate that, but I'm going to try."
There aren't many people who would bet against him.