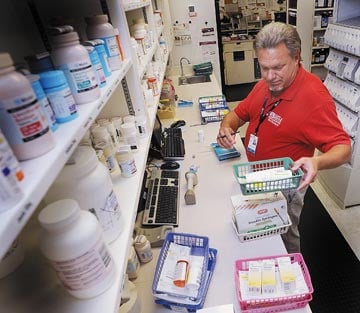 Area physicians and law enforcement officials are excited about the launch of an electronic database designed to help enforce a relatively new state law that makes it a felony for people to "doctor shop" in an attempt to fraudulently obtain prescription drugs.
The American Civil Liberties Union has expressed reservations about the database, calling it "government surveillance." But state officials point out Texas has tracked prescriptions for addictive or otherwise potentially dangerous drugs since 1982.
The difference is the previous system was paper-driven, meaning people authorized to view the data often had to wait days to get it. That slow flow of information sometimes impeded criminal investigations, police said.
For doctors, the lag greatly diminished the database's usefulness since they often must make on-the-spot decisions about whether to give patients certain drugs.
"I work in minutes and hours, not days and weeks," said Dr. Robert Greenberg, vice-chairman of emergency medicine for Scott & White Healthcare.
But starting this month, the state is making the data available almost instantly via an electronic database.
Requested by the Texas Legislature, the database is maintained by the Texas Department of Public Safety. It contains information about all prescriptions filled within the state for monitored drugs during the previous 12 months.
Doctors, certain other medical personnel and law enforcement officials gained access to the database in early August. Pharmacists, podiatrists, dentists and veterinarians will get access by the end of the month.
"This new tool will allow a proactive approach to prevention, assist with criminal investigations, provide historical reporting and identify trends," DPS Director Steven McCraw said in a news release.
Dr. Tim Martindale, a family medicine physician affiliated with Providence Healthcare Network in Waco, said the newly accessible database is a relief for physicians.
Before, doctors often worried they were being taken advantage of when they prescribed monitored drugs. Monitored drugs range from painkillers and anxiety medications to weight-loss drugs and sleeping pills, he said.
When there were red flags, about the best doctors could do was call local pharmacies to see if the patient had tried to fill the same prescription from multiple doctors, Martindale said.
Not only was such sleuthing time-consuming, but it was far from foolproof. Because of that, some physicians opted not to write the prescriptions and instead referred patients to pain specialists.
"Folks punted and started saying, 'Go see someone else,' " Martindale said.
That was frustrating for patients with a true need for the medication, Martindale said. It also eroded the relationship between patients and their family physicians, which is an issue because family doctors can best look out for someone's overall health, he said.
"The pain doctor doesn't know the whole person," Martindale said.
On the other end of the spectrum, the database should help decrease the number of doctors who prescribe addictive medications too freely, Martindale said. He became well-acquainted with that phenomenon during the years he served as medical director for a local substance abuse center, he said.
Some such doctors are willfully negligent, prescribing drugs to anyone with money, Martindale said. Others are "compassionate softies" who aren't trying to flout rules but get a reputation for being a sucker for sob stories, he said.
"If (patients) cry, if they tell a story, etc., they know they will get a prescription from them," Martindale said of the latter. "That is where I think (the database) can be particularly useful."
Greenberg said the physicians he works with are excited about the new database. They include those who work at Hillcrest Baptist Medical Center's emergency room in Waco.
Emergency staff encounter drug seekers on a daily basis, Greenberg said. Some are savvy enough to come at peak times, when they know they are more likely to get a prescription from doctors busy trying to help everyone.
The two conditions people most often fake are toothaches and back pain, Greenberg said. Since those ailments can be present with no physically verifiable signs, it can be difficult for doctors to know if people are lying, he said.
Joe DaSilva, executive director of the Texas Pharmacy Association, said members are glad to help combat prescription abuse.
The new database puts a little more of a burden on pharmacists, because prescription information now must be reported within seven days instead of the previous 15 days.
"This creates a little bit of extra work, but the benefits outweigh it," DaSilva said.
From a law enforcement perspective, the database has many potential uses, McGregor Police Detective Joe Coy said. Officers in the field will be able to use it to verify the validity of prescriptions people have in their possession.
Detectives can use it while investigating individual cases, as well as looking for patterns that suggest larger problems, Coy said. That could include doctors who operate pill mills or organized groups who doctor shop to sell drugs on the street, he said.
Because the new system is so much easier to use, Coy said more officers will take advantage of it. He predicted more crimes will be detected as a result, including those that have nothing to do with prescription drugs but are committed by people who fraudulently obtained medications.
Coy pointed to a case earlier this month that began with McGregor police investigating reported thefts of prescription pills. The trail led detectives to a suspected fencing and drug distribution operation in Waco.
Waco Police Cmdr. Clare Crook agreed the database holds a lot of potential for solving a type of crime that is rampant across the state.
"Every tool that we have is beneficial," Crook said. "So many of the script shoppers go from one city to the next. There are literally gangs who do this for a living."
The law addressing "doctor shopping" was passed by the Texas Legislature last session. It became effective Sept. 1.
The law makes it a second-degree or third-degree felony, in most cases, for a person to visit multiple doctors or other medical professionals and not disclose that they are receiving prescriptions considered controlled substances.
One issue the Texas chapter of the ACLU takes with the database is that patients are not able to access the data. People should be able to check their own records to see if there are errors. They also should be allowed to know if their history has been requested, spokeswoman Dotty Griffith told the Associated Press.
DPS spokesman Tom Vinger said that while patients don't have direct access to the information, they could ask their doctor or pharmacist to look it up for them. He also said there is a procedure for correcting errors.