Four of Mart's five police officers resigned this week, citing dissatisfaction with pay and city leadership, leaving the police chief as the only city official to keep the peace in a town of 2,400 residents.
"I am sad the officers chose to put their differences in their resignation letters rather than going through the formal process and letting the city address their concerns," City Manager Kevin Schaffer said. "We have not been made aware of their complaints or grievances until they resigned and we did not have a chance to address them, but we are sad they feel like this was their only option."
Police Chief Paul Cardenas declined to comment for this story. Three of the resignations take effect May 19, and the other takes effect May 16, according to the officers' resignation letters.
Schaffer said the resignations were unexpected, and city officials plan to meet with the McLennan County Sheriff's Office on Monday to discuss police coverage in the town.
Mayor Len Williams said he will also reach out to notify surrounding law enforcement agencies of the situation. Schaffer said calls will be made to the Limestone County Sheriff's Office and Riesel Police Department, among others, to ensure Mart residents are protected.
"The safety of Mart citizens is of the upmost importance to the city of Mart," Schaffer said. "This is not going to deter us."
The four officers are all relatively new to Mart, with Robert Pollard serving three years, Jaycee Steiner serving two, her husband Stephen Steiner serving one and Anthony Seng serving about four weeks. They cited displeasure with payroll issues and ongoing issues involving the city council and city manager.
The resignation letters cited a payroll error in which officers were inadvertently paid double instead of time-and-a-half. Officers were notified of the error in April, but Schaffer said he acknowledged the mistake was his error and would recommend that the city absorb the cost.
But officers stated in their letters that this was not the first time payroll errors had been made and that officers lost compensation time to make up for the errors.
Jaycee Steiner's letter also states she feels undervalued as a city employee, describing a lack of trust between residents and city officials after an inquiry into potential criminal conduct by officials was launched last month.
"Not only am I resigning because I am disheartened with the unethical, immoral and criminal acts of the city officials, but I also have proof that I am being targeted in retaliation of the ongoing criminal investigation into criminal mischief that Public Works Director Stephen Smith and some of the other city officials are suspects in," Jaycee Steiner's letter states.
In an email released to the Tribune-Herald last month, Cardenas stated he was sending another agency information so it could look into the potentially falsified city wastewater logs, a possible social media conspiracy against a candidate for city office, possible improper use of city equipment and other misconduct. He said the Texas Rangers could investigate. It was unclear whether the referral had been made Thursday.
A former Mart City Council candidate has also sued the Save Our City group and served Williams, claiming the group is acting as a de facto extension of the city government. The candidate, Kollin Behrghundi, lost in Saturday's election. His suit claims the political group violated his constitutional rights by opposing his candidacy and harmed his business.
Stephen Steiner wrote in his resignation letter that the mayor requested police open a terroristic threat investigation based on a social media post by John Riley, a longtime Mart resident. Riley and Williams had also gotten into a heated conversation last month inside Behrghundi's Mart business. Williams received a trespass warning barring him from returning to the business, but no criminal charges were pursued.
The officer wrote in his letter that he told Williams he saw no criminal violation in the post that Williams was concerned with. However, Williams later emailed the officer and stated he wanted Riley arrested, Steiner wrote.
"There is no criminal charge against Mr. Riley," Stephen Steiner's letter states. "I believe this behavior by Mayor Len Williams to be unprofessional and an abuse of his power."
Williams said because he felt threatened, he acted under the advice of his attorney and took his concerns to the police department. He said he never requested Riley be arrested and that he has since sat down with Riley and resolved the issue.
In his letter, Seng wrote that he was resigning to seek employment elsewhere and that the city administration "played a big role in my decision to resign."
"With little to no support from the city council to back the police department, I believe they have forced our veteran officers out," he wrote in part. "Without them here to continue training me, I feel as if this is a potential risk to my safety. The city council took for granted the peace officers and what they offer the citizens of Mart. I believe the citizens will ultimately suffer due to the neglectful action of the city officials."
City Attorney Charles Buenger said he was unaware of the resignation letters, but said the council will likely discuss the resignations Monday. Schaffer said the city will decide how to move forward after consulting with the McLennan County Sheriff's Office.
---
Resignation letters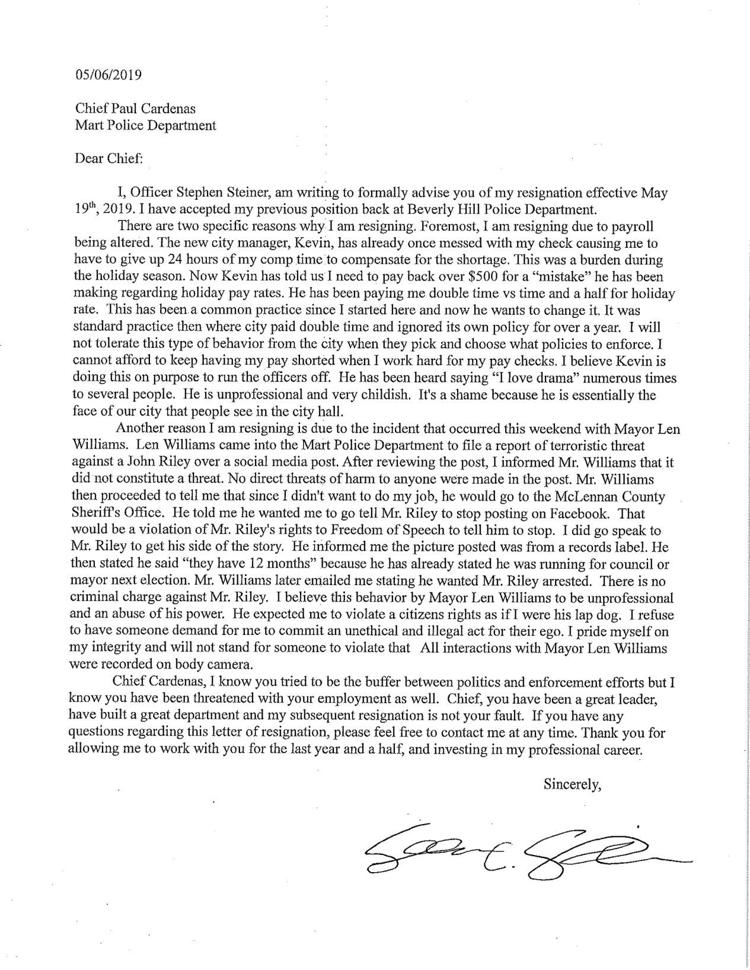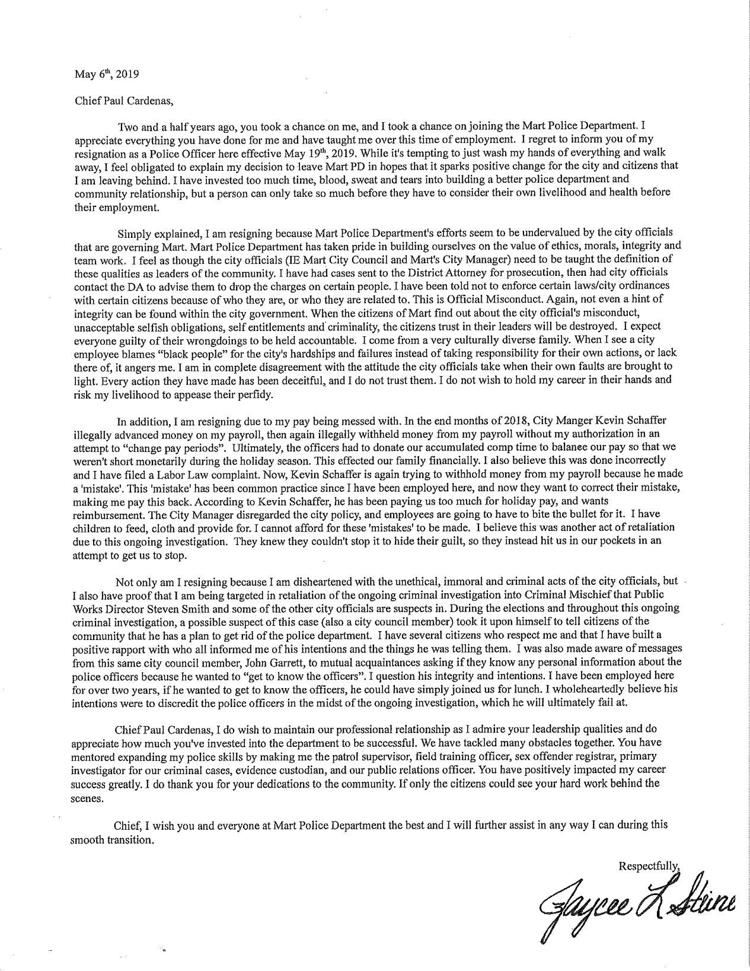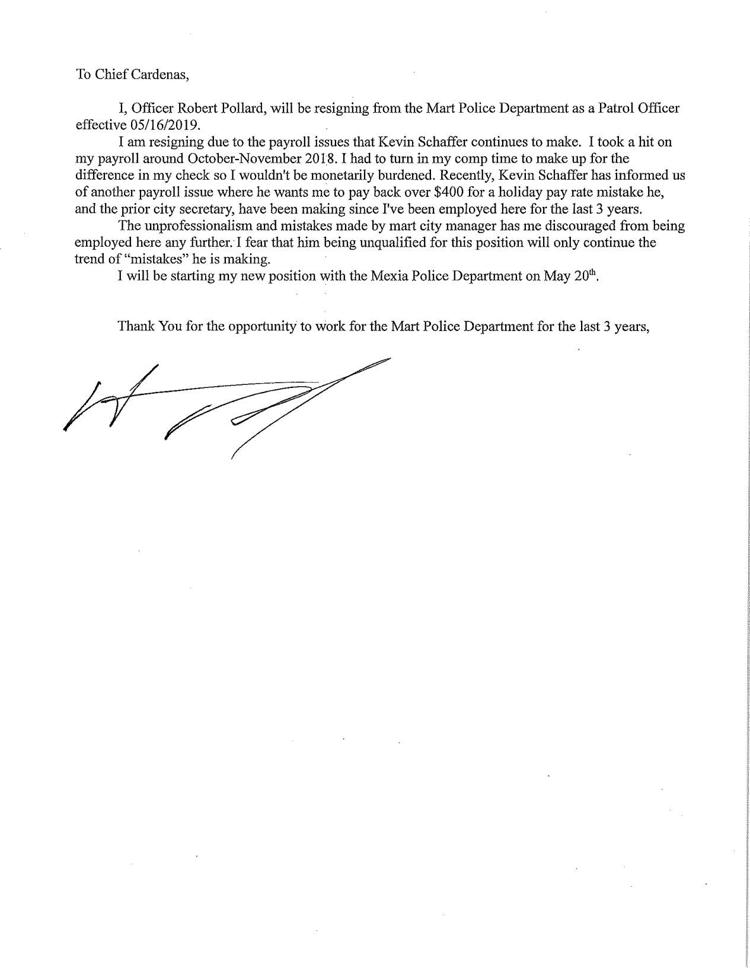 ---
The Texas Rangers likely will investigate recent actions by Mart city officials, according t…
A candidate in the May 4 Mart City Council election has sued a group organized on Facebook t…
Attorneys representing members of a Mart-based social media group are asking a federal judge…
Be the first to know
Get local news delivered to your inbox!