The twin spires of St. James Methodist Church wrote a message on the skyline of downtown Waco when they rose 91 years ago.
A church founded by slaves and at that point just a generation away from the wretchedness of slavery was here to stay, and would worship in a dignified place of brick and stained glass.
The Tudor Gothic architecture of the building and the Reconstruction roots of the congregation would ultimately earn the church a state historic marker. But today, the building's future is in question as the congregation has dwindled to fewer than 30.
Church leaders said this week they put the landmark building at Second Street and Clay Avenue on the market with the idea of moving to a more manageable building. They said the costs of insurance, utilities and maintenance on the 13,000-square-foot building threaten to consume the church's meager tithes and offerings, and the steep stairs are an obstacle to aging members.
"So far God has blessed us to keep doing what we're doing," said the Rev. Vivian Campbell, the church's part-time pastor. "But you want to do more than just keep the lights on. We want to be in ministry doing things for others."
Coldwell Banker commercial broker Josh Carter listed the building Friday with an asking price of $495,000.
"I think it's worth every penny of it," Carter said. "It's such a unique property."
The property is part of the rapidly redeveloping side of downtown near Interstate 35 and is surrounded by student-friendly lofts, eateries and hotels, including the Hotel Indigo across Clay Avenue.
Precisely because of that strong market, local preservationists fear the church building could be lost, along with its distinctive architecture and its testament to Waco's black history.
"I think it's a very significant structure for Waco's history," said Kenneth Hafertepe, a Baylor historic preservation scholar who has been appointed to the Waco Historic Landmark Commission. "St. James fits very nicely as an important example of architecturally significant church buildings erected for historically African-American congregations. I think it would be a shame to see that lost. . . . This is a situation that requires some imaginative thinking."
Carter said he will see what the market will bear, but he would prefer to see a buyer who can preserve the building, even if it means dividing it into lofts or offices.
The building's historic designation requires owners to notify a state commission of any planned exterior changes but does not prohibit demolition or other changes that would lead to removal of the designation, according to Texas Historic Commission documents.
Hafertepe said he would love to see the building turned into a performing arts space. Meanwhile, Church Under the Bridge pastor Jimmy Dorrell has had preliminary discussions with church members about sharing the building with the existing church, though his Sunday morning services would still be outside.
Campbell said she too hopes the building can be preserved, preferably for a church or a nonprofit or arts use. She said the church reminds her of values of a long-gone generation of black Wacoans.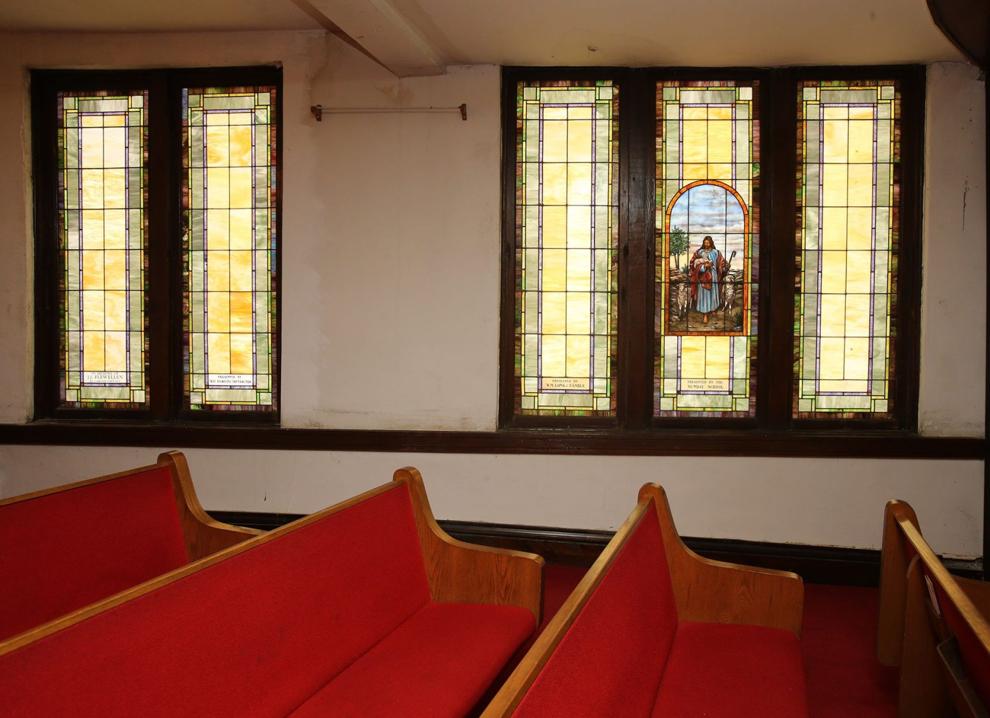 "Let me tell you, those were some hardy people," Campbell said. "I mean, it's amazing to me. We today don't have that kind of fortitude. They're working all day, then come in afternoon and evenings and work for the church. They built things to last. That's why this is still here."
Longtime church members say St. James was one of Waco's most prominent black churches until attendance started to slip in the late 1990s. Today it is one of three remaining historically black United Methodist Churches in Waco, along with Bracks Chapel in South Waco and Wesley UMC in East Waco.
St. James was founded as a black Methodist Episcopal church 1874 on the banks of the Brazos River near Jackson Street. Its founding pastor was a slave-turned-revivalist, Anderson Brack, also the founder of Bracks Chapel.
St. James built a tabernacle and then a brick structure in 1889 near its current location. But when the church was condemned in 1909, the congregation built another tabernacle, according to a 1987 church history.
In 1922, the now-defunct San Antonio and Aransas Pass Railroad seized the property through a contentious eminent domain process. That year the church acquired property at its current location and worshipped in another tabernacle until the new church was built under the leadership of Pastor C.S. Williams in 1924.
The congregation went into debt to build the new $85,000 building. The church hired prominent San Antonio architect Carleton Adams, whose firm also designed the main house at the King Ranch and later the Kerr County Courthouse and the Texas State Highway Building.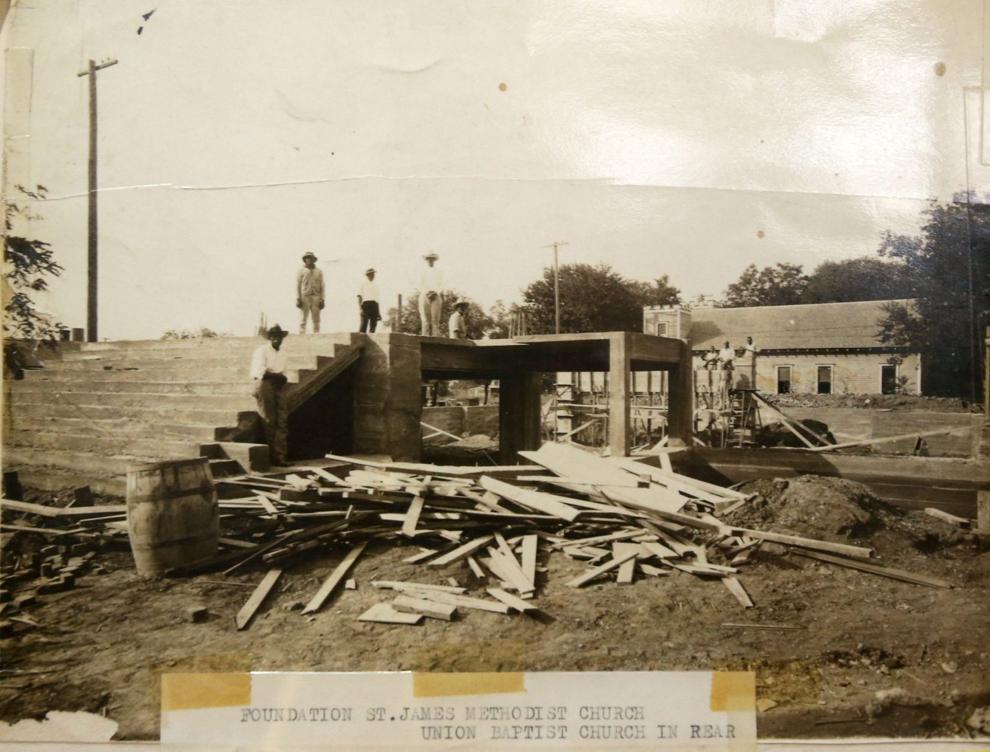 The design, which Hafertepe describes as Tudor Gothic, was based on that of St. Paul Methodist Church, which had been built a couple of years before.
The design features two towers in the front with narrow castle-like windows; ornamental diamond patterns in the brickwork; and a Gothic archway. The extensive stained glass windows mostly reflect the life of Jesus. The contractor for the project was H.W. Hawkins.
A newspaper article from the time noted that the church had to go into debt, "but the congregation is so delighted with its accomplishment, and the people generally so appreciative of this civic achievement for their city that a generous public will take care of this relatively small amount."
That turned out to be optimistic. By 1932, church leaders reported that most of their members were out of work, and the church could not meet its debt payments. It took $10,000 from the denomination's mission board, then worked for more than two decades to clear the rest of the debt.
Still, the church was an anchor of the mostly black neighborhood that surrounded it. Its members included leaders of the black community, such as Carver High School Principal J.J. Flewellen.
Church member Jimmy Ewing, who grew up in the nearby Cain Homes public housing, remembers that special events at the church would draw crowds of 1,000 or so.
"They had all kinds of events, gospel singers from way back in the day," Ewing said. "This is where they used to come."
Church member Freda Cross, 74, recalls the black-owned stores and hamburger stands nearby as well as A.J. Moore High School and Kirk Wilson Elementary School. Across Clay Street, where Hotel Indigo sits, was another fine brick structure occupied by St. Paul African Methodist Episcopal.
Urban renewal, Interstate 35 and the expansion of Baylor University wiped away all traces of that neighborhood except for St. James, and now that building too is on the line.
"It hurts me to my heart when I think one of the biggest churches in Waco is now going to be the one with its doors closed," Cross said. "I hope they don't knock it down, but I'm afraid it's going to happen."
She said that over the years she has advocated merging with the other black Methodist churches to stay viable, and she still thinks that's the only solution.
Both St. James and Wesley UMC decided against a merger a few years ago, but Mt. Zion UMC and Bracks Chapel merged this year, said Don Scott, a Waco-based district superintendent for the United Methodist Church.
He said St. James has a history as a "flagship" Methodist church, and it's poignant to see it unable to fill its historic home. But he said a smaller structure would allow the church to focus on its mission.
"Anytime a church begins to struggle and decline, it's tragic," Scott said. "But decisions have to be made when the mission field changes."
Baylor journalism Professor Bob Darden, who is known nationwide for his work preserving and archiving old black gospel music, recently visited the church and fell in love with its history. He is working with the Texas Collection to digitize the church's rich historic archives.
Darden said he would love to see the church building preserved in some way that would honor its spiritual past, perhaps as a performance space and recording studio for black gospel music.
"This is a church that was built with the blood, sweat and money of former slaves," he said. "It mattered to that community, and it matters now to Waco. It has such a long and storied history."