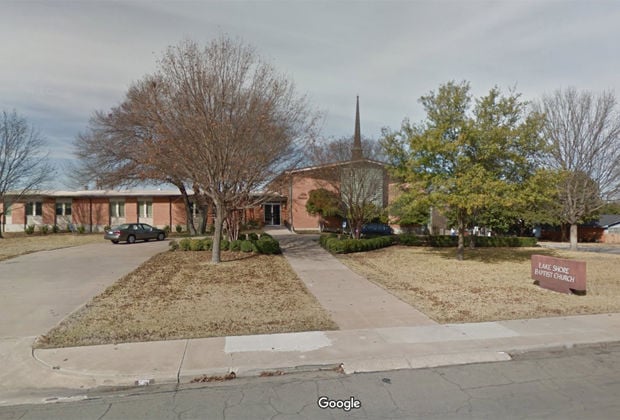 DALLAS — The Baptist General Convention of Texas Executive Board declared three congregations, including Lake Shore Baptist Church in Waco, "outside of harmonious cooperation" with the state convention because of their views on same-sex relationships.
Carrying out a policy adopted at the BGCT annual meeting last November, the board voted 63-6 to consider Lake Shore Baptist, Wilshire Baptist Church in Dallas and First Baptist Church in Austin outside the bounds of harmonious cooperation.
Prior to the 2016 BGCT annual meeting, First Baptist in Austin already had performed same-sex weddings and ordained LGBT deacons.
Wilshire voted in mid-November to permit all its members to participate in congregational life on the same basis as other members, regardless of sexual orientation or gender identity.
Soon after the BGCT annual meeting, Lake Shore approved a change to its bylaws declaring the church a "welcoming and affirming community of Christians" that allows all people into its membership and permits them to participate fully in the life of the congregation.
David Russell, board chair and member of First Baptist Church in Amarillo, noted resolutions approved at BGCT annual meetings in 1982, 1992, 2005 and 2009, as well as motions approved at the 2016 annual meeting and at Executive Board meetings in 1996, 1998 and 2010 all indicate that "Texas Baptists have consistently held that the Bible teaches that any sexual relationship outside the bounds of a marriage between a man and woman is sin, including same-sex sexual behavior."
"The 2009 annual meeting resolution reaffirmed that 'churches should seek to minister to all persons' and that 'the love of God embraces all persons and instructs all Christians to share God's love with others,' " he said. "Sharing God's love with others requires speaking the truth.
"This (removal of churches) is not something we expect to have to do often. It is not something we relish doing."
Russell, an attorney, likened the board's position to the role of jurors who are asked to render a verdict according the law regardless whether they "like the law."
Even so, some board members expressed concern about voting to remove congregations from the BGCT.
Grant Lengefeld from First Baptist Church in Hamilton emphasized he could not speak for his congregation or the region of the state he represents, but said he could not "in good conscience" vote in favor of the motion.
'Is there not a 3rd path?'
Doug Diehl, pastor of Crossroads Baptist Church in San Antonio, asked, "Is there not a third path between removal and approval?"
"We believe the Bible is clear about the crucial issue of homosexuality and the related matter of transgender and transsexual people. Yet the Bible is equally clear about the crucial issue of unity of the Spirit, which we are encouraged to make every effort to keep in the bond of peace," he said.
Diehl cited the biblical example of the Apostle Paul and how he dealt with issues of sexual misconduct in the church at Corinth.
"Paul challenged the individual church to deal with the issue about which he opposed them, but he never suggested rejecting them as a church in fellowship with him or other churches," he said.
In fact, Paul offered harsh words to the congregation but continued to seek the fellowship and support of the church, he said.
"I don't believe these churches (in Austin, Dallas and Waco) have made their decisions to thumb their nose at Christ or the Bible," Diehl said. "They are trying to do missional theology in the same human frailty and limited wisdom in which we do it.
"Rather than remove them from fellowship, could we not state clearly our continued stance on the issues, ask them to consider the tension they are creating in the fellowship and reconsider their stance, and affirm that because of the convention's stance, we will not place openly gay or transgender/transsexual people on boards and agencies of the convention?
"What appears to be judgmentalism will drive a deeper wedge. Mercy might inspire a way toward peace."
Pastors respond
Pastors from the three affected congregations were not at the board meeting, but they responded to a request for comment.
"Wilshire Baptist Church wants to thank Texas Baptists for our 65 years of partnership in the gospel. We regret that selective exclusionary practices based upon differences in scriptural interpretation by autonomous congregations, which first became the norm in the Southern Baptist Convention, have now become operational policy for the BGCT," Pastor George Mason said.
"We acknowledge the right of Texas Baptists to take this decision, but we do not believe it is right. Churches should at least be shown the courtesy of due process before being voted out of a longstanding cooperative relationship against their will. We should be able to reason together spiritually, talk and listen to one another as we discern the will of God together. Nevertheless, we pray that grief over this parting of the ways will soon give way to a new flourishing of the gospel among all parties concerned."
Pastor Griff Martin, of Austin, expressed regret regarding the BGCT action but emphasized new opportunities.
"The First Baptist Church of Austin and her people lament this regressive move by the Texas Baptists, a decision which creates further divisions in Christ's body and will continue to create divisions. However, as a community, we proudly celebrate who we are and where we are today," Martin said.
"As a result of this action, we have received countless letters and calls of support, have welcomed many new members who are looking for an open and loving community of Christ following, and we are in several exciting conversations about new and broader ways of doing state fellowship and missions. We believe we are exactly where God has called us to be and will continue to offer inclusive love for all people."
Lake Shore pastor
Lake Shore Pastor Kyndall Rothaus noted she has talked with parents of LGBT children who were "on the verge of giving up on the church because the faith community is not open to a conversation" about sexual orientation and gender identity.
"I'm sad any time the church does anything that will make suffering and alienation and despair worse," she said. "I firmly believe no one at the BGCT intends to cause suffering. But the unintended consequences of this decision are still very much real. My understanding of Christ is that he ran toward the brokenhearted and the outcasts."
'Narrow fixation'
Rothaus also lamented "an overly narrow fixation on same-sex attraction that dominates the church, while sexual assault is such a huge and widespread evil in our country and yet so rarely addressed from our Baptist pulpits."
"Why are we so much more worried about same-gendered love than we are about violence and abuse? This is incomprehensible to me," she said.
Even so, she noted with appreciation Christians who have offered her congregation assurances of continued friendship and support, regardless whether they agree on the matter of same-sex marriage.
"After all, we still share a remarkable bond in Christ our Savior, and that bond will always transcend denominational affiliation," she said.