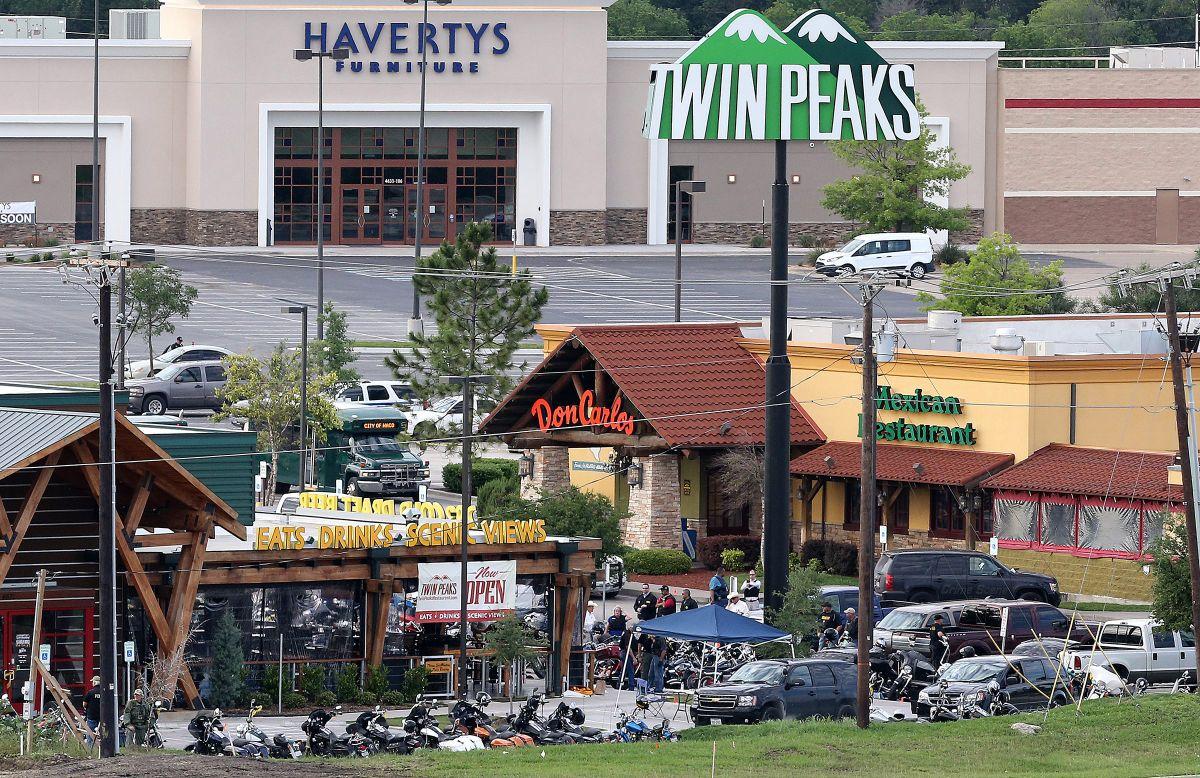 Don Carlos Mexican Restaurant filed a lawsuit against Twin Peaks after Sunday's deadly biker gang shooting that left nine dead and 18 others wounded.
The Mexican eatery is seeking compensation for damages to the property as well as past and future lost profits after the shootout forced the restaurant to close for three days. Don Carlos sits next door to Twin Peaks, and the two restaurants share a parking lot.
The lawsuit, filed Thursday in district court in Dallas County, names as defendants Peaktastic Beverage LLC, the owner of the Waco and Harker Heights franchises, as well as Twin Peaks Investments LLC and Front Burner Restaurants GP LLC, the restaurant management group that oversees the Twin Peaks brand.
The lawsuit accuses Twin Peaks of gross negligence, charging that management "knew or should have known the risk posed by hosting a special event for rival motorcycle gangs, and failed to control or prevent their violent actions," causing damages to surrounding businesses.
The restaurant is seeking more than $1 million in damages, according to the lawsuit, though lead counsel Tony Buzbee said that could change as the litigation proceeds.
"Twin Peaks didn't just add gas to the fire, it threw the match. Inviting armed rival gangs to a place where alcohol is served is not only unwise, it is reckless," Buzbee said a press release. "All of the neighboring businesses are damaged, and Twin Peaks needs to be held accountable."
Representatives from Twin Peaks did not respond Thursday to voice mails or emails seeking comment.
The lawsuit also charges that Twin Peaks' parent company actively encouraged franchisees to host events to drum up business, and that the franchiser was aware of past "Bike Night" promotions the Waco location hosted weekly.
Waco police have said the department reached out to management at the Waco Twin Peaks franchise, urging them not to host Sunday's quarterly meeting of Texas Confederation of Clubs and Independents, Region 1, but the restaurant refused to cooperate with police. The ownership group of the local Twin Peaks franchise disputed that claim.
Police arrested more than 170 people after the shootout, which reportedly involved five rival biker gangs. At least 318 weapons were recovered from the scene, including 118 handguns, 157 knives and an AK-47 rifle recovered from a vehicle.
In an interview, Buzbee told the Tribune-Herald that Don Carlos has not fully assessed damages to the building. Several customers' cars were struck by bullets, while Buzbee said officers used the patio and portions of the Don Carlos building for cover during the melee.
Police treated Don Carlos and a portion of the Central Texas Marketplace as a crime scene, clearing the businesses to reopen Wednesday.
"It's no longer an active crime scene, obviously, but it is a former crime scene," Buzbee said. "Whether the business is going to rebound and go back to the way it was or whether it doesn't, we don't know that yet. That'll sort itself out over the next weeks or months."
Buzbee said Don Carlos' owners experienced other difficulties with Twin Peaks management before Sunday's violent episode. Buzbee said when the Mexican restaurant posted signs saying its parking lot was only for customers, after a failed attempt to get cooperation from Twin Peaks, Twin Peaks' operating manager threatened Don Carlos' owners.
"It's just reckless behavior by a franchise, with a franchiser who's fully informed about what's going on (and) who's happy to cash the checks and, when something goes bad, pretend like it didn't know as much as it does know," Buzbee said.
Twin Peaks severed the franchise agreement for the Waco location and later moved to permanently close the restaurant altogether the day after the shooting.
Twin Peaks took out a full-page ad in Thursday's Tribune-Herald thanking law enforcement officials for responding and protecting citizens in the vicinity of the shootout, adding that the actions of the former franchise do not represent the company.