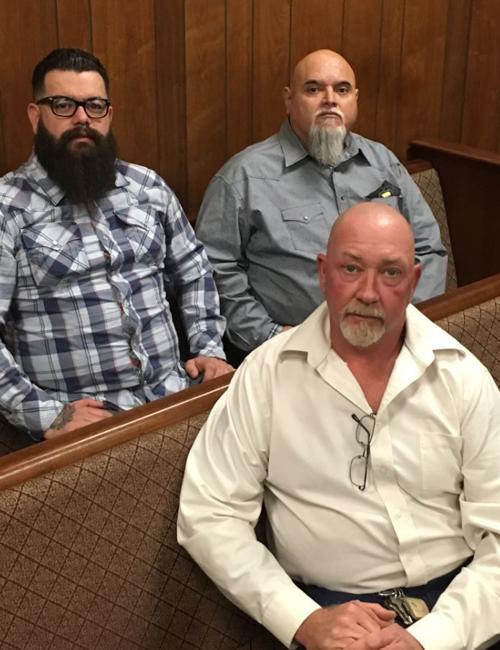 The highly anticipated first trial of a biker arrested in the May 2015 shootout at Twin Peaks was delayed Friday on a defense request for more time.
Judge Ralph Strother of Waco's 19th State District Court granted a motion from attorney Landon Northcutt to delay the April 17 trial of one of his three clients, Christopher Julian Carrizal, Christopher Jacob Carrizal or Jerry Edward Pierson.
It still is not clear, Northcutt said, which of the three is going to trial first, and Strother did not set another trial date on Friday.
Strother said he will confer with 54th State District Judge Matt Johnson, who is presiding over half of the cases of the 155 bikers indicted in the Twin Peaks incident, before setting another trial date.
Strother conferred with District Attorney Abel Reyna, prosecutors Michael Jarrett and Amanda Dillon and Northcutt in his chambers for about 20 minutes before Strother announced in open court that he "reluctantly" was granting the continuance, but said he understands the necessity to do so.
Reyna left court quickly after the hearing and declined comment. He declined to say if his office opposed the trial postponement.
Northcutt, of Stephenville, said after the hearing that the DA's office recently provided Twin Peaks defense attorneys with a terabyte's worth of information and evidence in the case and he needs more time to analyze the information.
A terabyte is equal to 1,024 gigabytes.
Northcutt said he can't be sure which of his three clients, who are all Bandidos, will stand trial first because the DA's office has not designated a defendant for the first trial and is playing "hide the ball."
'Speedy trial' motion
As Reyna was leaving the courtroom, Houston attorney Paul Looney asked Strother if his client, Cody Ledbetter, could take the April 17 trial date left vacant by the continuance.
Looney filed a "renewed demand for speedy trial" motion Friday morning and implored the judge to allow his client to take the trial date.
Strother denied the motion but set a Sept. 11 trial date for Ledbetter.
"Well, it's better than what I had when I got here," said Looney, who has pressed for the earliest possible trial date for his client on several occasions. "For the life of me I will never understand if you have 154 defendants who don't want to go to trial and one who wants to go to trial why that person can't go to trial. It just baffles me."
Strother said he still plans to have a large jury panel brought in March 24 for a Twin Peaks trial so the group can fill out questionnaires to aid attorneys in jury selection.
After the panel fills out the documents, the group will be told at a later date when to report for jury selection, the judge said.
Nine bikers were killed and dozens were wounded during an exchange of gunfire between the Bandidos and Cossacks biker groups. Some of those killed were shot by law enforcement officers.
All 155 indicted in the incident are charged with first-degree felony engaging in organized criminal activity.
Earlier this week, Waco's 10th Court of Appeals heard oral arguments in the appeal of a ruling by Johnson that denied a motion to disqualify Reyna from prosecuting the Twin Peaks cases.
A ruling is pending before the three-member intermediate appellate court.
Be the first to know
Get local news delivered to your inbox!