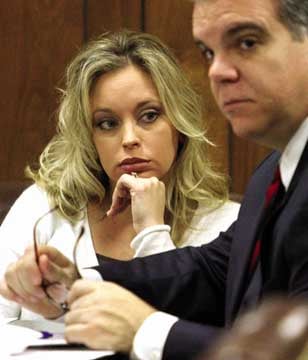 As two of McLennan County's most high-profile spouse murderers continue appeals of their lengthy prison terms, their relatives are locked in custody disputes over the children they left behind.
Darlene Gentry; her mother, Judy Doskocil; and Waymon and Glenda Gentry have reached an accord to give custody of Gentry's three young sons to the Gentrys, with whom they have lived since the day their mother shot and killed their father, Keith Gentry.
Former Central Texas minister Matt Baker tried this week to file a motion to transfer venue of the custody fight between his parents and his wife's parents from Waco to Kerrville.
But, Baker did not submit a filing fee or proper affidavit alleging his indigence, so McLennan County District Clerk Karen Matkin was unable to file his motion.
Gentry, 35, a former registered nurse, was sentenced to 60 years in prison in February 2007 in the November 2005 shooting death of her husband, a 31-year-old engineering assistant at Brazos Electric Co-Op, at their Robinson home.
Gentry was caught on videotape trying to retrieve the pistol she threw into a pond near Axtell after shooting her husband as he slept. Their three sons were asleep down the hall.
She filed a state motion for writ of habeas corpus Tuesday, alleging she was wrongfully convicted, did not receive a fair trial and is unlawfully imprisoned.
She is in prison in Gatesville.
Baker, 38, was sentenced to 65 years in prison in January in the April 2006 suffocation and drugging death of his 31-year-old wife, Kari. He filed a motion for a new trial this week, which 19th State District Judge Ralph Strother will consider at a hearing April 1. Baker will remain in the McLennan County Jail at least until the hearing on his motion for new trial.
Kari Baker's parents, Linda and James Dulin, are seeking custody of their two granddaughters. The girls have been living in Kerrville with Baker's parents, Barbara and Oscar Baker, for about two years.
The Gentry custody agreement is being circulated for signatures of the parties. They all agreed to the terms in the latest version, said Damon Reed, a Waco attorney who represents Darlene Gentry and her mother.
Under the agreement, the Gentrys dropped their demand that Darlene Gentry be stripped of her parental rights in exchange for custody and an agreement that the boys, ages 9, 6 and 5, not be taken to visit their mother in prison.
The agreement also gives Doskocil visitation rights one weekend a month, Reed said.
"In comparing our case to the Baker situation, I believe that the parent and grandparents involved put the children ahead of their own personal issues to get the matter settled and to keep the matter out of court," Reed said. "They should all be commended for it. At this point, it is a grandchild issue. It is not a murder case."
Glenda Gentry said Doskocil has taken the three boys to see their mother in prison at least three times. She is glad that won't be happening anymore.
"We don't fight openly, but there is no love lost between Judy and me at all," Glenda Gentry said. "But we are trying to do the best we can for the boys. That is the most important thing."