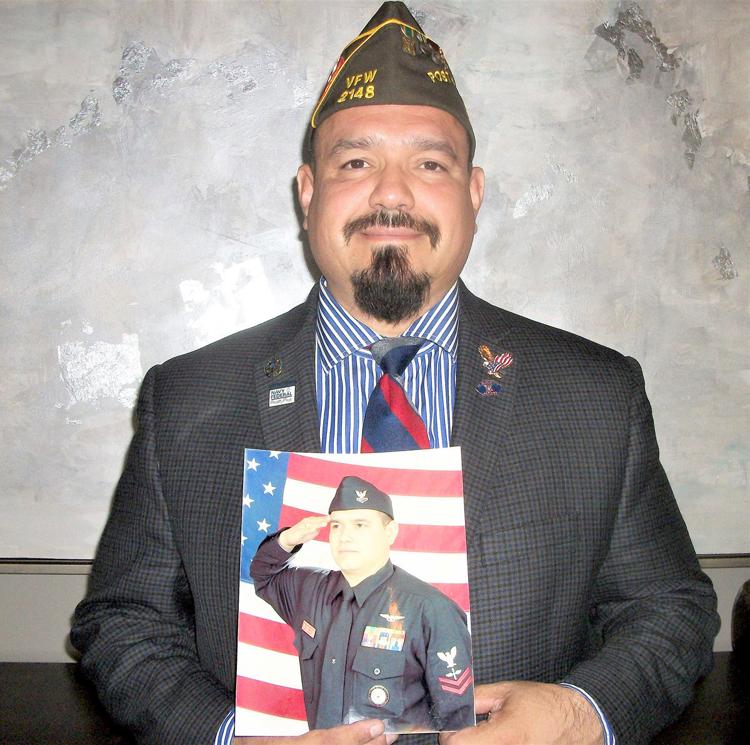 Note: This Veterans' Voices was published previously in June 2019. Writer Mary Drennon is out a few weeks.
By the time he was in his late teens, Miguel M. Valverde II, now 46, had already mapped out his future. He knew he wanted to join the military and make it a career. To that end, he enrolled in the delayed entry program for the U.S. Navy in his senior year.
A graduate of Waco High School, Valverde was born in Winters, Texas, but moved to Waco when he was 9. He had no desire to go to college. "I wanted to do something," he said. "I was planning for a secure retirement." When a recruiter came to a drum recital and suggested Valverde play for the Navy band, he was tested, but there were no openings available.
Instead, the recruiter said his scores were so high he could be a jet engine mechanic. So, when he entered the service on his father's birthday in August 1992, his training would be as an aviation machinist mate. He took his basic training in San Diego and his advanced training in Millington, Tennessee.
Because Valverde graduated in the top 2 percent of the class, he was able to pick his location. He chose Italy over Japan. However, after all that training, he was assigned to helicopters instead of jets. "My head was spinning from all the changes," he said.
His first assignment was Sigonella, Italy, working with the HC4 Helicopter Combat Squadron known as the Black Stallions. "They would land on ships wherever support was needed," he said. His job took him everywhere: Greece, Spain, France and many other locations. But he never had his own ship.
"I was never stationed to a ship," Valverde said. Instead, it was "hotels, rental cars and four-star detachment."
After Operation Desert Storm/Desert Shield, the Middle East was still quite the hot spot. Valverde was deployed to Bahrain with a heavy helicopter combat support for all operating squadrons in the Persian Gulf. He also went to Freetown, Sierra Leone, and helped clear the embassy, flying people to safety.
Valverde spent from 1993 to 1997 deploying to various locations, including detachments to Bari, Italy, Rome and Souda Bay in Crete, as well as providing heavy combat support in the Middle East, Southwest Asia, the Persian Gulf and the Mediterranean through the Straits of Gibraltar.
By 1995, he was a 3rd class petty officer and a shift supervisor for a 110 Power Plant.
In January 1998, Valverde went to Corpus Christi to the Naval Air Station, where he worked on the Helminron 15, a helicopter mine countermeasures squadron. He had other jobs, including night shift supervisor and collateral duty inspector. He was also able to take many trips back to Waco.
There were many other interesting assignments for Valverde, including a deployment on the USS Inchon that ended up being diverted to Bosnia and Kosovo during the Kosovo war. They headed ground support because their birds were big and could transfer 55 troops or carry 24 wounded.
When he returned to Corpus Christi, he was deployed back to Bahrain for seven months, providing logistical support.
Valverde then was assigned to the Navy Recruiting Station in Waco, recruiting sailors for the Navy right after 9/11. He spent about four years there and earned a Navy Commendation Medal for outstanding recruiter for the zone. He also achieved the rank of E-6.
Back in Corpus Christi, he deployed again to Bahrain to the same duty as before and later was participating in joint exercises in the Panama Canal when they were again diverted, this time to the Gulf Coast to assist during Hurricane Katrina. One job was to scan rigs to ensure they hadn't moved during the storm. They also cleared debris from waterways and the mouth of the Mississippi. That included animals and sometimes, bodies. It was a rough assignment.
Again in Corpus Christi, Valverde became a quality assurance representative, leading petty officers for that division.
Valverde was assigned to HM 14, a helicopter mine countermeasure squadron in Norfolk, Virginia, his first shore duty. He spent about four years there. His last year and half were spent as quality assurance rep. He left the service with an honorable discharge on Aug. 31, 2002 and a host of medals from Bosnia, the United Nations, U.S. Navy and more.
Today, Valverde lives and works full time in Waco as a real estate agent. He's the proud father to one daughter, Victoria A. Valverde, age 20.
Valverde is the senior vice commander of VFW Post 2148 in Waco and the surgeon for VFW's District 29.
To Valverde, it's all a part of what he considers a lifetime commitment of service — for others and for his country.
As for his military service, "If they would have me right now, I'd go back," he said. "The greatest accomplishment of my life was fulfilling my duty to America."
"Veterans' Voices," featuring stories about Central Texas veterans, publishes every Sunday. To suggest a story about a Central Texas veteran, please email veteransvoices@wacotrib.com."Veterans' Voices" is proudly sponsored by Johnson Roofing.
Be the first to know
Get local news delivered to your inbox!