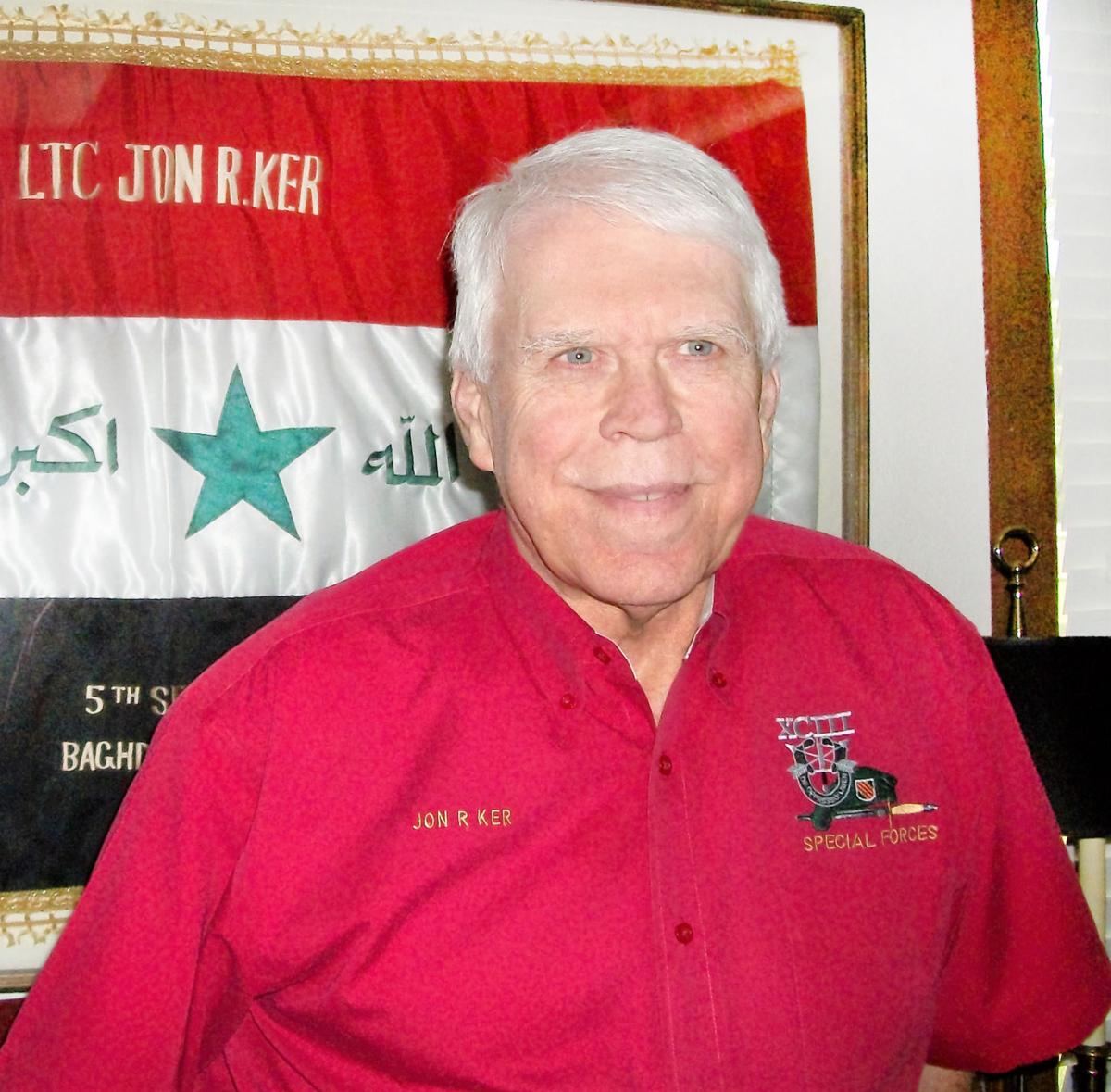 The days following the Sept. 11, 2001 terrorist attacks brought America together and sparked a feeling of unity, patriotism and a desire across the nation to help in some way. For some, it was a call to arms. At least it was for Hewitt resident Jon Ker, 69, who wanted to be in on the hunt for Osama bin Laden.
Ker knew about war. He had served with the U.S. Army Special Forces (Green Berets) in Vietnam. Being a soldier was something he'd always dreamed of.
"I just always loved the military," the Dallas native said. "Whenever we played as kids, it was always army." That was natural since his father had served as a company commander during World War II.
After three semesters of college, Ker decided to join the Army. The song, "The Ballad of the Green Berets," was wildly popular. It left many young men yearning to join the Green Berets, Ker included.
In February 1967 he enlisted. Because of his college background, he was sent to Officer Candidate School, becoming a 2nd lieutenant. Even so, he had to apply to get into the Special Forces, the official designation for the Green Berets.
Ker ended up in Vietnam with the 5th Special Forces Group Airborne, helping to train, equip and lead the
native Montagnards (Mountain Yards) in counter-
insurgency measures against the North Vietnamese Army. There were between 400 to 500 Montagnards working with the Special Forces while Ker was there from January 1969 to January 1970.
Stationed at Dak Seang Special Forces camp close to the tri-border area of Laos, Cambodia and Vietnam, a detachment of 10 Special Forces members — two to a team — would each lead about 100 "Yards" (as they were nicknamed) on nightly stealth missions, where they would engage small factions of enemy forces.
"We were called ground-pounders," Ker said. "We walked wherever we needed to go."
Unseen enemy in dense jungle
There were numerous battles. Planes equipped with motion sensors could detect movement in the jungle and report when NVA forces were active. Special Forces teams would then go out and engage the enemy in the dense foliage. At times, they ran into ambushes, but the U.S. had superior air coverage and could radio for artillery support when necessary.
Ker was on radio watch one night when Ben Het, another nearby Special Forces camp, came under siege in a three-tank attack in March 1969. Shortly afterward, he was moved there. It had been the first battle commanded by the South Vietnamese and the second-longest battle in Vietnam up to that point, he said.
Landing by helicopter, Ker said the enemy was dug in on the other side of an airport about 150 meters away.
Front for artillery attack
"I had to run from the helipad up the hill to get underground," he said. In fact, his was the last helicopter in, as artillery started dropping all around.
One strike knocked Ker out of the helicopter as it was about to land. "I knew I wasn't wounded — I could still run," he said. "I never ran so fast in my life." It was the first artillery attack he'd experienced up close.
In spite of having several thousand enemy fighting in two regiments, the NVA was finally driven back. "What broke their resolve was the B-52 strikes," Ker said.
After he came out of Ben Het, he was riding in an armored personnel carrier in a large convoy that came under attack. He used every bit of firepower on him until there was nothing left. Luckily, three Cobra helicopters came to the rescue.
"I loved Cobra pilots after that," he said.
Ker finished up his deployment at Firebase 6, where he commanded a platoon of Mountain Yards and South Vietnamese troops in charge of perimeter security.
He returned to the States and remained on active duty for another year before he entered the reserves.
He remained a reservist when he returned to school. Ker earned his juris doctorate and entered into general law practice in 1982. He married Terri Anderson in 1985 and eventually left the reserves in 2003.
On Sept. 11, 2001, he was entering the base at Fort Gordon, Georgia, when the terrorist attacks occurred.
"They shut the post down," he said. Terri was stuck in a hotel, while he was stranded at Fort Gordon.
"I told her right then I was going to war again," Ker said. "She knew before I ever said it. She's always been very supportive of me." He was 54 at the time.
The question remained: Would the Army be willing to send a man that age into battle?
NEXT WEEK: Ker, as a lieutenant colonel, readies for active duty in Iraq. He serves in Jordan and Baghdad before finally retiring as a full colonel.
"Voices of Valor," featuring stories about Central Texas veterans, publishes every Sunday in the Waco Trib. To suggest a story about a Central Texas veteran, email voicesofvalor@wacotrib.com. Voices of Valor is proudly sponsored by Johnson Roofing.