The glow of Christmas lights around Alice and Epifanio Tristan's Waco home reached a little farther this holiday season.
"This is for our grandkids, our great-grandkids, our kids and their friends," Epifanio Tristan said. "Now everyone else is coming around, and we just like doing it for their smiles."
Earlier this month, the Tristan family won recognition when their display, honed for decades at Proctor Avenue and 27th Street, appeared on ABC's "The Great Christmas Light Fight" show, and won $50,000 for the nationwide competition during the Dec. 18 finale. While some of the competitors had carefully orchestrated displays, Alice Tristan said she had to redesign her approach for the broadcast.
"They gave me 31 days to do what I usually do in two and a half months, and when I saw the big mansions with all of their professional displays, I thought there was no way I could compete with that," Alice Tristan said. "I went to the bathroom and started crying."
During an interview before production, producers talked her into sticking with the competition, she said. Despite holiday stress and a hefty light bill, Alice Tristan started putting her display together in late summer to coincide with production schedules.
"It is just me who does this, climbing up trees, getting on the roof, but even in the last two days I was so stressed," she said. "I never imagined I would have won."
Alice Tristan started putting her colorful holiday display together at the request of her daughter, who was in the hospital at the former Hillcrest Baptist Medical Center nearby and in need of something to lift her spirits, Epifanio Tristan said.
"And then it just grew and grew," he said. "Nurses would bring patients to the window to see the lights. It just was a good thing for our community."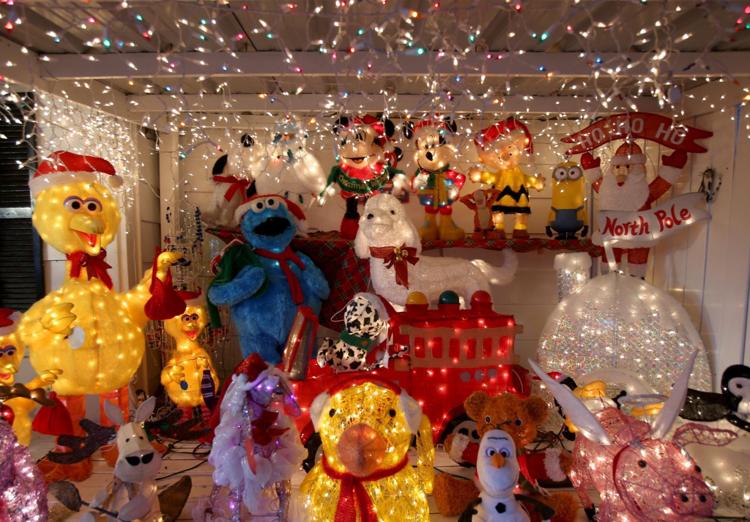 With the exception of rainy weather, Alice Tristan plans to have her holiday lights up until Jan. 3.
Barbara Bradshaw, a longtime family friend, said her friendship with Alice Tristan grew from the holiday display. Bradshaw said she noticed the lights when her first grandchild was born 19 years ago and thanked Alice Tristan for "keeping the Christmas spirit alive."
"I had so much trouble just putting my Christmas tree together when the legs broke, but then you see her house and everything she does and you just know why she won the show," Bradshaw said. "To me, it is just magical what she does. That is why she won."