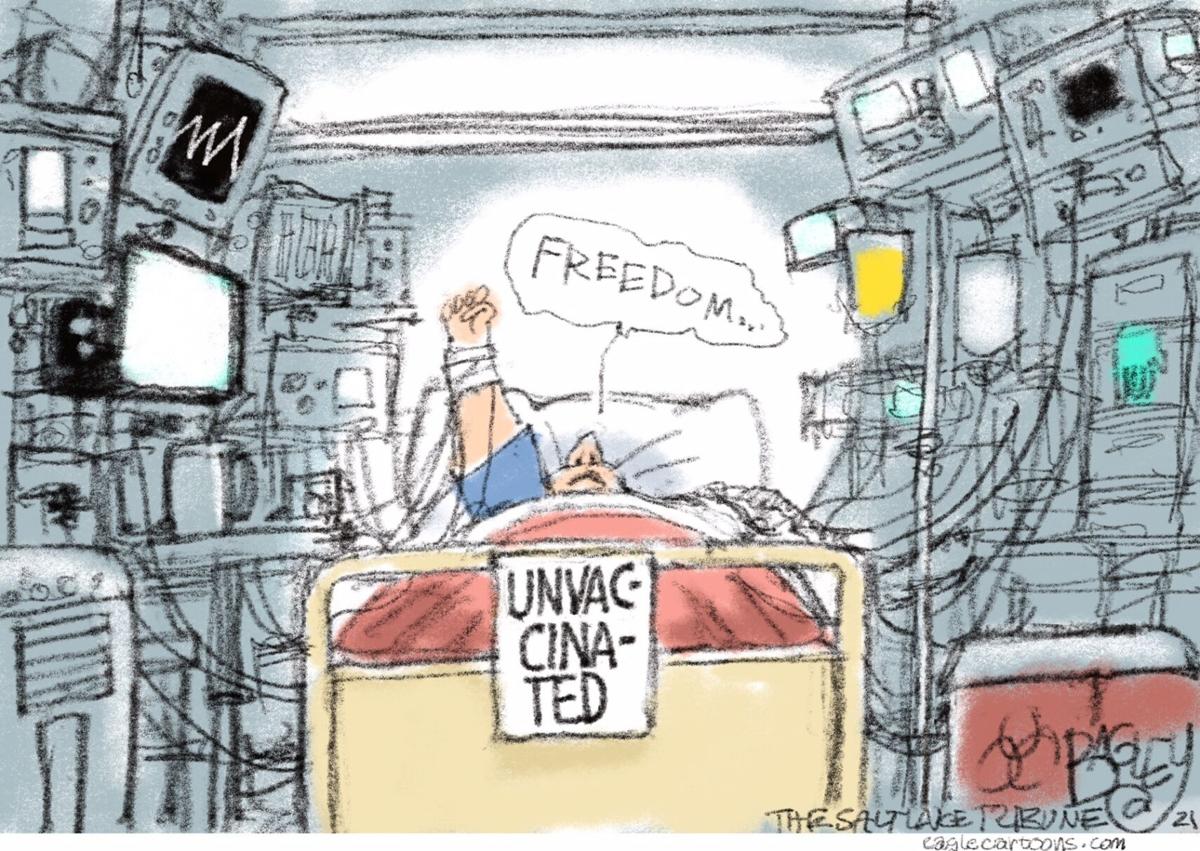 A year and a half ago, when many of us confronting a deadly virus began practicing social distancing, mounted frantic searches for toilet paper and adopted masking protocols, a virulent strain of mankind also rampant declared any sacrifice undertaken for the welfare of others was one sacrifice too many. The vigor with which these so-called "patriots" fumed and protested regarding their individual rights stunned the rest of us as the virus packed hospitals, flooded morgues and crippled our economy.
To an extent, we now live in the nation they and their political leaders sought: An unchecked virus that has mutated into more infectious and deadlier variants again takes its toll. Not only do many of these individuals demand we respect their rights, they show contempt for ours. A perfect example erupted in Eanes Independent School District in Austin this month: A parent apparently deeming a teacher's facial covering an intolerable political statement simply ripped it from the teacher's face.
During Wednesday's city press conference on COVID-19, Waco Mayor Dillon Meek and medical experts offered jarring statistics of the here and now, all of which, the mayor said, "indisputably illustrate just how close our local health care system is to the brink of collapse." That day the county was at or near pandemic highs for active cases (1,416), hospitalizations (161), people on ventilators (37) and new cases (318). Some 45% of our county is fully vaccinated after several months of vaccine availability.
Compassion fatigue has set in. And if I'm not quite ready to rejoice as the resolutely unvaccinated sicken and die, it's hard at this point to believe anything other than some sure had it coming. The contempt and hostility many "patriots" have voiced for us "sheep" are now returned with a vengeance by fate. Ironically, we're not the ones resisting vaccination and masks in favor of Ivermectin, which right-wing media peddle even though in its usual dosage it's designed for livestock — you know, like sheep.
Among those who symbolize the folly of such rabid attitudes: 45-year-old State Republican Executive Committee member H. Scott Apley of Galveston County, who venomously likened mask mandates to Nazism. When nationally respected physician Leana Wen innocently celebrated on social media news of the Pfizer vaccine's long-term efficacy, Apley not only branded her "an absolute enemy of a free people" but added this hashtag of hatred: "#ShoveTheCarrotWhereTheSunDontShine."
The GoFundMe account set up to pay medical bills incurred by Apley and his wife, who both contracted COVID-19, will presumably now help pay his funeral bills. His death this month leaves behind an infant son.
Meanwhile, local stay-at-home mom Marcia Bayer posted this on Mayor Meek's Facebook page, complete with photo: "We are sitting in the parking lot of our pediatrician's office [because] it is too high risk for Hannah to go inside. Our pediatrician and a nurse just came to see us in the parking lot. We did urine and blood labs IN THE PARKING LOT. Our pediatrician is connected to @bswhealth and we are having to make decisions on what care she can get because the hospital is too overwhelmed for us.
"This is what it means: Your rights mean my child can't get care," she wrote. "Put on a damn mask!"
Enough is enough
It's hard not to feel anger, especially given victims such as Army veteran Daniel Wilkinson, 46, who served two deployments to Afghanistan only to die in Texas of an easily treatable gallstone condition unrelated to COVID-19 because ICU beds across Texas were overwhelmingly filled by unvaccinated COVID-19 patients.
Increasingly, many say it's time to sort the sheep: From here on out, maybe we should just let Darwinian principles play out and, as a friend normally brimming with Christian compassion suggests, "thin the herd." After all, by their behavior and utterances, these tinpot patriots sure don't care about our lives. Given the chance to help prevent a virus from mutating, infecting and killing more folks than just senior citizens and the ailing, they cavalierly and defiantly refused to roll up their sleeves.
When the Trib posted its story on local mortuaries running out of room because of COVID-19 deaths and the shortage of nurses in hospitals, one reader questioned its veracity, suggesting someone "actually go and photograph the morgues overflowing." This person expressed confusion that one can't get into the hospital, yet "they are letting the mayor tour the hospital? Why would the mayor want to tour a hospital filled with a deadly disease?"
Another questioned a U.S. Food and Drug Administration notice condemning the use of an agricultural deworming product to treat or prevent COVID-19: "If they really wanted to prevent this, they would put people on an Ivermectin protocol. Forcing vaccines to be the answer is a big part of this problem. You are not going to stop a Corona virus. We never have and we never will." One sly reply: "You do realize that compounds and dosage for, I don't know, a COW is not the same for a human? Surely you are not that far gone? I mean, by all means, grab ya a bag of feed while you're there and some hay."
One online skeptic took umbrage at local hospitals ordering physicians, nurses and other support staff to get vaccinated, noting: "Maybe hospitals shouldn't be pushing out staff who choose not to get jabbed with an experimental 'vaccine.'" To which another pointedly replied: "Or maybe it's really important for them to be vaccinated since they are working with so many COVID patients. We've had thousands of health care workers die from COVID in the U.S."
No wonder some cheered when the North Texas Mass Critical Care Guideline Task Force suggested one's vaccination status might well become a relevant factor in making critical care decisions, especially with hospitals short of beds and medical staffs exhausted and demoralized. According to The Dallas Morning News, task force members walked back the idea amid concerns it might harm low-income people and people of color, "historically disadvantaged when it comes to obtaining proper medical care."
Yet the idea certainly has Darwinian merit if two patients come in and only one has bothered to get a vaccine free for the asking.
Pushed to the limit
There's a sense, too, that self-serving politicians have stoked anti-maskers and anti-vaxxers to the point they can no longer control them — obvious when former President Trump got booed at a rally last weekend for suggesting folks get vaccinated. McLennan County Republican Party chair Brad Holland, a local physician, urged the same (though more artfully) during a city press conference in which he decried government mandates, shutdowns "and other coercions that seem foreign to us.
"We don't want to have to go back to that," he argued. "But let me say this: To stay away from that, to avoid that, the best way to do so is to realize that vaccines do work against all strains of the virus, including the delta variant. And really at this point, because it is here, you have two simple choices — to get vaccinated or to get infected. That's really what it's coming down to for each member of our community."
Dr. Holland noted the "rigorous and transparent" testing of vaccines. He reminded GOP faithful how then-Republican Congressman Bill Flores stepped up to be a test subject in vaccine trials. And Operation Warp Speed, he argued, "was a victory not of this administration but of the previous administration to hasten development of the vaccine to an absolutely incredible time frame, and I predict it will be one of the biggest legacy pieces of the previous administration."
During last week's city press conference, local banker David Littlewood acknowledged the limits to which our community has pushed our medical staff — his daughter works as a nurse at one of the local hospitals, he said — and he explained how his narrow survival of COVID-19 last winter, before vaccinations were available, left his cardiovascular system damaged to the degree he now has an irregular heartbeat requiring medication or surgery. He also talked of all the cries for freedom.
"I am not a person who believes we should mandate by law that people are vaccinated, but I believe when you look at the data [cited earlier], and when you look at the situation of vulnerable folks, I just think we owe it to the world, we owe it to the people around us, the people we love, the people we don't know who are vulnerable," he argued. "The vaccine is proven, it works. Typically if there are breakthrough cases, they're very minimal compared to a full-blown COVID case in a non-vaccinated person."
Americans spent 2020 sparring over safeguards such as masks, social distancing and sheltering in place, buying time till life-saving vaccines produced in the public-private partnership demanded by President Trump arrived. It was a dark time, but there was hope. Vaccines are here now, and widely available for free, yet a significant part of the population resists vaccination, even with full FDA approval. Ironically, some who demanded full FDA approval first now say they don't trust the FDA. Well.
The time for figuring out who's the sheep, who's not is over. Many of us must accept the reality of the situation and step aside as best as possible as the lemmings among us stampede for life's exits.
Bill Whitaker retired as Tribune-Herald opinion editor in 2020 after a career of nearly 45 years as a reporter, editor and columnist in Texas journalism. He blogs at thedailybillblog.blogspot.com.