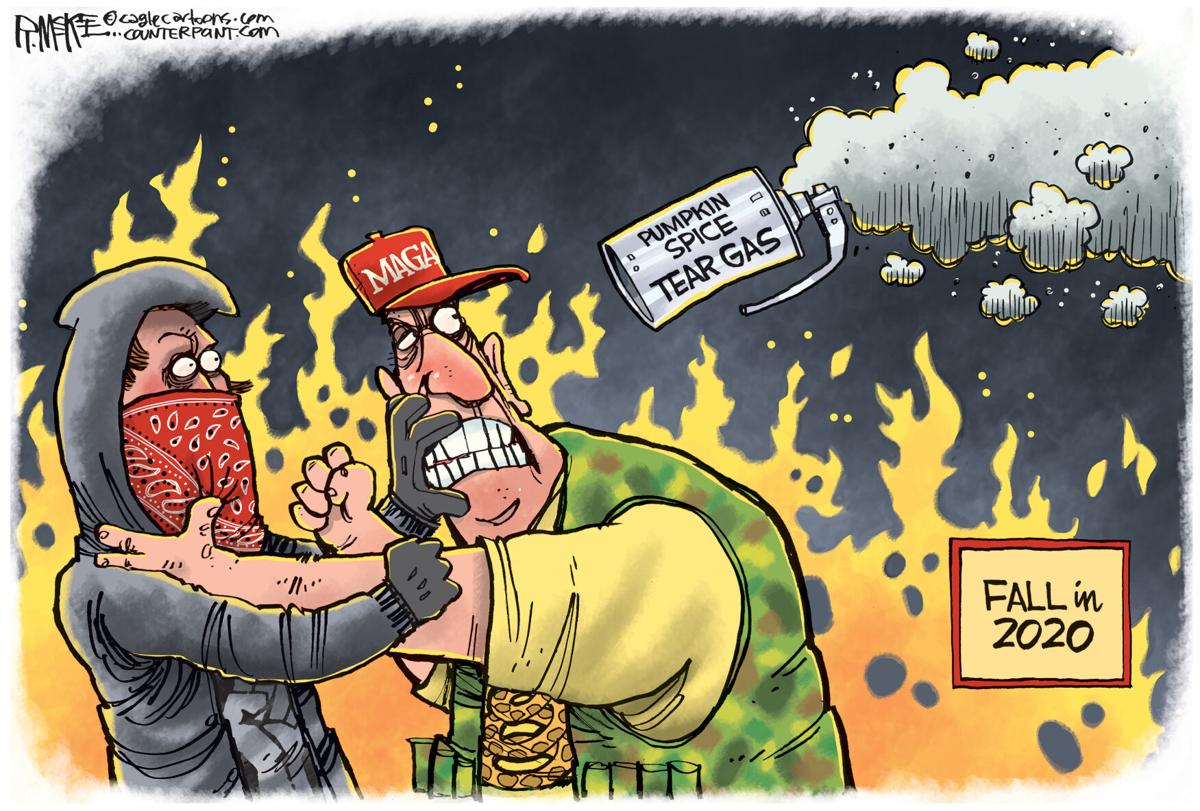 When I was in high school, most of my lifetime ago now, eight of us guys were very close friends. Of the eight, four have died. That has gotten my attention. Of the eight, clearly the brightest of the group is a Trump supporter. That has certainly gotten my attention. He has also most devotedly cared for friends in need, becoming especially attentive during the last days of their lives. That too has gotten my attention.
The two of us email frequently, passing along articles and arguments that we think will help the other get his head on straight. While I have marveled since elementary school at his intellect, I think he is wrong to be supporting Trump, and he thinks I am wrong to be supporting Biden. No! That is too mild. I think he is seriously wrong to be supporting Trump, and he thinks I am terribly wrong to be a Biden backer. I tell him why he is mistaken, and he tells me why I am. And so it goes, and on it goes.
When I say I think he is wrong, I mean this: I think our country will be much better off under Biden, both in terms of domestic policy (medical care, race relations, domestic tranquility, for example) and our international policies (respectful relationships with allies and proper wariness of enemies such as Putin and Kim Jong-un, for example). He, of course, thinks that the country is and will continue to be better off under Trump. I don't get it! I don't get him. He certainly does not get me.
Sometimes our dispute gets tongue-in-cheek extreme. He writes things like: If Biden wins the presidency and the Democrats take the Senate, we will become a third-world country. He says that I should quit reading that rag, The New York Times. I counter with the claim that Trump has a streak of meanness reflected in his bullying and a level of ignorance deepened by a lack of curiosity, any interest in reading or any commitment to learning. I write that Trump threatens the very foundation of our democracy by threatening not to leave office even if he loses the election. Of course, such claims of my friend are absurd (made as I say, as I hope, tongue-in-cheek), while my claims are not far off the mark. So there you go.
But look, our friendship goes back to the third grade when we were classmates and continued to be classmates through high school. We grew up together, two blocks from each other; we love each other. And so I always close my contentious emails with "still love you anyway." He closes his emails with versions of "my best regards old friend, always my best regards."
When or if (given the pandemic) I get back to Little Rock, we will, no doubt, embrace with genuine warmth rooted in a friendship that is now pushing toward 75 years.
My son is in a comparable situation with his best friend from medical school. My son strongly supports Biden (of course) and his friend, Trump. They have decided simply to avoid political conversation. As my son puts it: They live in different universes. It is as if they speak different languages; neither understands the other, so political communication is impossible. What's the point?
Is there any way to understand why people live in such different political worlds? Surely there are many explanations, but here is one. People have different fears. Years ago and in another context I was having a disagreement with a colleague from another university. He and I had been friends since our undergraduate days at Baylor University. It was during the Baylor presidency of Robert Sloan when much debate was taking place over the religious direction of the university. My friend and I were very much at odds about this. At one point he said: "Bob, I think the bottom line is that you and I have different fears. You fear religious fundamentalism and I fear secularism." He was right.
I do think my Little Rock friend and I have different fears. As he puts it: He fears that Biden and the Democrats will attempt to gain absolute power by granting citizenship to millions of illegals and by giving statehood to Washington, D.C., and Puerto Rico. He fears that they will pack the Supreme Court and abolish the Electoral College. He fears that Kamala Harris will become president and pursue a socialist agenda, creating a welfare state. He fears that Biden/Harris will not support Israel as intensely as has Trump.
In my case, I fear Donald Trump's assault on our democracy, most recently evidenced by his refusal even to commit to a peaceful transition of political power should he lose the election. I fear Trump's debasement of moral standards and his lack of civility, which is contributing to such hostile divisions within our country. I fear his abject failure to take the pandemic and global warming seriously. I fear Trump's attack on the Affordable Care Act and consequential loss of adequate health care for many Americans. I fear loss of respect both from our allies and our enemies.
So, we have different fears and it is hard to imagine resolving our political estrangement. But without hope, life is not manageable, so here is one more effort to persuade my old friend.
In a recent issue of Time Magazine, Karl Vick, a Time editor-at-large makes an insightful comment: "The key to democracy is not, in fact, free elections [as fundamental as that is, I might add]. Those only tell who gets the most votes. More important are the rights of those who do not vote for the winner." So here's an interesting question: If Trump wins, what will be his attitude toward those who did not vote for him? Will he work hard to be their president too? If Biden wins, what will be his attitude toward those who did not vote for him? Will he work hard to be their president too? Could there be a more important question to put to the two candidates than this? Honestly, which candidate would work hardest for those who did not vote for the winner? Hey, old friend, isn't the answer to that obvious?
But, finally, dear friend, whatever your answer, the writer Ann Patchett is right: "Contrary to popular belief, love does not require understanding to thrive."
Robert Baird is emeritus professor of philosophy at Baylor University.
Catch the latest in Opinion
Get opinion pieces, letters and editorials sent directly to your inbox weekly!