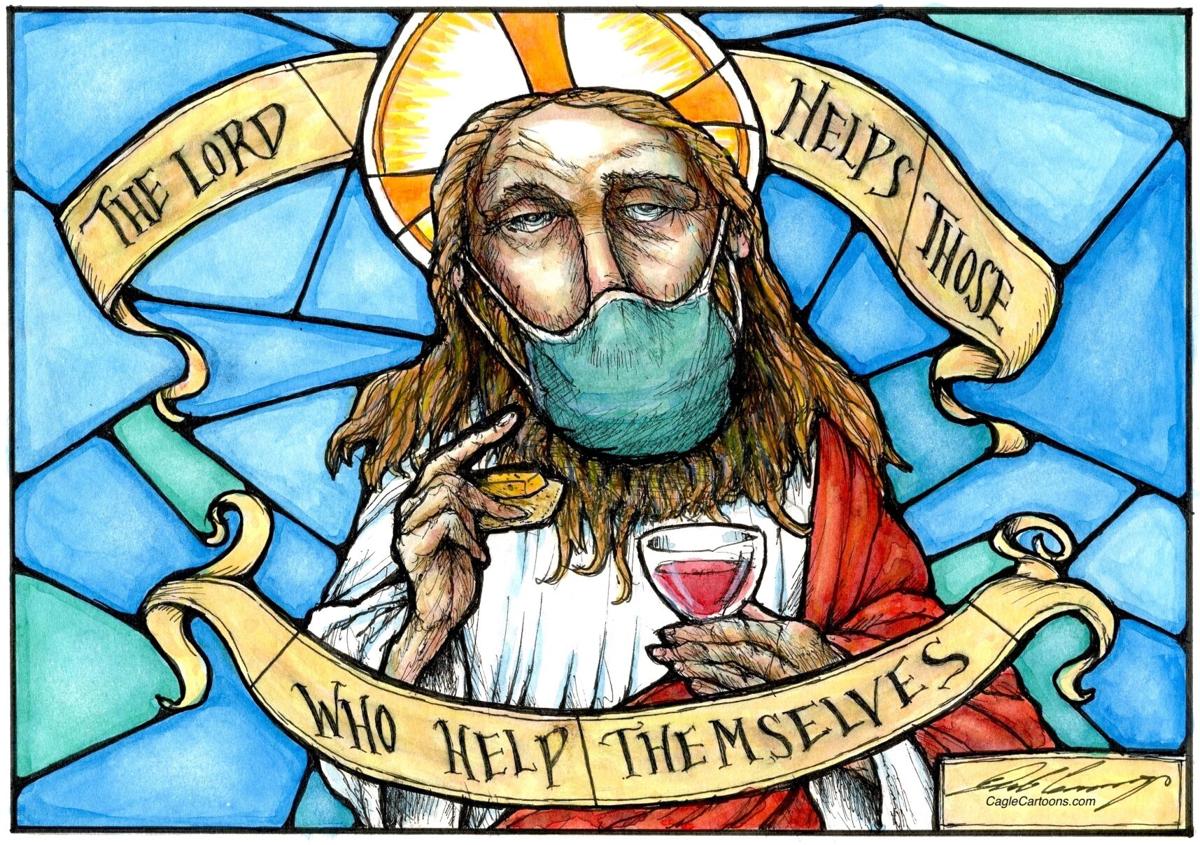 A recurring question regarding everyday life in these pandemic times has been "When will things get back to normal?" Easter Sunday morning service at my Arkansas church, celebrating what is arguably the most "not normal" event among world religions, provided an inkling.
I had not attended in-person services at any church since lockdown. The last time was at a Methodist church in Austin in February last year at a time when I most needed prayer and corporate worship. My daughter Kathryn in that city was gravely ill. In my very first visit to the church, she was included in the pastor's prayer before the congregation — poignant communion of saints when desperately needed.
So when I approached the front door of First United Methodist Church in Bentonville last Sunday, I felt like a Christmas-and-Easter Christian having been away so long. I've tried TV broadcasts and Facebook services — it just isn't the same as being in a sanctuary, whether traditional mid-century as in downtown Bentonville or contemporary and utilitarian like Covenant United Methodist Church in modest suburbia of northwest Austin.
With redbud trees in full bloom along Bentonville's historic Central Avenue, blue skies shining above the church's silver steeple and a breeze wafting through, the scene was Americana popping off a Norman Rockwell canvas into sunlight. Girls dressed in pastel solids and stripes topped with ribbon-wrapped straw hats were as Madame Alexander dolls. Boys in gingham plaids and khaki seemed plucked from Gap Kids online. We dutifully lined up to the side as those who had attended the earlier service filed out to the sidewalk. It was rather like waiting for inbound passengers to deplane before your boarding group would be called.
That wasn't the only similarity to air travel, which I have sorely missed during the pandemic. Masks were required for the service, of course, but seat assignments were also, to allow for social distancing. Unfortunately the online reservation process was something I had missed in the church mailing days prior; I was placed on standby in hopes of a seat. I perched myself in a corner of the vestibule by the acolytes' candle lighters, waiting as if at a United Airlines gate and hoping for a first class upgrade. Except that there was no status screen above the pulpit and my name, along with other waiting passengers, was not listed in mnemonics: "TAL, T."
But as the choir entered (abbreviated in head count and socially distanced), I was called to the registration table, given an offering envelope, a program with a tiny sealed plastic cup and then ushered to a spot in the back row. I was very happy. In spite of the masks, every other pew cordoned off and two new pastors I'd never met who were officiating, everything was warmly familiar and gloriously heartening. This was the church that had welcomed us with open arms when my late wife and I relocated the family here in 2001.
Our first visit was unforgettable. Longtime church members and noted community leaders (we were to learn later) flung the doors open wide with a happy "Come on in, we're glad you're here." We couldn't sell the house in Joplin, Missouri fast enough and return to Northwest Arkansas, Bentonville specifically, and to this church.
Scriptures were recited from John 20, retelling the good news of the empty tomb. The offertory hymn was "He Lives," surely the most sung Easter selection from hymnals across all of Protestantism. In the refrain I found myself singing the bass response to the treble call. "He lives (He lives), He lives (He lives)" as I had heard my father sing so low in the back row of choir lofts in my childhood.
The congregational recitation of the Apostles' Creed and the Lord's Prayer were equally familiar as were readings during Holy Communion. Not familiar, but greatly appreciated, was that little cup. I discovered its purpose. It included a minuscule wafer sealed above a portion of grape juice. We weren't dipping the bread as usual in the Methodist communal cup at the altar. Instead, it was Southern Baptist style with thimble-size individual glasses.
In spite of its reduced numbers, the choir sent us off with a powerful Hallelujah chorus.
Departing this church where the funeral services of my wife Linda and daughter Emily had been held some years ago, I oddly felt life and faith had been reaffirmed.
Then the next day, topping off an extended holiday weekend, I watched from atop my Ozarks ridge as Baylor University's men's basketball team took the national championship on Monday night.
Was it a miracle? No. It was an affirmation of earthly grit, hard work and skill rewarded among mortals. Though 86-70 on the scoreboard was a heavenly vision.
So with all that, and even in such stressful, atypical times, this just may have been my very best Easter ever. Thus far, mind you, thus far.
Ted Talley is a retired consumer products salesman who writes occasional op-ed pieces in the Arkansas Democrat-Gazette. He is a 1972 Baylor University journalism graduate.
I've tried TV broadcasts and Facebook services — it just isn't the same as being in a sanctuary.