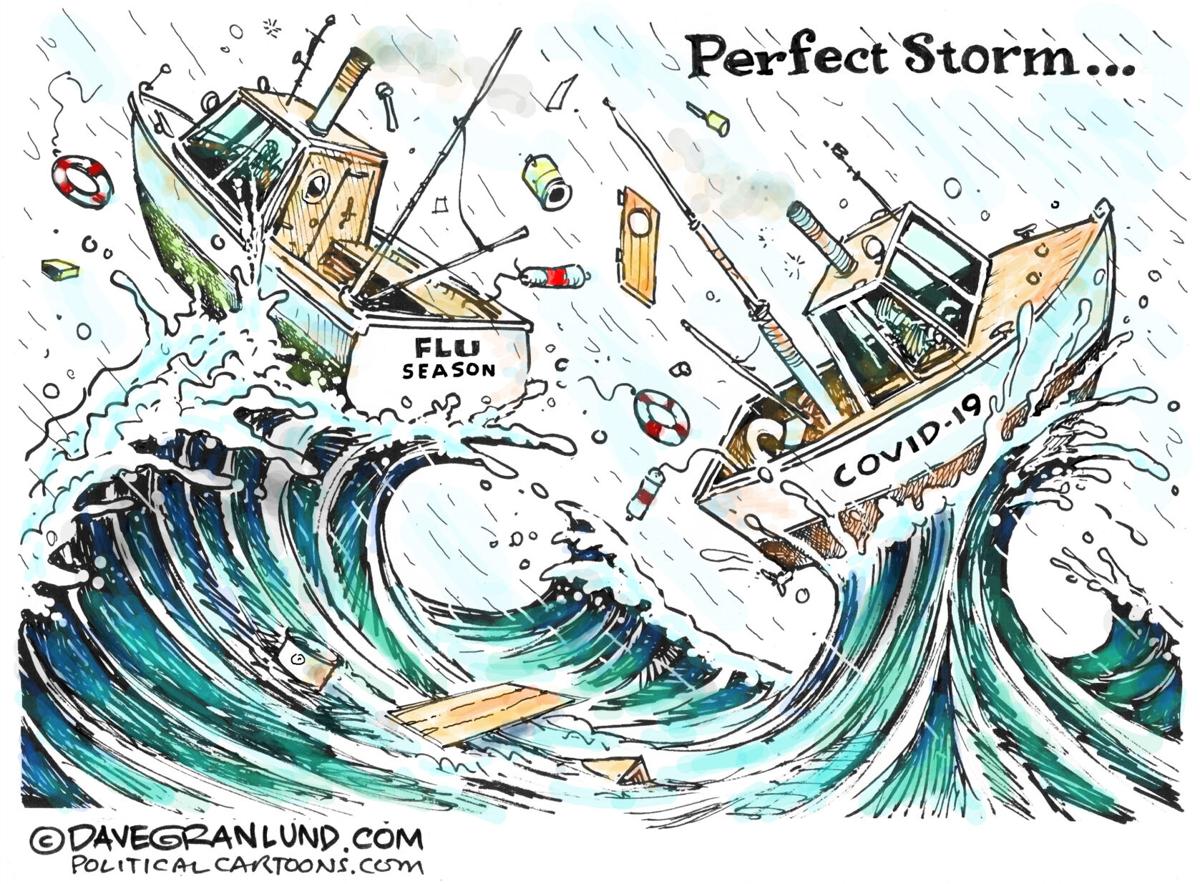 This won't surprise anyone, but the National Museum of American History is collecting objects telling how our nation addressed the ongoing pandemic. Thus far it has collected objects ranging from facial coverings to hospital ventilators, the latter of which too many of us know little about till it's too late. Yet one irony surfaced when Alexandra Lord, who chairs the Division of Medicine and Science at the museum in Washington, D.C., was asked what objects the museum had from the much-invoked 1918-1919 Spanish flu pandemic that killed 675,000 Americans and millions more worldwide.
"Interestingly, we at the museum actually don't have any objects that relate to that pandemic," Lord said in a July C-SPAN interview. "And I think there are multiple reasons for that. One is that the National Museum of American History, as currently constructed and with its current mission, didn't really exist in the same way in 1918-1919. The other issue is that, though we are very aware of that pandemic now, though we talk a great deal about that pandemic, the truth was that in the 1920s people really wanted to forget what happened. In fact, one of the scholars who wrote about the pandemic in the 1970s called his book 'The Forgotten Pandemic.' People were really trying to move away from and put the pandemic in the past."
We're nowhere near the end of the 2020 pandemic. Labor Day weekend marked the start of our third season grappling with the first COVID-19 surge. With changing seasons, viral spread will challenge health-care professionals, school principals, elected officials, coaches, business owners and parents as we witness a return to university campuses and public schools (Baylor University is already emerging as an apparent COVID-19 hot spot); the ritual of high school and college athletics; the start of flu season (and a possible shortage of flu vaccines — a word to the wise); and increasing opportunities for viral spread as more of us retreat indoors amid cooler temperatures. Some of us who are pre-symptomatic and asymptomatic will add to the perils of shopping and family gatherings. Happy holidays? Merry Christmas? Maybe. Only maybe.
Local history is already dotted with telling moments: The March 31 death of 49-year-old Carver Middle School principal Phillip Perry from complications involving the novel coronavirus, marking the first COVID-19 death in our community and putting an endearing face on the pandemic's deadly toll. The May 23 hospitalization of Republican Party of Texas chair candidate Allen West at Waco's Baylor Scott & White Hillcrest Medical Center where physicians and nurses, dutifully wearing facial coverings to contain viral spread and protect their famous patient, treated his concussion, fractured bones and multiple lacerations after his motorcycle accident following an Austin political rally where the retired Army colonel inveighed against facial-covering mandates, linking them to tyranny amid crowd-pleasing references to Bunker Hill and San Jacinto. This furor proved similarly contagious. One outraged liberty-or-death Trib reader in July ridiculed mask-ordinance fines, adding: "What happens after the fine? A march to the death camps or just a trip to jail?"
And there's the July 20 firing of Waco-McLennan County Public Health Director Brenda Gray for, judging from what the Trib could glean from city documents obtained through a Texas Public Information Act request, failure to smartly corral increasingly complicated COVID-19 data needed to better communicate the risks to an increasingly divided and skeptical public. For the record, Gray tells us the allegations against her are "100% false."
Many of us have also learned how cheap life is in a society that pretends to cherish life, yet suggests in rhetoric and action that some lives matter more than others, something that has similarly characterized this summer's racial unrest triggered by questionable police actions nationwide. When I wrote an editorial mid-pandemic lamenting the death of 2-year-old Frankie Gonzalez, found dead in a trash bin outside Park Lake Drive Baptist Church on June 2, a local pro-life advocate emailed me this: "Wouldn't it be amazing if Bill Whitaker and the Tribune-Herald editorial board showed as much concern and sorrow for the hundreds of thousands of 'nonviable tissue masses' so casually disposed of in trash bins throughout this country each year as they did for little Frankie Gonzales?"
One can concede this point but only if one honestly answers an inconvenient question: Why hasn't the pro-life movement stepped up in a mighty way and led in countering those such as Lt. Col. West climbing statehouse steps to insist public safety measures such as mandated facial coverings are a restriction of constitutional liberties when in fact such measures save lives? Was, as some allege, the movement fearful of crossing those who otherwise vigorously champion their cause, even as they collectively marginalize other cherished lives? All this involves awkward spectacles such as anti-government anti-maskers who tout signs such as "My body, my choice."
Which conjures another telling local moment: when Waco Mayor Kyle Deaver, hosting a weekly coronavirus briefing on July 1 amid rising case counts, hospitalizations and deaths in McLennan County, sought to drive home the dangers of viral spread for those who are young and less likely to be physically impacted by COVID-19. At one point he began to choke in emotion: "We need to take this seriously, especially younger people. You need to be taking it seriously because of what can happen if you give it to your parents and grandparents. This morning I was on a Zoom meeting with a group of leaders in our community, and one of our outstanding staff members from the Waco-McLennan County Health District was talking about the experience she has on a regular basis doing contact-tracing calls when she's talking to people who have tested positive.
"She said the vast majority of people she talks to feel an overwhelming sense of guilt about the people they have exposed to the disease after contracting it," the mayor recalled. "They're so concerned about having exposed parents and grandparents or others who are vulnerable. They're not that concerned about themselves but they're scared. They're scared that they will cause someone they love to get very sick and even die. And they usually say, 'I knew better. I just wanted to see my friends. So I did. Now look at what I've done.' Please think about that and take it to heart. I know that you have loved ones that you don't want to bring this disease home to. It is up to each of us to keep that in mind every single day we're facing this pandemic. And we've got to get used to it because it's going to be with us for many months."
The backdrop to this? President Trump's three-ring circus at the White House, complete with pronouncements early in the pandemic that this was a Democratic hoax. At another point early on the president insisted the pandemic would simply disappear. He pressed the reopening of states' economies after lockdowns, even before they met the public health criteria that his own administration set. Lately he has mocked those wearing masks, which medical experts (again working for him) say is still the best way to reduce viral spread. All this has made the surreal American pandemic lifestyle even more bizarre, more bewildering, more dangerous.
The other day, a neighbor with a Trump "Keep America Great 2020" banner flying where his flag once waved insisted he wasn't letting the pandemic keep him, a senior in his 70s, from enjoying a robust lifestyle of socializing with friends. He's not alone in his bravado. When I cited insights from well-respected local physicians, he suggested that people with underlying health conditions such as high blood pressure and diabetes had greatly contributed to the high COVID-19 death toll. It's a fractured view that has gained currency on social media; some now incorrectly insist only 6 percent of the U.S. COVID-19 death toll is actually attributable to COVID-19, that other COVID-19 victims were made vulnerable by and killed due to underlying health conditions only aggravated by the virus.
This comes from a wildly misinterpreted report by the Centers for Disease Control and Prevention that sought to show how comorbidities — some common and controlled by medicine for happy, productive and long lives — can complicate medical-outcome reports for COVID-19 patients. To quote Dr. Jackson Griggs, CEO of Waco's Family Health Center: "This recent controversy highlights our susceptibility to believe good news over true news. It's really hard to face the actual number of cases and deaths day in and day out in a pandemic, so when a fringe group purports that the CDC has way overestimated deaths due to COVID-19, it's tempting to get on that train." Dr. Marc Elieson of Baylor Scott & White Hillcrest Medical Center suggests all this disguises an unpleasant truth about COVID-19: Its making complete hash of some patients, underlying conditions or not, who survive but with devastating damage to the heart, lungs, kidneys and/or more.
"I overheard two strangers having a conversation just yesterday, and one of them was commenting that it had only killed .001 percent of the American population," Elieson said during a Sept. 2 briefing. "And I really wanted to interrupt but I didn't. I guess now I get my moment to say something in retort. It's not just the deaths I'm worried about. As a practicing physician, I've seen this [disease] maim people — people who are young, who have few comorbid conditions, who are left permanently disabled from stroke at age 44 or from severe lung disease that is going to leave them potentially crippled the rest of their lives. So it's not just the deaths. The disease can harm people in other ways that are just as serious and just as concerning to me."
Spring saw our community rally to keep infections and deaths down. Summer saw much of our community fall apart amid swirling conspiracy theories, growing misunderstanding about the disease and, finally, medicine-show quackery, some coming from the White House, as politics and a weariness of restrictions and data allowed SARS-CoV-2 to spread exponentially throughout our county, state and nation, complete with more hospitalizations. Dr. Anthony Fauci, director of the National Institute of Allergy and Infectious Diseases and the target of death threats for using science, not politics, to guide him in advising the public in our many-splintered republic of 193,539 dead — including 90 of the 7,109 cases in our county — offers this simple advice for the next chapter as many pray for a vaccine, others try to ignore the virus: "Hunker down and get through this fall and winter because it's not going to be easy." Nor will most of 2021.
Concerned about COVID-19?
Sign up now to get the most recent coronavirus headlines and other important local and national news sent to your email inbox daily.