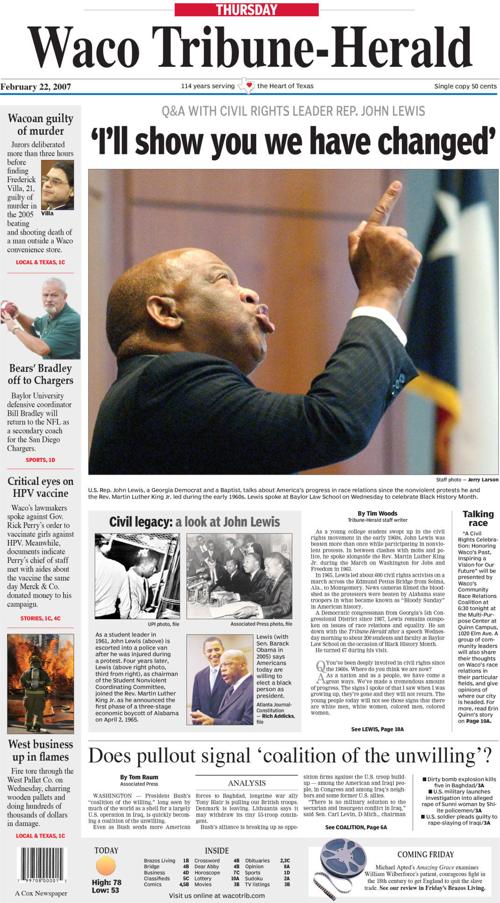 If civil rights icon John Lewis' death strikes one as tragic, it's not hard to deduce why. His passage comes amidst weeks of unrest across our country over the stubborn problem of racial injustice; years of a presidential administration whose political success counts heavily on long-smoldering white grievance in an era of growing racial equity; and sustained efforts at voter suppression by one of two major political parties, frequently predicated on the idea of winning elections by keeping people of color from voting.
How can one not feel we're in reverse? How can one not feel the aching loss of John Lewis as his body lies in state in the U.S. Capitol beginning Monday?
Only hours after Congressman Lewis' death, I found in our archives a Q&A that friend and former Trib colleague Tim Woods conducted with Lewis during the latter's February 2007 visit to speak to Baylor Law School students on occasion of Black History Month. Lewis reportedly wowed budding lawyers that morning while stressing the importance of both rule of law and civic engagement in the context of nonviolent principles and specific policy goals. "Under the rule of law, we can see changes," he told students. "Because of the law and the involvement of citizens, I am where I am today."
I also found Lewis' words in that Trib Q&A overwhelming in pure optimism about racial progress and confidence in the future: "I am gratified. I am deeply renewed and reassured about the possibilities. To me, it's amazing the progress we've made and the distance we've come. We still have progress to be made, but to people who say, 'We can't change,' I say, 'Come and walk in my shoes and I'll show you we have changed.'" He even suggested the time was ripe for the election of a black president.
Yet the 2008 election of Barack Obama as the nation's first black president (and by a decisive margin) was clearly a bridge too far for many Americans. In 2011, a real estate tycoon and reality TV star argued that Obama was not legitimate as president because of his foreign birth — a claim that polls suggest many Republicans swallowed hook, line and sinker well after Obama's Hawaii birth certificate surfaced. And in 2013, a myopic Supreme Court in a stunning example of ivory tower justice mauled the Voting Rights Act, long a point of pride for Lewis. He took a beating from Alabama state troopers on the Edmund Pettus Bridge in Selma in 1965 while marching to press for voting rights legislation.
Yet when I mentioned such setbacks to longtime Baylor Law School professor Patricia Wilson, including this summer's racial turmoil and failure by the Senate to even agree on an anti-lynching measure in the wake of former Texan George Floyd's death by cop in Minneapolis, she acknowledged as much while setting me straight from the perspective of an accomplished woman of color deeply grounded in the law — and one who hosted John Lewis, "a most kind and humble man," around Baylor back in 2007.
"It's hard to deny there haven't been setbacks with respect to voting rights, with respect to getting anti-lynching legislation passed, with respect to all sorts of things, including obviously some of the views and the fact we've seen a backlash," she said. "On the other hand, things rarely proceed in a linear pattern without any bumps in the road. I'm disheartened but not so disheartened that I don't think things can't change because the other thing that certainly happened recently is that Black Lives Matter has become more accepted by the mainstream, that there is for at least the time being — who knows what will happen six months from now with our short attention spans — but for now there seems to be more awareness of the injustices suffered by black and brown people and other minorities. There seems to be more interest in trying to change that. I don't think all is lost or all will be lost."
And that's worth remembering because it means the legacies of John Lewis and others in the Civil Rights Movement and earlier have not been in vain. It's worth remembering in terms of lunchroom counters, public transit, restrooms, jobs, housing, voting and a whole lot more. It's also worth remembering that, in America, we typically take five steps forward on an issue, then three steps back. The question becomes whether we regain our foothold and take further steps forward.
"I think his legacy goes beyond simply the Civil Rights Movement," Wilson said. "That's the first thing everyone thinks about, and should, because he was willing to put his life on the line for something he believed in. But that's evidence of a bigger part of his legacy: the courage, the conviction, to really stand for something — something that is not popular, something you're willing to die for. I think that his legacy was really trying to move the country closer to the ideals that are stated in the Constitution and the Declaration of Independence."
Wilson's reflections remind us that, even as he was struggling with cancer near the end, Lewis collaborated with Republican Minority Leader Kevin McCarthy to press for civic education in elementary, middle and high school settings. One of his last public statements recognized, too, that the struggle always continues, even when laws are signed and favorable court decisions rendered: "Today, young people are taking up the mantle in a movement that I know all too well. All over the world, communities are once again joining the call for racial equity and equality. While their feet march towards justice, their pain, their frustration and petitions cannot — must not — be ignored."
Former Democratic Congressman Chet Edwards, who tells me that he held Lewis in higher regard than any public servant of his acquaintance during his 20 years on Capitol Hill representing the Waco area, echoes Wilson's thoughts about a man he describes as a "role model for Christian values in public service."
"I don't know how an African American could watch what happened to George Floyd and read that [Minneapolis police body camera] transcript [of Floyd's pleadings] and not be angry at the white race," Edwards said. "I've always felt that the black church has been the savior of our country in helping people not be overpowered by hate in decades when, frankly, people had every right to hate. One time when we were talking about the Voting Rights Act, John recalled sitting with Martin Luther King when Lyndon Johnson gave a joint speech to the country and Congress eight days after Selma, where John was nearly killed. And when Lyndon Johnson leaned forward and said, 'We shall overcome,' Dr. King turned to John, and he had a tear coming down his cheek, and he said, 'John, now I know — it's all been worth it.'
"But I think John also knew that the law of physics where for every action there's a reaction also applies to politics. And as frustrated as he could be, as passionate as he could be against the erosion of civil rights, what he really wanted young people to do was never, never, never take for granted the progress we've made or lose hope that we can make it even better."
Maybe. It's hard not to be discouraged when so many other challenges demand attention besides getting equality and racial justice right. Perhaps we should remember John Lewis' final words in his interview with the Trib when pressed on how, decades ago, he could see past beatings and arrests to believe in any reality of racial equality in America.
"It was very much in keeping with the philosophy and the discipline of nonviolence — how not to become immobilized by fear," Lewis said. "None of us wanted to be arrested. No one wanted to be beaten. But we had to go on in sight of the possibility of being arrested, in sight of the possibility of being beaten, in sight of the possibility of being killed. I think during those early years, some of us were prepared to die for what we believed in. When we were marching across that bridge from Selma to Montgomery, I really did think I was going to die on that bridge and that was going to be the last march. But I determined that I wasn't going to become bitter, I wasn't going to become hostile. And you go on, it's part of the faith in God Almighty and faith in your fellow man that somehow, some way, it's all going to work out in the end."
Catch the latest in Opinion
Get opinion pieces, letters and editorials sent directly to your inbox weekly!