A few years ago, my wife and I moved from West Waco to the engaging, tree-lined bedroom community of Woodway. Most of my neighbors now look like me — white, ranging from middle age on, reasonably well off. A year ago some folks in the neighborhood rallied against an effort to raise upscale townhouses where Sandalwood Drive intersects with Ritchie Road and Merrifield Drive. They feared not just traffic congestion but the possibility the development might quickly deteriorate into rental property, anathema to much of Suburbia USA. Recently amid unrest across the nation over racial injustice, residents even mounted an innocuous parade honoring local public safety officers.
Helping hold our neighborhood together is an online platform of Woodway, Hewitt and West Waco residents. They trade recommendations on yard care and plumbing expertise, put out alerts on lost or found dogs and cats, warn one another about everything from coral snakes to burglarized automobiles. Politics is wisely discouraged, lest neighborhood cohesiveness unravel amid cheap shots, incendiary allegations and unneighborly behavior. Yet now our neighborhood is swept up in arguably the most polarizing presidential election since 1860. Aggravating matters: Campaign signs, banners and flags, most touting President Trump's re-election, are disappearing from people's homes and yards as if by rapture.
Not that plenty of Trump signs don't yet stand (though yard signs touting local attorney Pete Rusek's bid for another term on the Midway Independent School District board of trustees might outnumber even those). Certainly enough Trump-o-mania exists that while walking my dog Jackson mornings and evenings, I can ponder such existential questions as the difference between one Trump 2020 sign that says "Keep America Great" in one yard and another Trump 2020 sign in the very next that says "Make America Great Again." Well, OK, which is it?
"Stolen flag," one resident posted online the other day. "To whoever stole our Trump flag (pole & all), I hope that made you happy. We do have cameras & will be filing a police report. I'm sure whoever it was isn't on this page, but maybe their parents are. I don't care who you vote for, stealing is not OK!"
This prompted a fellow Trump supporter to chime in: "I plan to prosecute the kids that stole my signs. One girl was very sorry. Came and apologized twice. Wrote me a letter. Paid me for my sign. She has learned her lesson. The other four I will see [in] court. Recourse and apology will go a long way. I want them to learn any stealing, even as one person said to me, 'It is just a cardboard sign,' stealing is stealing. Coming on my private property. It is more than just a cardboard sign, it is still my right in the U.S. to support President Trump and heaven forbid the socialist group does win or many of our rights will be gone."
So much for politics-free neighborhood postings. Huge jumps are made to reach assumed conclusions, such as this: "Just an observation. I've only seen President Trump flags and yard signs being stolen. No Biden campaign stuff is being reported as stolen. So what this is saying to me, and others should draw from this, it is exposing the kind of people who are in the opposition party. Do y'all really want people who are underhanded, untrustworthy, lie to your face and won't let you know anything about themselves till after the election?"
Someone even suggested electrifying the replacement pole for the next Trump flag. Ouch!
The other day, another neighbor sounded the alarm: "Trump sign stolen. Doesn't change my vote. It does however affirm the mentality of those that vote for the 'other person.'"
In a separate thread, yet another resident said she too had been victimized. Not only had the signs she and her husband placed in their front yard been stolen but replacement signs were provocative enough that a couple out walking their dog took note. One strolled up into the couple's driveway and allowed the pooch to poop in the yard. And they didn't scoop. The astonished homeowners captured it all on their home security camera system, even posting a photo of the infidel (with his face thoughtfully blotted out). The resident posting this online marveled at such offenses in America, given family members who served in the armed forces: "They would be the first to say this is why they fought — the right to say what you believe without persecution."
Neighbors online offered sympathy. One insisted it was "fascinating that those that hate Trump have little respect for law and order." Another: "This is seriously why I don't put pro-Trump signs in my yard. Because fear of persecution. I would NEVER treat someone like this because they have a Biden-Harris sign. That's truly the difference in what kind of people we are versus them." Another: "Trump haters are ignorant of the concept of respect."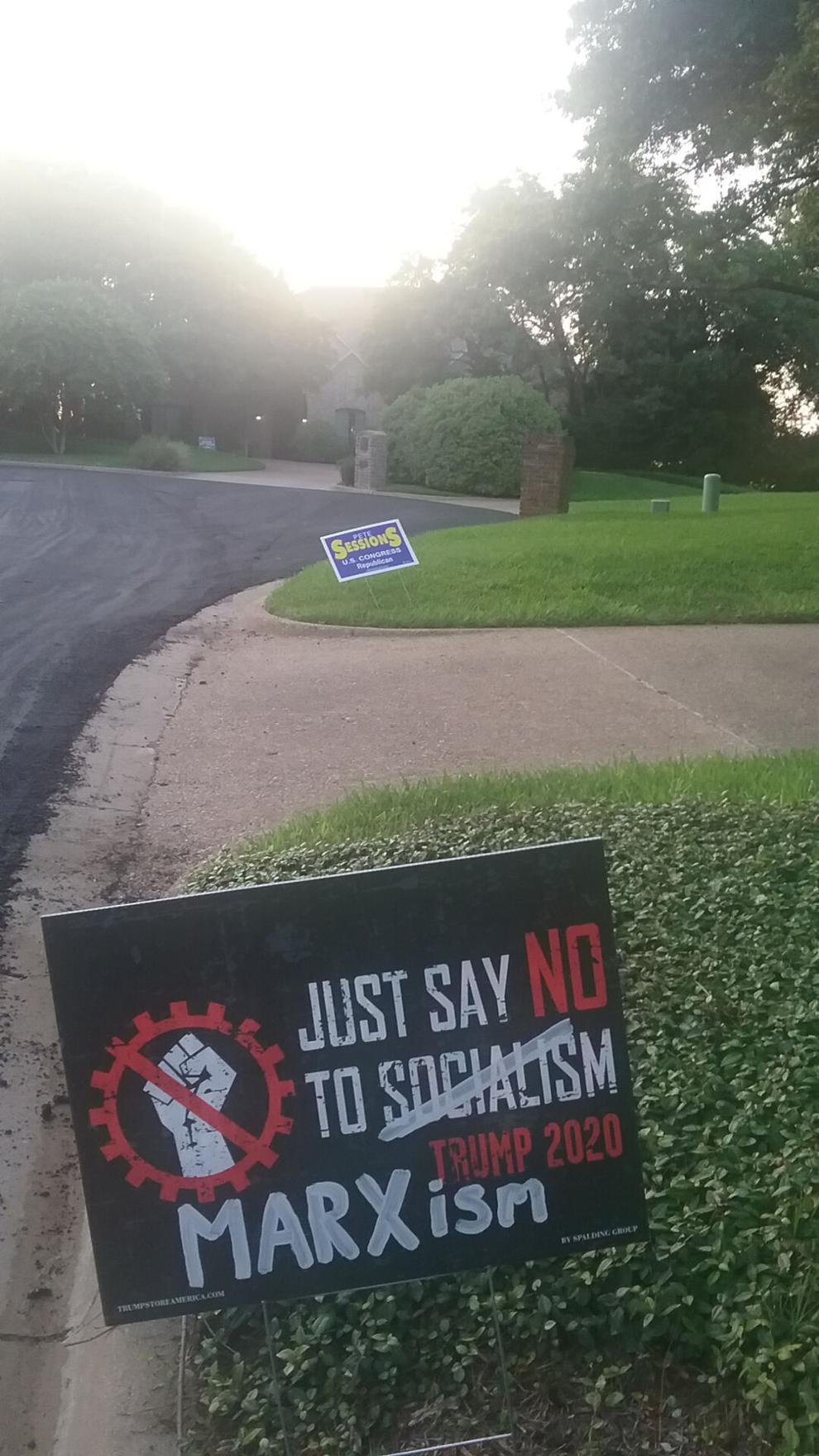 Only further down in the thread did it turn out that the couple whose signs had been stolen and whose yard had been assaulted by a canine and a canine-walker displayed Biden signs, not Trump signs. Yep. One of the signs yet standing in the couple's yard (because I too pass by there, walking my poodle-hound mix) drolly begs of passers-by: "For the love of God, ANYONE BUT TRUMP 2020." And, by the way, it's just two doors down from a home with a sign out front that reads: "Just say NO to Socialism: TRUMP 2020." Except the word "socialism" is crossed out, replaced by "MARXism." It's been there for months. A more conventional Trump 2020 sign now keeps this one company.
Turns out these two neighbors with conflicting candidates and views are fellow physicians who, with their wives, have traveled together around the globe; often trade off in dog-watching duties; and pick up the morning newspaper in the driveway when the other is out of town. Their daughters grew up together and remain good friends. Just a few days ago, these neighbors played board games together on their back porches.
"We disagree strongly on politics," the Biden supporter informed me, "but remain very good friends."
There's a moral in all this about ignorantly vilifying those with whom we disagree politically while ignoring undeniable sins and sinners within our own fold, a moral about our assigning the worst motives and impulses to fellow Americans rather than the Russians and the Chinese and the Iranians and the Saudis, a moral about allowing manipulative politicians and political activists to encourage hate and delusion and assumptions when they care only about our votes come election time. In short, this moral involves more than plundered campaign signs and errant dog walkers. But 2020 campaign passions are probably too heated for some of us to acknowledge this truth. The real question, both for neighborhood and nation: Will this fever soon break?