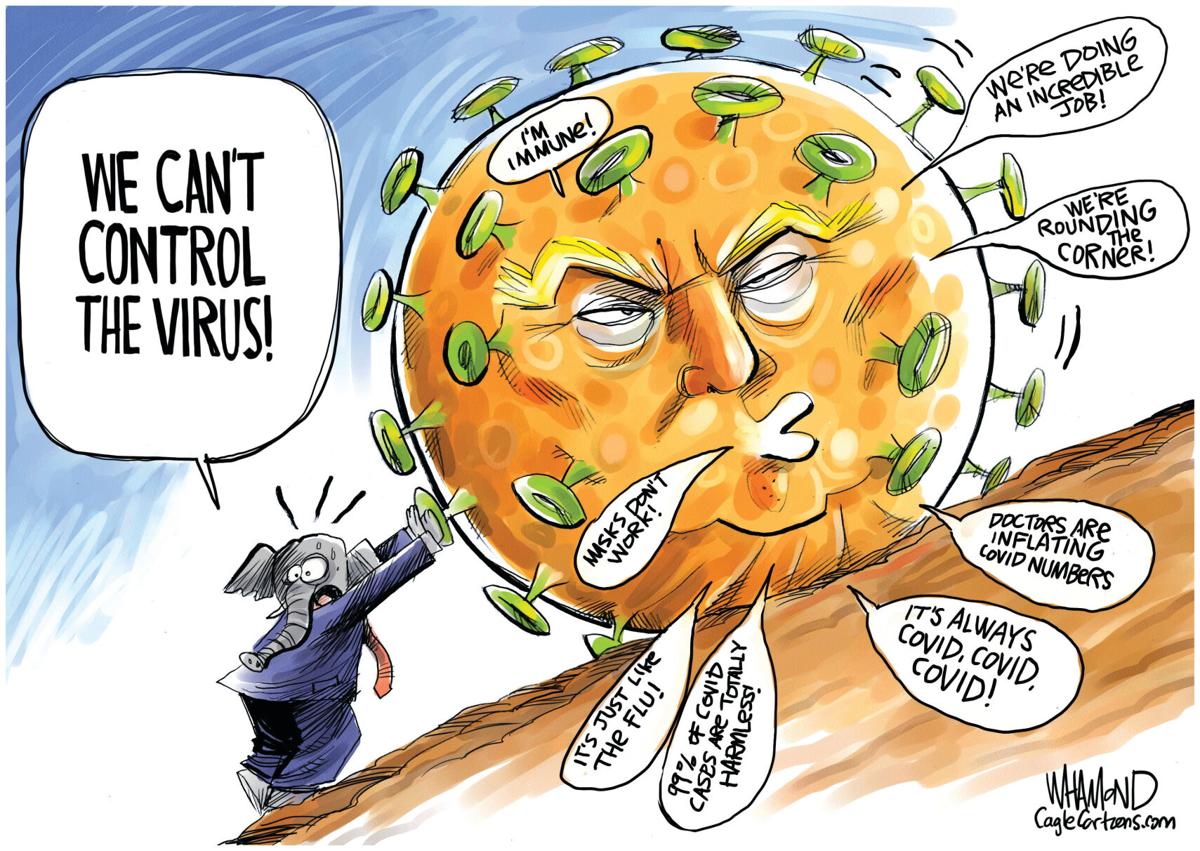 Historians will devote decades to studying and explaining not only real estate tycoon and reality-TV star Donald Trump's stunning 2016 election as our president but the feisty resolve of 2020 voters — more than first elected him — to stand by him after he botched his chance at the most powerful job in the world. In my interviews in what used to be the Bush Country of compassionate conservatism but gradually devolved into Trump Country after George W. Bush left office amid two wars and a devastating recession, one reason for Trump's popularity arises regularly: smoldering white grievance. Coming after eight years of the nation's first black president, this sentiment highlighted the anxiety of many Americans that a nation fast changing in demographics might also forsake certain traditions and values. It's a resentment built on the notion that those whose forefathers built the nation with musket, axe and Bible are no longer getting what they're owed in terms of respect and reward, and that matters are only going to get worse for them and their children and grandchildren in America. Trump shrewdly tapped into this, vilifying immigrants, illegal and otherwise, and championing certain values that some imagined as threatened.
Indeed, when rabidly right-wing Fox News personality Jeanine Pirro headlined a caravan of Republican figures during an Oct. 25 Faith & Freedom Coalition rally at Waco's Church of the Open Door, she spent much of her time championing President Trump's efforts to allow people to say "Merry Christmas" and railing against tasteless art exhibits. State Sen. Brian Birdwell, whose district includes Waco, did worse, getting up at this church and suggesting those allied against President Trump do not love their country. "The bottom line is this," said retired Army Lt. Col. Allen West, new chairman of the Republican Party of Texas. "What the left is seeking to do in the United States of America is undermine the omnipotence and authority of God." Congressman Louie Gohmert from East Texas framed the issue in terms of divine blessings bestowed on generations past and how generations to come will view citizenry today: "There are going to be generations in the future who are going to rise up and call us blessed for what we fight for and accomplish right now or they're going to rise up and curse our names because we let this freedom go."
There you have it. Last week's election results underline how strong such sentiments remain, even though many who championed Trump in 2016 eventually invoked the economy as a sufficient (and more politically correct) reason to keep Trump on the job. Yet in the end, exit polling suggests the decision on whether to re-elect the president came down to lives versus livelihoods. An Associated Press survey of Election Day voters indicates a mismanaged killer pandemic loose in the country motivated many of those voting for Democratic presidential challenger Joe Biden, or perhaps more accurately against Trump. (Concerns about racial justice also figured in the mix.) Even with stock market and job numbers in shambles, the prospect of a restored economy was often cited as an undeniable reason to vote for Trump.
Yet given his refusal to grow into the role of president the way most candidates do in power, Trump sealed his fate early on. He was always more concerned with crowd size than national approval ratings, something that astonished many just after his inauguration. He continued to revel in the adoration of rollicking campaign rallies during his years in office. Fanatical crowds thrilled to the spectacle of an American president continuing to say the same hateful and hurtful and absurd things he said as a wildly unconventional Republican candidate. He did little of the hard work that might have boosted his approval ratings to or above 50 percent — a feat he managed not even once, ensuring everlasting celebrity in historical footnotes.
But what finished him was his inability to effectively manage a real crisis and demonstrate compassion for the most vulnerable of his constituents.
He's no FDR
In her book "The Forgotten Man," conservative scholar Amity Shlaes, chairwoman of the Calvin Coolidge Presidential Foundation Board of Trustees and a presidential scholar at King's College, argues President Franklin D. Roosevelt's New Deal programs in the 1930s failed to end the Great Depression that at one point left a fourth of the U.S. population out of work — a situation FDR inherited in 1933 from the Hoover administration. Yet with his avuncular attitude, optimism, confidence and resourcefulness, FDR earned devotion from generations of Americans for at least trying to address hard times with such programs as the Civilian Conservation Corps and the Works Progress Administration. Even now some talk of resurrecting the CCC in which young men pursued public works projects and sent earnings to their struggling families back home.
As a young journalist, I interviewed many aging rural Texans who were proud Yellow Dog Democrats precisely because FDR clearly endeavored to help them through government intervention. What's more, FDR's famous fireside chats — a remarkably successful political innovation embracing what was then the still new medium of radio — brought out the best in everyday Americans. Certainly it girded the nation when World War II finally swept the United States into a global conflagration. Americans trusted FDR to lead them in that new crisis, if only because he so earnestly sought to aid them during hard times at home.
Americans re-elected FDR three times. He's easily the most popular presidential candidate of the last 100 years in McLennan County. His wins from 1932 to 1944 garnered the highest winning presidential percentages in this county, including 93.44 percent of the local vote in 1936. By then Americans had accepted the grim realities of the Depression, yet applauded New Deal programs such as Social Security and unemployment benefits. But when Trump on his own presidential watch was presented with an immense challenge at the beginning of this election year — a golden opportunity for him to reset his leadership tenor, reassure any and all skeptical critics and even spread his influence well beyond his adoring political base — he couldn't do it. Or wouldn't.
Trump didn't unleash SARS-CoV-2 on America and he certainly couldn't have prevented all the death and suffering that accompanied it. But he also never rose to confront it directly and consistently.
Unforeseen challenges are what test presidential greatness. At one point during his pandemic misadventures, Trump envisioned himself a "wartime president," but he lacked the discipline, vision and staying power to actually fill the role. He failed to craft and then back a sustained national strategy to deal with the pandemic. He regularly undermined his own administration when officials set criteria for everything from medical safeguards to economic reopenings to help retard hospitalizations and death tolls and, yes, even salvage the robust economy he inherited, already in excellent shape if one crunches job and GDP numbers during the eight years of the Obama administration.
The problem surfaced memorably during a recent exchange between Republican Congressman David Schweikert and Austan Goolsbee, the Waco-born University of Chicago economics professor who as a key member of the Obama economics team helped resurrect the devastated economy Democrats inherited in 2009. During a congressional hearing in September, Schweikert pressed Goolsbee to forget about latter-day political sparring over earlier COVID-prompted lockdowns and offer policy prescriptions for the economy moving forward. Goolsbee stressed that robust economic recovery isn't possible till all people feel safe venturing into the American marketplace again — a truism President Trump, as sorely as he wanted to revive the economy on his watch, never fully grasped. And the president's colossal lack of credibility by 2020 made his assurances even more difficult for some Americans to accept. Goolsbee, however, focused on the question that day: "The main thing that drove the economic decline is the same thing that always drives decline in a crisis, and that is when people are afraid, they withdraw. In this case, they were afraid of catching the disease, so they stayed home." In short, Goolsbee said, consistent, thoughtful public health measures must come first.
Sessions' view
Even diehard Trump ally Pete Sessions, who on Election Day won a seat in the U.S. House of Representatives from his hometown of Waco, suggests the administration mishandled the crisis with the president's interfering in what should have been Vice President Mike Pence's officially delegated responsibility. "When they asked that Mike Pence be in charge of the government response, I said as long as Mike Pence does that, I'm happy," Sessions said in a sit-down Trib interview Thursday. "That's not what turned out. The president ended up being the [face leading the COVID-19 response]. I think what should have happened, had I been in the White House, I would have said, 'Mike, I want you every Sunday night to do a fireside chat with the American people to give them up-to-date things.' Mike is very good at message orientation, being specific in directional content.
"What happened is that with the president, political science became 70 percent [of the message] and science became 40 percent. And, yes, I know that's 110 percent, but you know what I'm saying."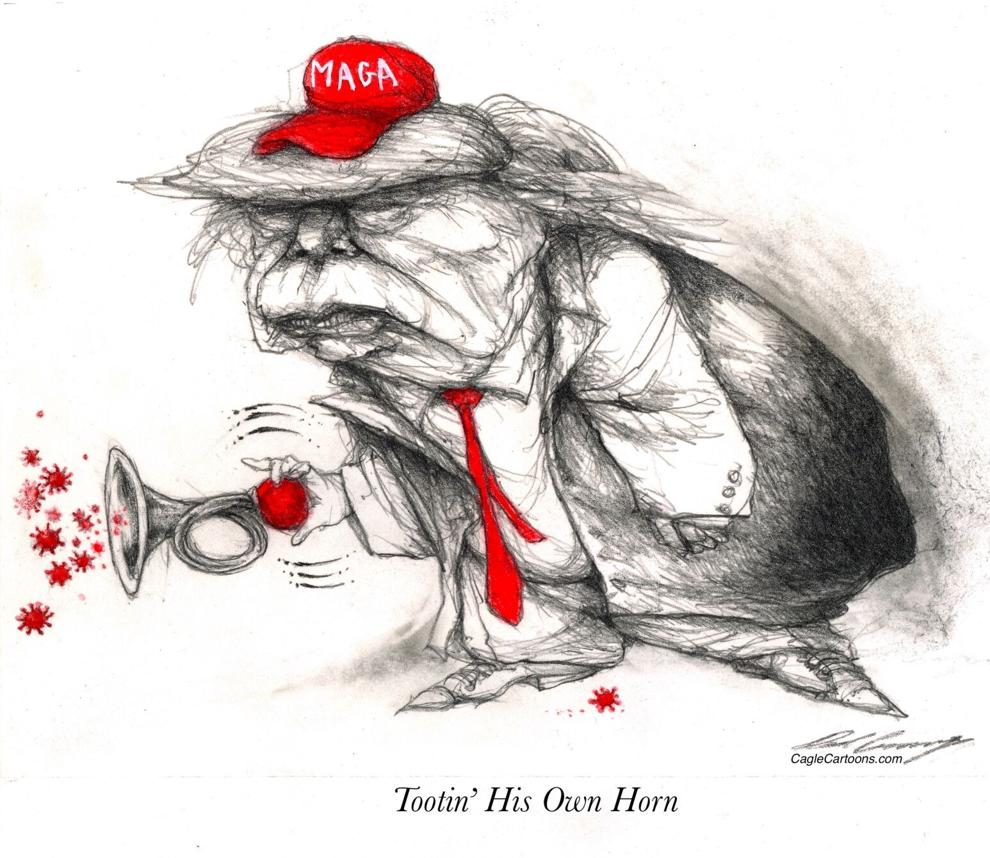 That said, Sessions insists there's no denying the federal expense that has gone into COVID-19 relief, including free testing in McLennan County.
Yet the week before the election, Trump had reverted to denials about the crisis, insisting the pandemic had run its course when statistics showed another deadly surge well underway — and this one unprecedented in the COVID-19 saga. One particularly grim reality was clear to just enough voters nationwide by Election Day: Some "wartime" casualties might have been prevented had Trump demonstrated vigorous and thoughtful leadership. When the nation's chief immunologist said days before the election that the dynamics in play could not be worse for viral spread, the president who claimed news media should be outlawed from covering the virus oversaw a White House statement accusing Dr. Tony Fauci of playing politics with the virus.
Trump should have looked in the mirror. His handling of his cherished economy during the pandemic conjures up the old story about the guy who inherits a classic car in pristine condition from his uncle, tinkers with the engine to boost its performance, then leaves it out in a hailstorm.
Remembering Election 2020
On Election Day in McLennan County, a 48-year-old self-described "constitutionalist" mindful of ordinances and mandates and advisories about masks and physical distancing and restaurant and bar capacities voiced support for the president: "Trump was doing a great job until all this happened with COVID, and I'm hoping and praying that non-mask-wearing man can get through to the people that we need to stop with this government overreach." An 18-year-old man voted for Biden because of the Democrat's gravitas in the crisis: "He actually takes the coronavirus seriously, doesn't take it as a hoax and wants to stop the spread." Such concerns were evident elsewhere as well, complete with society's wild inconsistencies about the sanctity of life. Of two neighbors (and friends) in Woodway who routinely erect opposing campaign signs every two years, one had the standard "Trump/Pence Make America Great Again" sign and a "Pro-Life/Pro-Trump" sign erected beneath a big blue Trump 2020 flag in the front yard; the other, playing off one of the president's more notorious, off-the-rails White House press conferences on COVID-19, put up signs that read "Biden: He Won't Inject You With Bleach" and "You Can't Fix Stupid But You Can Vote It Out."  
When I think of Election 2020, I'll think of 70-year-old Steve Campbell, a Robinson resident and Cleburne native who over the course of his life worked at Lone Star Steel, L3, ran a restaurant in Colorado for 10 summers and worked at Centex Dental Lab. His obituary in the Waco Tribune-Herald tells us that he and wife Lynda were swept up in the joyful extracurricular activities of their two daughters and six grandchildren, including "countless drill team events, baseball and softball games," and that he was a longtime member of Meadowbrook Baptist Church where he served as a deacon. "He was a kind and loving man who touched the lives of those that knew him."
COVID-19 claimed him on Oct. 17. His wife and daughters were "by his side" at the end.
When I think of Election 2020, I'll think of 87-year-old Onetta Moody, a Mart native who met Doyle, "the love of her life," during student days at Baylor University and with whom she spent a happy and fulfilling life. She was proud of raising "two beautiful daughters, Terri and Debbie." She later went to work at Citizens National Bank helping people set up new accounts. After 17 years, she retired to help raise a granddaughter. "Onetta was a member of Austin Avenue Methodist Church and enjoyed anything [famed televangelist] Charles Stanley. She loved spending time with family and her dogs in the comfort of her home."
COVID-19 claimed her on Oct. 25. The obituary tells us: "There will be no public service for celebration of life."
When I think of Election 2020, I'll think of 83-year-old Leonard Dziedzic, a Bremond native raised on a family farm who moved to Houston and worked in hardware and sporting goods sales. He met Kay at a dance on Easter Sunday and proposed marriage days later. They had a son and a daughter. In 1976, Len and Kay decided they'd had enough of city life, bought land in the community of Kirk east of Waco and transformed their property into the Diamond D Ranch. He was proud that son Duane and his grandsons had worked the ranch and hay business through the years. Duane will continue operating the ranch "as they always planned." Len and his wife attended St. Joseph's Catholic Church in nearby Elk. Kay began to lose her eyesight many years ago, we are told, and Len "became her eyes and constant helpmate."
"Though he lost a hard-fought battle with the virus, he made sure that his family knew he loved them all very much," the obituary tells us. "The day Kay was to be transferred out of the COVID-19 unit [at Providence Health Center] herself and into rehab, he insisted they bring her to his room so he could hold her hand. She sat at his bedside all afternoon. For them, 62 years was not long enough."
COVID-19 claimed him on Oct. 19.
"When patients become critically ill and eventually succumb to the illness, it's not a three-day adventure," Dr. Marc Elieson of Baylor Scott & White Hillcrest Medical Center said during a local COVID-19 press briefing days before the election while trying to stress growing dangers of the pandemic. "It is long and drawn out. They may be sick for several days to a week, sometimes even two weeks, before they show up at the hospital. They're sick in the hospital for a few days and then they may get more sick, and then they move to ICU. They may get intubated that day or a few days later, and then they're often on ventilators for days to weeks. So their hospitalization can sometimes be a month of just a difficult time for them."
Lately, some local schools have closed because so many teachers in quarantine from possible exposure to the virus makes fully staffing campuses impossible. Among campuses closed: G.W. Carver Middle School, whose 49-year-old principal, Phillip Perry, became the first local person to die of COVID-19 back in March. And Friday, while the nation was riveted on election counts, legal challenges and democracy itself, the local health district issued a sobering public health alert, warning that the McLennan County COVID-19 case count had spiraled to more than 100 new daily cases the previous three days (with more than 800 active cases by Saturday evening) and that the medical community was witnessing a significant spike in hospitalizations with rapidly dwindling intensive care unit beds available. Warnings about this approaching surge by local, state and national medical experts in recent weeks, however, were largely lost in the din of a presidential campaign at fever pitch.
President, party, pandemic
None of this is to deny Trump's political significance. In his telling new book "We Should Have Seen It Coming: From Reagan to Trump — a Front-Row Seat to a Political Revolution," Gerald F. Seib of the Wall Street Journal concludes by interviewing conservative George Will, who abandoned the Republican Party after the party itself abandoned conservative and constitutional principles to accommodate Trump. Will suggests that for all their success in free trade over the years, conventional Republicans didn't watch out for work-a-day Americans caught in the gears of such global initiatives. Trump appealed to these Americans, even if his tax and trade policies benefited the wealthy more than the average worker.
Those who study successes and failures of American presidents agree on this much: Whatever presidents hope to push in policy before election is sometimes shelved because of pressing crises thrust upon the nation, whether war, pestilence or economic devastation. The greatest presidents demonstrate resolve, ingenuity and courage in forging solutions and rallying the public. Others fail. When Texas Gov. George W. Bush ran for president in 2000, he ran on the philosophy of compassionate conservatism and hoped to become America's "education president." History marks him as president during a massive terrorist attack on America, two wars that veered out of control, administrative incompetence in hurricane disaster relief and an economic recession triggered by long-term financial excesses.
If final election results truly show President Trump lost, it will be not because his administration failed to provide significant pandemic relief but because his own reckless, provocative and grandstanding comments belittled those dutifully wearing masks to protect co-workers, friends and neighbors; dismissed as insignificant a pandemic claiming lives, some of them Trump supporters; and pressed to make it harder for Americans to safely vote. Trump and Republicans ensured the pandemic was on just enough minds when people agonized over whether to vote in person or by mail (or at all) or contemplated the craziness of voters and election workers not being required to wear masks in Texas. (In a letter to the Trib, impressed poll watcher Bill Lockhart marveled at everything dedicated local election workers endeavored to do in meeting state voting laws and executive orders while reassuring voters in a pandemic, including wiping down voting machines after each use, "all while wearing appropriate anti-COVID-19 garb!" On the other hand, a fanatical pro-Trump acquaintance who worked the local polls took special satisfaction in not wearing a mask, if only to rattle health-conscious voters and election co-workers. Social-media friends praised her as a "true warrior" for "standing against tyranny." How differently each of us defines patriotism these days.) In the final campaign stretch, President Trump was reduced to accusing physicians and medical personnel — some of whom have perished in the trenches caring for contagious and suffering patients — of manipulating COVID-19 case counts to pad their pockets.
If there's anything more tragic in this saga, it's that after all the self-serving corruption and constitutional transgressions and hateful tweets and playful winks to racism and kowtowing to dictators and vindictive policies regarding desperate immigrants, up to and including separating mothers and children, the president's bungling of an insidious plague, contributing to economic devastation and more than 237,000 dead Americans, only narrowly contributed to his re-election defeat. And that only highlights a corrupting sickness in our society and politics that will likely outlive SARS-CoV-2.
A Dallas native, Bill Whitaker has worked as a reporter, editor and columnist in Texas journalism since January 1977. He has served as Trib opinion editor since 2009.