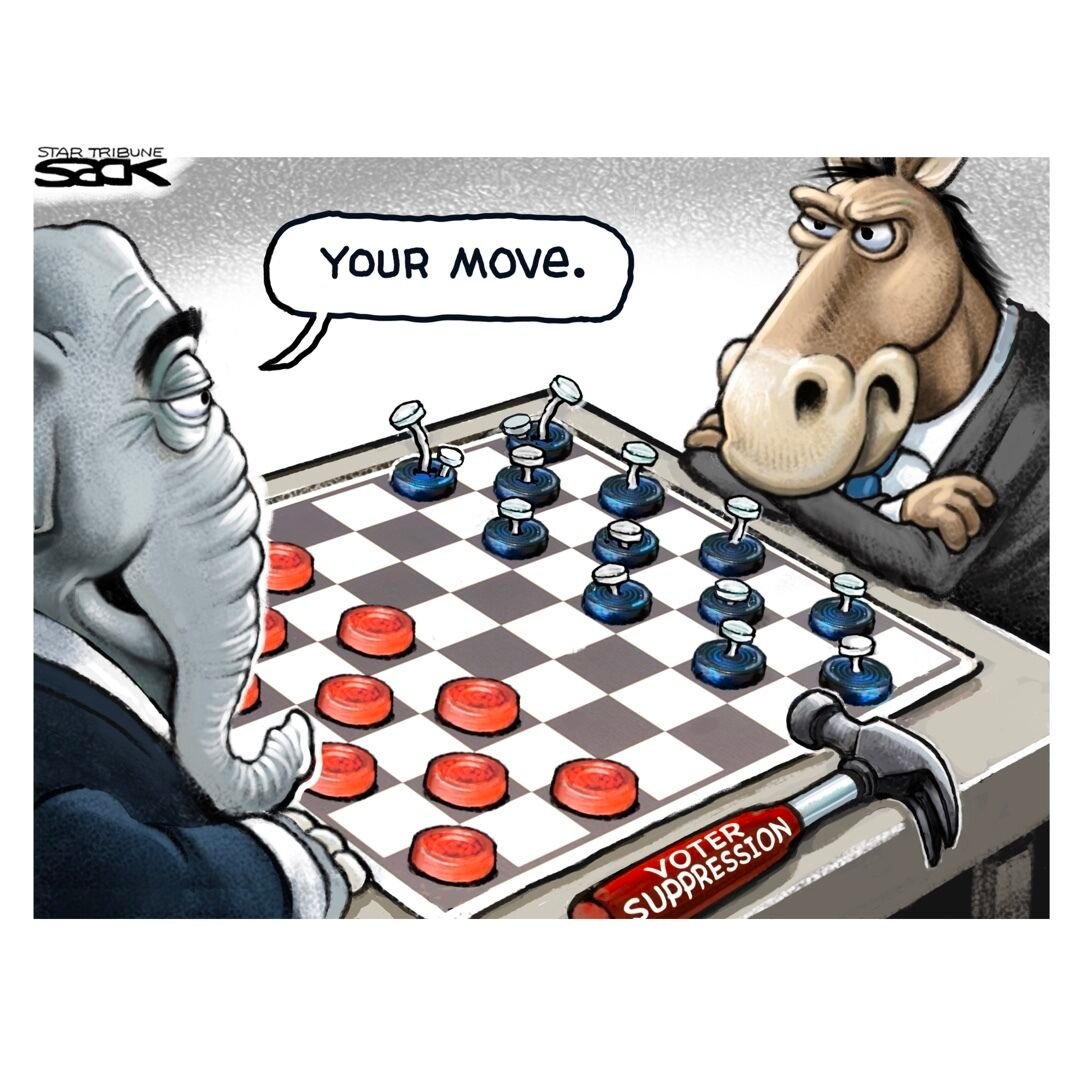 You can view the Texas Legislature's "election integrity" bill signed into law last week two ways. Through one set of lenses, it's a clear manifestation of the "Big Lie" alleging a stolen presidential election that fueled the Jan. 6 insurrection at the U.S. Capitol, arguably incited by the president of the United States. It's also a law that, while hardly the fruit of a people championing democracy and election access, only makes voting more cumbersome, not impossible.
In short, we're not talking about poll taxes, literacy tests or forbidding water to people standing in long election lines — the latter a Georgia measure surely deserving legal rebuke if not infamy. Yet it would behoove Texans voting by mail or helping the disabled to vote, and especially those selfless, graying patriots who staff our election venues, to bone up on what's becoming law in Texas. Otherwise, some risk more time behind bars than that now facing many who stormed the U.S. Capitol.
Republicans in Texas are betting that most of their followers will jump through any legislated hoops to vote — and that many weak-kneed Democrats will not. Time will tell.
And Republicans have a vibrant neo-Trumpian legacy to defend: a new state law that deputizes citizens to sue neighbors they suspect of abortion transgressions; fighting public health measures as modest as school mask mandates in a pandemic; and a new law scuttling the state requirement that one know gun laws and gun proficiency before carrying a firearm. Lawmakers even passed a bill that leaves teachers fearful of teaching racially decisive moments in U.S. history such as the 1857 Dred Scott decision.
Such groups as the American Civil Liberties Union, Asian American Legal Defense and Education Fund, Disability Rights Texas, Texas Civil Rights Project, Texas State Conference of the NAACP and the League of Women Voters of Texas have filed suits galore on behalf of voters with disabilities, voters of limited English proficiency and voters of color. To quote Ryan V. Cox, senior attorney with the Texas Civil Rights Project, the law "officially cements Texas as the hardest state to vote in the country."
Several shadows loomed large through eight long months of sparring over election reform in Texas — not just two poorly strategized quorum-busting walkouts by House Democrats, not just former President Trump's hollow, unsubstantiated cries of election fraud but the cases of two African Americans in jeopardy because they unwittingly (or so they claim) voted before the terms of their release from incarceration legally permitted it — 62-year-old Hervis Rogers and 45-year-old Crystal Mason.
Mason and Rogers are Exhibits A and B in Democrats' charge that Texas Republicans are hell-bent on deterring minority voters, given the presumption they'll vote for Democrats. And some Republicans fretful over claims of racism are clearly troubled by what's befallen Mason, now fighting a five-year prison sentence for illegally voting in Tarrant County, and Rogers, who faces charges of illegal voting in Houston after famously standing in an election line for more than six hours. Mason's case is on appeal.
Some ground given
First things first: Texas Democrats are wrong to claim Republicans have made no concessions to them in this law. Republicans bowed to a Democratic priority to allow voters a chance to correct or "cure" mail-in ballot discrepancies. They've bowed to Democratic reservations regarding partisan poll watchers, removing an explosive proposal that would have allowed the latter to film certain polling-place activities — surely an invitation to trouble, one even Republicans gradually recognized.
Republicans bowed to Democrats' concerns and scrapped a measure curtailing the Sunday "souls-to-the-polls" early-voting tradition which would have invited a humiliating defeat for Republicans in the courts, given the measure's obvious racism. And again bowing to a Democratic proposal, the legislation expands a requirement that Texas employers allow employees time off from work to vote. This right had applied only to Election Day but the new law expands it to anytime during two weeks of early voting.
And while Rep. Senfronia Thompson, 82, an African American long in the Legislature whose mother and grandmother faced poll taxes and all-white primary elections, protested the bill's empowering partisan poll watchers, Republicans restrained poll-watcher rights from what they first envisioned. For instance, the law allows an election judge to call for removal of an unruly poll watcher at the first sign of trouble, rather than first giving the errant poll watcher a warning, which was the original proposal.
All this acknowledged, Republican lawmakers shouldn't be proud of the skullduggery on their end. For instance, they inexcusably still claim not to know how provisions to allow overturning election results in court and derailing souls-to-the-polls efforts so popular in African American churchgoing communities were slipped into a House-Senate conference committee version of the election bill behind closed doors in May. Neither provision is in the legislation signed by Texas Gov. Greg Abbott last week.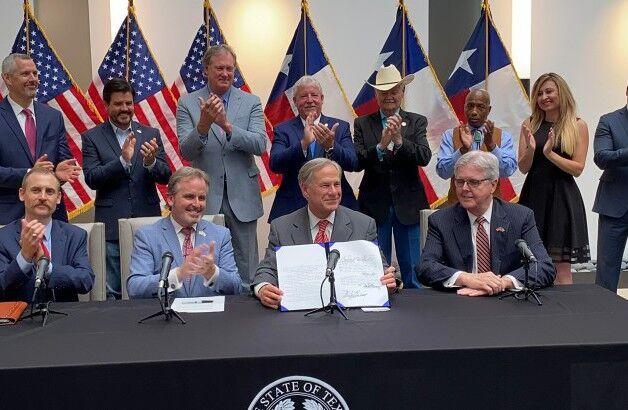 Some arguments fizzle
Besides Democrats' legitimate concerns over poll watchers, controversy about Republicans' election reform focused on their successfully banning drive-thru and 24-hour voting as notably pursued in Harris County amid fears of viral spread in the state's most populous county. Both voting initiatives were popular with minority voters. Yet Democrats had a difficult time claiming that banning such initiatives amounts to racism, given they've been unable to cite such initiatives in other states.
Republicans argued that if initiatives such as 24-hour voting couldn't be offered in all of Texas' 254 counties, then they amounted to unequal access to the ballot box, denying voters in, say, Limestone County of benefits offered in Harris County. Democrats countered by noting that accommodating multitudes of voters in Harris County is far different from accommodating voters in rural stretches with significantly smaller populations. But the Trump-fueled momentum was clearly with Texas Republicans.
In floor debate, Democratic Rep. Rafael Anchía stressed "a direct line between why we are here today and the Big Lie that was offered by our ex-president, who said the election was stolen from him despite no evidence to the contrary, who suggested that African Americans and Latinos in urban areas had somehow committed frauds that were to deny him a second term, never taking responsibility for why he actually lost the election. And it was suggested again that Republicans need to 'stop the steal.'"
House Republicans did manage their end more gracefully during the two special sessions, thanks to personable Republican Rep. Andrew Murr of the handlebar mustache who shepherded the embattled bill to passage. The appointment is ironic: Murr is the grandson of Coke Stevenson, the prominent Texas governor whose political career imploded in a 1948 U.S. Senate primary runoff with Lyndon B. Johnson, a contest decided in part by a handful of mysterious, much-disputed ballots in Jim Wells County.
Legislative disagreements broke sharply along party lines, but the bill revealed one difference between the two chambers. Senators compelled the House to scuttle an amendment bolstering a provision mandating that judges inform defendants when convictions include losing the right to vote. With business on the election bill done, House Republicans and Democrats came together and, by a 119-4 vote, informed Republican senators of House dissatisfaction with the upper chamber's attitude.
The non-binding House resolution — stating that anyone who unknowingly votes when ineligible "should not be criminally incarcerated for making an innocent mistake" — was pressed by Republican Rep. Dustin Burrows. The West Texas attorney confessed on the floor that "I would not have known that being on supervised release would have made you ineligible (to vote). That is a high bar to impute on somebody to put them away for five years."
Crystal Mason was convicted for doing just that. One of the two co-authors of the House resolution sending a clear message to the state judiciary: Waco Republican Rep. Charles "Doc" Anderson.
Some changes ahead
Verdict on this byzantine patchwork of election law: If you vote by the former president's preferred method for his subjects (notwithstanding his general practice of voting by mail), you shouldn't notice much difference when voting in person. Otherwise, prepare for critical, fine-print changes. Have your driver's license number or the last four digits of your Social Security number handy if you wish to vote by mail. Prepare to sign your John Hancock to certain terms and vows if you assist the disabled in voting.
"I fear that as a result of this bill's passage today," Democratic Rep. John Turner of Dallas said, "there will be ballots by mail that should be accepted but will not be, that new and unnecessary paperwork will discourage some people from properly assisting others in the voting process, that there will be good people who would like to participate in the electoral process who will instead be discouraged or even afraid to do so because of legal risks.
"And most concerning," he said, "I am concerned that there could be additional criminal prosecutions brought against people for simple mistakes and innocuous activity that they may not even realize was illegal as they simply sought to participate in one way or another in our democracy."
Related state election legislation already faces lawsuits, including Senate Bill 1111, which restricts individuals from registering to vote using addresses where they don't live full time (arguably targeting college students), and House Bill 3107, requiring those who submit registration applications electronically or via fax to provide a copy of their application with their signature signed in ink. Few Texans likely even know about the passage of these bills.
After eight months of everything from Democrats' mass exodus, to Speaker Dade Phelan's pressing lawmakers to refrain from referring to one another as racists on the House floor, to Texas Republicans' indifference to exposing how measures unvetted in committee hearings or floor debate wound up in a House-Senate bill at one point, the stage is now cleared for the parade of lawsuits. Meanwhile, everyday Texans best study our new election laws closely lest they also find themselves in court.
Bill Whitaker retired as Waco Tribune-Herald opinion editor in 2020 after a career of nearly 45 years as a reporter, editor and columnist in Texas journalism. He blogs at thedailybillblog.blogspot.com.