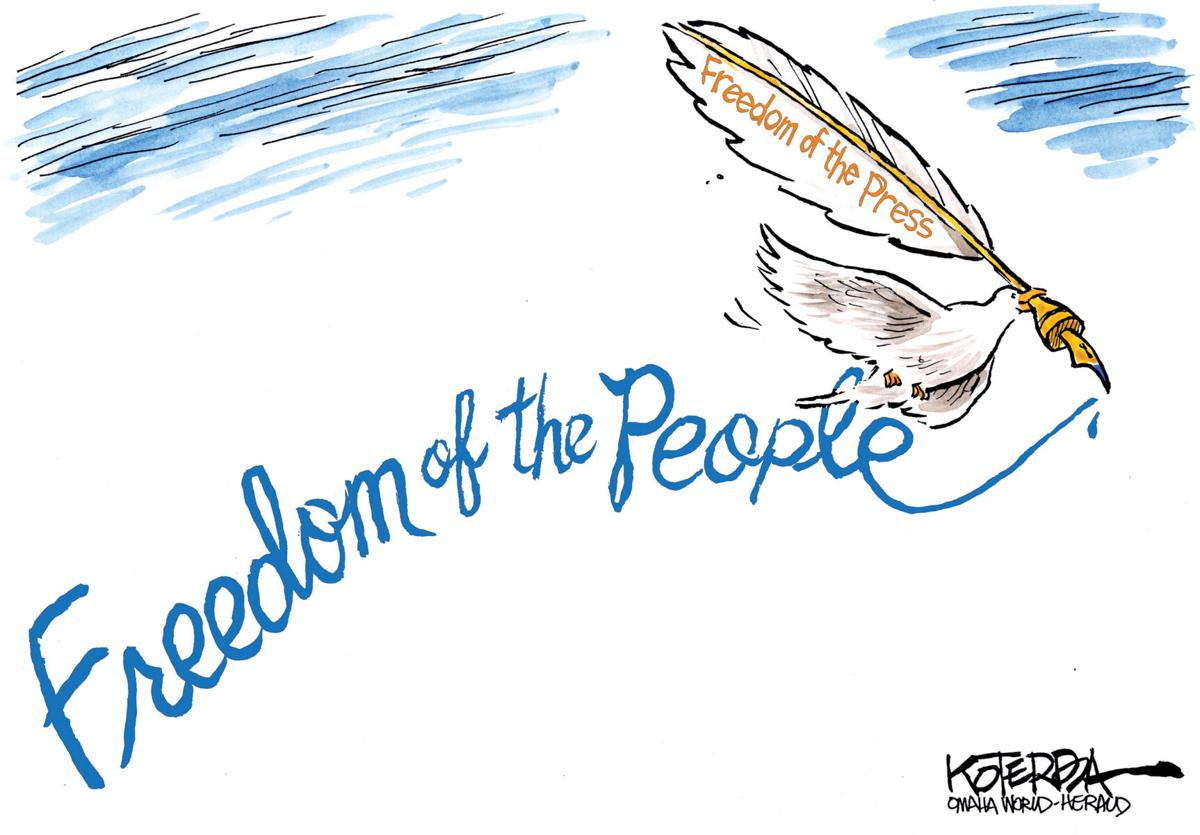 At one point last month former Trib opinion page colleague Sandra Sanchez — my nominee for hardest-working newswoman in all Texas — completed another frantic week for Border Report, covering everything from the awarding of contracts for 40 more miles of President Trump's border wall construction in Laredo, to the use of unmanned aircraft by U.S. Border Patrol to pursue migrants running north of the river in South Texas, to the Trump State Department's capping refugee resettlement at 15,000 this fiscal year, the lowest in history. Although Sandy no longer offers opinions in her daily journalism, the Trump-imposed limit clearly reflects the president's fiery rhetoric regarding immigrants.
For all her terrific work, Sandy received this response (grammatical atrocities intact) at week's end: "YOU are just another IMMIGRANT telling US CITIZENS what we should be doing.. SCREW YOU. It is not the responsibility of the US nation, nor it's TAXPAYERS to support and fund endless immigration in the name of 'refugees'. These people can all stay in THEIR nations and work to improve them. We have millions of African migrants in the USA that ADD nothing and TAKE everything. They DO NOT SHARE our values, religion, language or morals. I support a complete BAN on all 'refugee resettlement' and a complete BAN on all immigration till EVERY US CITIZEN has a job. Till then, take your liberal, cancerous, dangerous refugees and shove them up your immigrant ass. Dismissed, E-7 Ret."
When Sandy informed this apparently retired Army sergeant first class that she was not an immigrant but a native-born U.S. citizen (from our nation's capital, no less), the beast exploded again in hatred: "Nevertheless of all that BS.. YOU ADVOCATE for UNLIMITED IMMIGRATION and more African migrants to pollute this nation. That is the deathnell for this nation of 340 MILLION. You and your liberal/communist/anti-American ilk can GFY. Hope your tears flow on 11/3. Honestly...We should have picked our own cotton."
Those of us long in the news media grow accustomed to such hostility. For those in reporting ranks who pursue duties as tenacious watchdog journalists and try to be complete, accurate and balanced in what we report without betraying personal opinions, some readers want not only to shoot the messenger but dismember the body and drag it around the town square as Achilles did to Hector. The situation is worse for those who, after sufficient periods chasing down news stories and seeking out credible news sources, are tapped to furnish opinions brimming with a certain journalistic skepticism. Or, for that matter, any insightful citizen journalist offering opinions based on significant expertise in law, business, education, politics, history, science, religion or life.
Only last month Mark Osler, a former federal prosecutor, author, law professor and dedicated Christian whose opinion page columns for the Trib are always delivered in a measured, respectful way, lamented that the president of the United States had not set a better example for his constituents to follow during his four years in the White House. The piece was anything but hostile or mean-spirited. But when Mark — a professor at the University of St. Thomas School of Law in St. Paul, Minnesota, who previously taught at Baylor Law School — posted his Trib column on Facebook for others to consider, someone from Lacy Lakeview responded with this: "Mark Osler what has FAILED IS YOU DIRT BAG and the ANTI-AMERICAN MEDIA SCUM!" Not satisfied, she continued: "Mark Osler GTH! Get a job on a trash truck!"
Mark handled this outburst with his usual calm and Christian grace: "There's nothing wrong with working on a trash truck. I've had plenty of jobs like that, and I respect the hard-working people who do them."
A certain amount of this is par for the course. Longtime friend Richard Horn, one of the most magnificently talented journalists with whom I've toiled in my more than 40 years in this much-maligned, much-misunderstood profession, worked for a time as editorial page editor of the Abilene Reporter-News in rugged, conservative West Texas. As thoughtful and sensitive as Richard was, as resourceful and dedicated as he was as a professional who regularly abandoned the ivory tower of punditry to interview work-a-day folks to learn what they thought, he nonetheless unwittingly provoked hateful responses on occasion. Once he received a letter from someone who informed Richard that his newspaper pieces made him want to throw up — and so the reader did just that in the envelope.
Yet such commentary (well, perhaps excluding this last-mentioned bit of reader input) is in its own way just as legitimate as the staff columns, contributor essays and conventional letters to the editor that we newspaper opinion-page staffers earnestly publish and disseminate, whatever the view, whatever the bias. It tells us something of the sentiments, disappointments, frustrations and even mistaken impressions of everyday folks as well as where our political leadership arguably got things wrong. I haven't always fully answered every complaint because callers were so angry on the phone they wouldn't let me respond. And lately I lack the time to respond to each personal email, letter or phone call, owing to mounds of work yet to be done on behalf of others writing letters and guest columns for print.
So before I retire from the Waco Tribune-Herald at week's end, I want to respond to the most frequent complaints in hope of better outlining what we try to do on the opinion page and where cherished readers fit.
The Trib opinion page should print both sides: A letter to the editor from a Waco woman last month articulated this common complaint: "Never have I seen such a strong bias as this publication exhibits, specifically against President Trump and the Republican Party. Any issue or coverage that can be slanted against Trump or any negative influence is always present. We should be able to look to our newspaper to fairly present both sides of an issue and let the readers make their own choices."
Right. First, I'll cite a Trump-supporting friend of mine just down the street who once thought the very same thing (though it didn't interfere with our friendship) till he went on vacation and perused some big-city papers. Compare the doggedly pro-Trump Wall Street Journal or vigorously anti-Trump New York Times with our opinion page and most people who are honest with themselves in such criticism must reevaluate. My friend did.
Second, people must accept that everyone has biases. And an opinion page is nothing without biases, another word for strongly held opinions. The bias of the woman who wrote us last month is clearly for President Trump. Good for her. My bias is against President Trump. Good for me. The question becomes not only can this woman or I articulate a compelling case for or against Trump but can we do so armed with "real" facts and rational arguments? If readers see an opinion piece hanging Trump out to dry, simply whining about someone else's bias solves nothing. Write a letter or guest column articulating why we're wrong on this issue or that issue or, more properly, why you're right on this issue. Who knows? You might articulate a powerful enough reason for us and others to reconsider. It's happened.
One more thing. This newspaper publishes a fair number of conservative columnists, ranging from Trump apologist Cal Thomas to former National Review editor Jonah Goldberg to CNN commentator S.E. Cupp, from local businessman (and former Trib president and friend) Gordon Robinson to locally based Trump campaign official Duke Machado to retired state corrections official Lester Beaird of Lacy Lakeview, the latter part of the Trib's spirited 2017 Trump Roundtable. (Incidentally, I thoroughly enjoyed all of these engaging Trump supporters, even strongly encouraging one to run for public office and enlisting another, Lester, to join our Board of Contributors. Yet another member of this circle of Trump sentiment dropped by the paper just the other day while I was out and left a message with a colleague: "He wanted to say hello and that he thinks you're brilliant, but you are on the wrong side of the current political conflict.") Yet this fact remains: There are certain things this president says or does for which even these individuals will not try to articulate a defense — at least, not one to which they'll attach their good names.
Which is why both sides don't always get published.
It's all well and good to tweet some cheap shot of 200 characters or post some meandering drivel on Facebook, but the Trib opinion page is a legitimate forum that, for its columnists, requires at least 600 to 800 words of something passing for intellect and depth.
This woman's letter arrived the same week the Wall Street Journal, one of the most rabidly right-wing newspapers in the country, dutifully reported how President Trump and his staff interfered with issuance of scientifically based public safety guidelines crafted by the Centers for Disease Control and Prevention to help Americans survive the pandemic. Guess what? I haven't seen a rational opinion column yet mounting a defense of the president for doing so — and with more than 230,000 Americans dead from COVID-19 and many more turned into invalids from this virus' potentially damaging impact on hearts, lungs and kidneys, it's unlikely Cal Thomas or Lester Beaird will risk reputation to defend Trump on that particular account. On the other hand, many of us have plenty of justification to lambaste the president in this matter.
The Trib opinion page should represent our community's conservative values: An unvarnished phone message to me summed up this common gripe: "Most of what you write are liberal opinions, all it is is liberal BS. This is a conservative state and a conservative center of the state, and you're just contributing to the teardown of our president and the administration and in turn the USA because liberals are all about being against all that. All you have to do is watch Nancy Pelosi and everyone else in the Democratic Party and all they're doing is tearing down. Do something about it. Let's see some conservative opinions."
Oh, I'm sorry. Did you get us journalists mixed up with your congressman? Are we injecting discord into your echo chamber, enough to make you want to change the dial to talk-radio rants instead? Can't handle the truth?
In case it isn't obvious, let me state the obvious: Many (though certainly not all) politicians perennially running for office (which means all the time) will lie and beguile and twist facts to appeal to our worst instincts, which is why America is so hopelessly divided and no one works toward solutions and consensus. Some politicians are little more than mob leaders, incapable of leading citizens to new plateaus of understanding and insight (which in my book defines leadership). And talk radio hires people based not only on their ability to provoke willfully ignorant masses but an ability to fill vast slots of commercial air time, which just naturally allows crazy statements to proliferate. And cable TV? Don't get me started.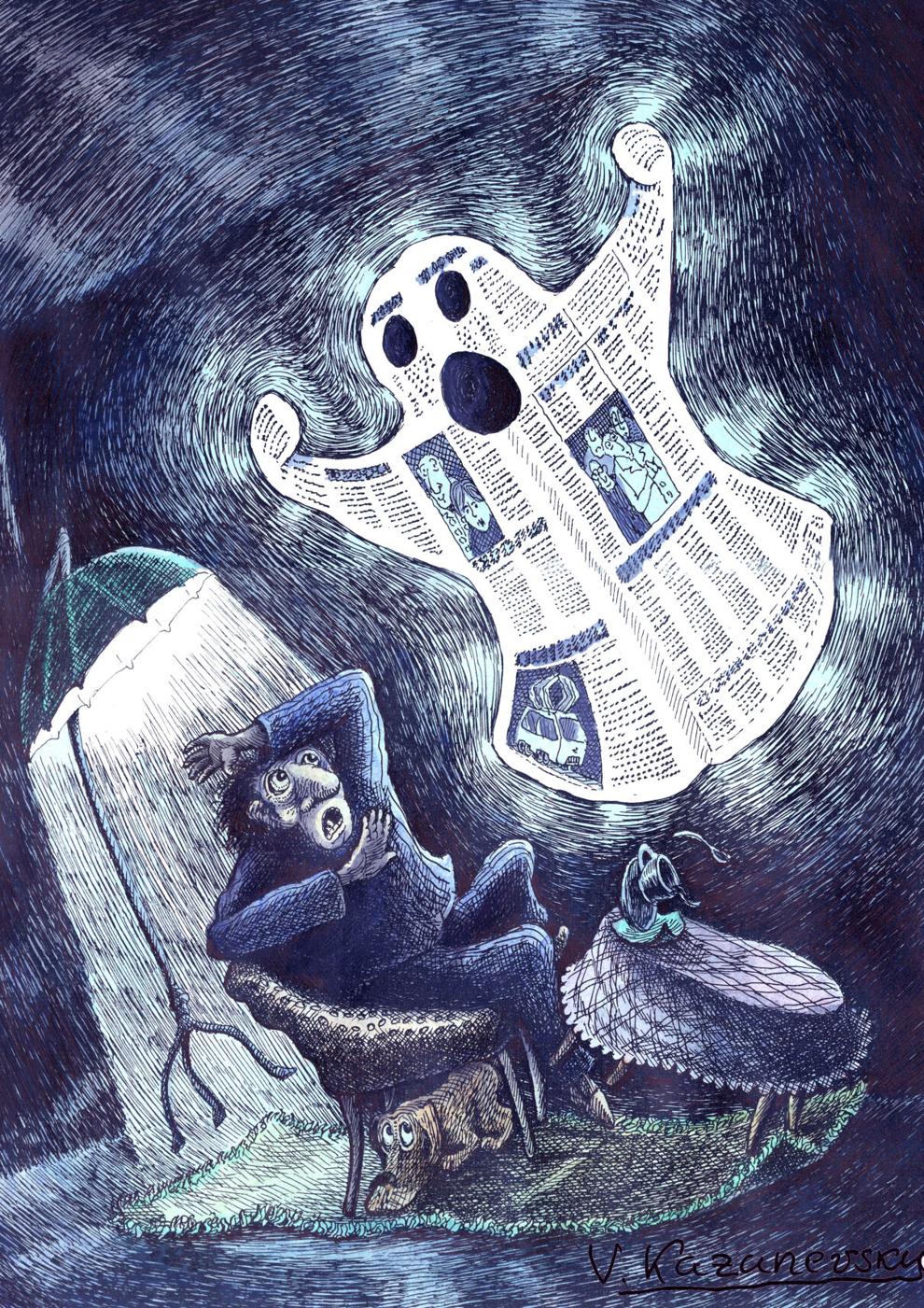 The staffs of many newspapers are anchored by veteran journalists experienced in ferreting out truth and telling readers what they need to know, not what makes them feel better. Opinion page writers not only consider the prospects of readers and the betterment of our communities and nation, they also fold into their pieces an understanding of the law, the Constitution, court rulings, history and gleanings from credible watchdog reporting, their own and others'. Yet if such findings, conclusions and analyses don't conform to certain prejudices or narratives of how this old world spins, some readers retreat to places where their paradigms aren't upset and their political and societal perceptions aren't challenged. In doing so, they prove themselves far less the informed and vigilant citizen the Founding Fathers desperately hoped for.
Example: This newspaper in 2015 not only branded as absurd a conspiracy theory peddled by right-wing radio demagogues that a major U.S. military training exercise in Texas and the Southwest was a plot to declare martial law and confiscate our guns, we questioned the courage of Republican political leaders representing Texas who failed to stand up for our military and dismiss such rumor-mongering. No less than Gov. Greg Abbott gave such fears credence by announcing he was ordering the Texas State Guard to "monitor" this long-planned training exercise, dubbed Jade Helm 15. In the end, no martial law was declared, no people were corralled and "processed" at shuttered Walmarts, no confiscation of guns transpired. Yet I'll never forget Bastrop County citizens' contempt for U.S. Special Operations Command representatives trying to calmly explain these military exercises to them. By the way, this was one of the key reasons I left the Republican Party and dismissed as empty rhetoric all future Republican blather about cherishing our men and women in uniform.
Funny thing about echo chambers: You can miss out on important developments. Last week a pro-Trump reader complained we focused too much on "personalities" in the presidential race — a nice way of saying presidential character is irrelevant — and that we should focus instead on party policy platforms. It's a legitimate request. Should I now call back and explain that, for the first time in memory, the Republican National Committee this year adjourned without passing a platform, officially delaying specific GOP policy stands till 2024? Its only directive: "Resolved, that the Republican Party has and will continue to enthusiastically support the President's America-first agenda." That said, we've earnestly tried to cobble together something that suffices for this reader in today's paper.
One more point: Many people today have strikingly different ideas of what even constitutes conservatism. This newspaper has championed a standard conservatism of balanced federal budgets, a robust immigration policy that values immigrants and security, and an unflinching adherence to the U.S. Constitution — not the runaway federal spending, xenophobic immigration executive actions and mounting disregard for constitutional checks and balances now masquerading as "conservatism." As my colleague, Editor Steve Boggs, noted in a Trib column back in 2017, "a small percentage of our readership is moving even further to the right under President Trump, beyond the constraints and principles long recognized as conventional conservatism. We haven't moved with them, so in their eyes we're 'more' liberal in recent times."
For the record, Steve is a God-fearing, pro-life, pro-wall independent conservative from the land of Will Rogers, T. Boone Pickens, the Joad family and the Five Tribes who nonetheless doesn't subscribe to anyone who attacks First Amendment freedoms, vilifies the news media as "enemies of the people" and demonstrates demagoguery, lies and hatred to whip up strife, ignorance and votes among gullible citizenry. Criticism of Trump doesn't necessarily make one a liberal.
The Trib shouldn't publish something outrageously provocative: We hear this one often enough, such as when we published a March letter from a reader agreeing with Republican Lt. Gov. Dan Patrick's admittedly controversial comments on senior citizen sacrifice, COVID-19 and the economy. The letter writer argued in his epistle that, "Yes, us seniors need to risk possible death from this virus to save the economy and ultimately our grandchildren." After publishing this letter, I received this phone call from an outraged reader: "That son of a bitch is advocating euthanasia just like Hitler did. 'Let's get rid of all the old people.' I'm so pissed off that you were so stupid to print that in your paper that I'm going to boycott you. What in the world is going on with your mind? Half the problem is caused by younger people who wouldn't stay home when they were told to and got out and went to Spain and Italy and Europe and China and everywhere else. If they had stayed where they were supposed to, we wouldn't have this damn problem. And I hope that damn [letter writer] gets a case of it."
Wow. Within reason, this newspaper seeks to reflect the sentiments of its readers through the narrow column on the right side of the daily opinion page devoted to letters to the editor. As one reader admonished me after I added an editor's note correcting someone else's letter, "Don't forget. That's our space in the paper." And while about half of the letters we receive are so groundless in fact or so radically unhinged as to preclude putting them into print, others serve as societal or political harbingers for what's up ahead on the political scene. For instance, that March letter agreeing with Lt. Gov. Patrick that oldtimers should bow to a bustling economy (and the letter-writer is 88) served as a precursor to increasingly serious recommendations of "herd immunity" as a solution to the pandemic.
We don't happen to agree with that course of action — consider how many people in our economy who aren't senior citizens nonetheless have comorbidities such as high blood pressure, diabetes or obesity, leaving them more vulnerable to COVID-19. Yet even now some Trump administration officials advocate such ideas as herd immunity. That letter in March offered a thought already gaining traction in some circles to the point many of us were soon compelled to discuss it.
Incidentally, on the rare occasion when we have published some overzealous piece championing Trump or the Republican Party, a graying, level-headed Republican in town will dutifully call me to complain about my publishing such a piece on their behalf that is so obviously unhinged from principle or truth. Frankly, however, such calls are less and less common.
Incidentally, Steve Boggs has often suggested I waste too much time trying to reason with callers who aren't likely to be persuaded. In his own such dealings, he sometimes cuts to the chase. A mutual friend of ours who runs a roofing business in town and supports the president but advertises with us comes by Steve's office every so often to complain about the newspaper's treatment of President Trump and the Republican Party. He even brings tear sheets of examples where, in his mind, we demonstrated bias against Trump. Recent examples: a local story in which local leaders implored McLennan Countians to take advantage of free COVID-19 testing and letters from readers who, well, just don't like Trump.
One day, Steve had his fill and returned fire, citing Trump's unending whining and complaining and moaning about the news media, "fake news" and our being "enemies of the people."
Then Steve asked his friend: "Tell me, would you support a president who has spent five years relentlessly attacking your roofing business?"
For once, our friend conceded.
A Dallas native, Bill Whitaker has worked as a reporter, editor and columnist in Texas journalism since January 1977. He has served as Trib opinion editor since 2009.