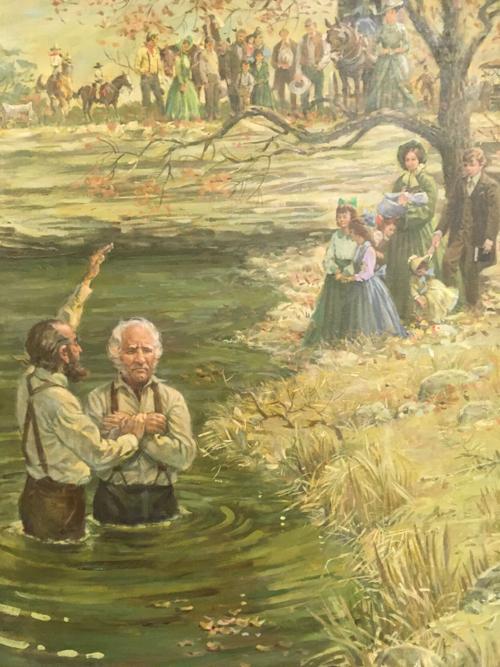 This letter is in response to the report by Baylor University's Commission on Historic Campus Representations regarding Rufus C. Burleson, two-time president of Baylor University (1851-1861, 1886-1897), and the Burleson Quadrangle, oldest part of the Baylor campus. The report recommends that the campus statue of Burleson be relocated and the name of Burleson Quadrangle changed. Blake and Burt Burleson, brothers, are direct descendants of the pioneer immigrants to the Austin Colony of Texas, Captain James Burleson and Elizabeth Shipman. James and Elizabeth, Rufus' grandparents, are Blake and Burt's fourth great-grandparents. Georgia Burleson was the wife of President Burleson.
For nearly 50 years now, we have walked past your statue in Burleson Quadrangle with pride in your providential role (and that of Aunt Georgia) in leading Baylor University and the State of Texas in its early days. Because of your visionary leadership in establishing higher education west of the Mississippi, hundreds of thousands of men and women have graduated from this, the oldest university in continuous existence in Texas. For 176 years Baylor graduates have served church and state as doctors, lawyers, nurses, educators, mayors, legislators, pastors, social workers, entrepreneurs, artists and scientists, and through hundreds of other professions. When Texas hero Sam Houston became a Christian, he asked you — his friend and pastor — to baptize him. In our Baylor offices hangs a painting of that auspicious occasion, undertaken by Dallas artist Erwin Hearne, whose work often focused on Baptists and their quest for religious liberty in America. As we pray daily with our students, staff, faculty and parents beneath that painting, we are often aware of your presence. When the State of Texas honored you and Aunt Georgia with historical markers in 2009, we had the privilege to unveil those tributes.
With you as our beacon, we were inspired to become Baptist pastors, chaplains, missionaries and educators. Today, we can see your statue through our office windows. When we preach from the Bible in Waco Hall's chapel services and teach about it in Tidwell Bible Building classrooms, we are reminded that that book — proclaiming that God cares equally for all — is held in the hand of your statue in Burleson Quadrangle. We've drawn inspiration from you and Aunt Georgia for your commitment to the education of women. Thank you for admitting women to Baylor during a time when they were not even allowed to vote. Each day when we walk by Georgia Burleson Hall and read the words "Dedicated to Female Education and Piety" inscribed on the cornerstone, we are reminded to treat all of our students with dignity and equality.
While no black student graduated from Baylor until 1968, long after you had left us (in 1901), we thought that you must have led the way in a campaign to lift African Americans out of an intellectual wasteland imposed on them by slavery since, after the Civil War, you rode on horseback all over Texas giving speeches to encourage towns to support free public education that included the children of newly freed slaves. And you helped raise money to establish Marshall-based Bishop College for African Americans in 1881. Bishop College provided many African Americans — whose parents and grandparents had been forbidden under slavery laws to even read the very Bible in your statue's hand — with a post-secondary education. So, it is with profound sadness that we write you today — you who are now beyond the veil — having recently learned more about your time on our campus and your role in Texas politics after the Civil War.
We were born in the 1950s into a family and an East Texas city that held racist views about African Americans, views that we now know you intentionally and systematically helped to advance in Waco and beyond. As we grew into adults and read the Bible more carefully, we abandoned the racist views that we had been taught from family members, friends, neighbors, schoolteachers, pastors, business leaders and elected officials. Now we know that through your sermons, writings and public statements you helped to ensure that generations of African Americans were relegated to second-class citizenship. You carried your Bible with you as you traveled as chaplain for the Fifteenth Texas Infantry Regiment, Company B, during the Civil War. And you encouraged Baylor students and alumni to join the Confederacy in that bloody fight. More than 250 Baylor Bears heeded your call and joined the South's campaign to keep human beings enslaved, presumably forever. And we now know that your efforts to raise money for Bishop College were done so that once black students were educated, they could be sent back to Africa! Furthermore, it is documented that you owned a slave, a man named Elias.
Forgive us, dear Uncle, but we must ask you how you could have used the Bible to humiliate and to subjugate fellow human beings. How could you promote the "Lost Cause" — the concept of divinely inspired white nationalism — once the war ended? Because of your revisionist history, we were taught in school in the 1970s that the war had nothing to do with slavery. We read in state-sanctioned textbooks that the Civil War was fought over "states' rights." Regrettably, some schoolbooks in the South still indoctrinate our children with these lies. By your hand and others like you, millions of African Americans were held in educational, political and economic bondage for much of the 20th century. Forgive us, dear Uncle, but we must ask: How could you have read the same Bible as we read, yet preach what you did?
Our hearts are heavy as we write what we now know to be a more complete truth about our family's past. Perhaps we should have taken the time long ago to explore fully our history and Baylor's history. We pray it's not too late to make amends to our African American brothers and sisters and to all who have suffered from this sinful scourge of slavery, racism, segregation and discrimination.
Blake Burleson is an ordained Baptist minister and a faculty member in the Department of Religion at Baylor University. The seventh-generation Texan enjoys carpentry, painting, backpacking and travel. Burt Burleson is University Chaplain and Dean of Spiritual Life at Baylor University. The former pastor of DaySpring Baptist Church in Waco enjoys home improvement and playing his guitar.
How could you have read the same Bible as we read, yet preach what you did?