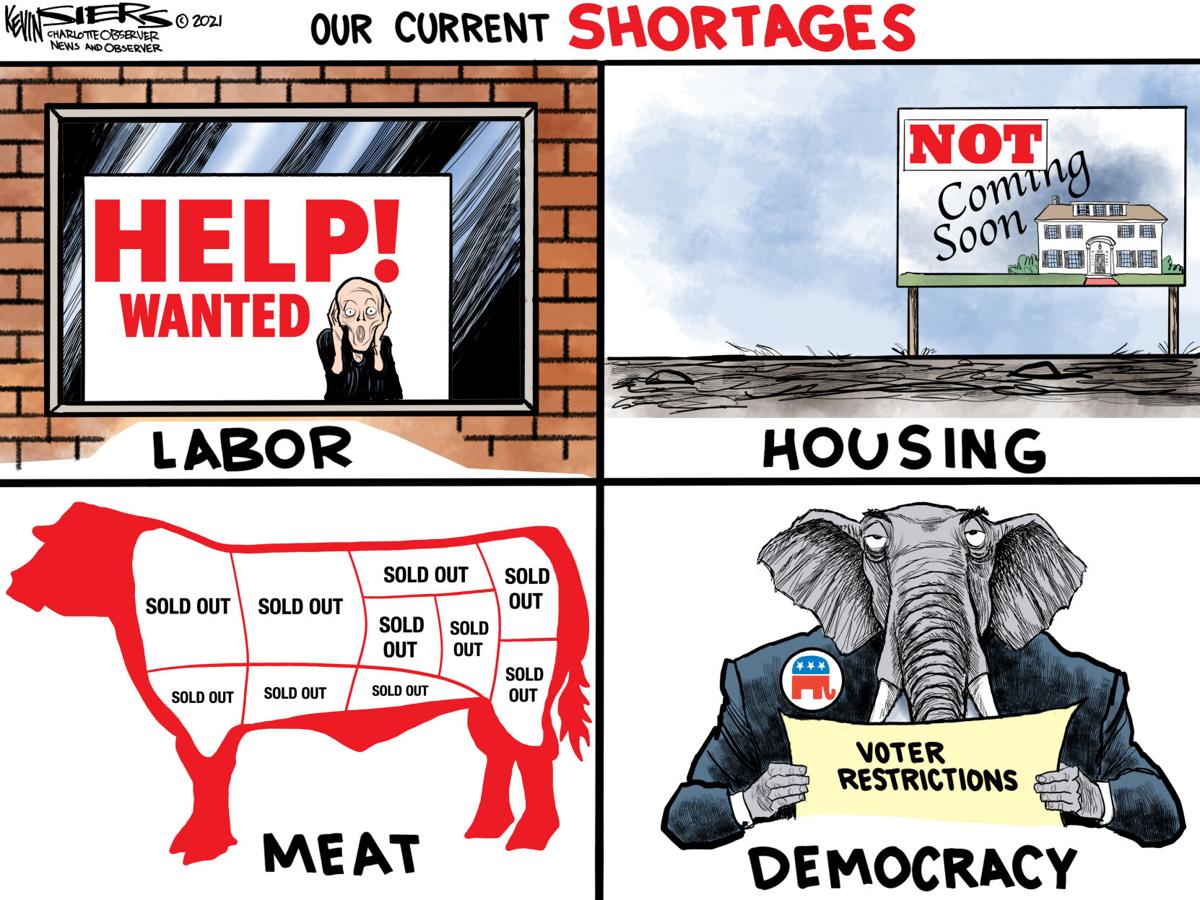 Republican senators on Capitol Hill have successfully blocked a House bill to create a bipartisan commission to investigate the Jan. 6 insurrection, an event clearly instigated by Donald Trump that led to death and destruction as a mob tried to hang Vice President Mike Pence and prevent Congress from accepting certified results from all 50 states determining that Joe Biden was duly elected as our president. Although Senate Republican leader Mitch McConnell had condemned Trump's role in the violent melee, the hypocritical Kentuckian nonetheless voted against the bill. His view seems obvious: "Tut, tut. Time to move on." That said, the vote in the Senate was bipartisan, 54 in favor, 35 against. Only arcane Senate rules grounded the bill and the commission's formation.
That our own District 17 congressman, Pete Sessions, voted against the commission is no surprise, given his disturbing role in stoking the fires that led to violence at the Capitol. Days before the attack, he was out dutifully promoting the "Big Lie" that the 2020 election was stolen from Trump. On Jan. 3, Sessions tweeted that he had a great meeting with "folks from 'Stop the Steal'" and that he "encouraged them to keep fighting." Is it possible a commission would have interviewed Sessions and asked him to provide the names of the individuals he met with on Jan. 3? Might such a commission have asked Sessions what those individuals were to "fight"? Police officers? Lawmakers? Certification of a national election? And what's with that noose erected near the U.S. Capitol?
We may never know the answers. However, Pete Sessions is obviously complicit. He shrewdly deleted his tweet about meeting with protesters on Jan. 7 after insurrectionists stormed the Capitol.
But what insurrectionists couldn't accomplish through a coup, the Texas Legislature now intends to do "legally." Like other dutiful Republican-dominated state legislatures, Texas is poised to pass what Republican legislators call an "election integrity" bill but others more accurately dub "Jim Crow 2.0." One could argue this proposed law is designed to disenfranchise Blacks, Latinos and younger voters. Republicans understand all too well that if these Americans vote, the party's chances of holding on to power are diminished. Texas Attorney General Ken Paxton admitted as much on May 4 in a podcast with former Trump strategist Steve Bannon (who in turn announced on Jan. 5, the day before the Capitol attack, that "All hell is going to break loose tomorrow"). Paxton said that had his office not blocked Harris County from sending out mail-in ballot applications to all of its registered voters, Trump would have lost the entire state. Texas, he said, "would've been one of those battleground states that they were counting votes in Harris County for three days and Donald Trump would've lost the election."
It's important to remember that Paxton's action in preventing Harris County from sending out mail-in ballots was taken during a deadly pandemic when many citizens — particularly the elderly — feared contracting the virus if they had to wait in long election lines. His action was taken at a time when 2,000 Americans were dying daily from COVID-19, a statistic that went up to more than 3,000 per day by Christmas. At the time, Paxton offered no evidence of widespread fraud in Houston from mail-in ballots in the past. And since then neither Paxton nor the Republican-controlled Texas Legislature has offered evidence of any significant fraud of any kind in any city in Texas or the country.
Republicans seek to disguise their anti-democracy legislative and executive actions by promoting the the "Big Lie" — a fantastic narrative that widespread voter fraud marked the November 2020 election, that Trump won the popular vote and the Electoral College, that Joe Biden is not really president. Trump recently sent messages that he expects to soon be reinstated as rightful president. New York Times reporter Maggie Haberman writes that Trump has been "telling a number of people ... that he expects he will get reinstated by August." The Washington Post reports that Trump has grown "increasingly consumed with the notion that ballot reviews pushed by his supporters around the country could prove that he won."
Astoundingly, more than 53% of Republican voters nationwide, according to an IPSOS/Reuters poll of May 21, agree that Trump is the actual president. Short of a military coup (which, by the way, former Trump national security adviser and loyalist Michael Flynn seconded as a good idea on Memorial Day weekend in Dallas), Trump will not be reinstated. The presidential vote was certified by all 50 states through their electoral boards. In most battleground states, these votes were counted and recounted.
Our own Republican state Sen. Brian Birdwell is a primary sponsor of Senate Bill 7, legislation designed to disenfranchise certain Texans. And state Rep. Charles "Doc" Anderson is a co-sponsor of HB6, the House version of the same voter restriction effort. While both will likely join in approaching Fourth of July celebrations here in Central Texas, I doubt people of color will want to listen to any patriotic speeches on democracy by this pair. Senate Bill 7 aims to discourage 2020 electoral innovations such as drive-thru voting and 24-hour voting, which statistics show were favored greatly by people of color in Harris County. Interestingly, the percentage of voters of color (African Americans, Hispanics and Asian Americans) who used drive-thru voting in Harris County in 2020 is a familiar one: 53 percent. I can only conclude that Birdwell and Anderson are leery of constitutional liberties for people of color near any ballot box in ways they're not when it comes to allowing Texans to carry firearms in public with no training in handgun safety and no required knowledge of state gun laws.
Texas' proposed Jim Crow 2.0 law, certain to be revived during an upcoming special legislative session, will do many things, including:
Making it easier for state courts to overturn election results.
Placing new restrictions on voting absentee.
Lending more autonomy to partisan poll watchers.
Providing harsher punishments for mistakes committed by election officials.
Banning drive-thru voting and 24-hour voting.
Is this how a republic celebrates liberty and freedom? Is this how we honor "We the People," by making voting so tedious and so frustrating that some of us will just give up? I'm not optimistic about America's chances to remain a viable democracy unless Republicans have a change of heart. Given there's no indication they're willing to return to the rule of law, this remains a dangerous time for our country.
Allies around the world ask what has happened to us. The light from the beacon on the hill that Ronald Reagan championed amidst another, very different generation of Republicans is fading fast. What can you do? If you're a Republican or an independent, press Anderson and Birdwell hard: Can they provide any evidence of significant voter fraud in our district or in any district in Texas? If you're a donor to their campaigns, let them know you won't stand for such determinedly un-American efforts. And if you're a Democrat, pray that enough Americans remain among us who cherish this battered republic and aren't willing to sacrifice the will of the people for the sake of a political party that has clearly lost its way.
Blake Burleson is an ordained Baptist minister and a faculty member in the Department of Religion at Baylor University. The seventh-generation Texan enjoys carpentry, painting, backpacking and travel.