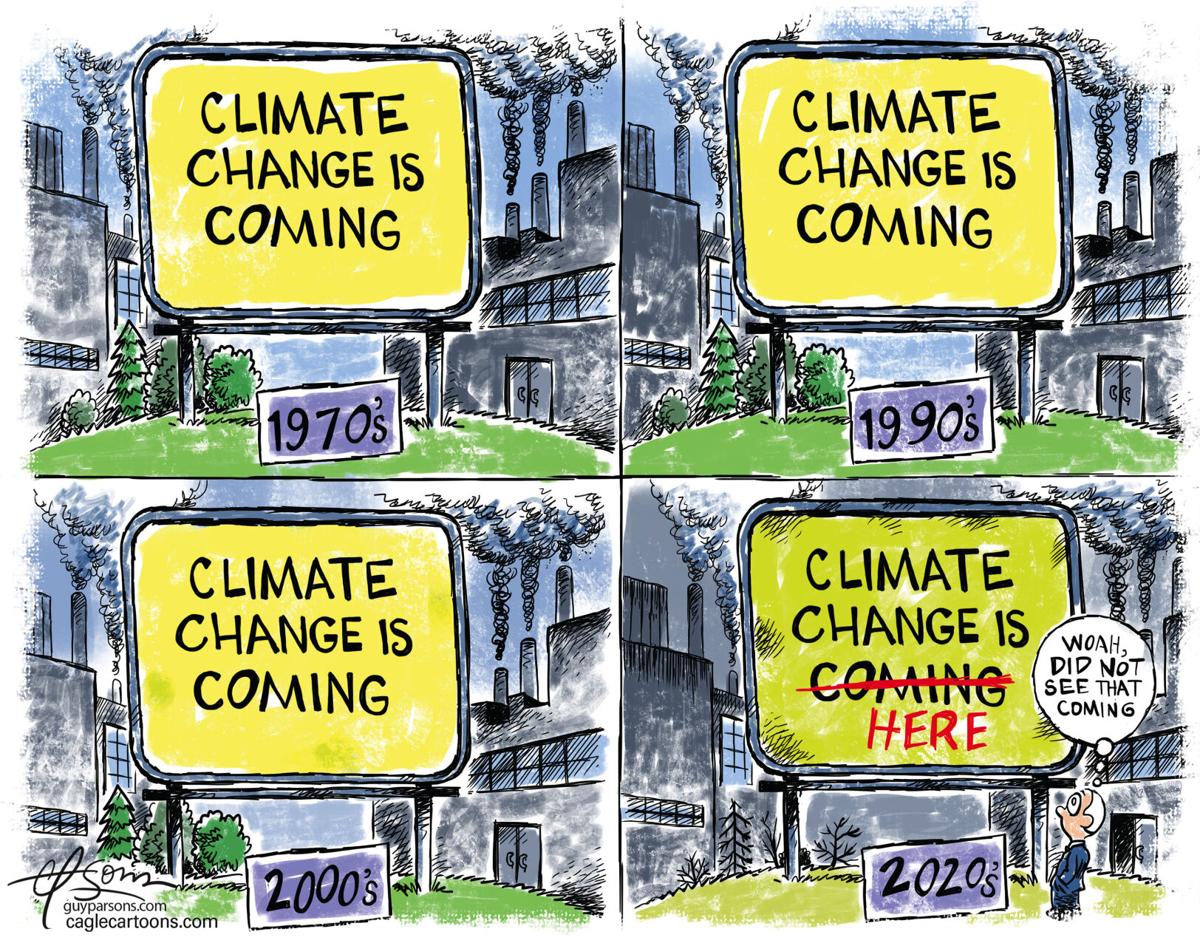 In the early morning of Nov. 6, Sandy and I set off from our flat in St Andrews, Scotland, for a protest march on climate change in Glasgow. We hurried through the cobblestone streets of the sleepy village — world-renowned as the home of golf — and caught a nearly empty bus for the train station. The town of 16,000, predominantly populated by students from the University of St. Andrews, wakes up slowly on Saturday mornings. Yet a group of 20 bright-eyed and eager college students with their homemade placards joined us at the station in the grey morning mist. One sign read, "There is no Planet B."
We were starting our trek to join 100,000 protestors at the COP26 meeting. COP stands for "Conference of the Parties." At this, its 26th annual summit, the 200-plus countries in attendance were to submit detailed plans to cut emissions of fossil fuels. Under the Paris Agreement of 2015, these countries were asked to make changes so that global warming can be kept "well below" 2 degrees Celsius by the year 2100. COP26 planners, however, aimed for stricter standards that would keep warming below 1.5C, arguing that without dramatic steps and immediate changes, global greenhouse gas and coal emissions will result in a climate catastrophe.
Once we boarded the train and stored our rain gear in the overhead bins, the ticket agent greeted us and asked where we were going. "Glasgow. To the protest," Sandy responded. "Oh, that's great," she smiled. And noting our accents asked, "Did you come all the way from America for the protest?" I explained that I was teaching at St. Andrews for the fall semester. The attendant, proceeded to provide us with a 15-minute education on environmental efforts in Scotland.
"My 13-year-old daughter went to Glasgow yesterday. Dundee school kids ages 12 to 16 were let out so they could participate. They were even required to take public transport to get there." She proudly explained that her daughter was leading her family in taking steps to curb their carbon footprint. "She won't even let us buy Nutella," Jennifer laughed. "You know, because of the palm oil." We sheepishly nodded, "Of course." Sandy didn't mention that we regularly packed Nutella and crackers for our day hikes in the pristine countryside. Jennifer was only warming up, "We recently bought an electric car," she exclaimed. "And our new house has solar panels — required in all new homes in Scotland now." Our encounter with Jennifer was different from one we experienced the day before in a tea shop in Stonehaven, a quaint fishing village near Aberdeen, where we overheard a group of elderly women bemoan the new Scottish environmental requirements. "No one wants to spend hours charging their car batteries," one of the ladies protested. The others agreed. Aberdeen is the oil capital of the United Kingdom with vital economic connections to Houston.
The COP26 meeting, Oct. 31 to Nov. 12, drew worldwide attention given the high stakes. Anyone on Planet A remotely knowledgeable of the science knows that the clock is ticking. Over 100 heads of state, including President Biden, attended the conference. Noticeably missing were Russia's Vladimir Putin and China's Xi Jinping. The Glasgow march we were headed to was held alongside dozens of other demonstrations in Brazil, America, Kenya, Turkey, Australia and elsewhere as part of a "Global Day of Action."
The train ride was about an hour and a half across the Scottish Lowlands with its green, rolling hills of sheep farms and small estates with their monocrops of barley and wheat. Sandy, a Master Gardener, pointed out the communal gardens in villages that we passed. We saw an occasional deer or pheasant in the passing meadows. Only one percent of Scotland's woodlands remain today. As we neared Glasgow, a steady rain began. The wind was strong.
We arrived at a very busy Glasgow Queen Street Rail Station around 10. As soon as we walked outside, we found ourselves in a group with drums and whistles. "Where's Kelvingrove Park?" I asked. "Follow us," one of the drummers said. With our rain gear on we tramped onto the wet streets. Along the way we met Kashan, an Ethiopian who had traveled from Africa for the conference with a group called Christian Aid. Kashan took us to their rendezvous point and invited us to march with them. One member handed a sign to Sandy which read on one side "Act now for climate justice" and on the other "Act justly, love mercy, walk humbly. Micah 6:8." I asked one group member, a young woman from London named Flo, why she was here. She said that the time for talk was over — We needed immediate action to be good stewards of the world that God had created. "And" she added, "we have a biblical mandate to care for the poor." Flo went on to explain that Christian Aid had organized a cross-country walk from the G7, held in Cornwall in June, to the Glasgow COP26 meeting. She had walked part of that way from the English town of Durham. I told her that my Burleson ancestors hailed from Durham.
After arriving at Kelvingrove Park, we stood in groups for two hours as the march got underway. The rain continued to pour. While most protestors were in their twenties and thirties, there were folks of all ages surrounding us — from infants in strollers to the elderly with canes. There were dozens of religiously affiliated groups — Christians, Muslims, Jews, Buddhists, Hindus. Despite the weather, the mood was upbeat, even joyous. Folks were singing and dancing around us. One man from Nigeria shouted a prayer. Colorful floats appeared as the parade snaked its way through the park. Christian Aid had a boat float with a sign that read: "Rise to the Moment." One guy on stilts was dressed as the god Neptune. Towering over the crowd, he called out in a deep voice: "The oceans are rising, and we are rising!" A group of Quakers set off just ahead of us. Behind us were members of the Iona community from a tiny island with a resident population of 120. Iona, considered the birthplace of Celtic Christianity in Scotland, is where St. Columba established a monastery in 563 A.D.
While upbeat, the protesters were not happy about what they had heard the week before in the Glasgow proceedings. Hundreds of signs read: "Blah, blah, blah." Chants went up of "No more talk! We want action now!" as Sandy and I walked methodically, shoulder-to-shoulder with thousands as the rain dripped off our hats. After two hours of walking, we crossed the River Clyde just as the sun briefly broke out and a rainbow appeared.
As the protesters predicted, the results of the COP26 meeting once concluded would be a lot of talk but less action. The countries agreed to:
re-visit emissions-cutting plans next year in order to try to keep the 1.5C target within reach;
limit the use of coal; and
increase financial help for developing countries.
While the Glasgow Climate Pact is the first-ever climate agreement to explicitly plan to reduce coal, the worst fossil fuel for greenhouse gases, the pledges do not go far enough to limit temperature rise to 1.5C. Alok Sharma, the president of COP26, fought back tears as he summarized the conference results. U.N. Secretary-General Antonio Guterres said the planet was "hanging by a thread ... We are still knocking on the door of climate catastrophe ... It is time to go into emergency mode or our chance of reaching net zero will itself be zero."
As Sandy and I made our way home by train in the dark night that evening, I recalled a grandmother from Edinburgh that had shared her umbrella with Sandy. She had said, "If you have grandkids, what are you going to do? We have to try." Sandy nodded and told her about our four grandkids in Texas — Josie, Grant, Phoebe and Zach. "We are marching for them." If nothing else was accomplished, at least our grandkids will know that their Mama Lee and Babu are trying.
On Nov. 15, President Biden signed a bipartisan infrastructure bill that will give Texas more than $30 billion for roads, bridges and potentially a desperately needed power grid. Rep. Pete Sessions and Sens. Ted Cruz and John Cornyn voted against it. Included in the bill is $7.5 billion for charging stations for electric cars. This is a small but meaningful step toward curbing, and then stopping, carbon emissions.
On Friday, the U.S. House of Representatives passed Biden's "Build Back Better" legislation, which includes the most significant attempt in U.S. history to address the climate crisis. The package ensures that clean energy technology such as wind turbines and solar panels will be built in America. Sessions voted against it. Cruz and Cornyn have vowed to do the same in the Senate. Yet, their grandchildren, like mine, cannot move to Planet B in 2100. Planet Earth is it.
One American party is trying. It will take more than that.
Blake Burleson is an ordained Baptist minister and a faculty member in the Department of Religion at Baylor University.