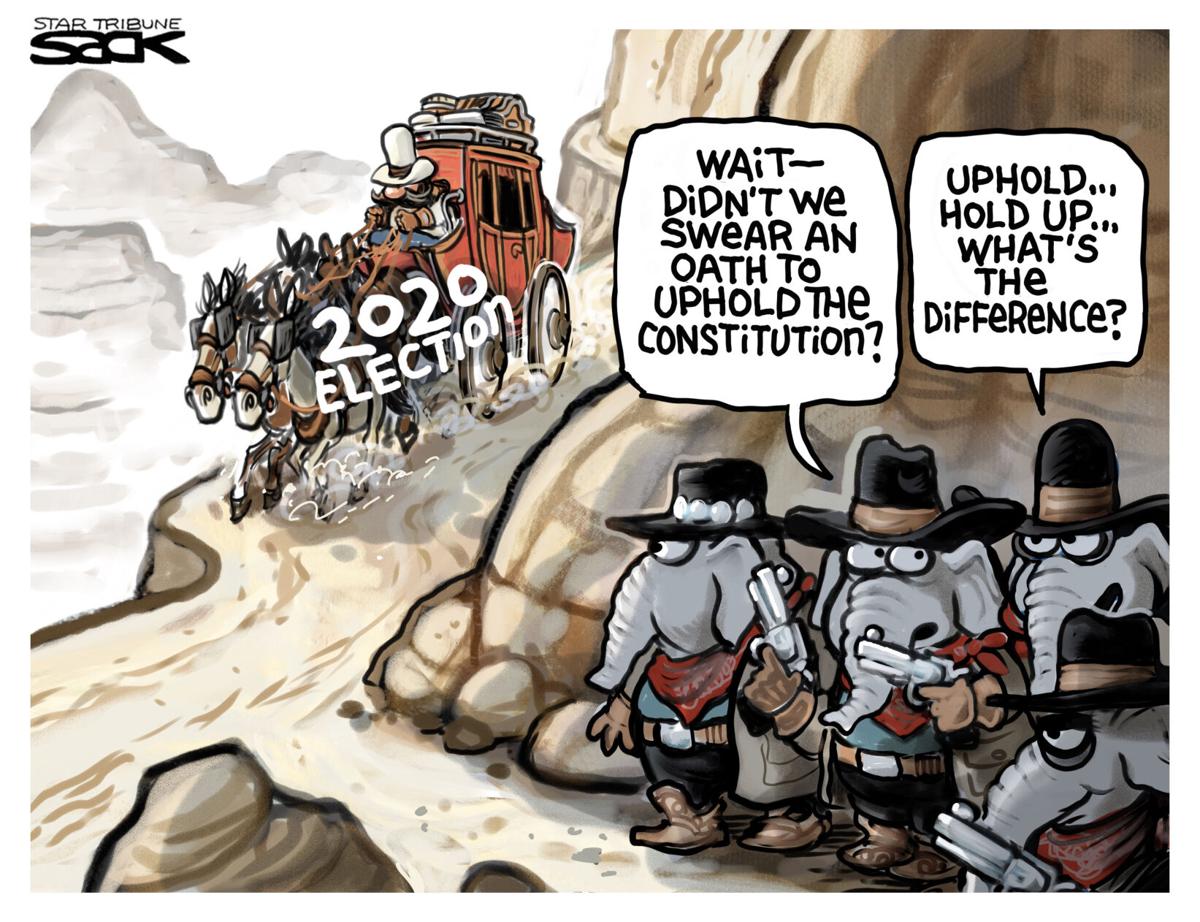 Except for live manger scenes at Christmas, the hay beneath the crib is odorless, courtesy of wooden or plastic sheep, cattle and donkeys gathered around. Perhaps a scented candle even perfumes the iconic scene above the mantel. Yet most of us know how a barn smells. And we know that if you remain in a bustling barnyard setting long enough, you become accustomed to the odor.
Americans of all political stripes who hoped the defeat of Donald Trump would move our country back to some semblance of normality should abandon this hope for the foreseeable future. The truckloads of unconstitutional manure dumped onto our body politic by Republicans at all levels of government since the election was called for Joe Biden have slammed the door shut on the desire of so many of us to air out the stench of the past four years and begin anew. When Texas Attorney General Ken Paxton filed a lawsuit on behalf of Texas to overturn the certified election results in four swing states that President Trump lost — Georgia, Michigan, Pennsylvania and Wisconsin — even senior Republican Sen. John Cornyn, a former Texas attorney general and Texas Supreme Court justice, questioned the idea of his home state upending the rigorously conservative concept of states' rights and forcing its will on the election protocols and results of other states.
"I do not understand the legal theory," Cornyn said. "I don't want other states having a chance to change Texas law based on a similar effort."
Yet Waco's departing Republican congressman, Bill Flores, along with a majority of House Republicans, dutifully signed on to an amicus brief in support of this absurd suit, one promptly branded "seditious abuse of the judicial process" by officials from the four states targeted. Our junior Republican senator, Ted Cruz, was quite willing to play his part: He announced in a Dec. 7 tweet, "I will stand ready to present the oral argument" for the Texas suit before the Supreme Court of the United States. There's rich irony in the fact several House Republicans who signed this amicus brief were freshly elected from the four states being sued. By all rights, their supporting signatures should dictate their own elected status be properly nullified.
According to a recent Fox News poll, 68% of Republicans believe the election was stolen from Trump. If you, dear reader, are among that rational, discerning minority of grounded Republicans who know better after the dismissal of nearly 60 lawsuits in multiple states for lack of evidence of election fraud, I can only bestow one seasonal blessing: Heeding public health warnings against large family gatherings this Christmas holiday may have saved you from contentious political arguments to the contrary and the rancor and discord and possible fistfights that might have erupted.
Commenting on the signature of Congressman Flores and others to this legal brief, former Republican strategist and John McCain advisor Steve Schmidt said in a TV interview on Dec. 9: "Today is a historic day ... a before-and-after moment in the life of the nation. One hundred and six members of Congress broke faith with American democracy today. They did something that the fascists, the Nazis, the Confederate Army could not do. They [collectively] forced a majority of elected officials in one of the two major parties in a federal House to break faith with the American people [and the understanding] that the people are sovereign. Democracy definitionally requires one side being willing to lose an election, to accept the results, to come back next time in the competition of ideas. So we are going to live with this now for the balance of our lives because the country is now divided between a democratic party — meaning a party that believes in democracy — and an autocratic party. When you see that many members of Congress breaking faith with their oath in order to try to overturn an election because they don't like the results, then we are off the reservation. ... We are one election away from losing our democracy."
Retired Tribune-Herald opinion editor Bill Whitaker, who identifies as a conservative and longtime Republican, wrote in a post at thedailybillblog.blogspot.com on Dec. 13: "The Republican Party no longer has idealistic principles beyond grandstanding, deceit and retaining power at all costs, even if that means shredding the U.S. Constitution and nixing the will of the people in elections. Indeed, the only elections many Republicans are willing to honor anymore are those they win."
Democratic presidential candidate Joe Biden won the popular vote by more than 7 million votes. He won the Electoral College, 306 to 232. Yet because of the unpatriotic, seditious behavior of Republicans such as Flores and his successor Pete Sessions (who has been tweeting irresponsibly about "overwhelming" evidence of election fraud, the same evidence dismissed as inconsequential or non-existent by state and federal jurists), our country is in danger of losing its democratic moorings. Perhaps they — like Michael Flynn, Trump's former national security advisor, pardoned by Trump for lying to law enforcement during the Russia investigation — will say that if the president doesn't declare martial law, "we will also have no other choice but to take matters into our own hands and defend our rights on our own." Perhaps they will agree with Republican Party of Texas chairman Allen West who following the Supreme Court's quick dismissal of the Texas lawsuit suggested that "law-abiding states should bond together and form a union of states that will abide by the Constitution." In short, secede.
Funny thing about spending time in a barn full of animals: After a while you don't notice the stench. As we pursue a new year hopefully allowing us to mingle with one another again, you may realize some of your Republican friends and neighbors detect the odor of what has transpired the past several weeks. Celebrate their discernment of hard facts, their patriotic acceptance of the will of the people. Alas, if the polling is accurate, way too many of them will not accept reality or the awful folly of what they encourage. They have lingered too long in the barnyard.
Blake Burleson is an ordained Baptist minister and a faculty member in the Department of Religion at Baylor University. The fifth-generation Texan enjoys carpentry, painting, backpacking and travel.