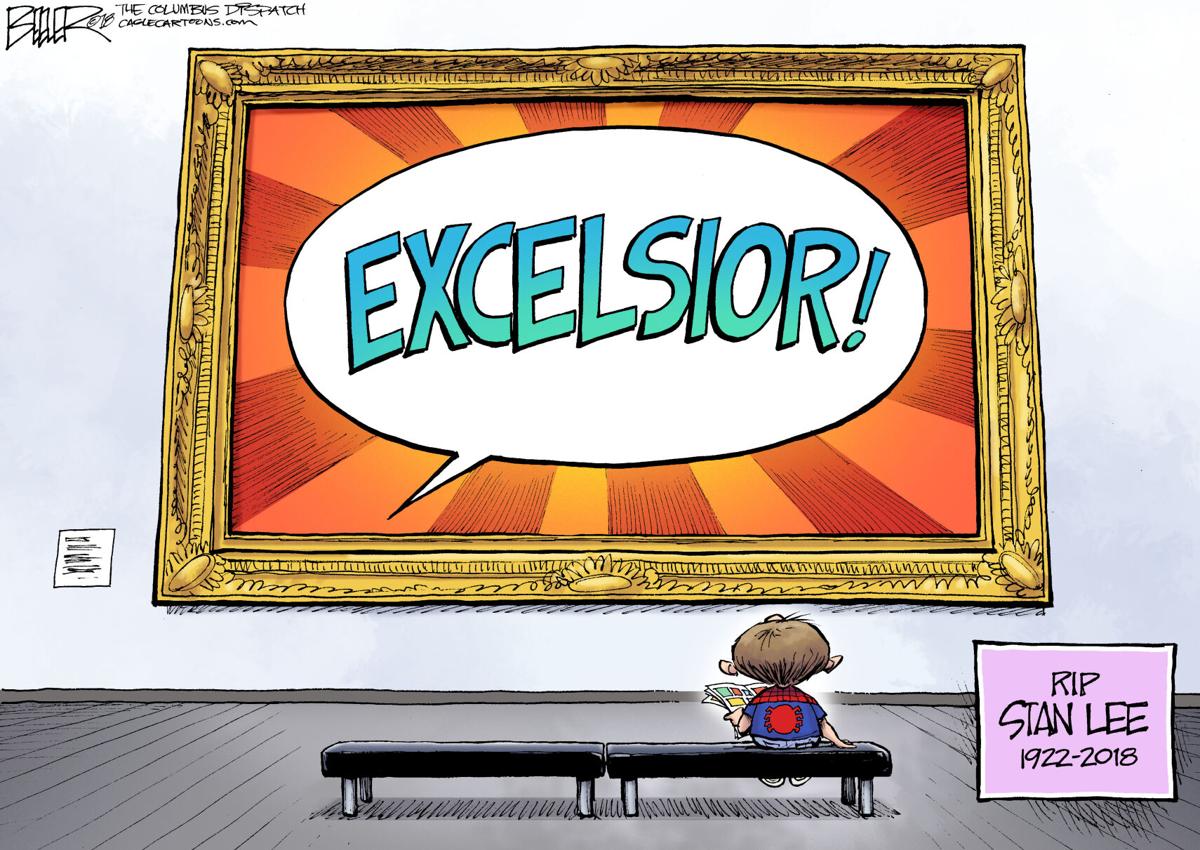 As an Air Force brat growing up, one of the few constants in my life was the monthly arrival of Marvel Comics. I still have a few of my oldest comic books and I particularly cherish — as I did then — the stories told by writer Stan Lee and artist Jack Kirby. They told fantastic yarns about real heroes with real problems, set in worlds of unfettered imagination — the Avengers, the Fantastic Four, Iron Man, Thor, Captain America, so many more. Whatever success I have enjoyed as a writer I attribute, in great part, to these two men.
One of the attractions of their stories is their palpable love of humanity. When other comics had superhero dogs and silly, gimmicky plots, Lee and Kirby tackled racism, xenophobia and abuse — all set in the very real world of New York City. It wasn't until later that I learned that Lee (actually Stanley Lieber) and Kirby (actually Jacob Lurtzberg) had grown up Jewish and faced the same issues, both on the Lower East Side and in the U.S. Army. Kirby in particular saw rough action in Europe during World War II.
In recent months, I have been troubled — as many have — by the rise in violent incidents against immigrants, people of color, women, members of the LGBTQ community. And I remembered one of my well-loved (and well-worn) comics from my childhood, the Avengers.
I still have Issue #33 from October 1966. It still has the stamp on the front page: "Bobby and Steve Darden, Quarters #1507, Itazuke Air Base, Fukuoka, Japan." And the story, once again, drew me in immediately: The short-handed Avengers have been battling a virulent new menace, a powerful, shadowy underground organization called the Sons of the Serpent. The Sons are modeled after the KKK — only with modern weapons. But their tactics are the same: terrorizing minorities, recent immigrants, the disenfranchised, and sowing discord and hate in the United States.
Over the course of two issues, the Avengers slowly gain the upper hand, even as the Sons of the Serpent's hate-filled rhetoric gains a larger and larger audience. In the end, of course, the Avengers win, but just barely.
But instead of closing the issue with more of his trademark slam-bang action, Lee has his various characters talk among themselves. The head of the Sons is revealed to be a Chinese agent in disguise (though he could have just as easily been a Russian), who sneers that he nearly emerged victorious: "All I had to do was make Americans distrust each other — and then hate each other! For a fearful nation becomes a divided nation — and a divided nation is a weak nation — a nation ready for conquest!"
One duped bystander wails, "And he almost got away with it! Why were we so blind — so gullible?"
Then this closing dialogue ensues:
CAPTAIN AMERICA: That's the courage of a free country — any man has a chance to sway us — any man may be heard! And it's also our strength — it's the creed by which we live!
GOLIATH: The menace of the Serpents is ended — but let's never forget the lesson we've learned here today — beware of the man who sets you against your neighbor!
CAPTAIN AMERICA: For, whenever the deadly poison of bigotry touches us, the flame of freedom will burn a little dimmer!
I have, of course, read many, many versions of this powerful sentiment since the sixth grade. But this was the first time I remember seeing it stated so plainly — and it has been the one that has stuck with me ever since.
Today, this is what I believe:
If anyone tells you that Democrats hate America
If anyone tells you that Republicans hate America
If anyone tells you that African Americans hate America
If anyone tells you that Catholics hate America
If anyone tells you that Jews hate America
If anyone tells you that Muslims hate America
If anyone tells you that immigrants hate America
If anyone tells you that members of the LGBTQ community hate America ...
Then don't listen to that person.
Because that person doesn't really understand what America truly is.
Robert F. Darden is professor and Master Teacher of Journalism, Public Relations & New Media at Baylor University. He is the author of more than two dozen books, including "Nothing But Love in God's Water: Black Sacred Music from the Civil War to the Civil Rights Movement, Vol. I" (2014, Penn State University Press) and "Nothing But Love in God's Water, Vol. II: Black Sacred Music from Sit-Ins to Resurrection City" (2016, Penn State University Press).
Catch the latest in Opinion
Get opinion pieces, letters and editorials sent directly to your inbox weekly!