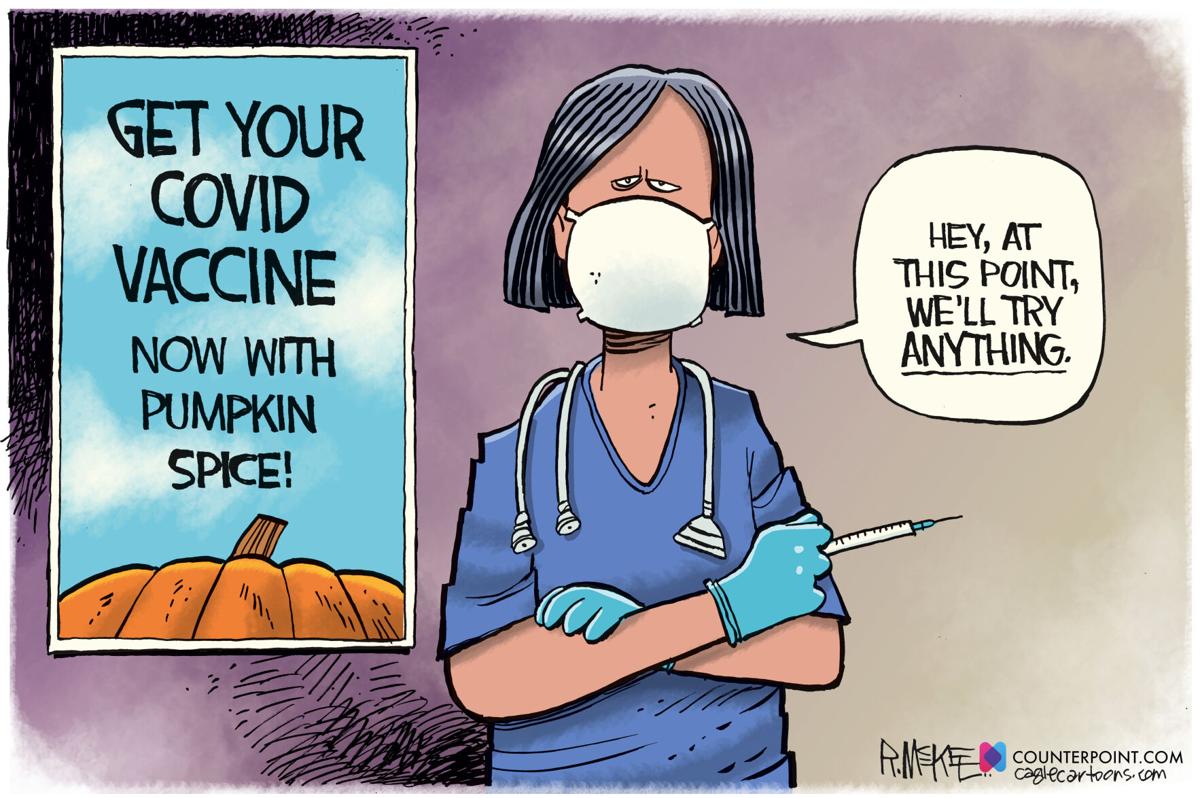 For anyone whose career has long been grounded in science, it's hard in 21st century America to not feel like Cassandra, priestess of Apollo in ancient times. Her prophetic warnings about such things as wooden horses were fated to be ignored by mere mortals. Yet after sifting through medical statistics and pandemic research, one feels kinship with her in predicting SARS-CoV-2 will long be with us.
And, after all, only a year and a half ago, many Americans were reassured by no less than the then-president of the United States that this virus would simply dissipate by summer 2020.
It's time all of us realized what our politicians, Republican and Democrat, are even now reluctant to acknowledge: There may never be an end to the SARS-CoV-2/COVID-19 saga. It's time to start the next "Operation Warp Speed" and develop upgraded vaccines that counter newer, even more insidious variants — successors to the highly infectious delta variant now filling our hospitals to capacity and claiming lives of young and middle-aged folks in sharp contrast to the original virus of earlier surges.
As we see in daily statistics from the Waco-McLennan County Public Health District and elsewhere, youth is no longer a defense. The delta variant is circulating wildly among children in schools, even killing some. During a Sept. 7 meeting with public health officials, the Waco City Council learned one reason we don't hear more about child infections is that those among us serious enough to require hospitalization are being treated in medical institutions outside McLennan County.
Grim truth about coronaviruses: They not only mutate fast but vary plenty in threat characteristics from strain to strain. Rapid mutation rate is the real enemy here; it's partly why we have never developed a cure for the common cold, which is also mostly caused by different (if less potent) coronaviruses. The flu is similar, at least in effect. It kills from 12,000 to 61,000 Americans annually with feverishly evolving variants requiring newly tailored vaccines.
The other thing to internalize: These viruses change so fast that any acquired immunity doesn't last very long, which again explains why each of us can catch cold after cold on a time scale of mere seasons or months. Some argue we're already seeing this short immunity effect with SARS-CoV-2, which is why many of us who seek to protect ourselves, our children and our co-workers are now inquiring about COVID-19 booster shots. Officials at the U.S. Food and Drug Administration and the Centers for Disease Control and Prevention have decided a third shot is not necessary right now.
As local statistics prove, not only do the unvaccinated overwhelmingly contribute to most COVID-19 hospitalizations and deaths but those of us who are vaccinated and wind up hospitalized tend to suffer the least. Yet even the latter cases are no easy rides for the infected.
Yet this much is certain: In one form or another, the virus will be with us well into the 21st century if not beyond. And the best weapon we have is new vaccine after new vaccine, from now on. That means we need to continue to accelerate vaccine research, development and production, keeping pace with the virus' amazing ability to reinvent itself.
The second best weapon is one of masking, physical distancing and hand-washing. We must use these simple and inexpensive protocols from now on, whenever a new variant not covered by current vaccines sprouts menacingly among us.
The third best tool is shutting everything down and quarantining at home, and we surely don't want to do that again — not unless we're forced to do so. Which is why, for the sake of loved ones and perfect strangers and, yes, the economy that makes so much possible in America, vaccinations and basic safety protocols can suffice. No other tool will help fight this plague so effectively.
As with other lethal or intolerably dangerous viruses we cannot eradicate, we must make vaccinations for this cunningly resilient virus mandatory with very, very few exceptions. We must be as aggressive in battling SARS-CoV-2 as our ancestors were in battling whooping cough and polio. And, yes, when a new variant challenges current vaccines, tried-and-true masking/distancing/hand-washing practices must also be mandatory till new vaccines are ready.
"I know you're tired, I know you're burned out, I know that it's hard, but it matters," Waco Mayor Dillon Meek told health officials this month regarding successful efforts to encourage free vaccinations against stubborn resistance, even as our hospitals spill over with COVID-19 sicknesses and parents grieve over dead children they thought immune. "In two weeks, we got 8,000 more vaccinations in this community. There's a lot of lives that got saved as a result of those 8,000 vaccinations in two weeks."
Somewhere in all this, Americans must recognize that, in a republic shaped by men who prioritized truth, science, learning and public good and who drew strongly from the Age of Enlightenment, our individual freedom to choose goes only so far. When self-centered freedoms, whether driving 90 miles per hour in the neighborhood or cavalierly spreading viral sicknesses compromise the collective good and health of fellow citizens, we violate norms long established in our society, including settled law.
As Gen. George Washington informed John Hancock, president of the Second Continental Congress, in deciding to mandate vaccination of Continental Army troops against the scourge of smallpox in the winter of 1777: "Necessity not only authorizes but seems to require the measure, for should the disorder infect the army in the natural way and rage with its virulence, we should have more to dread from it than from the sword of the enemy."
Cassandra couldn't have put it better. But will we heed?
Gary W. Johnson is a former cutting-edge aerospace defense engineer. His paper about space travel to Mars was presented at the 14th annual International Mars Society Convention. He lives in McGregor, not far from SpaceX's rocket-testing facility.